To say that mason jars, once used solely by farmers and home canners, are everywhere would be a gross understatement. Thanks to Pinterest, they're now ubiquitous at weddings (particularly those located inside a barn), restaurants, and high-end home goods stores. Walk into any hipster's house, and you're sure to see one being used as a terrarium.
Despite their overwhelming reach, we just never expected they'd also find a much smaller demographic: babies.
Laura and Sebastian Belmar, parents who sought a nonplastic alternative to baby bottles but found safer glass ones to be prohibitively expensive, decided to create a prototype of a nontoxic baby bottle using a mason jar.
But before you assume that this is just another gimmick to steal money away from DIY-loving hipsters, the Mason Bottle — which won't go into production until the couple's Kickstarter campaign raises $25,000 — really does serve many surprising time-saving (and cost-effective!) purposes for new parents.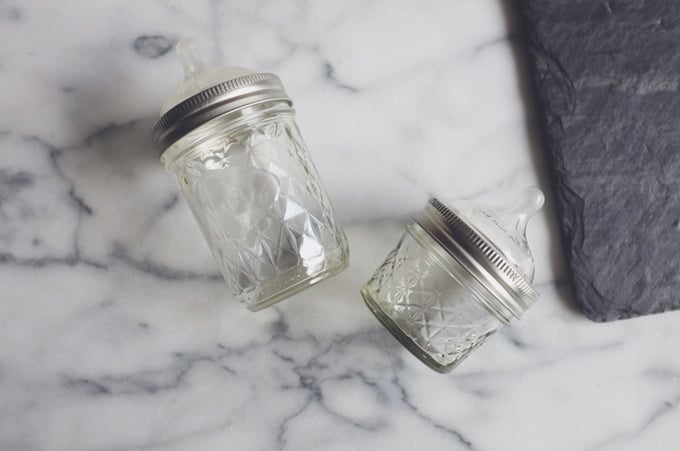 The wide mouth of mason jars makes them easy to clean, without the need for special bottle brushes or pipe cleaners.
Because mason jars are temperature-resistant, extra breast milk can be stored in the same bottle you used to serve the baby — in both the fridge and freezer.
Breastfeeding parents won't have to deal with plastic milk storage bags that are messy, prone to leaking, and single use.
The width of the jars makes them a natural fit for a baby's hands.
Parents who already own mason jars — which happen to come in the standard four-ounce and eight-ounce bottle sizes — only need to purchase the nipples!
The nipple can invert into the jar for easy storage and sterile transport so that you don't even need a cap, which makes the bottle completely plastic-free.
When the jars are done serving as baby bottles, they can be repurposed into containers for baby food or as sippy cups.
Or, of course, for your holiday centerpiece, or to make candleholders, or as a cocktail shaker, or to mix salads, or for . . .