Native Shoe's Jefferson Sneaker Is the Perfect Toddler Shoe
Native Shoes Are the Best Summer Shoes For Toddlers — Just Ask My Twins
As POPSUGAR editors, we independently select and write about stuff we love and think you'll like too. If you buy a product we have recommended, we may receive affiliate commission, which in turn supports our work.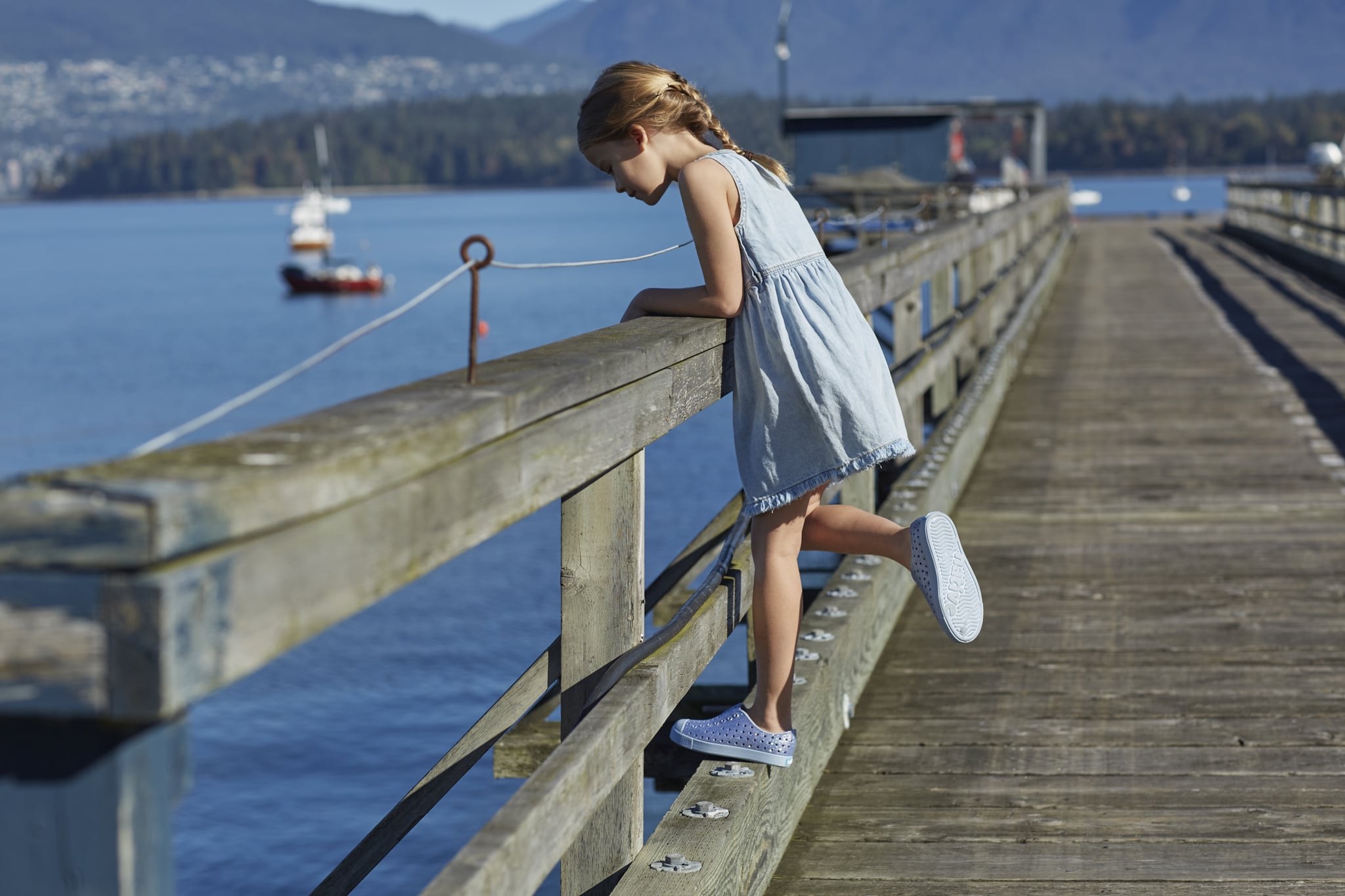 Though they often tend to be heartwarming, hilarious, and heartbreakingly sweet, the toddler years can also be, well, challenging. One minute you find yourself melting over an out-of-the-blue eskimo kiss and declaration of love, and the next moment you're wanting to pull your hair out as your 3-year-old (or, in my case, make that plural 3-year-olds) has a meltdown because "the sun is looking me." I've found that the best way to maintain all of our sanity is to keep my toddlers busy. Even during lockdown, we got out as much as we possibly could. Whether it was collecting nature treasures during a walk through our neighborhood, letting them run around with a ball at our town's tiny lakeside beach, or just playing in the backyard, my girls are always outside. And while the great outdoors and daily doses of Vitamin D are so good for them, it takes a toll on their clothes . . . and especially their shoes. That's why I'm always on the hunt for budget-friendly options that I can either clean or toss when my girls have given them a thorough beating. To my extreme delight, I found them: enter Native Shoes.
When I first saw Native Shoe's Jefferson shoe ($35), my first thought was that it was just a more stylish version of another famous plastic toddler shoe. But nope. In my opinion, style aside, they're so much more. For starters, they're way less clunky. Native Shoes are made from a super lightweight EVA, which gives them their soft, rubber-like feel. And while Native Shoes are ultra flexible, they still provide the support that clumsy toddlers need.
While we've had some pretty cute pairs of plastic shoes in the past, we often had issues with them slipping off of my girls' feet after the velcro straps decided to stop sticking. The Jeffersons don't have laces or velcro, they fit like a glove, and they don't slip off no matter how much running, jumping, and climbing my kids do (which is a lot)! They also stay on at our local playground, which is made of a wood composite that can be quite slippery when wet, especially if you're wearing the wrong shoes (I've learned the hard way that flip flops are a bad idea). But the best part about our Native Shoes, especially when compared to other pairs of rubber sandals and jellies we've had in the past, is that they don't leave blisters, sores, and cuts after one or two wears on my toddlers' still baby-soft feet.
When we come in from the park or the yard extra dirty, I have the girls take off their shoes and toss them right into our basement's utility sink. It takes me a few minutes to clean them off with some warm water, a little dish soap, and a small scrub brush, and I just let them sit out to dry. After tons of wears and almost as many washes, the Jeffersons that my girls have dubbed their "Elsa shoes" (just look at that sparkly blue!), don't look any worse for the wear. In fact, they hold up extremely well. To date, I haven't found any cracks, peeling, or discoloration, and I haven't noticed any funky odors on days when I don't have to wash them.
While everything about these shoes is pretty great, I've saved the best for last. Unlike many brands, who make super-cute shoes for kids that adults want for themselves and can't have, Native Shoes knows that there's a kid inside of all of us who just wants a pair of sparkly shoes. So yup! I've gone ahead and ordered a pair for myself because they make these sparkly gems for adults, too. So go ahead, do yourself a favor and order some mommy-and-me shoes for the summer. Don't worry, you can thank me later!