Prince Harry Talks Parenting on Dax Shepard's Podcast
Prince Harry on Why He Moved His Wife and Son to the US: "That Wasn't the Plan"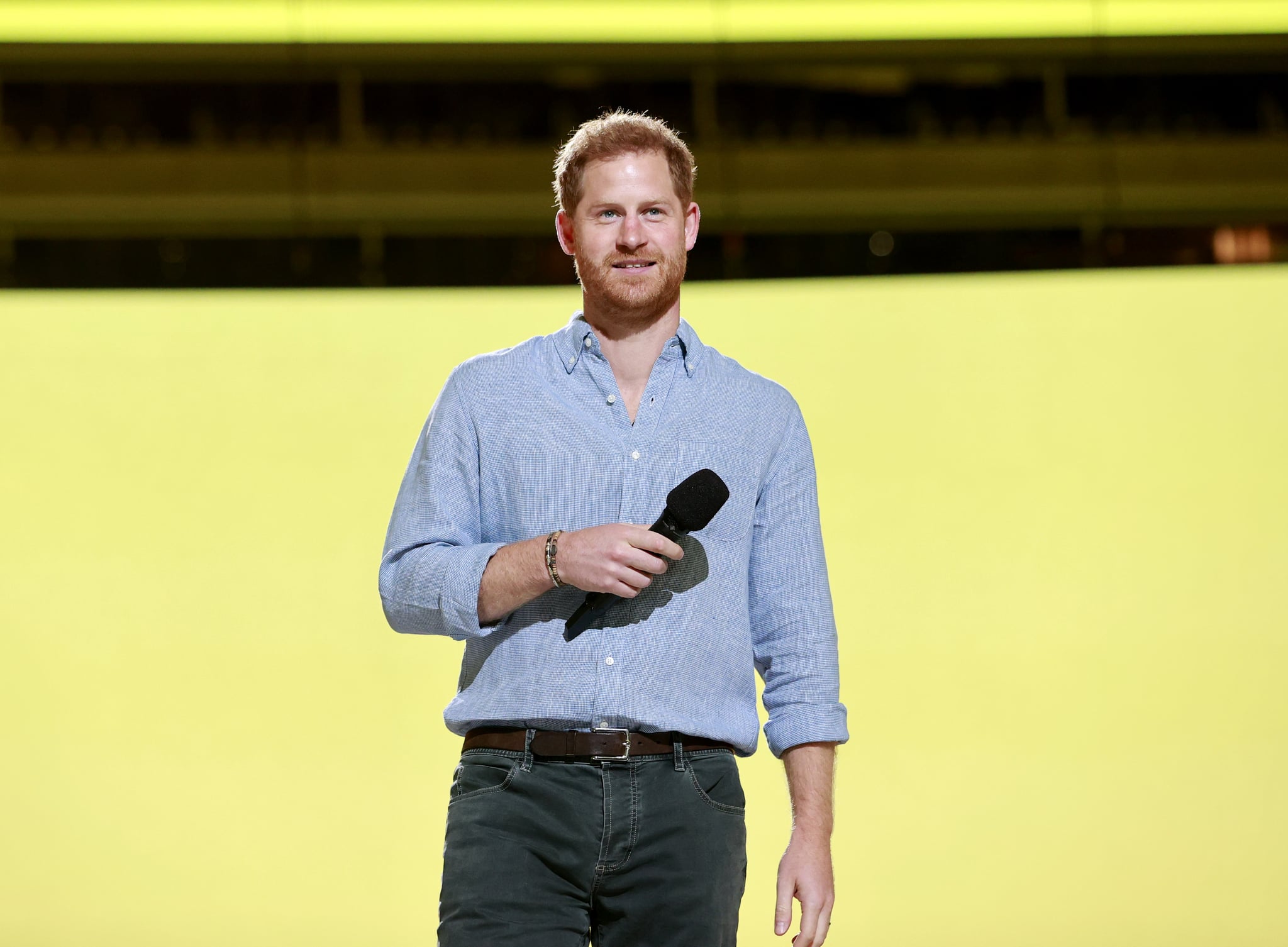 Prince Harry paid a visit to Dax Shepard's Armchair Expert podcast to chat about mental health and his upbringing, and how he applies both subjects to his roles as a husband to Meghan Markle and dad to Archie (and soon, a daughter!). The Duke of Sussex opened up to Dax and his cohost, Monica Padman, about privacy as a famous family, as well as how he hopes to "break the cycle" when it comes to parenting, which he touches upon in his and Oprah's upcoming mental health series, The Me You Can't See.
After comparing Prince Harry's life to a mix of The Truman Show and living in a zoo, the trio spoke about what comes with being born into fame, as well as your human rights as people and families in terms of the paparazzi and news cycles. Dax, of course, has struggled with this phenomenon with his two daughters — who he shares with Kristen Bell — while Prince Harry has dealt with it his whole life. Although he's escaped certain aspects of the British media, Prince Harry is finding that living in Los Angeles brings with it a new set of privacy issues for his family.
"Page Six and the New York Post, they took pictures of my son being picked up from school on his first day; thanks for that," Prince Harry commented in response to Dax explaining Kristen's efforts to get magazines to stop publishing photos of celebrity children. He added, of living in LA, "It's a feeding frenzy here."
Prince Harry and his family spent their first three months in the US living at Tyler Perry's house, where they were inundated with paparazzi. "And people out there, their response was, 'Well what do you expect if you live in LA?' . . . How sad, that if you live in LA and are a well-known figure, that you just have to accept it. . . . These kids don't get a choice, they don't get a say in it."
Later in the episode, Monica broached the topic of being raised within the British royal family, asking: "You were parented in such a specific way, not just by your dad, but by the whole family. . . . Like you said, you were told, 'Oh, something's just wrong with you, you're crazy.' I wonder, are you trying to parent in the opposite direction?"
Prince Harry mentions that in The Me You Can't See — which comes out on Apple TV+ on May 21 — he verbalizes that a bit. "Isn't life about breaking the cycle? There's no blame, I don't think we should be pointing the finger or blaming anybody, but certainly, when it comes to parenting, if I've experienced some form of pain or suffering because of the pain or suffering that perhaps my father or my parents had suffered, I'm going to be sure that I break that cycle so that I don't pass it on," he said. "There's a lot of genetic pain and suffering that gets passed on anyway; as parents we should be doing the most we can to try and say, 'You know what, that happened to me, I'm going to make sure that doesn't happen to you.' It's really hard to do, but for me it comes down to awareness."
"Sometimes you've got to make decisions and put your family first and put your mental health first."
The Duke of Sussex continued, sharing that as an adult he started to piece together parts of his parents' lives with a new lens. He realized in time that the way he was parented was all connected to his parents' upbringing and experiences, especially in the case of his father, Prince Charles.
"[My dad was] treating me the way that he was treated . . . how can I change that for my own kids?" he said. "Well, here I am, I've now moved my whole family to the US — that wasn't the plan. Sometimes you've got to make decisions and put your family first and put your mental health first. And when I'm talking about mental health . . . mental illness is on one end and total joy and happiness is at the other. No one's really there, certain days and certain weeks, of course you can be there, but life is a rollercoaster ride, and the way that I view it now gives me such peace of mind, which is: the bad stuff that happens, what can you learn from it? If the universe is basically saying, 'Right, I'm going to school you,' what can I take from each of those moments that's going to make me better prepared for the next time around? And if you go into life like that, certainly for me, it's helped so much."
Listen to the full episode on Spotify below.