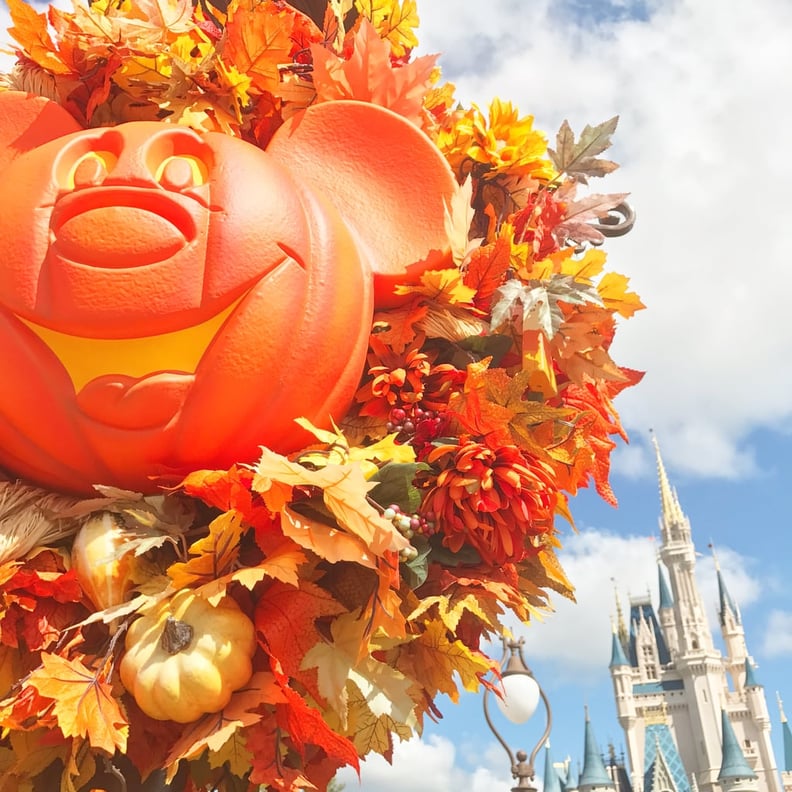 Megan duBois
Megan duBois
Cooler temperatures, pumpkin spice everything, and spooky costumes are on the horizon, as is Mickey's Not-So-Scary Halloween Party at Walt Disney World. This hard-ticket after-dark event is on select nights at the Magic Kingdom (from Aug. 16 to Nov. 1), and is full of spooky fun. From special character meet-and-greets and party-only snacks to new ride layovers, everyone in your family will have a screamin' good time. If you'll be a part of the not-so-scary fun this season, we've put together some expert tips on how to get the most out of your money and enjoy every magical moment. Keep reading to see them all now and get ready to brainstorm your little one's costume!
01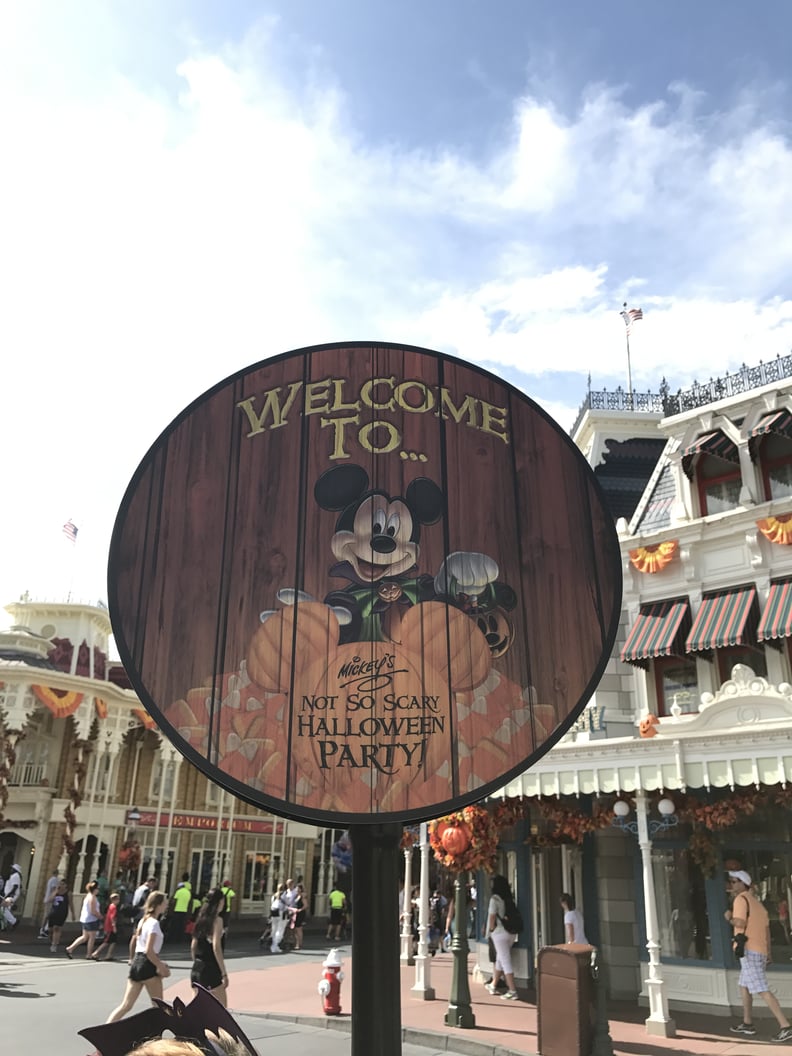 Party Dates and Times
Mickey's Not-So-Scary Halloween Party takes place at the Magic Kingdom from Aug. 13 until Nov. 1, and tickets are available now! Party tickets start from $85 on early weeknights to $149 on Halloween (there are annual passholder and Disney Vacation Club discounts available). The party usually starts at 7 p.m. and goes until the stroke of midnight!
02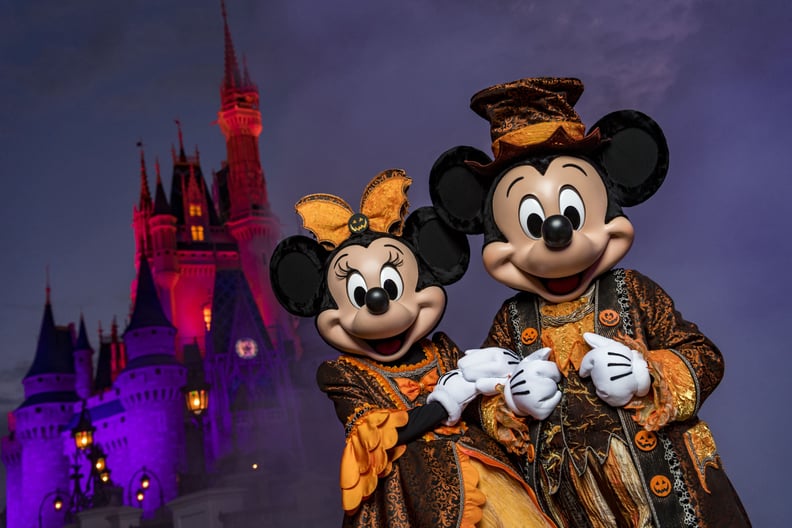 Get Into the Magic Kingdom Early
With your party ticket, you can get into the Magic Kingdom starting at 4 p.m. If you're doing Mickey's Not-So-Scary Halloween Party in the middle of your vacation, party night might be a great day to hang out at your resort or check out Disney Springs before heading to Magic Kingdom so you can get a bit of rest in.
03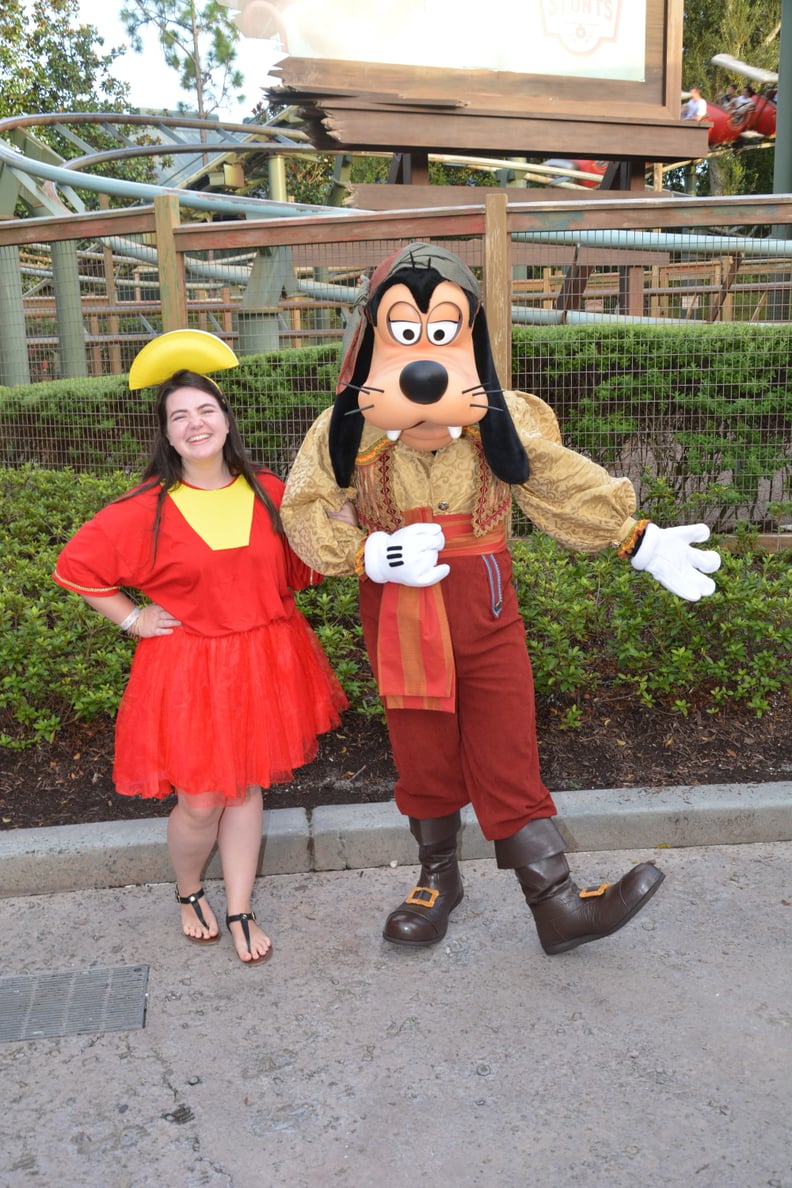 Wear a Costume
Guests of all ages are permitted to wear costumes during Mickey's Not-So-Scary Halloween party as long as they abide by a few rules. Almost anything goes when it comes to costumes. You'll see guests in full cosplay, Disneybounding (when Disney fans dress up as contemporary versions of their favorite characters), or just wearing a festive t-shirt and a tutu skirt.
04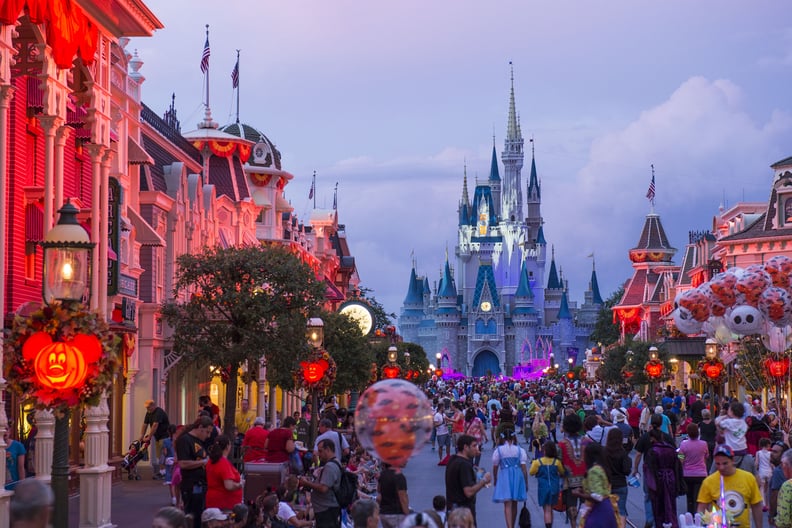 The Park Will Be Crowded at First
Since party guests can start arriving at 4 p.m., and regular day guests don't have to leave until 7 p.m., the park can seem extra crowded for those three hours. You're best bet is to head to the back of the park and go on a few attractions to stay away from the crowds on Main Street.
05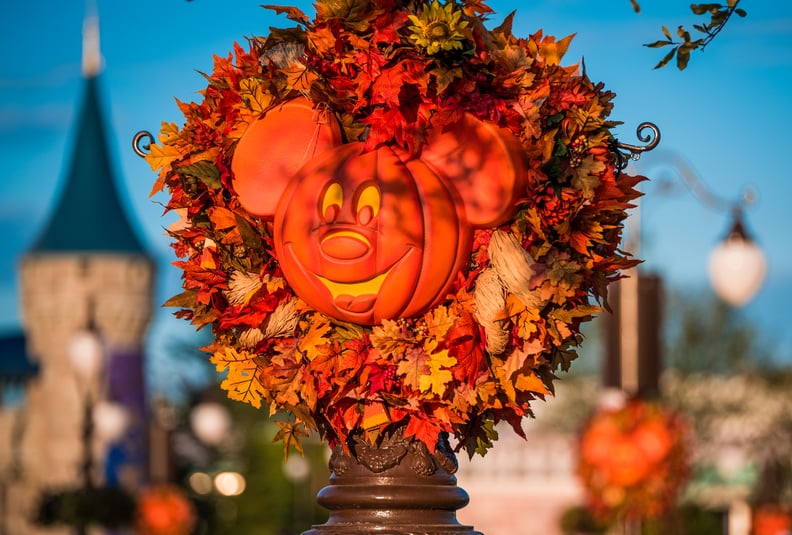 What to Do From 4 p.m. to 7 p.m.
Not in the mood for rides? You'll need another way to spend the three hours in Magic Kindom while you're waiting for those crowds to clear. During this time we suggest your family grab something for dinner at the park, make a plan of attack for the party, and if you're interested in a very popular character like Jack Skellington and Sally, get in line as soon as possible.
06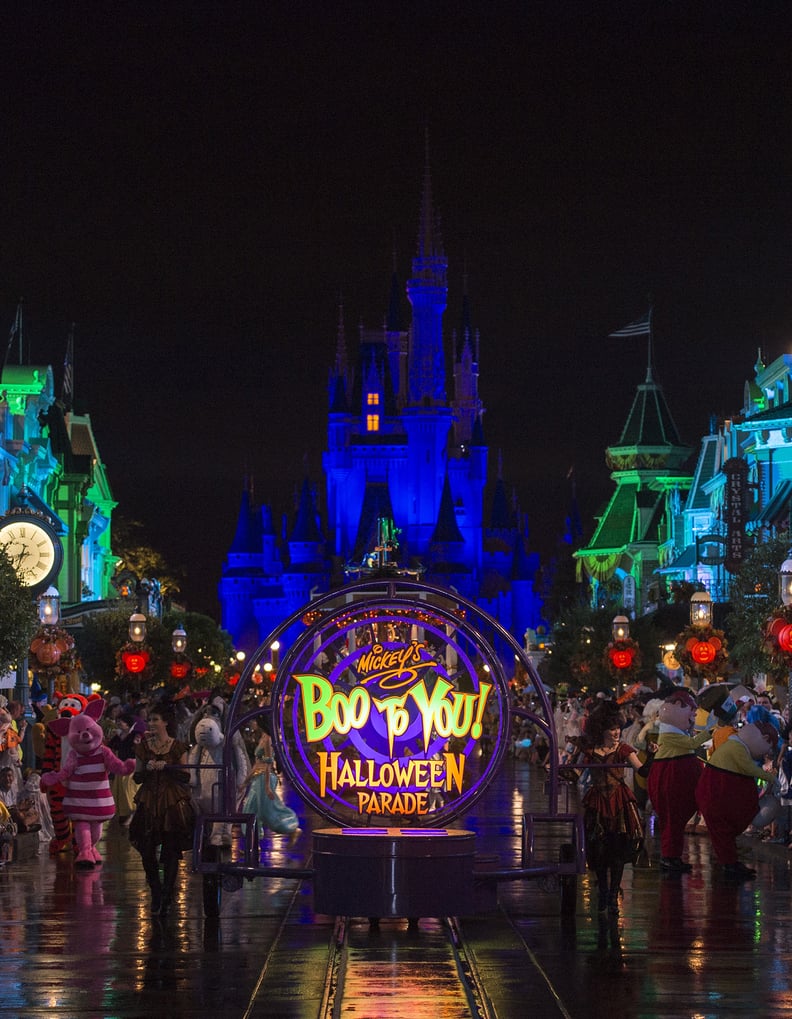 Plan Out Your Night
If you get to the Magic Kingdom before the party starts at 7 p.m., try planning out your night using the time guides and maps available at the park entrance. This is a major time-saver in the long run, as you won't be walking around the Magic Kingdom not knowing where to be at what time.
07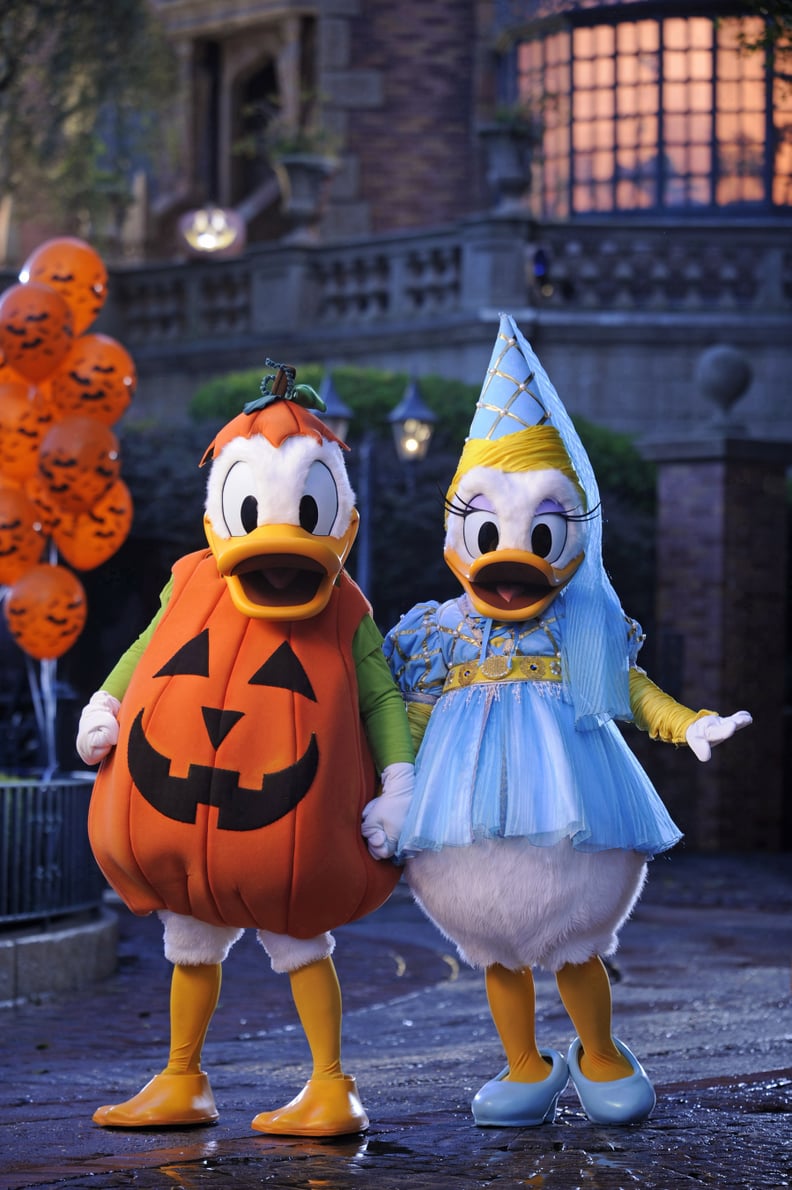 Don't Trick-or-Treat First
The later in the night you stop at the different trick-or-treat locations around the park, the more candy you're likely to get. Cast members tend to only give out a small handful of candy at the beginning of the party, but toward the end of the night, you can hit up one location with multiple buckets and fill your candy bag quickly. The lines for candy at the end of the night are also much shorter since most guests are watching the parade or a show.
08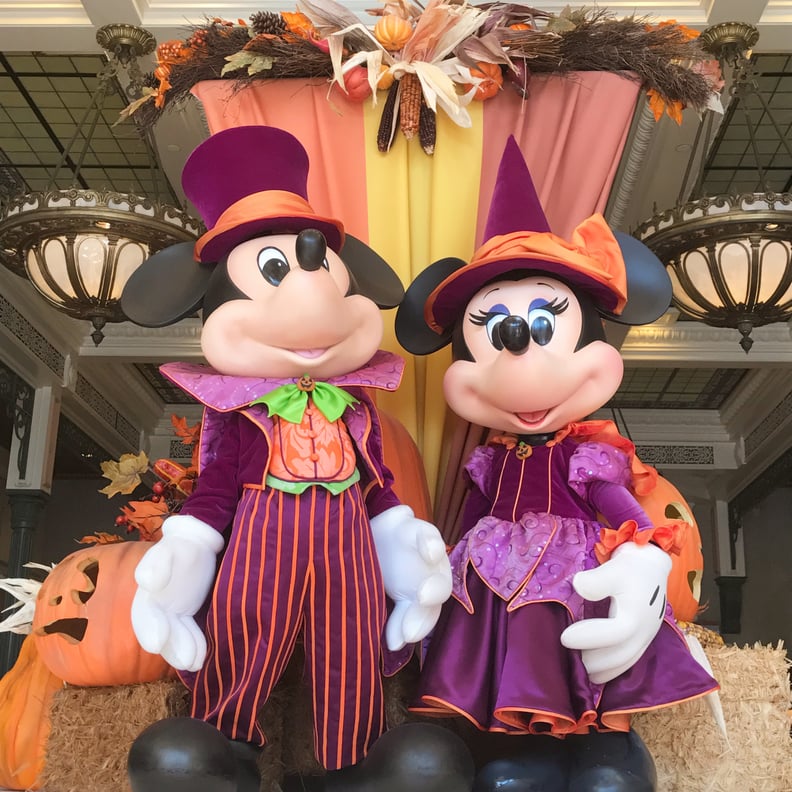 Check Out the Limited Release Merchandise
There will be some limited-release merchandise available for purchase during the party. If you want to buy something, get in line right at 7 p.m. for the shortest wait time. Also, not all of the merchandise is sold at every shop at the Magic Kingdom, so be sure to ask a cast member where you can find what you're looking for.
09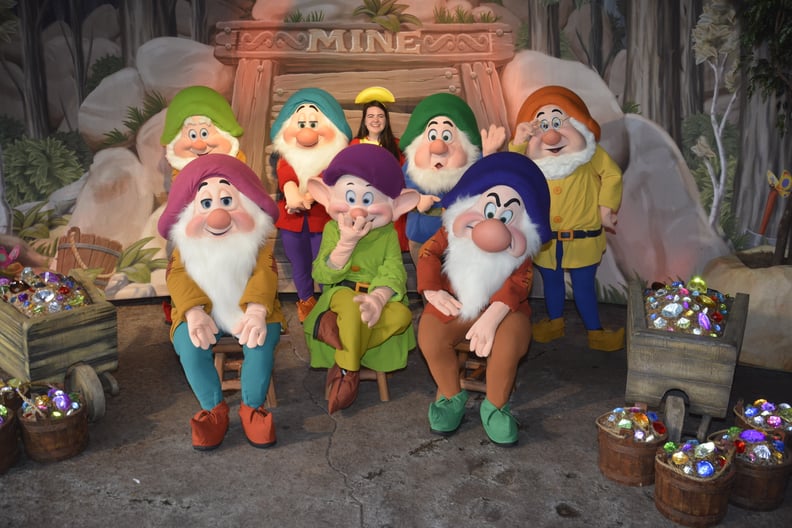 Line Up For Rare Characters Early
There are always characters to meet at Mickey's Not-So-Scary Halloween Party that aren't around all year. The earlier you line up to see them, the less amount of your actual party time you'll be in line. Typically for more popular characters like all seven dwarfs and Jack Skellington, the line will start to form right at 4 p.m., but characters will come out right before the party starts. If you time your evening correctly, you can see your favorite character before the party even begins!
10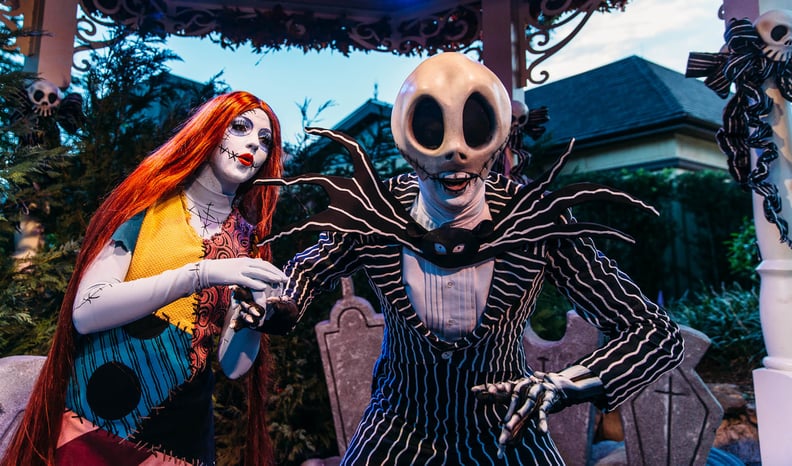 Where to See Popular Characters
We know how much your kids love getting photos with Mickey and his pals dressed in their Halloween best, so we've rounded up all of the characters you can see at Mickey's Not So Scary Halloween Party and their locations.
Main Street U.S.A.
Mickey Mouse in his Halloween outfit at Town Square Theater
Jack Skellington and Sally at Town Square Theater (Starts meeting around 4:30)
Fantasyland
Anastasia and Drizella near the castle
Seven Dwarfs in the Storybook Circus Tent
Rapunzel inside Princess Fairytale Hall
Queen of Hearts, Alice, Tweedle-Dee, Tweedle-Dum, and Mad Hatter near the Mad Tea Party
Pooh, Eeyore, Piglet, and Tigger (dressed in Halloween costumes) near The Many Adventures of Winnie the Pooh
Ariel and Eric near Under the Sea — Journey of the Little Mermaid
Belle and Gaston near Gaston's Tavern
Minnie Mouse dressed in her Halloween costume inside Storybook Circus
Daisy Duck dressed in her Halloween costume inside Storybook Circus
Goofy dressed in his Halloween costume inside Storybook Circus
Donald Duck dressed in his Halloween costume inside Storybook Circus
Cinderella inside Princess Fairytale Hall
Cruella DeVil roaming around Fantasyland
Princess Tiana inside Princess Fairytale Hall
Princess Elena inside Princess Fairytale Hall
Tomorrowland
Lots-o'-Huggin' Bear near the exit of Buzz Lightyear Space Ranger Spin
Stitch dressed in his Elvis costume inside the normal Stitch Meet and Greet
Adventureland
Tarzan, Jane, and Terk near the Swiss Family Tree House
Moana near the Swiss Family Tree House
Captain Jack Sparrow near Pirates of the Caribbean
Aladdin and Abu alternate with Genie and Jasmine near the Magic Carpets of Aladdin
Jafar near the Magic Carpets of Aladdin
11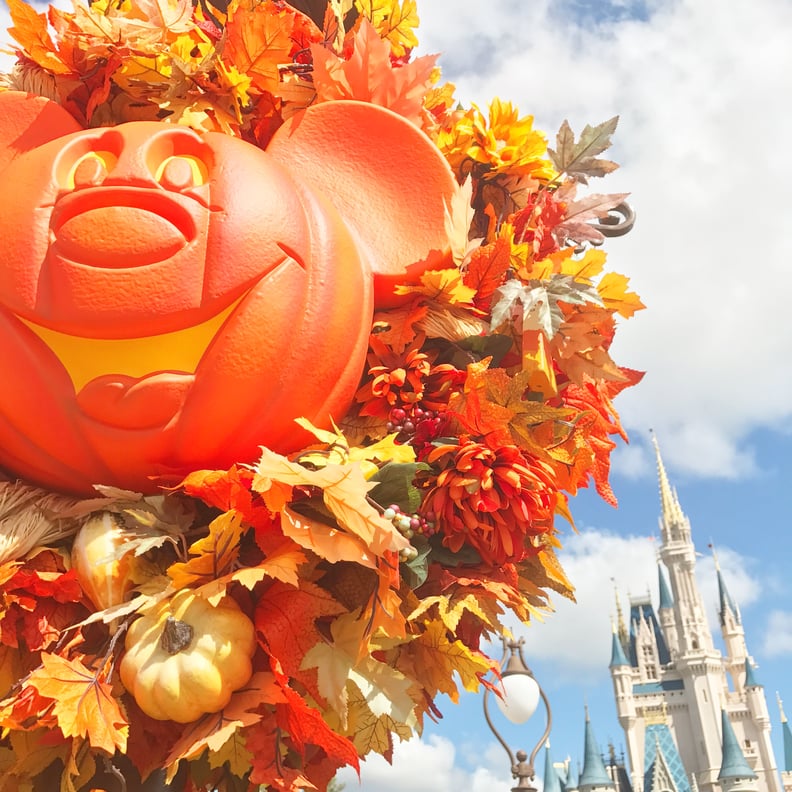 Try Party-Specific Snacks
What's a party without snacks? Disney's culinary team is always inventing fun and new party-specific snacks for guests to enjoy. You'll be able to know where each one is sold by grabbing a party map when you walk into the Magic Kingdom. We recommend splurging on the Jack and Sally Push Cake Pops (which can be found at the carts near Cinderella Castle), and the Chocolate Mickey Waffle Sundae (which can be found at Sleepy Hollow)!
12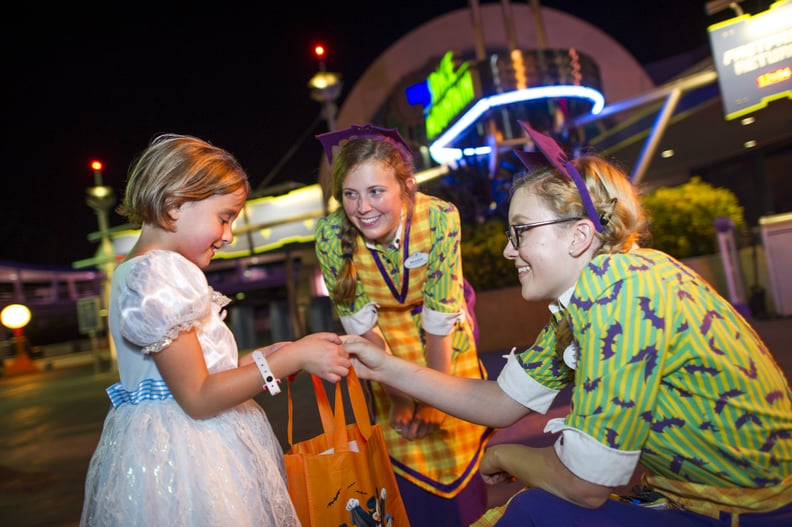 Plus: There Are Allergy-Friendly Treats
If you or someone in your family is in need of an allergy-friendly treats, stop by the Main Street Theater to get teal tokens which you can turn in at treat locations. With your tokens you can get specialty candy, cookies, GoGo Squeez applesauce packs, and more — that are safe for those with food allergies. But as always, be sure to carefully read the labels to confirm.
13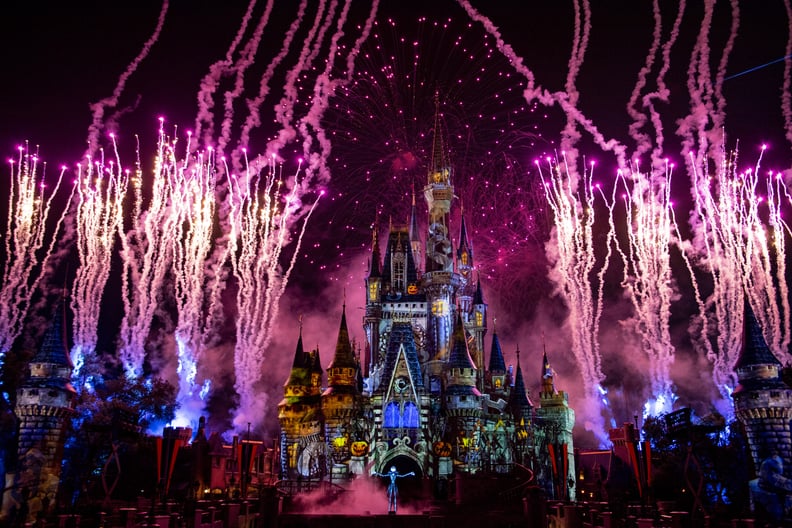 Watch the Fireworks and Stage Show Back-to-Back
If you can, try to watch the new fireworks show, Mickey's Not So Spooky Spectacular and the Hocus Pocus Villains Spelltacular back to back. Watching from the hub of Main Street U.S.A. next to the Partners statue is a great spot for the fireworks, then as guests start to clear out, move closer to the stage for the Hocus Pocus Villains Spelltacular. If you try to wait for the midnight showing of the Hocus Pocus Villains Spelltacular, it could get rained out, especially at parties in August or September.
14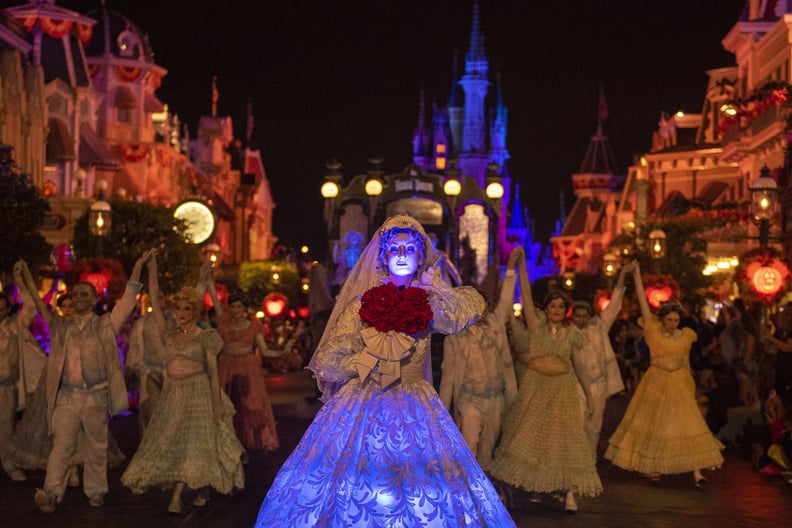 Catch the Second Showing of Boo to You!
The first showing of Mickey's Boo to You! Halloween parade is always the busiest. Unless it looks like rain is coming, try to catch the second showing. The parade takes the same route from Frontierland to Main Street USA as Disney's Festival of Fantasy Parade. Anywhere along the route is a great spot. For great photos, line up along Main Street USA, and for fewer crowds, line up in Frontierland.
15
There Are New Ride Layovers This Year
Unlike Disneyland, Walt Disney World usually doesn't get ride layovers for Fall, but this year, only at Mickey's Not-So-Scary Halloween Party, some attractions will be getting spooky layovers. The Mad Tea Party will have new lighting and effects that will transform guests until the dancing lights. Pirates of the Caribbean will have live actors on the attraction sets interacting with guests on the search for Gunpowder Pete. Space Mountain will have a new soundtrack and special effects for party night. Over at the Monsters Inc. Laugh Floor they are bringing in a trick-or-treat trail and allowing guests to interact with the monsters while getting candy!