What the Teal Pumpkin Project Stands For
Here's the Deal With Those Teal Pumpkins You've Been Seeing on Everyone's Doorsteps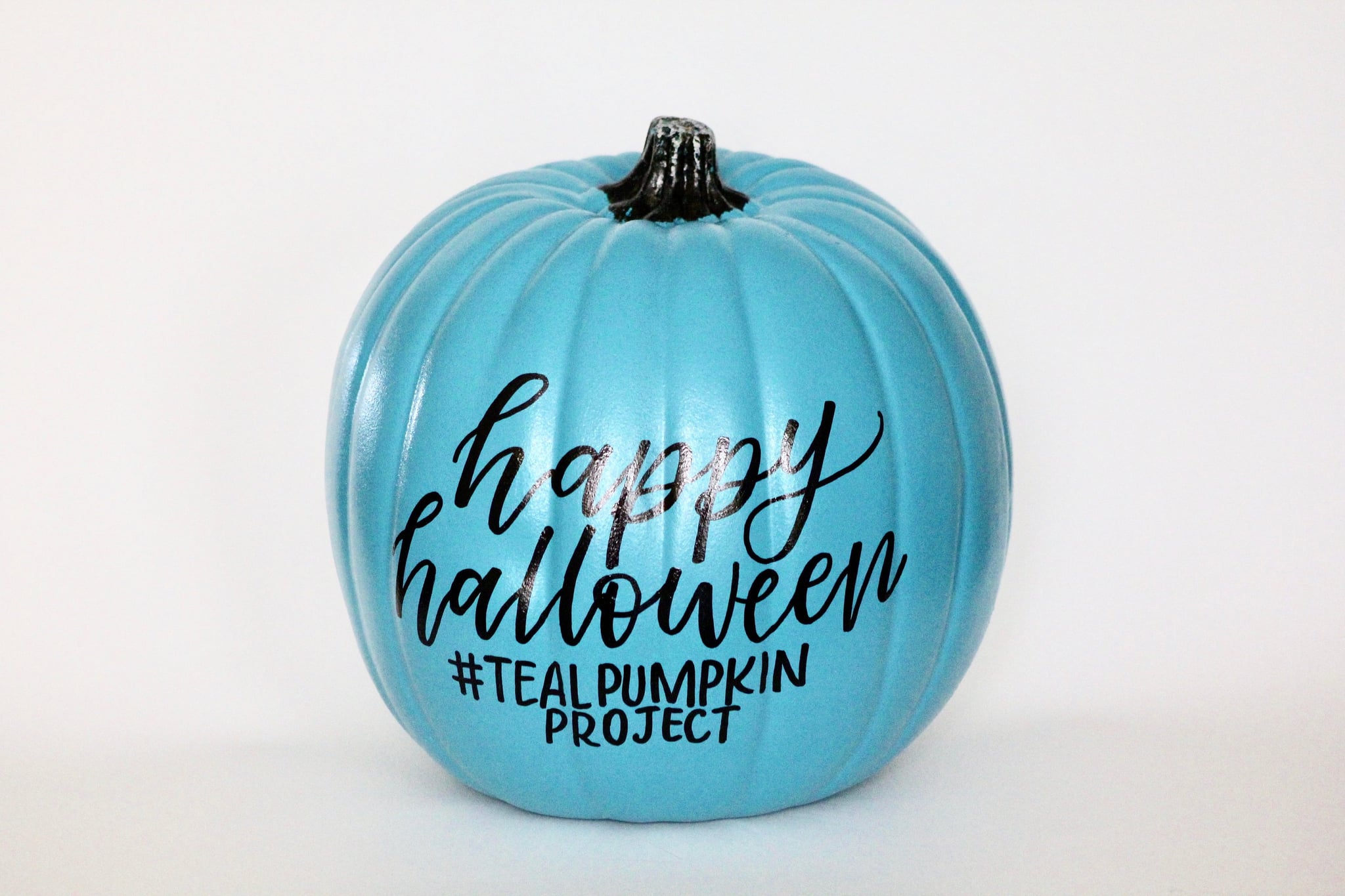 You might begin to see teal pumpkins popping up among the sea of orange this Halloween, and there's good reason for the new tradition.
Each blue pumpkin makes up a part of the Teal Pumpkin Project, which is a campaign that originally started by a local mom in Tennessee before Food Allergy Research and Education expanded the idea into a national effort in 2014. Each nontraditional pumpkin serves as a sign to trick-or-treaters that there is a non-food treat option at that home.
"This is an awareness movement to create a safer and happier Halloween for all kids because Halloween can be a very scary and stressful time — not only for those kids with food allergies but their parents who are worried about some of those candies they might get as they are trick-or-treating," Nancy Gregory, FARE's Senior Director of Communications told POPSUGAR. "Of course kids with allergies want to participate in the trick-or-treating tradition like their friends do and this helps that experience."
With the prevalence of food allergies among children in the United States now at one in 13 kids, there is a very good chance that there is a child who lives near you with a potentially life-threatening allergy. While some parents dismiss the idea of handing out non-food items because candy is part of Halloween fun, it's important to remember that the purpose of this initiative isn't to rid children of their sweet treats. "The goal here is not to exclude candy from the Halloween tradition," Nancy said. "It's simply to try to ensure that kids with food allergies or dietary restrictions for whom candy might not be an option are able to enjoy a safer, happier Halloween."
For Houses Wanting to Participate
Mark your home as an allergy-friendly spot by either displaying a teal pumpkin or downloading a free sign — the look on each child's face when you hand them a treat they can enjoy will be worth it!
Share your teal pumpkin on social media to raise awareness for this important movement. The more inclusive pumpkins out there the happier kids will be come Halloween night.
Decide on whether you want to have all non-candy handouts or just a separate stash for children with allergies.
If you are handing out candy as well, be sure to keep the treats in two separate bowls to prevent any contamination.
Don't just go for the "allergy–friendly" candy or snack. More than 170 different types of foods have been identified as causing food allergy reactions. Just because something is marketed as "free from" a few major allergens doesn't mean that it's suitable for everyone. The point is to have an inclusive option so ensure that your treat is safe for everyone.
Also be sure to ask the kids before giving out any candy first instead of waiting to hand out the non-candy option only to children who mention an allergy. Little ones and their parents might not bring it up and assume that what you are giving is safe because of the teal pumpkin.
For Parents of a Child With Food Allergies
Consider a Switch Witch to help your little one deal with having to give up any potentially dangerous loot. Similar to the beloved Elf on a Shelf, this tricky witch stays at home and will make candy disappear from those who don't behave but her spell can also help to remove any harmful candy overnight.
Remember that part of the fun is in partaking in the trick-or-treating tradition so consider allowing your child to go to homes even without the pumpkin. Come up with an idea of what to do with the collected candy — like donating it to charity or family members.
Share your own proud teal pumpkins to raise awareness among friends and neighbors to get more homes participating on behalf of your child and others like him or her.
Even if your child brings home a non-food item, inspect it for allergens. Some non-food products, like molding clay, contain wheat or other potentially harmful allergens.