At 8 years old, Kayla Weissbuch received a scholarship to attend summer camp, and her life was forever changed by the experience. Now, Kayla can be found running her very own sleep-away camp, Camp Brave Trails, alongside her partner, Jessica. The leadership-focused camp welcomes LGBTQ+ youth ages 12 through 18 for five week-long sessions in California every summer (plus one week at a Maryland location) and gives Kayla and Jessica an opportunity to introduce the magic of camp to teens while also providing a safe space.
"When you walk [through] the camp gates to see a forest drenched in rainbows and our staff cheering to welcome you, you instantly feel a sense of belonging unlike anywhere else in the world. That's only the beginning of what is often described as our campers' 'favorite time of the year,'" reads Brave Trails's opening statement on its website. And as someone who was very fortunate to have had the transformative childhood experience of sleep-away camp, it gives me freaking chills.
I spoke to Kayla and Jessica about their shared involvement in starting Brave Trails, why this endeavor means so much to them, and how they use their summer sessions to teach leadership skills and empower teens to be change-makers.
"For a lot of our kids, they walk around their school environments and communities at home trying to defend themselves, trying to advocate for themselves, trying to fit — unfortunately so much of the world is not accommodating to LGBTQ+ youth, or silences them," Kayla told POPSUGAR. "It's been really fun to create a space where they don't have to be an advocate for themselves, they don't have to have that shield or that guard up."
"It's been really fun to create a space where they don't have to be an advocate for themselves."
Kayla and Jessica describe Brave Trails as the quintessential summer-camp experience, but with an LGBTQ+ "twist." Campers are organized in cabins by age, not gender, and aren't expected to adhere to any type of gendered dress codes. All identities and pronouns are respected, and consent is a huge part of their camp culture — everyone must ask before touching another person or their belongings. Additionally, the Weissbuchs wanted to avoid Brave Trails feeling like therapy, so they instead crafted it to be "a therapeutic space to allow folks to explore who they are and their identity, and try on different names."
"It's nonclinical, honestly. A lot of our kids are coming from LGBTQ centers and LGBTQ therapy or school therapists. And those are amazing places and have done so much to support youth, but it's also about remembering that they're still kids. They need childhood experiences," Kayla said. Jessica, who is a licensed marriage and family therapist, added: "[Our campers] have different needs sometimes. Unfortunately the levels of anxiety and depression in queer youth is four times as high as nonqueer youth, and we had that in mind as we were building the program."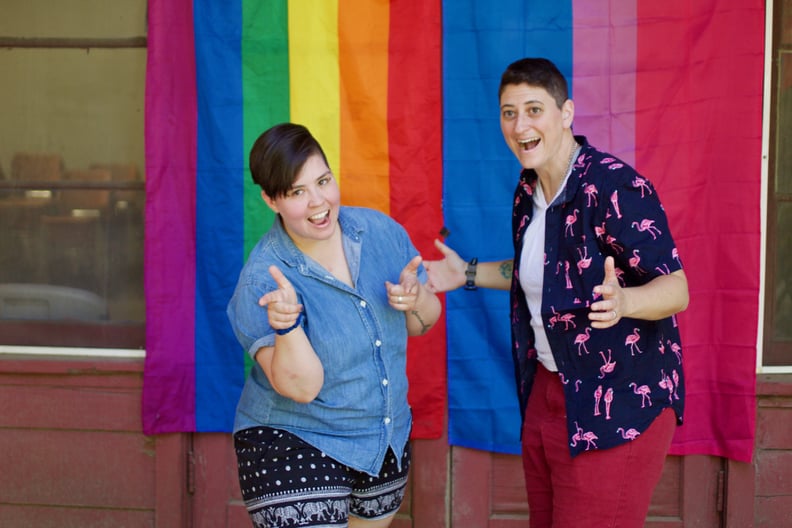 Kayla and Jessica Weissbuch
As the founders and codirectors of Camp Brave Trails, one of the most important things Kayla and Jessica wanted to do away with was the idea of tradition for the sake of tradition, as some — like gendered housing — can be harmful and limiting. To achieve this, the duo are constantly open to the idea of change and include their campers and staff in the ongoing design of camp.
"If something's not working and they come to us, we're not just like, 'Well, that's the way it's done,' we're like: 'Yeah, OK, let's talk about it. Why doesn't it work? What can we do to change it?' We take action," Jessica shared. Kayla added, "Our campers designed so many of our rules, it's awesome."
They also give their campers the ultimate choice of how their days will look. Even though camp activities are planned to an extent, campers are given various options for what to do each day. "Campers sign up for all of their activities because we want them to have autonomy," Kayla said. "There's so much that queer youth do not have autonomy over, so that is one thing our campers really love."
That said, should a camper not be feeling up to a certain activity they originally picked, the staff are poised to provide even more flexibility, especially after 16 months of the pandemic.
"We're going to have grace for everybody's experiences," Kayla said. "Everybody is going to be coming at us from a different place having experienced different levels of trauma over the last year. [We'll] adjust to what the kids need. If they need to hock programming for a session and go have a dance party, let's do that. If they need to have a night in with their cabin instead of doing an evening program, let's do that. We're all prepared to take it one step at a time and just hear the needs of our people."
Another way the Weissbuchs are in tune with their campers' needs is in terms of financial aid, especially as Kayla was first able to attend camp herself on a scholarship. "The common narrative of camp is white, upper-middle class, so we're really trying to change that narrative and provide a space for anybody that can come. We never want money to be the reason why a camper can't come, so we provide anywhere between 20 and 70 thousand dollars of scholarships every summer," Jessica said of the fundraising she and Kayla do in their local community to help send kids to Brave Trails.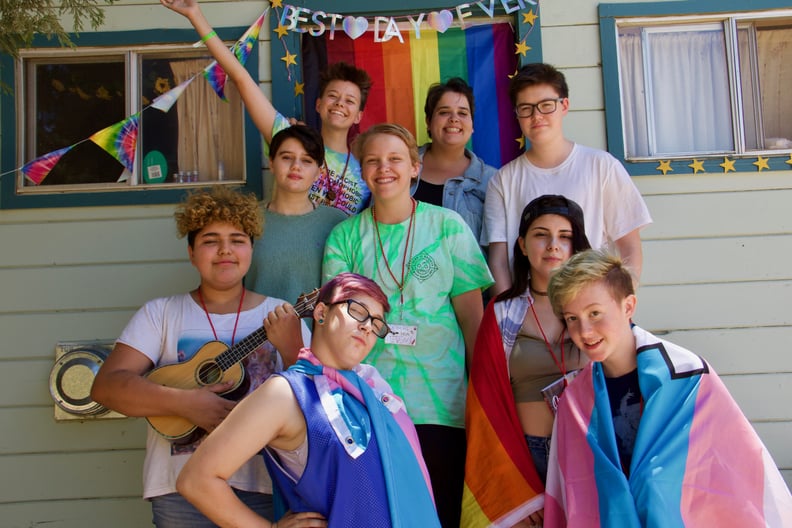 In addition to its traditional camp activity offerings, like swimming, arts and crafts, and sports, Camp Brave Trails further sets itself apart with a twofold leadership program that teaches kids the skills needed to create change. "There are two major programs that we have at camp that are 100 percent leadership-focused. Everything we do has a leadership twist to it, but these two programs are the meat and potatoes," Jessica explained.
"One of the intentional reasons we made it specifically a leadership camp was to show queer youth that they have so much natural resiliency."
One half of Brave Trails's leadership offerings are workshops hosted by folks from the local community. Four or five run per day in a variety of topics, such as how to create an LGBTQ+ club at school, public speaking, and queer sex education, as well as identity and mental health workshops that help campers ground themselves and other members of their communities.
The second program, Passion to Action, is described by Jessica as an "intentional storytelling space." Passion to Action helps campers realize what their passion is and how to craft a personal story about that passion with the intention of creating action in their community. For example, how to tell their school board why it's important they have a recycling program at their school.
"One of the intentional reasons we made it specifically a leadership camp was to show queer youth that they have so much natural resiliency and so many natural leadership skills that they may not recognize in themselves," Kayla said, adding that they do their best to point out that leadership can come in many forms and has no one definition. "We kind of just give them the tools and let them run with it. . . . We like to tell our campers that camp is not a utopia, it's the launching pad. Get all your gear together, get all your knowledge, and we can turn it into something."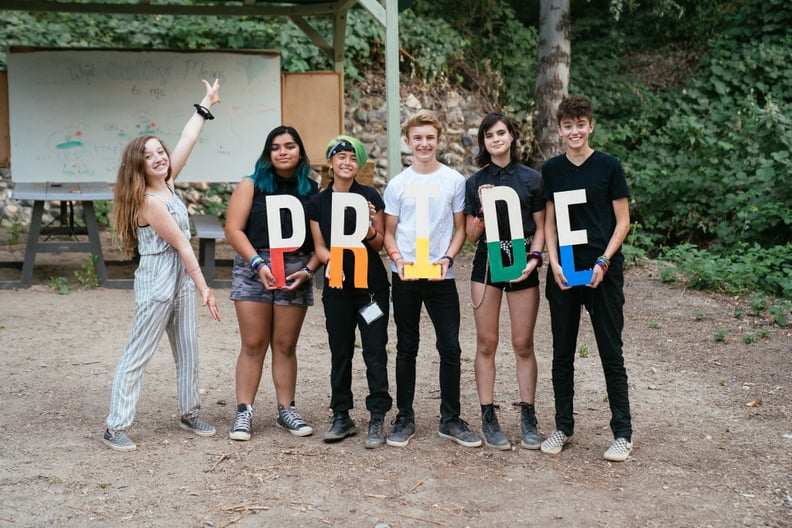 In addition to hosting teens throughout the summer, one of the other programs Jessica and Kayla created is Brave Trails's family camp, which is held on a weekend in March. The pair joked that the idea was born out of selfishness, as when they were in the process of adopting their now nearly 3-year-old child, Ari, they saw an opportunity to create something really wonderful for other queer families like their own.
"[The idea for family camp] came about when we were starting our family. There's almost nothing out there for queer families," Kayla shared. "It can be extremely isolating. And especially as kids grow, it's so healthy to be able to see other families like theirs . . . just being together and celebrating — letting the kids be kids but with this undertone of celebration for each unique family."
"And not having to explain your family," Jessica added. "It's been really cool to see the community just grow. All of our families are not only at camp together, but then they have parties and vacation together now and are just in community."
Although family camp has been on pause since the onset of the pandemic, Brave Trails is opening its doors for reduced-capacity summer camp in July. All four sessions are completely booked and the waitlist currently has upwards of 700 kids on it.
Kayla shared that while some camps she's in contact with are hearing feedback that campers are upset certain aspects of camp will be different this summer, many of the Brave Trails parents are just excited their kids will be around other queer youth after spending so much time apart from their friends. For some campers, Kayla explained, the only friends they have are at camp every year. "It'll be fun to be with our campers in a space of gratitude of just being together."