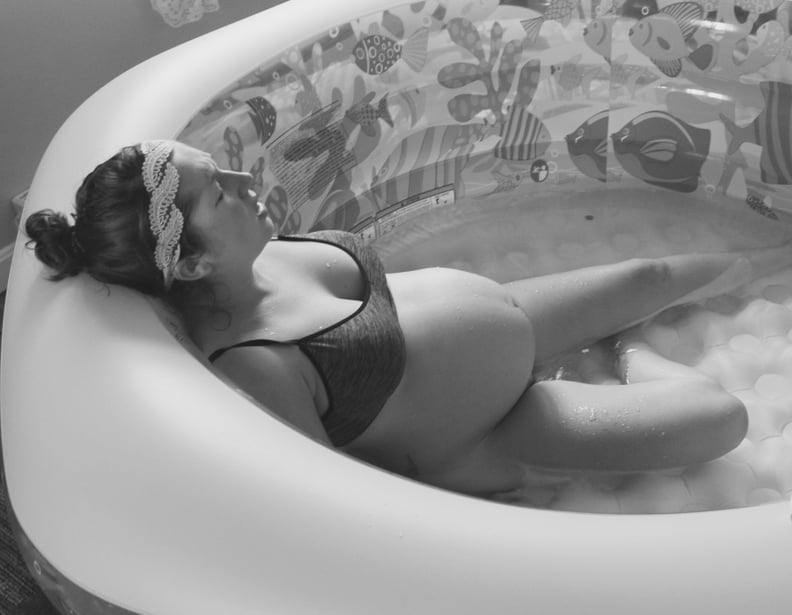 Jacquelene Amoquandoh
Jacquelene Amoquandoh
I had on my husband's sweatpants, flannel shirt, and tank top. A happy trail was painted on my lower belly, and a beard was painted on my face. My hair gathered in a bun was hidden by a Winter cap. After taking a selfie and scaring myself in the mirror, I texted a friend, "Wouldn't it be hilarious if I went into labor like this?" Well, guess the joke was on me. After dancing the night away, winning the Halloween costume contest, and questioning what my light cramps were, I went into labor, dressed as a beer-bellied man, on Halloween night, a week early.
When thinking of home births, many people (myself once included) think of a pool full of flower petals, a dim, candlelit house, Zen music playing in the background, and the birthing mom surrounded by her family. But as any mom knows, births have other plans. My phone was dead, and my charger nowhere to be found, so my birth playlist that consisted of Ladysmith Black Mambazo and Lana Del Rey went unplayed; the candles I wanted to light were on my list of things to still get; my blow-up fishie birth pool that I bought on Amazon was blown up, but we hadn't figured out a good way to quickly fill it with water, and I screamed at my husband from our bedroom as he struggled to fill it quickly enough. There were not any rose petals, but there was a birth . . . 24 hours later.
I was relieved, but I wasn't happy. I had dreamed of being calm and making birth a beautiful experience.
I called my midwife at 1 a.m., and she didn't come until 1 p.m. that afternoon as she wanted to let me labor a while on my own. She said I sounded calm and likely was still less than five centimeters dilated, but when she arrived, I was already at seven centimeters. "Things are going well!" she said, as I rolled my eyes while still maintaining the utmost respect for how wonderful she was. But we quickly realized that things were not actually going as well as they seemed. My baby girl was posterior, I was having terrible back labor, and it took nearly 12 hours more to bring her into the world. Trust me, if I was in the hospital, I would have gotten all the pain medication I could have.
There were two midwives in my home that day, and they were my rocks. They moved me from the bed to the toilet to the floor of my baby girl's room, where I eventually gave birth. They massaged my back, made me honey water to keep my sugar up, and encouraged me that I could do this, no matter how unbelievably impossible it seemed. My husband was in tears, feeling stressed and helpless, so one of the midwives took him for a walk so they could both get a break. The other midwife was by my side, trying to help physically move my baby into the right position and hold my hand through the pain. I wanted it to be over. I no longer had any mind, thoughts, or even a desire to try to breathe or meditate through the pain.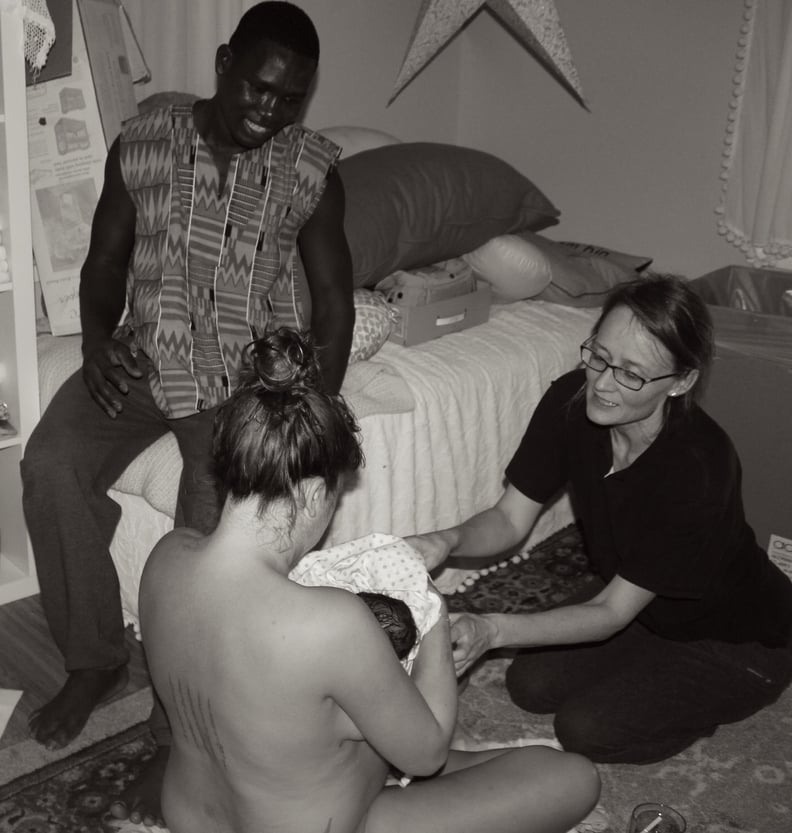 After a while, I could see the midwives talking to each other and hear the quiet whispers that I may have to be transferred to the hospital. If I had been in the hospital, I would have likely had a C-section by now. But they both had the faith, medical experience, passion, and knowledge to help guide me through the natural birth I was hoping for in my home. But honestly, I didn't know if I could do it.
And then, I did. With some great determination and focus from those wonderful helping hands, I just let everything go and lost control, and that was when my baby girl was born. I was relieved, but I wasn't happy. Of course, having my sweet girl lying on my chest was an absolute miracle, but I felt like I had somehow failed during my birth. I had dreamed of being calm, of bringing her into the world and having it be a beautiful experience for us all, but birth isn't like that. Birth is your body and mind losing control, your voice echoing through the walls, and your loved ones and birth team guiding you through every moment. (I should note here that my girl was transferred to the NICU shortly after she was born for slightly labored breathing. This would have happened in the hospital or out of the hospital and had absolutely nothing to do with being born at home. The midwives made the right decision at the right time, and she was completely fine shortly after.)
Would I have a home birth again? Yes, yes, yes. Many people had questioned my decision (myself included), but I knew, for me, that going to the hospital was a scarier idea. Our C-section rate in the United States is extremely high, and our use of interventions is even higher. Sometimes, these things are needed and save lives, while other times, they're not. For me, I wanted no interventions unless absolutely necessary. Whether you want a hospital birth, a home birth, a free birth, or a scheduled C-section, I have no judgment. We all know what's best for ourselves. I believed in my body.
While looking back on the whole thing, I've let go of being so hard on myself. What I feel now is strength. Women are incredible creatures. I mean, I was able to deliver a posterior baby in my own home — I am a f*cking superhero. And who helped me through this, besides my husband, was an incredible team of women. Women who guided me, encouraged me, and helped make the right decisions for me during this particular birth. The only thing I might do differently next time is charge my phone and perhaps forgo the beard and happy trail I painted on myself. But, as I said, birth is unpredictable, so I guess we'll wait and see.