Starting Wednesday, May 20, Disney Springs, the entertainment, dining, and shopping district at Walt Disney World, will begin its phased reopening! This is the first domestic Disney property to begin reopening after the Disney parks and resorts closed after the operating day March 15 due to the coronavirus. Disney Springs will be reopening in two phases starting with many of the non-Disney-owned restaurants and stores on May 20. Then on May 27, more of the Disney-operated locations like World of Disney and D-Luxe Burger will begin to open.
Even though Disney Springs is starting to reopen, there are some new policies you should be aware of before heading there. This includes Disney Springs as a whole, and some of the individual restaurants and shops having their own policies. To learn more about the reopening of Disney Springs and how it will affect your time there, be sure to scroll through and read all of the information we know right now.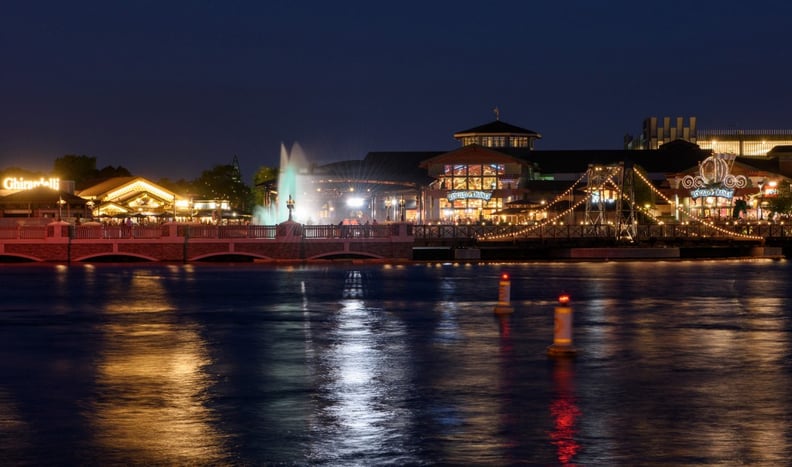 Six Things To Know Before You Go to Disney Springs
Disney Springs has a list of six things to know before you and your family get ready to visit.
There will be limited parking and entrances.
Every member of your family will have a temperature check.
Face coverings are required for guests three and older.
There will be physical distancing practices in place.
There are temporary modifications to operating hours and entertainment offerings.
There is an increased focus on sanitation and cleanliness throughout Disney Springs.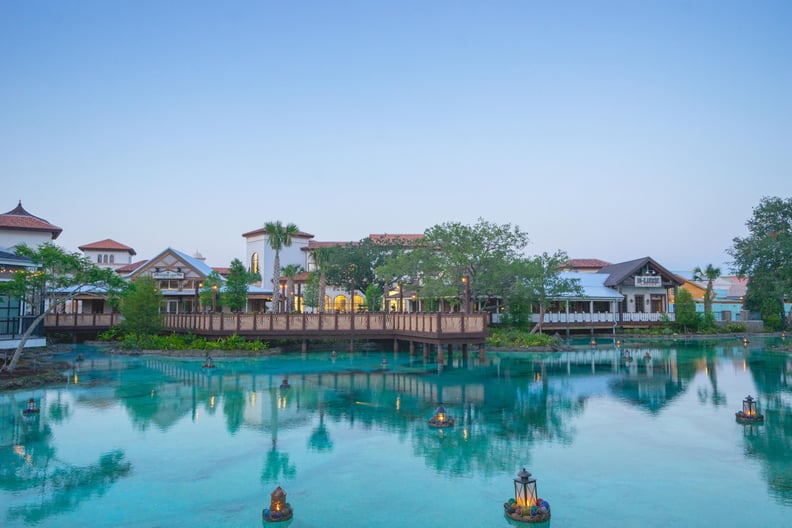 Parking Is Limited
Parking is limited to the Orange and Lime Garage for guests. All of the surface parking lots will be closed. If you plan on taking a ride share service to Disney Springs, the drop off is going to be in the Marketplace parking lot. The entry points from the parking areas into Disney Springs include from the Orange and Lime Garages, Hotel Plaza Boulevard pedestrian bridge, and ride share drop off.
Because of reduced capacity at Disney Springs, once both of the parking garages are full guests will not be allowed to park somewhere else to visit Disney Springs.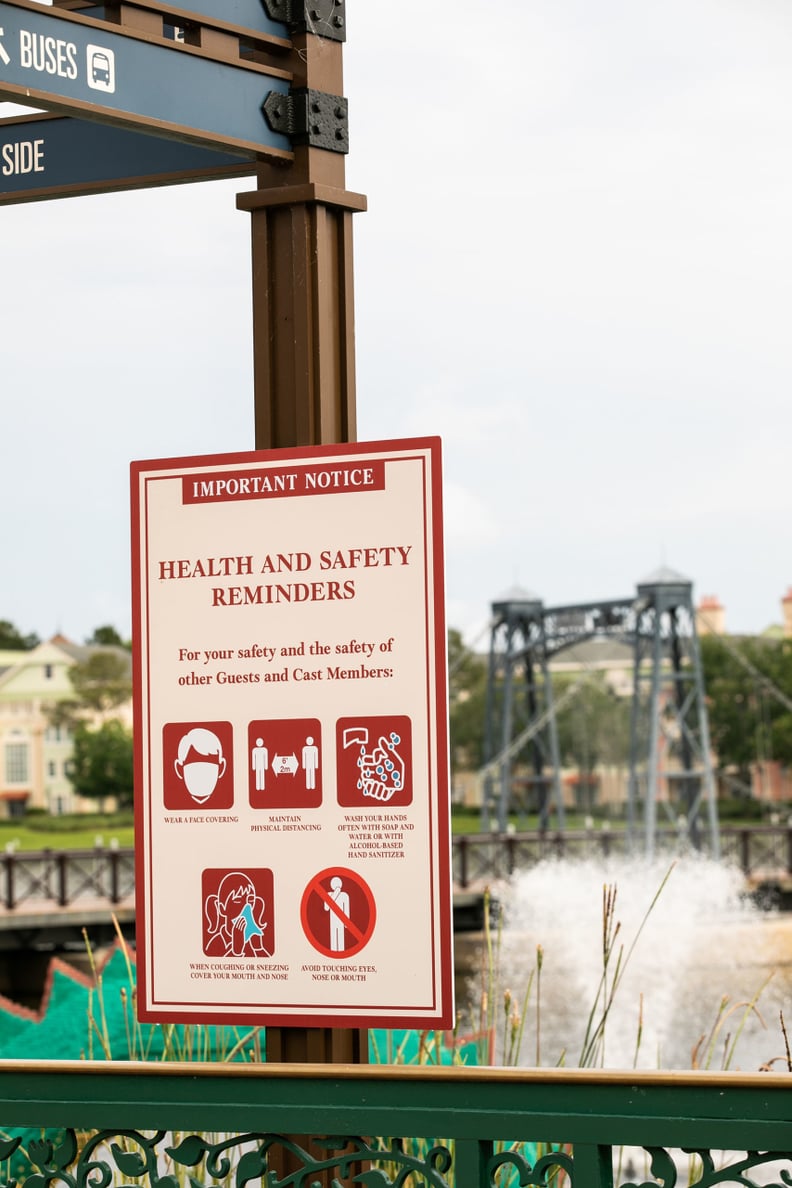 There Will Be Temperature Screenings
All guest must have their temperature taken before being allowed to enter Disney Springs. The temperature check is done with a contactless thermometer. Temperature screenings will be required for Disney cast members and third-party operators as well.
Disney Springs is basing their guidance from health authorities, and anyone that has a temperature above 100.4 F will be rescreened at a different location. Anyone who has a temperature above 100.4 F after the second screening will not be allowed to enter Disney Springs, and neither will anyone in their party.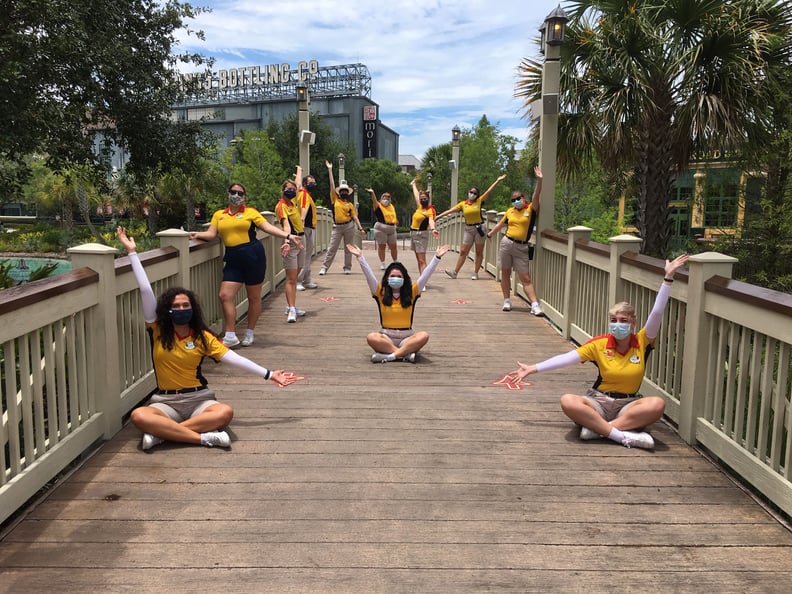 Face Coverings are Required
Face coverings will be required for anyone over three years old, including working cast members. The face covering must be worn over your nose and mouth at all times, unless you are dining. There will not be face coverings given out at the entry to Disney Springs, so guests must provide their own. Disney Springs will turn away anyone who isn't wearing a mask upon entry.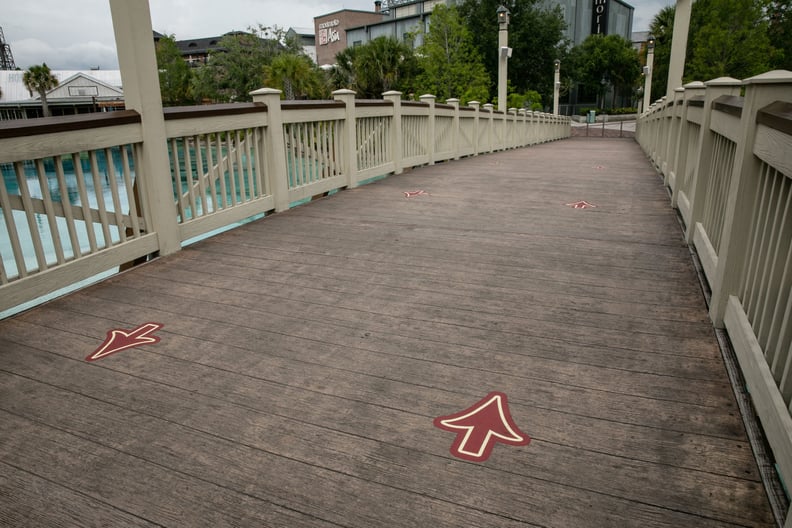 Physical Barriers Will Be In Place
While inside some stores or restaurants you might notice some physical barriers. Your family will notice them at many cash registers and guest relations locations. Physical barriers are only in select locations where it would be harder to maintain a physical distance from someone else.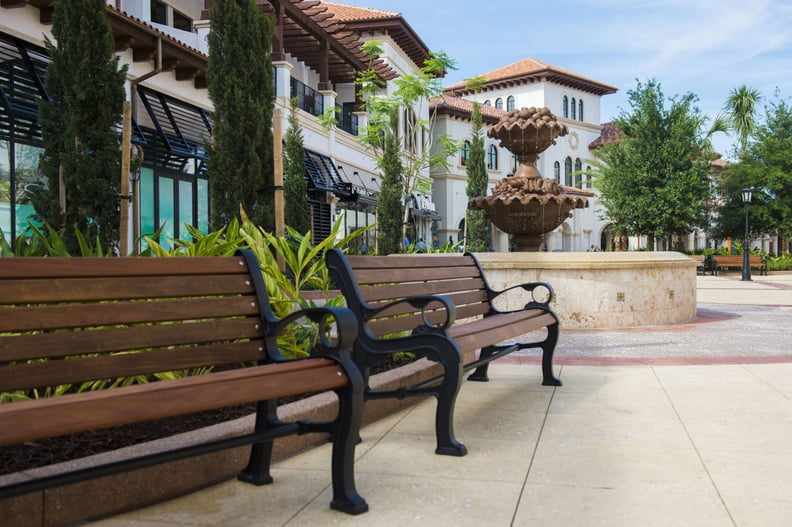 Cashless Transactions Are Encouraged
Disney Springs is suggesting that families try to use cashless transactions as often as possible. This includes a debit or credit card, gift cards, or mobile payments.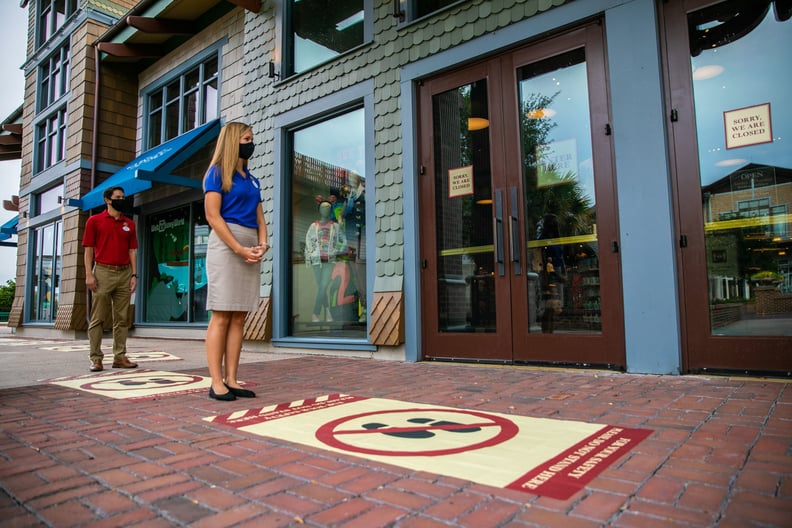 Physical Distancing Measures Are In Place
Even with the reduced number of people allowed inside Disney Springs at one time, there are still signage and stickers to show your family where to stand and what side of the walkway to be on.
Large stickers like these in front of World of Disney show where you cannot stand. Each sticker is placed six feet apart from the next to ensure physical distancing. You will also notice this inside a registers to check out.
Along with these new markings, you might encounter cast members who are part of a new team to help guests maintain social distance while walking through and enjoying Disney Springs.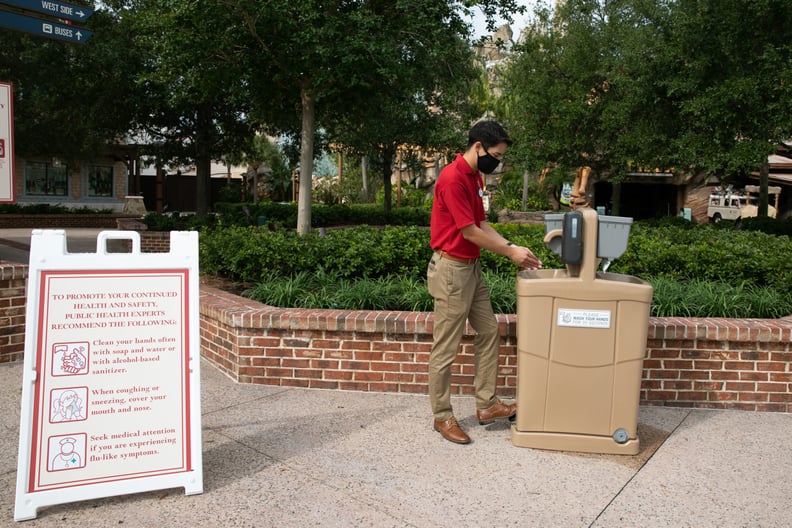 Cleanliness And Sanitation Will Be Prioritized
One of the new major things your family is going to see around Disney Springs is the focus on cleanliness and sanitation. Around the complex you'll notice that there are multiple hand washing stations and hand sanitizer dispensers. You might also notice that trash cans have the flaps propped open so you don't have to touch them.
Along with these measures for guests, Disney cast members will be regularly wiping down high-touch surfaces like door handles, elevator buttons, handrails, tables, and more.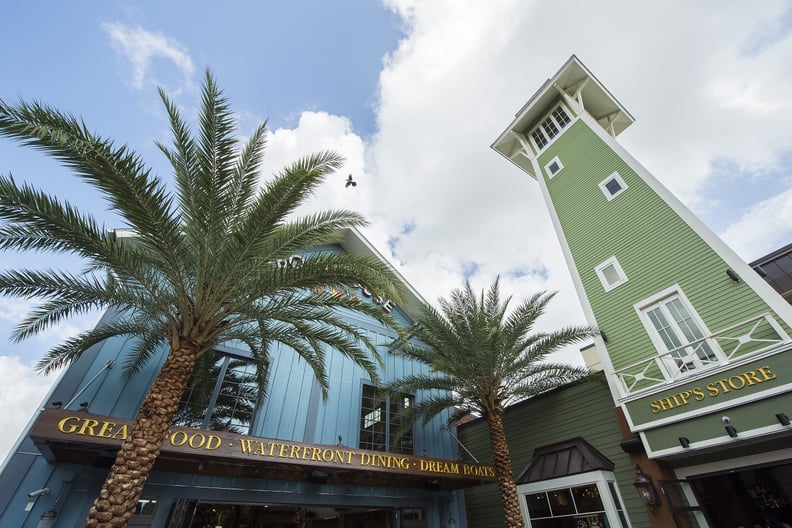 What's Open Starting May 20 in Disney Springs
There are a variety of stores and restaurants opening starting May 20 including:
4 Rivers Cantina Barbacoa Food Truck
Anthropologie
The Art Corner by Artistic Talent Group
Basin
Blaze Fast-Fire'd Pizza
The BOATHOUSE
Chapel Hats
Chicken Guy!
Columbia Sportswear
Crystal Arts by Arribas Brothers
Earl of Sandwich
Edward Beiner Purveyor of Fine Eyewear
Erin McKenna's Bakery NYC
Free People
Frontera Cocina
Happy Hound
Joffery's Coffee and Tea Company
Lucky Brand
Luxury of Time by Diamonds International
Pandora Jewelry
Paradiso 37 Entertainment
Pelé Soccer
Planet Hollywood
The Polite Pig
Pop Gallery
Ron Jon Surf Shop
Royally Yours by Arribas Brothers
Sanuk
Savannah Bee Company
Sosa Family Cigars
STK Orlando
Sugarboo and Co.
Sunshine Churros
T-REX
UGG
UNIQLO
UNIde50
Volcom
Vera Bradley
Wolfgang Puck Bar and Grill
Wine Bar George - A Restaurant and Bar
YeSake Kiosk
ZARA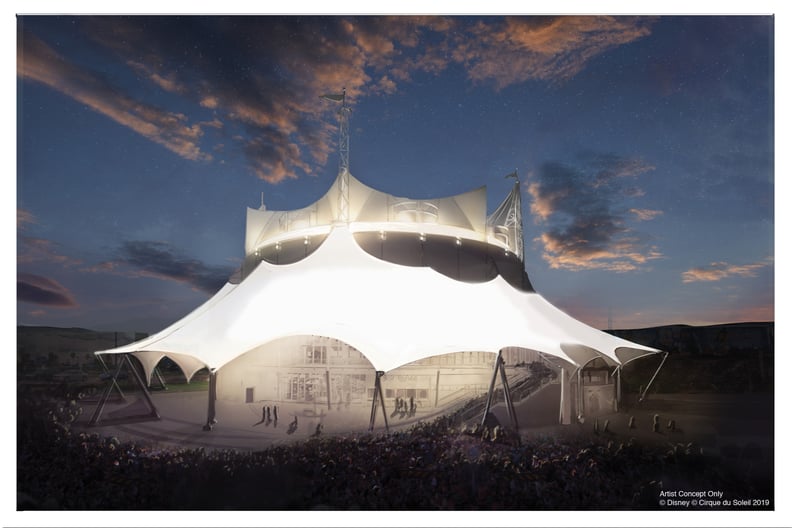 What's Not Going To Be Open Starting May 27
There are a few locations that have already mentioned they will not be reopening with the second phase of Disney Springs, or have not announced an opening date. Those locations include:
Bibbidi Bobbidi Boutique
Raglan Road Irish Pub
Drawn to Life, Disney's newest Cirque De Soleil show
The VOID
Rainforest Cafe
Maria and Enzo's
Enzo's Hideaway
The Edison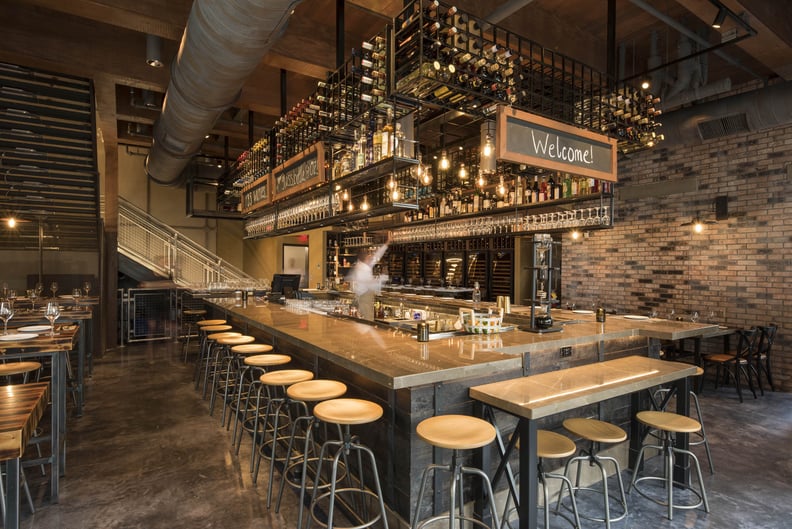 Do I Need To Make Dining Reservations at Disney Springs?
In short, yes, you should make dining reservations to be able to have lunch or dinner at your favorite Disney Springs restaurants. Now through May 31, you can either contact the restaurant directly, do a walk-up reservation or find the restaurant on OpenTable to reserve a table.
Starting on June 1, you can make reservations for Disney Springs restaurants on the official Walt Disney World website or through the My Disney Experience app also.
Note that even if your family has a dining reservation you might not get into Disney Springs if the parking garages are full. Be prepared to arrive early and enjoy some time at Disney Springs before your reservation. If you've made a reservation through My Disney Experience or the Walt Disney World website and cannot get into Disney Springs because the parking garages are full and miss your reservation time, Disney is waiving the typical $10 per person charge for missing your reservation.
Some restaurants like Wine Bar George are implementing a digital check-in system, where you text the restaurant when you arrive at Disney Springs, then text again when you arrive at the restaurant to be seated to minimize contact and maintain social distancing. Restaurants are also utilizing a digital QR code or single use menus to make your order.