Style Tips For Androgynous Women
How I Finally Embraced My Androgynous Style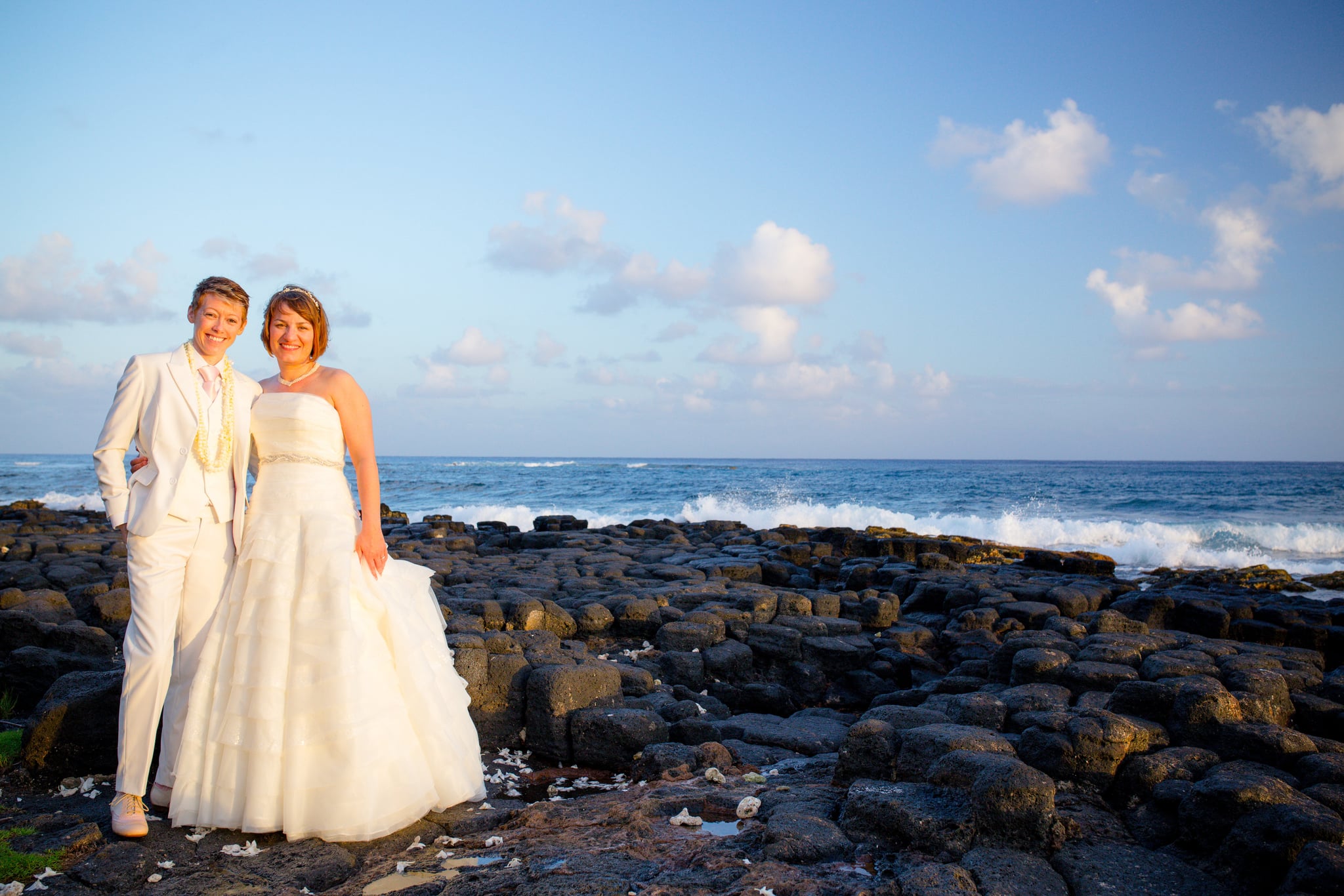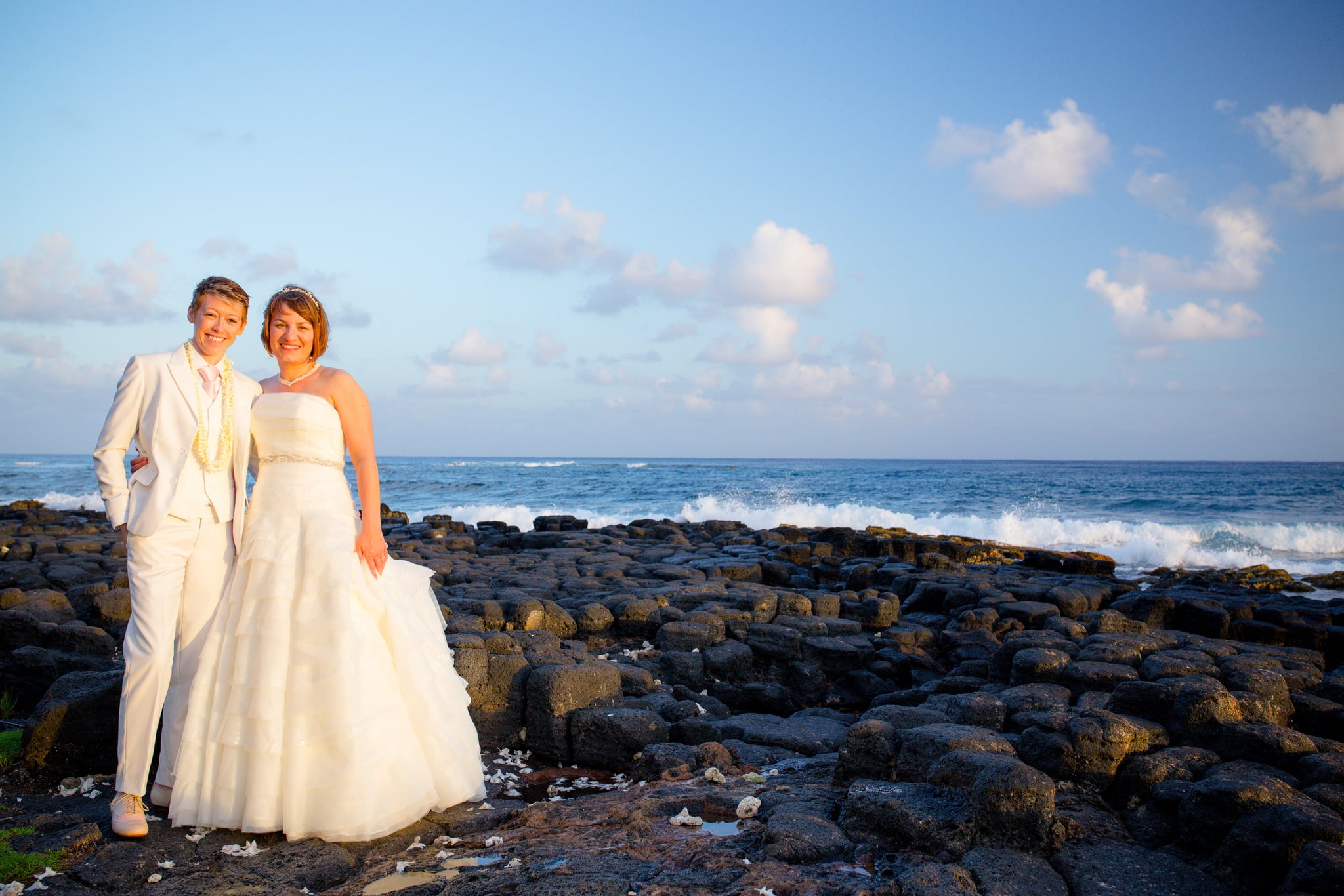 Image Source: Elaine Oyzon-Mast
First let me preface this story with one cold, hard fact: I'm in my 40s. I am not and never was a supercool, 20-something lesbian with an awesome sense of style and an even more awesome wardrobe (think Ruby Rose — I sure do, A LOT). The truth is, when I was in my 20s, I was far too afraid to be who I wanted to be, to dress how I wanted to dress, and to quit giving a sh*t what other people thought. The older I got and the more confident I became with the person I was, the less I cared about what others thought. I let too many years go by trying to be someone else, being uncomfortable in my skin and in my clothes. But I'm proud to say that I've finally developed a sense of style that doesn't just allow me to hold my head up, it also gives me the confidence that conforming to social norms never did.
I've never been a girlie girl. My whole life I have been the epitome of a tomboy. For as long as I can remember — long before I knew I was gay at age 18 — I have struggled to find clothes I was comfortable in. At primary school dances, when every other little girl was wearing a dress, I couldn't think of anything worse. One year, I went in (homemade) MC Hammer pants and a t-shirt with the words "Talk Is Cheap." Even though it was the '80s, trust me: this was still an unfortunate fashion choice. I can recall very vividly going to visit my grandma when I was around 9 or 10. I was wearing plaid pants, a long-sleeve top of some description, and a bowler-style hat. My grandma turned to my mum and said, "Who is this little boy you brought with you?" Thanks very much, Grandma. #asshole. May she rest in peace.
I didn't want to dress like a boy, I wanted to dress like me, but I didn't know what that meant or how to do it. The struggle was often and it was real. I graduated from high school in the mid-'90s, when only your mum wore pantsuits and not cute ones, so those were definitely out. For my high school formal, well, I'm just going to leave this here:
Image Source: Nyree Spencer
For the better part of my early 20s, I worked in bars and restaurants, where the dress code was jeans, t-shirts, black pants, white shirts — now that I could do. When I landed my first corporate job at 26, I had nothing that would pass for professional, so I bought a whole lot of really boring office clothes that I didn't feel comfortable in. I wore wide-leg pants, high heels, and blouses (that is a dreadful word, BTW), but I stopped short of skirts, because even I had a line I wouldn't cross. But otherwise, I was nailing it! (That was sarcasm, in case you couldn't tell.)
Then, I got invited to my first formal awards dinner. I remember feeling complete dread. I don't wear dresses, I didn't even own any dresses, so I did the obvious thing and borrowed one from my girlfriend. Because, I thought, that's what girls are supposed to wear to these things, right? There was no part of me that thought to question that. So I put on the pink (yes, pink!) dress and went to the dinner. Although I looked feminine and not at all out of place amongst all the other girls in their pretty dresses, I felt ridiculous, strange, and awkward, like I was playing dress-up and playing a part that should never have been given to me. This happened no fewer than five times, and I did the same thing, every time, though thankfully I had enough friends who owned dresses, so the pink dress only made one appearance.
I have included another photo for your horror/amusement:
Image Source: Nyree Spencer
Over time, I started to shift my style: I bought less-feminine button-down shirts and V-neck sweaters from the likes of Banana Republic, Calvin Klein, and Ann Taylor. The heels on my shoes got lower and the pant legs a little narrower. I also moved to Atlanta from my hometown in Australia and was now working in a suburban office full of straight, white, male, Republican types. Diversity wasn't exactly top of mind, so fitting in was the safest route at first. But it also allowed for a new start, a reinvention of sorts. I was unknown, and there were no preconceptions.
A couple of years later, at age 33, I went to a women's leadership course where they talked about the importance of your personal brand and what it says about you. For the first time, I started to realize that my clothes were about way more than just what I was wearing; they embodied who I was and how I wanted to be seen. That was an important message, and I heard it loud and clear.
Image Source: Nyree Spencer
I was already starting to find my style, but now I was focused even more on feeling good about how I looked and felt. My wardrobe grew to include a lot of suit jackets, which I'm still very partial to. You can pair those with anything! I also discovered skinny jeans (the perfect androgynous pant style) and a love of ties, vests, and short-sleeved button-downs. I even stole a few pieces from my dad when I went back home to Adelaide. Turns out, the old man had some pretty cool stuff.
But I quickly realized that the stores I was used to shopping in didn't sell the clothes I wanted to wear. I started looking in the men's section, which ignited an internal struggle: women aren't supposed to shop in the men's section, right? Or so says society (and my mother). Not only that, but men's clothes don't exactly fit right; they have areas for bits we don't have, their arms are longer, their shoulders are broader, and even if the pants fit around the waist, the legs are too long. Then, even if everything else fits right, there's my enormous D-cup chest to work into the equation! But despite the challenges of the men's section, f*ck me if the clothes aren't SO much cooler than the offerings for the nongirlie girl in the women's section. So I persevered.
I started off poring over the pages of Qwear, described as "a style website for people who transcend social norms through fashion performance and gender expression." Not only did it confirm that there are hundreds of women like me who don't conform to the norm, but it also gave me some great outfit ideas that I probably wouldn't have come up with myself and sure as hell wouldn't have been brave enough to try without seeing someone else pull it off. Then I discovered Topman, and my whole world changed for the better. I have no hips and the ass of a 10-year-old boy, and it's almost like their clothes are designed for me. Topman quickly became my go-to store and it still is. I love their skinny dress pants for work, their shorts are a great length, and their capped tees are perfect for any occasion. I even had a personal stylist talk me into a pair of joggers. Although it is a menswear store, it is less masculine and more "me" than any menswear store I have ever been into.
Image Source: Nyree Spencer
I found that my casual style transformed first. It became a combination of all things I loved: V-neck t-shirts (Urban Outfitters has a great selection), ties, vests, dress shorts paired with capped tees. I have quite the collection of suspenders and more short-sleeved button-downs than a high school physics teacher (although these often require a sports bra, due to the aforementioned D-cup). On my most casual days, I embrace the athleisure trend, so I can nod to my inner jock but still look stylish. I go with slip-on Vans or similar or my all-time favorite, Rocket Dogs. Most recently, I discovered Wildfang, a store just for people like me (seriously, check it out), where I bought my newest and most favored wardrobe item: a pair of drop-crotch pants that I absolutely love and now live in!
Pretty quickly, it was evident that my casual style and my professional style weren't all that different, just with the addition of dress pants on more formal work occasions and suits when the time calls for it. For shoes, I favor oxfords with jeans and dress pants. I realized how far I had come when I was packing for a recent business trip. I work for a Fortune 500 company, and for the past five years I have attended our annual sales conference, where I've always played it safe. This year, without hesitation, I packed several pairs of Topman pants, my two favorite pairs of Ahnu oxfords (one in black and one in pale blue), suspenders, V-neck t-shirts, suit jackets, tailored vests, my new drop-crotch pants, and the most comfortable underwear I have ever worn, Hanes Mid-Thigh Women's Boxer Briefs. Every morning I got dressed and headed out feeling confident and comfortable and not at all judged. And even if I was — I no longer cared.
That's not to say I don't still struggle, particularly when it comes to weddings. Needless to say, I can count on my fingers the number of times I have worn a dress. The previously mentioned dinners, plus the four times I have been a bridesmaid — I mean, there are some things you just gotta do, you know? But when planning my own wedding, I told my now-wife that I planned to wear a dress, because that's the way I had always imagined it; that was the fairy tale. She looked at me with a look that is best described as a combination of confusion and terror. I think the conversation went something like this:
"Why would you wear a dress?"
"Because it's my wedding and I'm a woman and that's just how it is supposed to go. I want to feel beautiful on my wedding day too."
"Do you feel comfortable in dresses?"
"No."
"Do you own any dresses?"
"No."
"Do you like how you feel in a suit?"
"Yes."
"Do you like how you look in a suit?"
"Yes."
"Honey, you're not wearing a dress in our wedding."
Case closed.
I'd be lying if I said I didn't continue to struggle with this. Even after all my fashion breakthroughs, this was one of the toughest moments I've had involving my sexual identity and coming to grips with my androgynous style. I didn't want to be "the guy" in the wedding. I wanted to feel beautiful and special and I wanted to be the bride too. It sure didn't help that my wife wouldn't let me choose my own outfit, which meant she would see what I was wearing prior to the day (either she doesn't like surprises or she doesn't trust my style judgment — maybe wise). My mother-in-law was very matter of fact, explaining that keeping my wedding look secret was "not the way it works. You don't get to see what the bride is wearing, not the other way around." I may have cried over that one.
Image Source: Elaine Oyzon-Mast
In the end, I had a three-piece ivory suit custom-made, which I paired with a baby-pink tie and the most perfect pair of oxfords (see above). I looked and felt amazing. The truth is, the suit wasn't in my fairy tale, but my wife was right: I wouldn't have felt comfortable in a wedding dress, and I would have looked downright ridiculous! I let her wear the dress, but we both carried bouquets; we were both still the brides, after all.
Not long after our wedding, we were invited to a black-tie, Greek Orthodox wedding. This time, I didn't question whether to dress like myself, and I sure as hell didn't wear a pink dress! I marched my androgynous butt down to Topman and picked up the most badass pale-blue skinny suit. I paired it with white shoes and a black tie. I didn't look like a dude, I didn't look feminine, I just looked (and felt) like me, and this time I actually was nailing it.
Image Source: Nyree Spencer
It's taken me more than 10 years to figure out how I like to dress, and I'm done beating myself up over it. I still work in the same suburban corporate office surrounded by white, male Republicans, but I don't feel the need to explain myself anymore. Because even if the way I look doesn't fit their norm, it's my norm. Not being feminine doesn't make me a man; it doesn't even make me butch. I love my androgynous style, but more importantly, it's what suits me. I look good, I feel good, and at the end of the day, how I feel is all that matters.