Transgender glam girl and queer advocate Madison Werner has modeled for Coach, Grindr, Candy Magazine, and Marc Jacobs, but she's not focusing her life's work on fashion and ad campaigns, and that becomes clear as soon as you land on her page. Take one scroll through her Instagram, and you'll notice the educational infographics she posts, which are very much in style and color coordination with the rest of her feed. Those aren't just there for show.
"Trans women do not owe anyone femininity . . . when folks tell me I should wear heels, it's an opportunity to listen to myself and learn to say no."
Madison is dedicated to teaching her followers about the LGBTQ+ community by sharing her own story and showing young folks just how much confidence they should feel free to have, no matter who they are. She began her transition in 2015 and is open about her journey in discovering her sense of self through experiences (some turbulent) that have led her to where she is today: at a point where her unique wardrobe and street style helps her express herself. She's not just well-versed in fashion, she's owning her taste and inspiring the queer community to do the same.
Ahead, Madison breaks down how she curated her wardrobe and shares helpful tips for anyone transitioning and/or just building a closet on a budget. Scroll for a peek at Madison's incredible rainbow-coordinated digs, and read about six outfits she put her heart and soul into to showcase her taste, exclusively for POPSUGAR.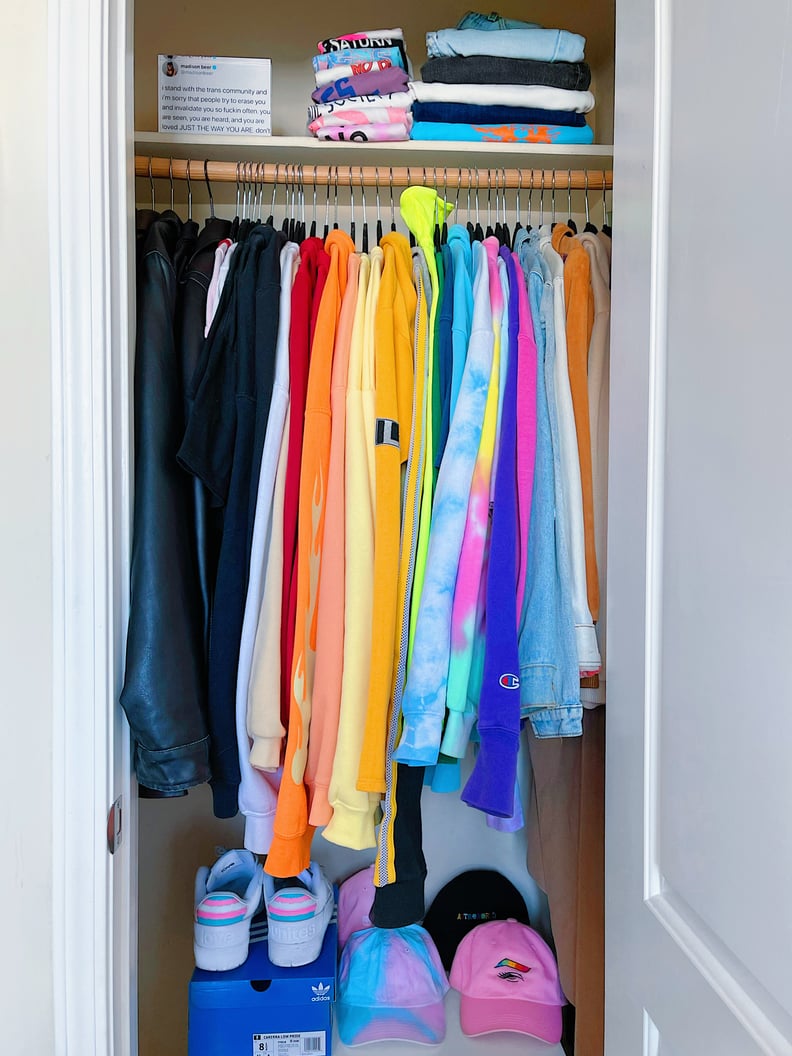 POPSUGAR: What are your top five favorite places to shop?
Madison Werner: Are You Am I, Boys Lie, Stadium Goods, Naked Wardrobe, and thrift stores. Are You Am I's pieces are a perfect outlet for my femininity, while Boys Lie and Stadium Goods are a home for my streetwear side. Naked Wardrobe was my favorite when I began transitioning; their striking simplicity makes it so easy to find outfits I love.
PS: Any up-and-coming, smaller owned, BIPOC, or LGBTQ+ designers you're loving right now because of the brand's representation and diversity efforts?
MW: I've had the privilege of watching K.ngsley, a new LGBTQ+ brand with an incredible vision, come to life. I first met its founder years ago and I'm obsessed with his unique pieces. The brand is also highly inclusive of all body types, which should be an inspiration for all other brands too.
"Even if no one thinks twice when they see me in [a t-shirt], I know how hard it was for me to present myself and build my closet for the world to see."
PS: For someone just starting off in their transition, what advice would you give for tapping into their personal style?
MW: Let yourself experiment. You likely won't know what feels authentic to you or what your style niche is for awhile. My transition has been full of many turbulent changes in my closet. When I look back, even to a year ago, I'm not the same girl I was or have the same closet that I did. It's ever-changing! Remind yourself it's beautiful not to know what you're doing, because that's where your queerness and identity will thrive. [In the beginning], the hardest questions I asked myself were "What if this makes me look masculine and not feminine? Will I stand out too much?" These all came from how I internalized the toxic beauty standards I saw around me. Now, the only question I ask is "Do I feel like myself when I wear this?"
PS: Who are some of your biggest fashion inspirations or role models?
MW: My first fashion inspirations were Carli Bybel and Nicole Guerriero, YouTubers who I also credit with teaching me where to start with makeup. Carli always knew how to dress up the basics, and Nicole's confident "Who knows, I'm just being me!" aura is something I definitely related to. I was also in love with Kylie Jenner's style around 2016. She had blue hair, wore lots of leather, zippers, oversize tees, and crop tops.
PS: For someone transitioning who may not have the biggest budget, can you recommend any affordable shopping destinations?
MW: A budget is something I'm quite familiar with. I came out while out of a job during my freshman year of college. I go thrifting every week. My best friend, my queer chosen brother, Elliot Jones, taught me how to find pieces that fit perfectly in my closet. He knows how to upgrade outfits with pieces I would've never thought to wear, therefore inspiring some of my confidence. I love him so much. I also didn't splurge on designer or luxury items until I settled into my transition. Transitioning is often not a linear journey, so wait to splurge until you've really found your style. I realized my love for crop tops by finding affordable t-shirts and cutting them to fit just how I wanted.
PS: What are your favorite companies for gender neutral clothing right now?
MW: I'd love to use this space to empower non-binary folks in fashion. I highly recommend following my friend Richie Shazam — they're on the forefront of queerness in the fashion industry and making huge, inspiring waves with what they do. They even just released a TV show! An absolute legend, if I do say so myself!
PS: What's the best compliment you ever received on an outfit you constructed that you remember really putting your heart into?
MW: I remember walking into an elevator with a neighbor from the apartment next door. She's a bit older than I am and likely grew up in the '50s. I was wearing an oversize, vintage Ricky Nelson band tee, zippered leather motorcycle pants, a pearl necklace, and black leather sneakers. She turned to me and said, "Wow. Ricky Nelson. Fantastic choice. You know we used to give him the cutest nicknames when I was young? He's so gorgeous and talented. And clearly, so are you." I needed that. Receiving affirmation from an elder who I didn't know about an outfit that may be too edgy or weird for some folks was the best feeling. I've spent the past five years being myself with hopes that people would include me, and she really nailed it.
PS: You have a personal experience with specific clothing tying to gender dysphoria at a point in your life, and that can be very real for many people. For anyone going through that, how do you recommend either disassociating from an article of clothing that doesn't feel right for you anymore, or adjusting your relationship to clothing so that you feel comfortable?
MW: I no longer own a pair of heels. I used to wear them all the time because, when I came out, I saw that cishet communities expected trans women to be hyper-feminine. I know now, thankfully, that trans women do not owe anyone femininity. But even though I'm way more comfortable in my sneakers, my relationship to heels is now tainted by that experience of inauthenticity. I've found that when folks tell me I should wear heels (typically cis-men, by the way), it's an opportunity to listen to myself and learn to say no. Saying no when something feels inauthentic actually instills confidence in my identity and transition. I'm sticking up for who I am. If you have a dysphoric aversion to an item of clothing and want to adjust your relationship to it, try purchasing one piece in that style and wear it around the house. See how you feel and go from there. Be patient with yourself, take little steps. You're working with your identity; that's the most important thing you can do.
PS: As a trans woman, how do you use your clothes to feel empowered?
MW: I wear my transition on my sleeve, literally. Every time I leave the house, I'm making a brave statement that I can be myself no matter what anyone says. A crop top is not just a crop top to me, and neither are a pair of jeans. It all has meaning and history in my life. It took me years — really my whole life — to feel like myself in a t-shirt. Even if no one thinks twice when they see me in one, I know how hard it was for me to present myself and build my closet for the world to see.
"These leather pants are the first item of 'women's' clothing I ever purchased. My closest friends and relatives consider them to be an 'iconic' piece in my closet. The top is a one-of-a-kind vintage Ricky Nelson tee, which is a reminder of my strong attachment to music. Pearl necklace is also a daily must."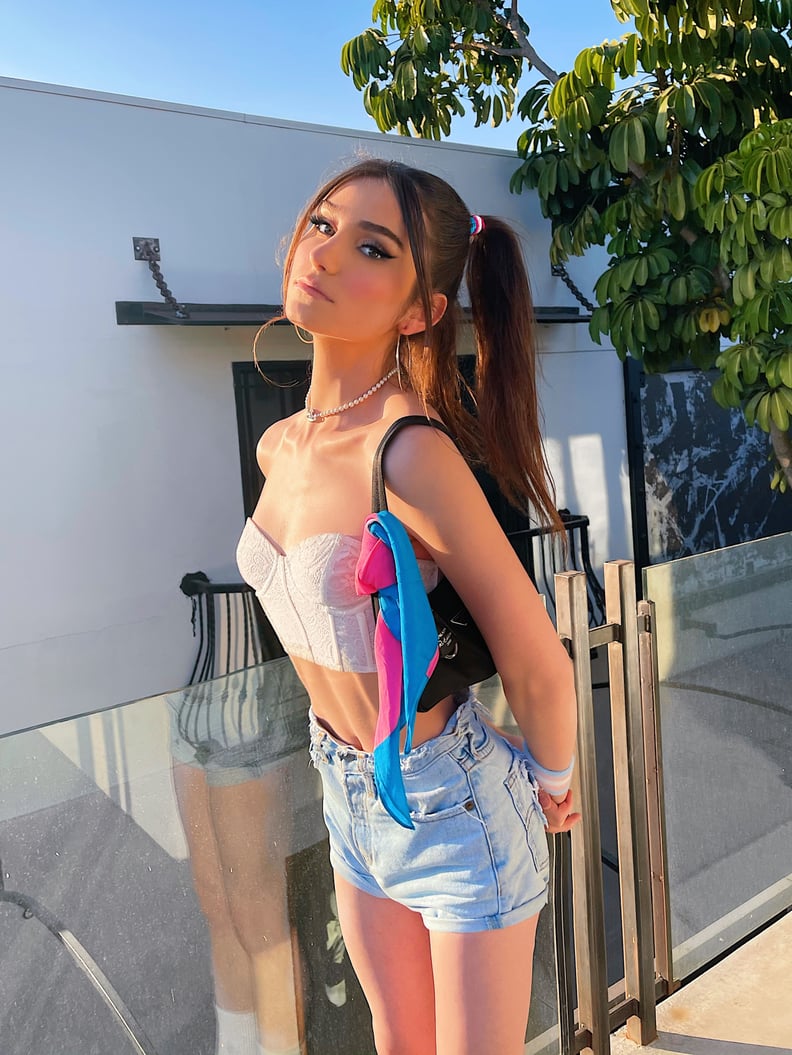 "An outfit I feel sexy in. These shorts are Levi's jeans that I cropped myself, as I also do with almost all of my cropped tees. The hair ties are the trans flag colors as well as the flag tied around my Prada bag."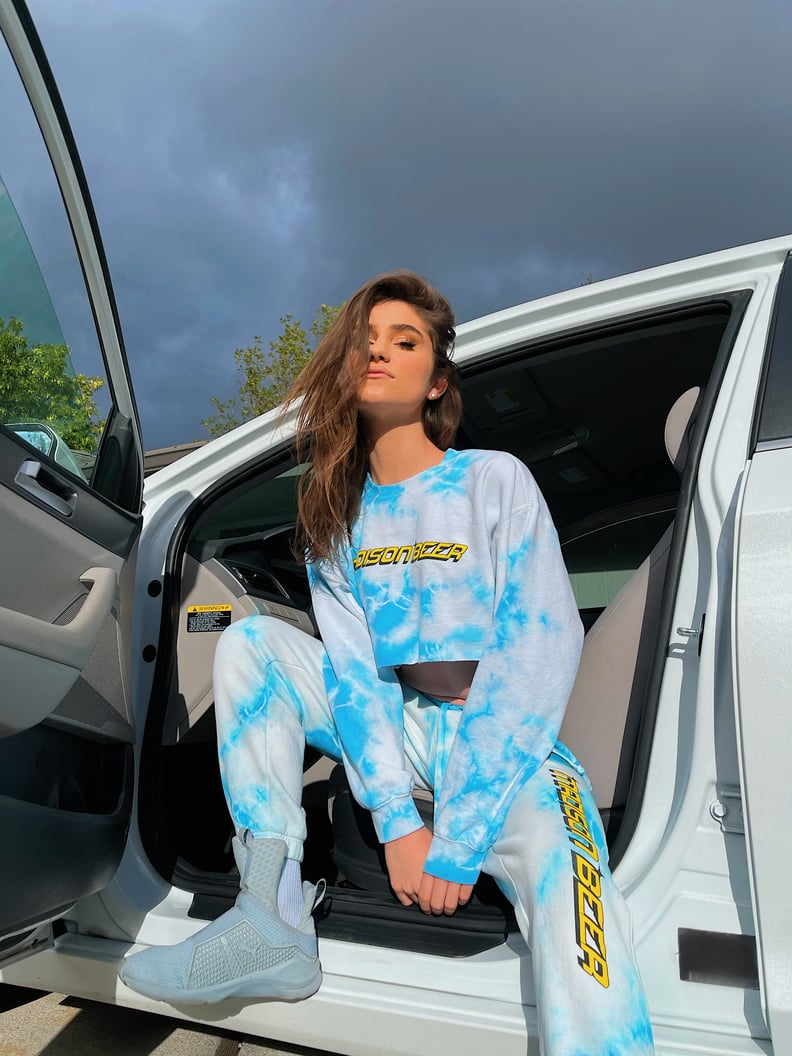 "Madison Beer merchandise with Season 1 Fenty x Puma trainers. Madison Beer inspired my name when I came out in 2015. I feel a strong connection to her music, and I wear tie-dye at least three times a week. I also don't own any pairs of heels due to a gender dysphoric adversity to heels, so I always partner my outfits with sneakers."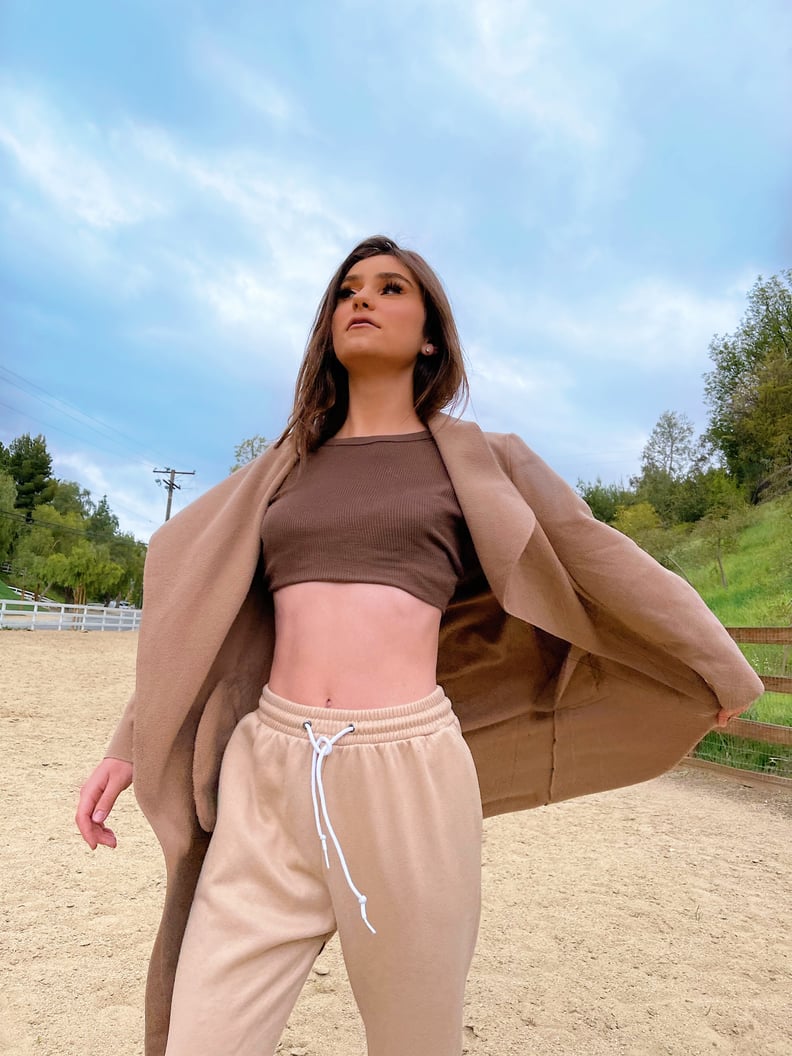 "A trench coat monochrome look that is a reminder of my life in New York City. I also wore cropped monochrome outfits (and still do) all the time while living there, even in 20 degrees."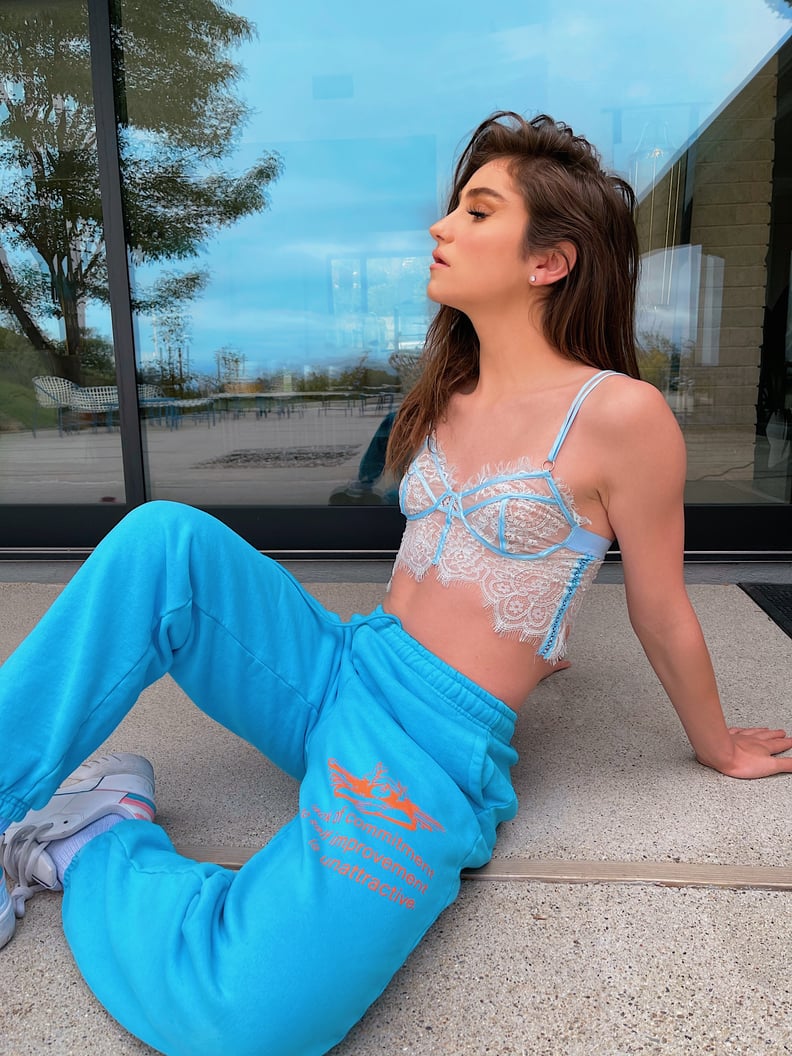 "My feminine take on streetwear. The pants are from Boys Lie, one of my favorite streetwear brands these days. I love mixing streetwear with feminine items that affirm my identity."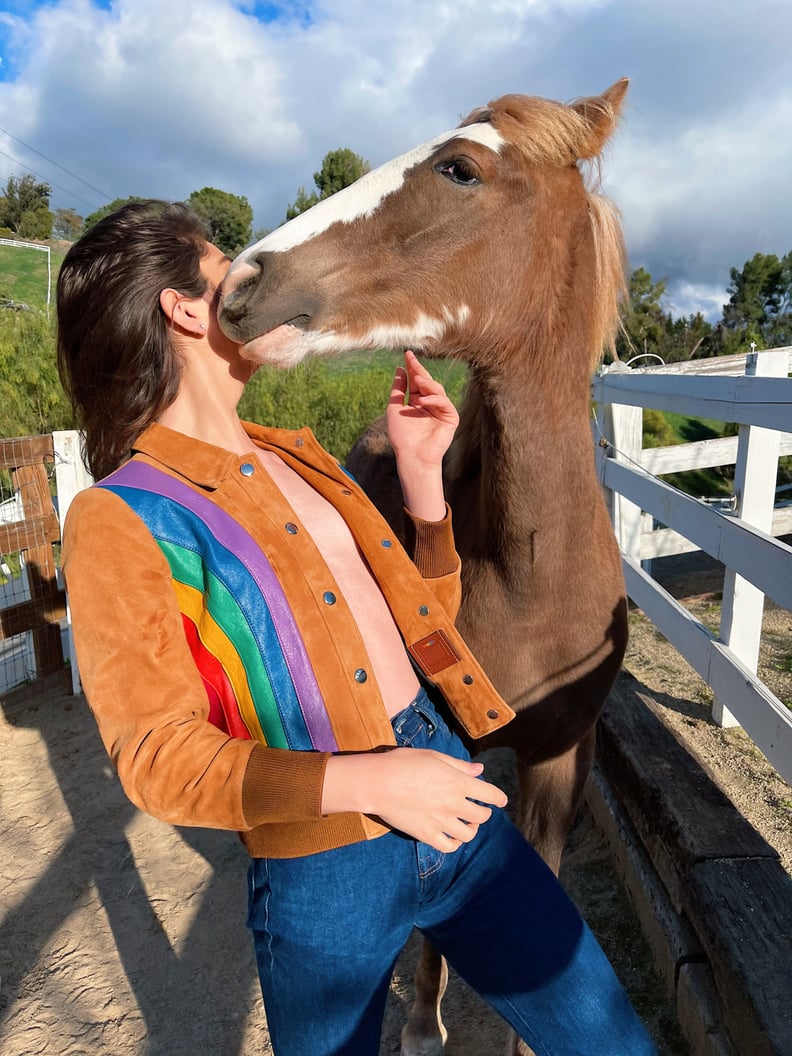 "This jacket is from Coach's pride collection. I also grew up around horses and they're still my security blanket for mental health."