Looking Back at Annie Murphy's Schitt's Creek Wardrobe Will Make You Want to Be "A Little Bit Alexis"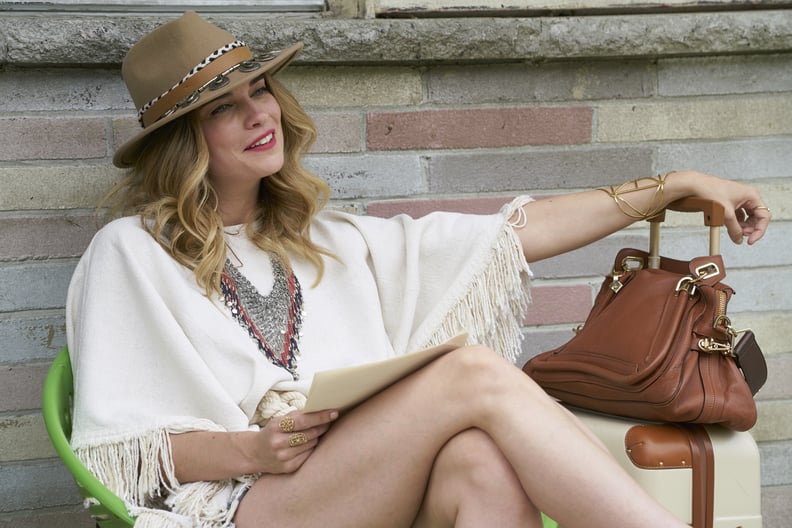 Pop TV
Like a Lamborghini or a Hollywood star, Alexis Rose's wardrobe sticks out like a sore thumb in the small town of Schitt's Creek. Alexis, brought to life by the hilarious Annie Murphy, refused to give up on fashion just because her family lost its fortune and ended up living at the Rosebud Motel. No matter how small the occasion or outing, you can pretty much always catch Alexis serving up some seriously boho-inspired looks, showing off a minidress, ankle boots, and her perfectly coiffed beach waves right alongside her exasperation ("Ew, David!").
Like the things David, Moira, and Johnny each wear on the show, Alexis's clothing is a relic of her former life — fabulous, yes; but most of the time, entirely impractical. Schitt's Creek's costume designer Debra Hansen and cocreator Dan Levy remind their audience with every luxury label and pair of sky-high heels she wears that Alexis's wardrobe was designed for clubbing, galavanting, and, of course, regular vacations with celebrity friends, or aboard the yachts of wealthy businessmen. And, that's half the fun of watching.
The series, which emerged as a sleeper hit, wrapped its sixth and final season this week, and since we're feeling all kinds of nostalgic, we're reminiscing with a few of Alexis's best style moments. Ahead, get inspired to be a little bit (la la la-la la la la) Alexis. Are you ready?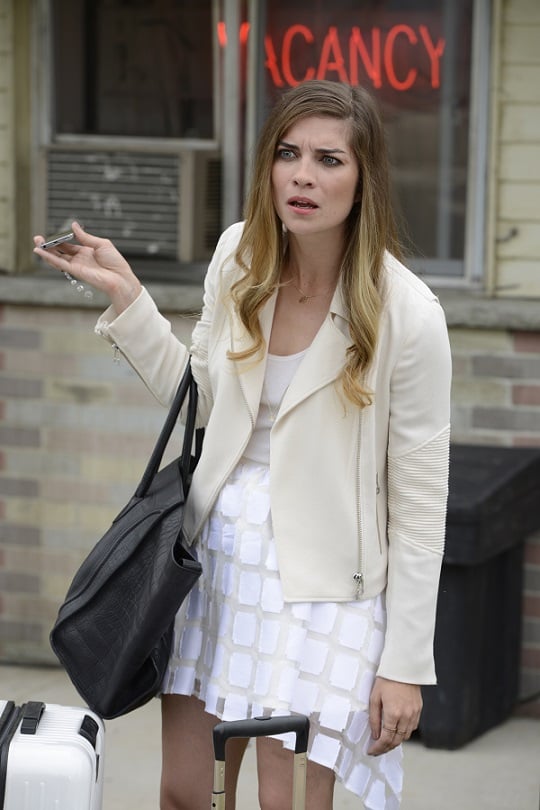 Ever accessorized, Alexis added a Celine tote to a look that's more New York City socialite than Schitt's Creek resident.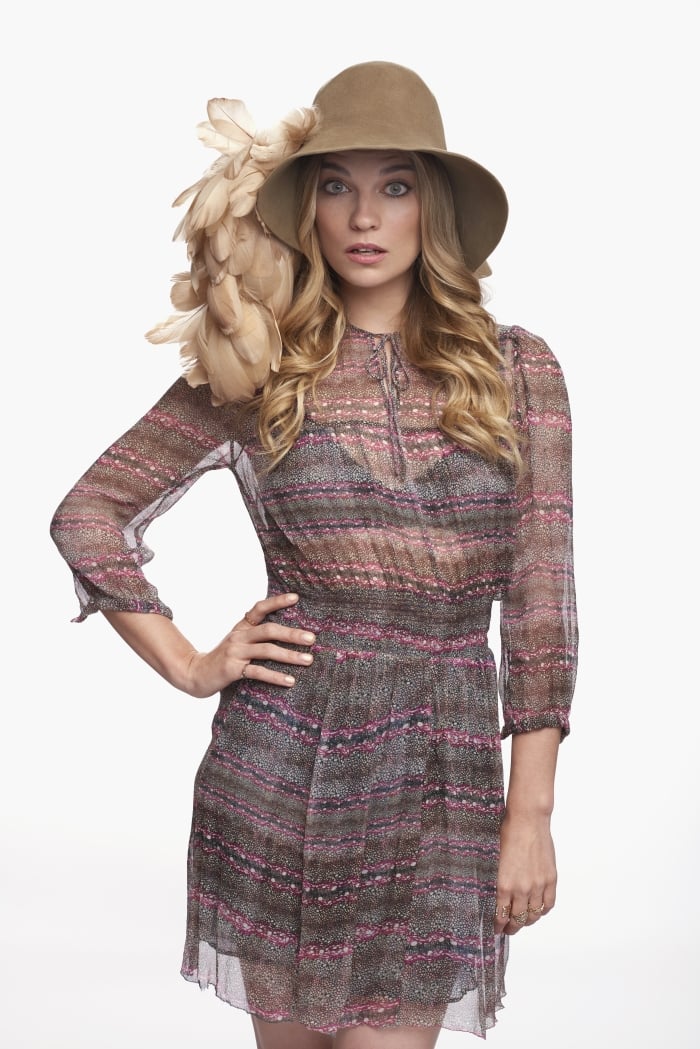 Channeling her signature boho vibes in a printed minidress and feather-trimmed hat.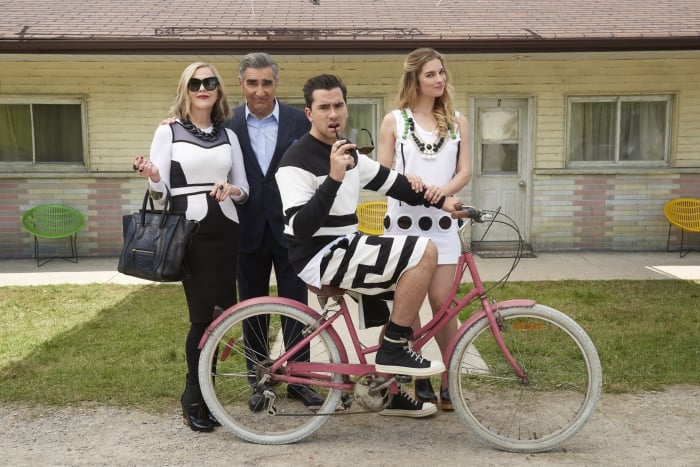 Alexis coordinated with the family color palette in a white minidress and a very Moira statement necklace.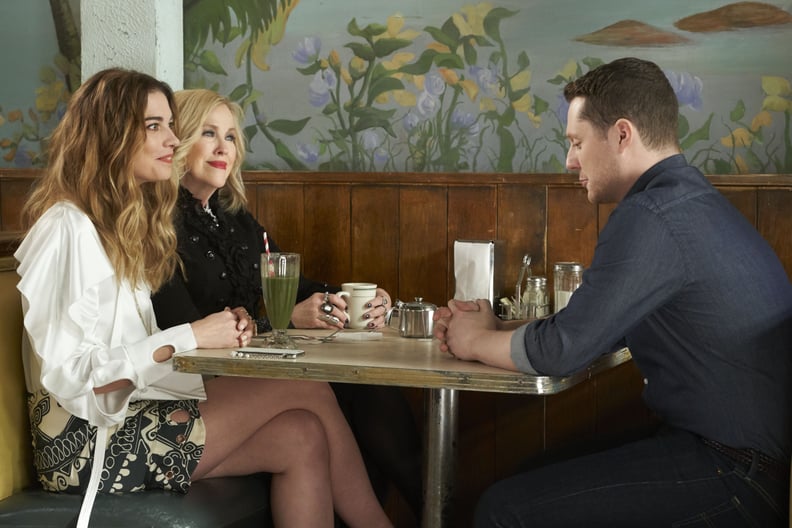 For an outing to the cafe, Alexis styled a statement-sleeved button-down with a statement-printed mini. Never not making a fashion statement.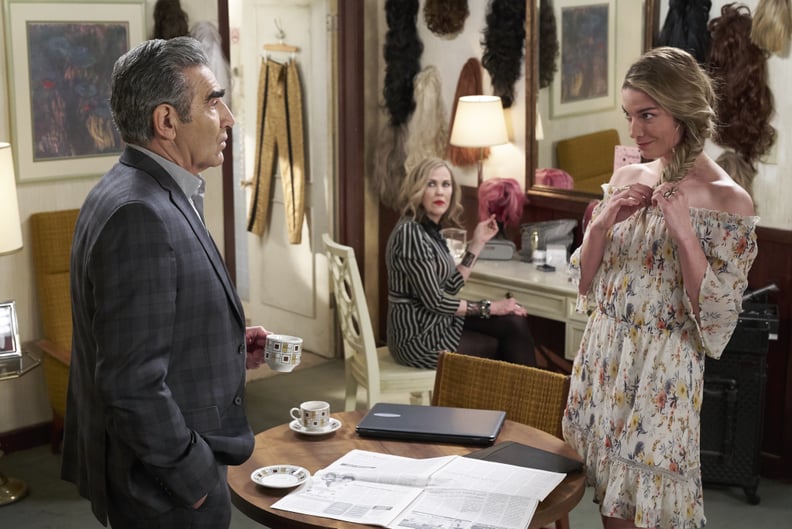 Alexis showed off an off-the-shoulder mini while hanging around the motel, because, why not?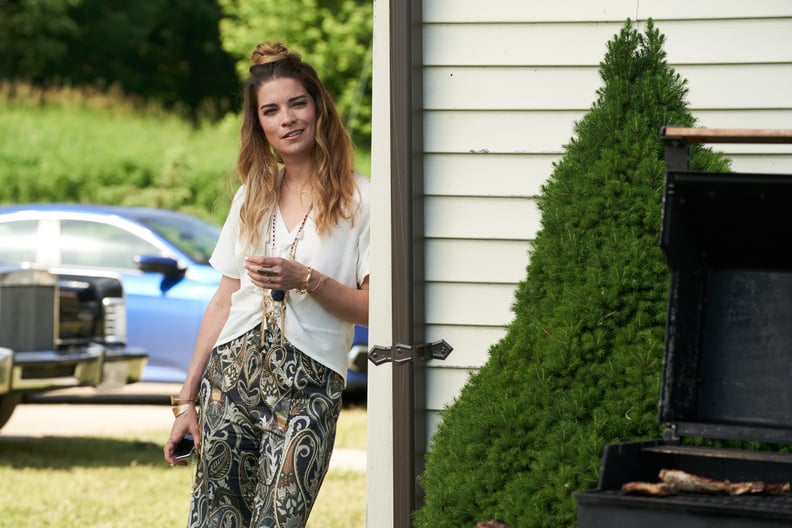 Layered necklaces and printed pants may scream beach vacation, but Alexis threw them on for a day around town.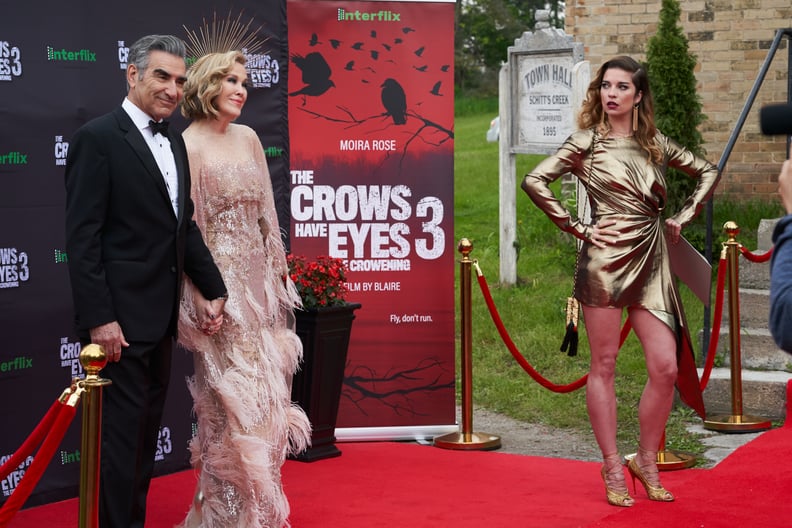 For Moira's big premiere, Alexis took to the red carpet in a gilded minidress.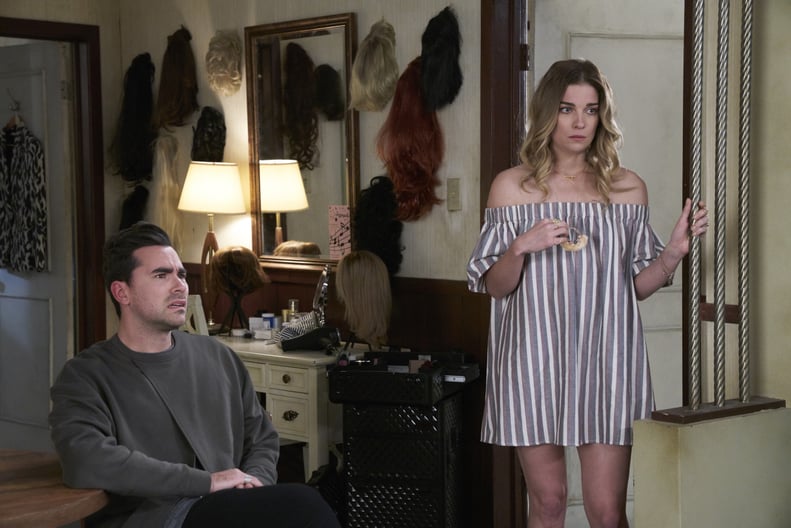 A casual day dress is Alexis's choice look for some family time at the motel.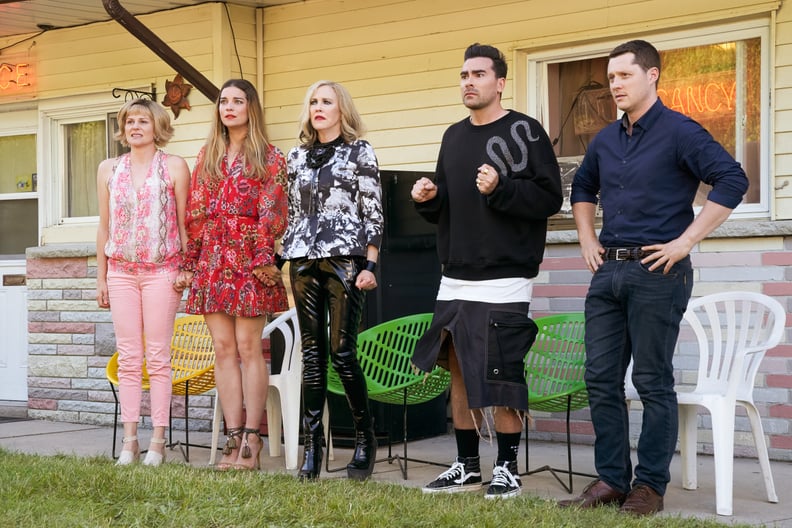 Posing with the family, Alexis once again slipped into a boho-inspired mini and heels.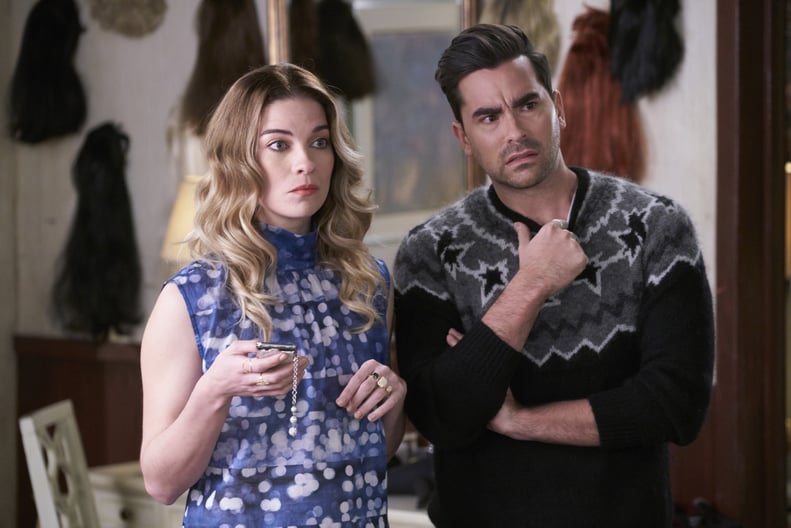 This look is all about those waves — and that great print.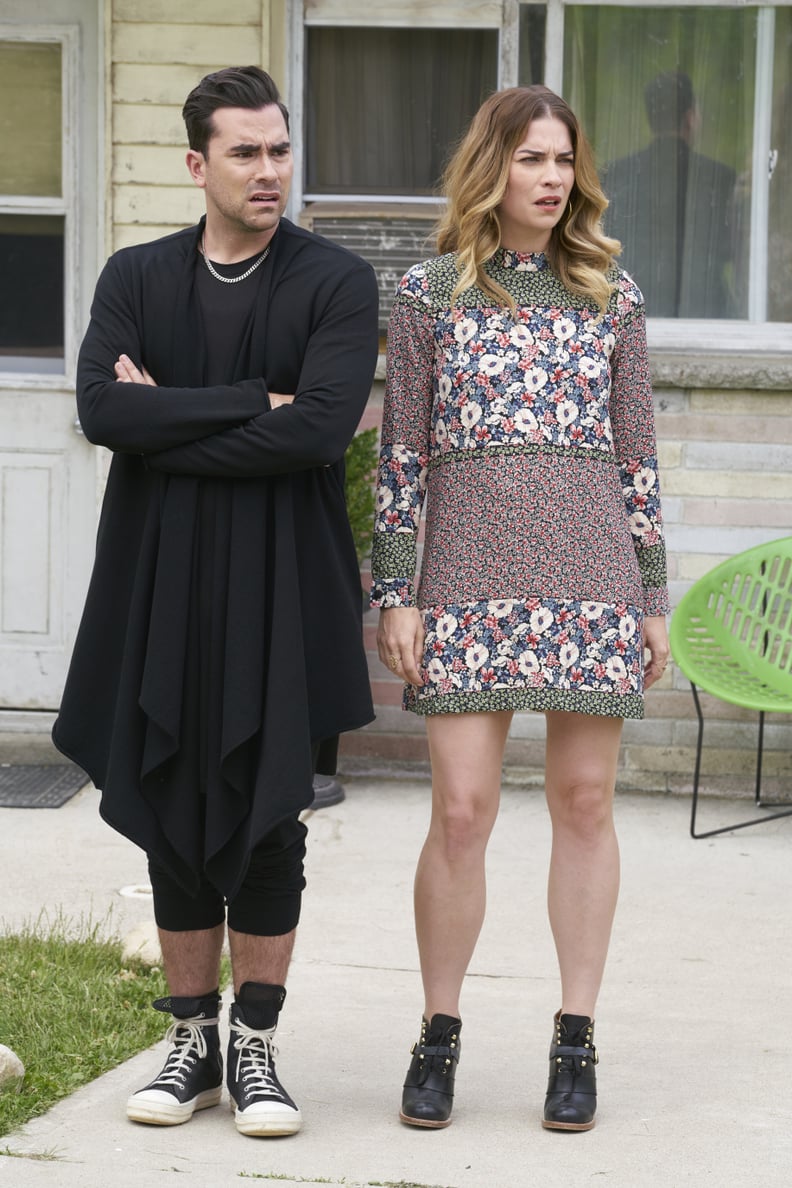 Forever in a minidress, Alexis juxtaposed this printed mini with ankle boots.
When Alexis headed to class, she dressed the part in a cute two-piece set.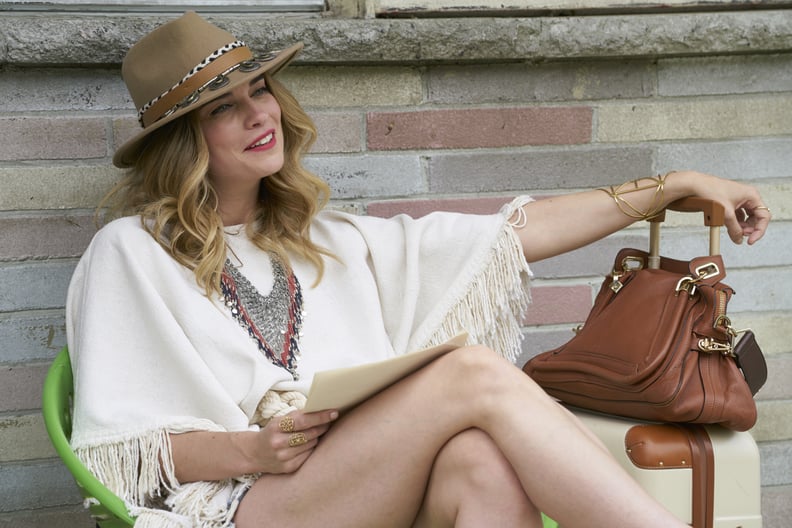 Alexis served up a festival-ready look, complete with a fedora and Chloe bag, while lounging at the motel.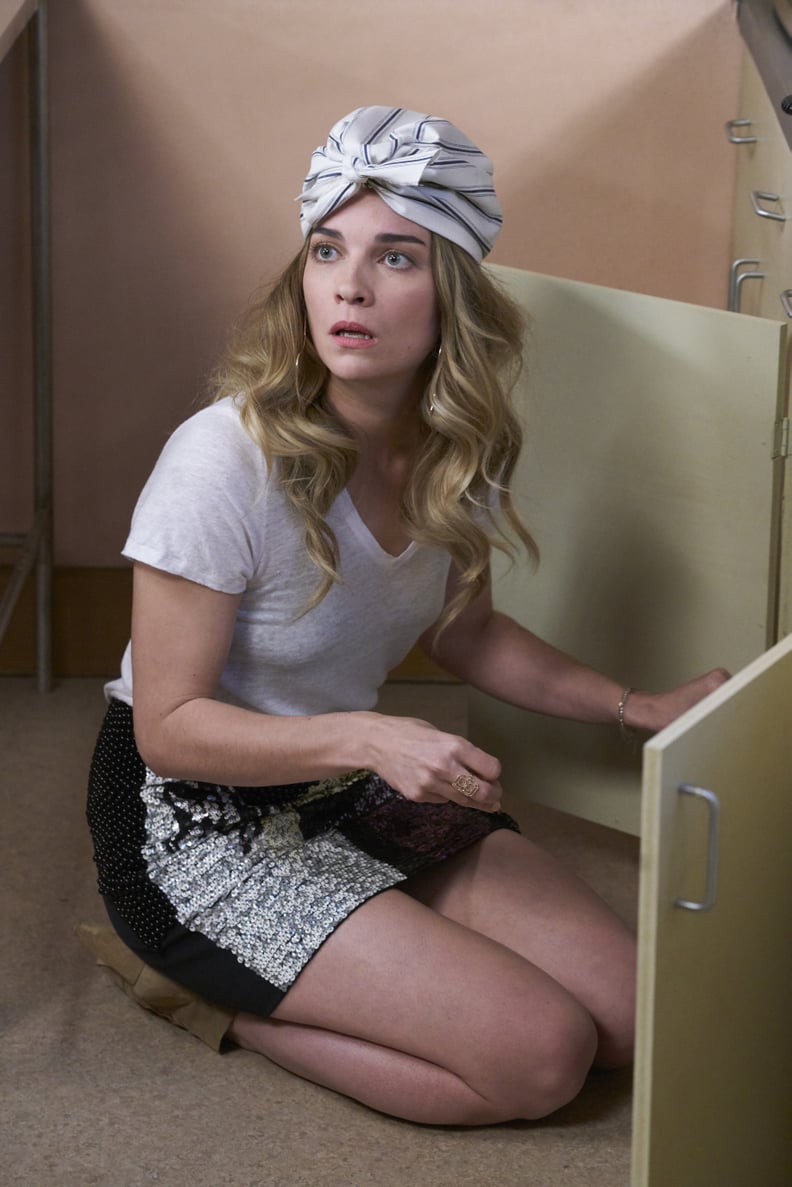 Alexis was style savvy in the face of a little lice problem, opting for some additional accessories.
For a big outing in with the fam, Alexis slipped into a cocktail dress and heels.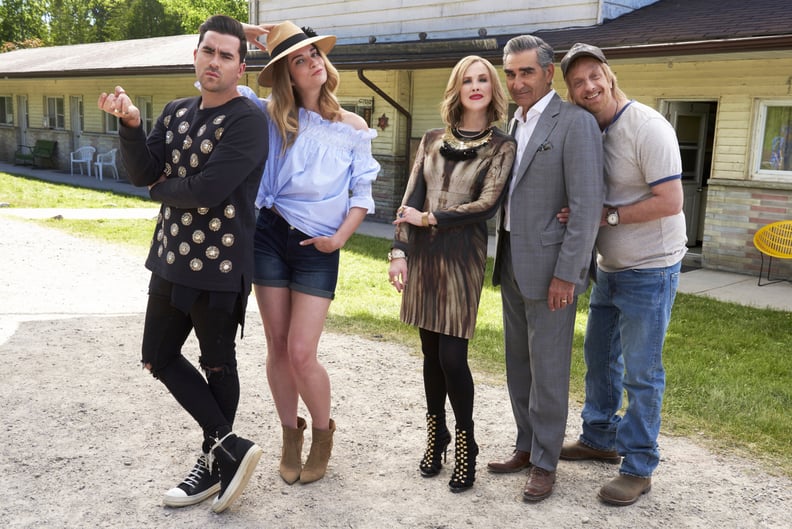 Laid-back Alexis styled a cute pair of cutoffs with a hat and booties.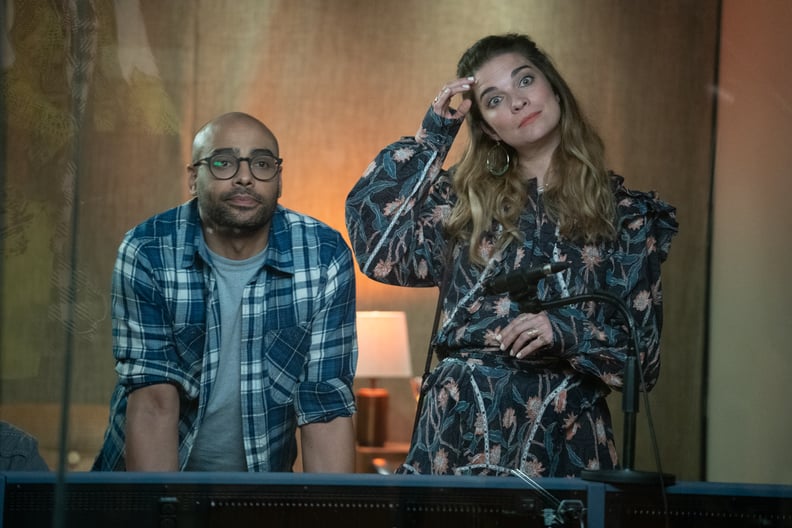 While working, Alexis delivered this Isabel Marant look.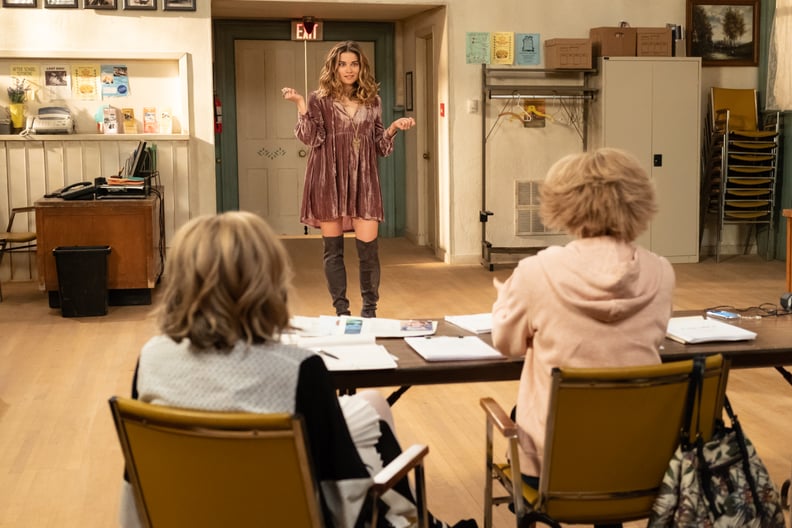 For her iconic rendition of "A Little Bit Alexis," Alexis commanded the room in over-the-knee boots and a velour mini.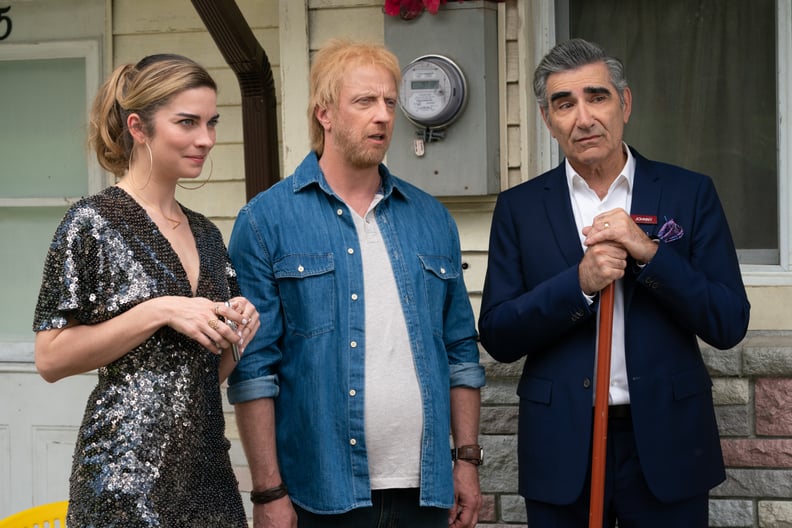 Dressed to wow in sequins.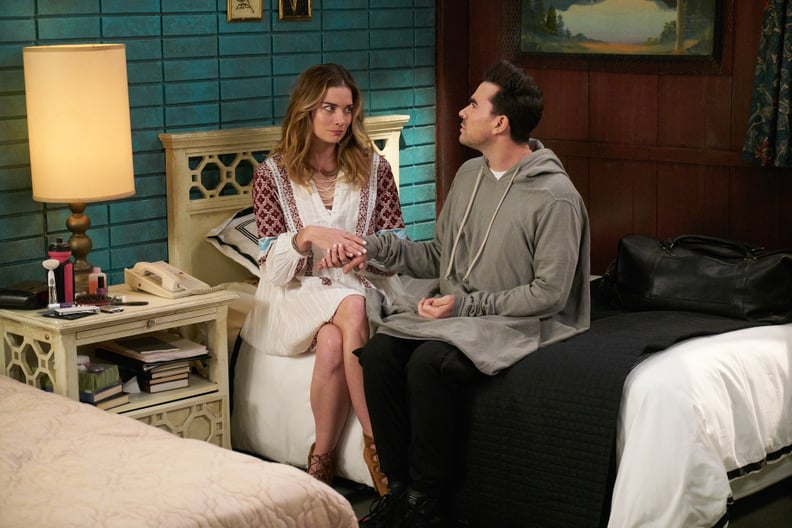 Another day, another breezy boho look for Alexis.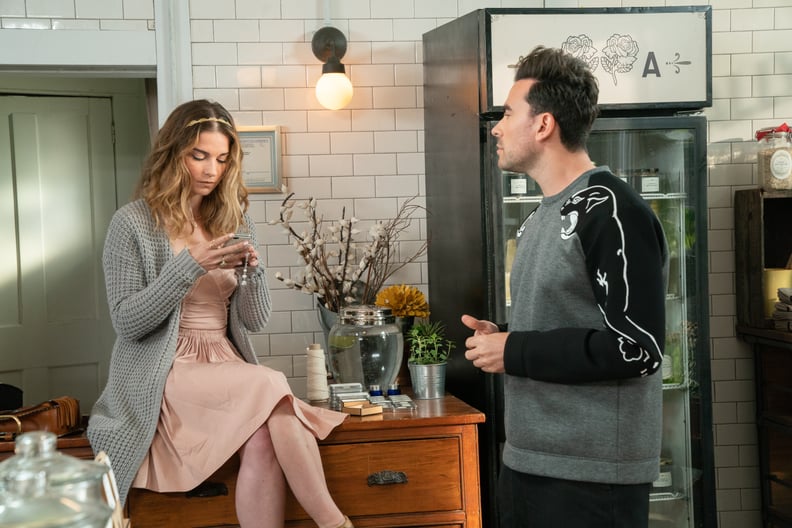 While visiting David at his store, Alexis gave us a demure look in a fit-and-flare dress and a headband.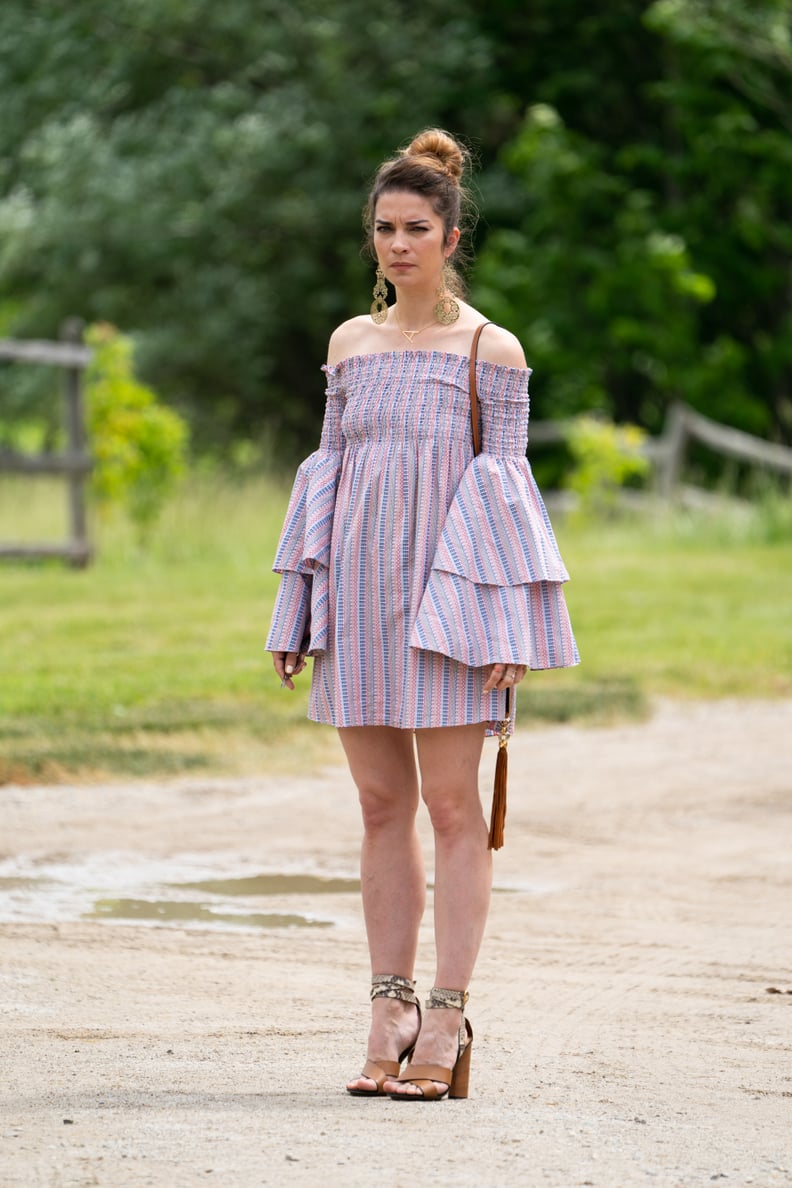 Alexis knows that an off-the-shoulder neckline is a perfect opportunity to show off a pair of major earrings.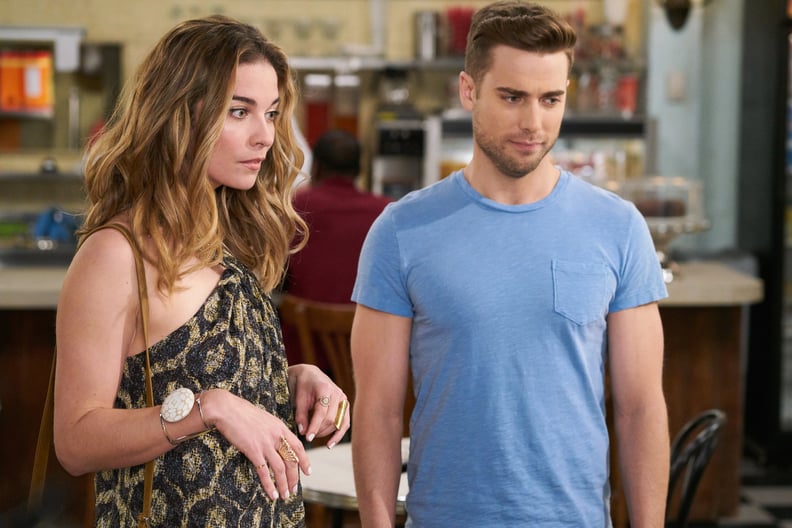 For a visit to the cafe with Ted, Alexis showed off this printed one-shoulder look.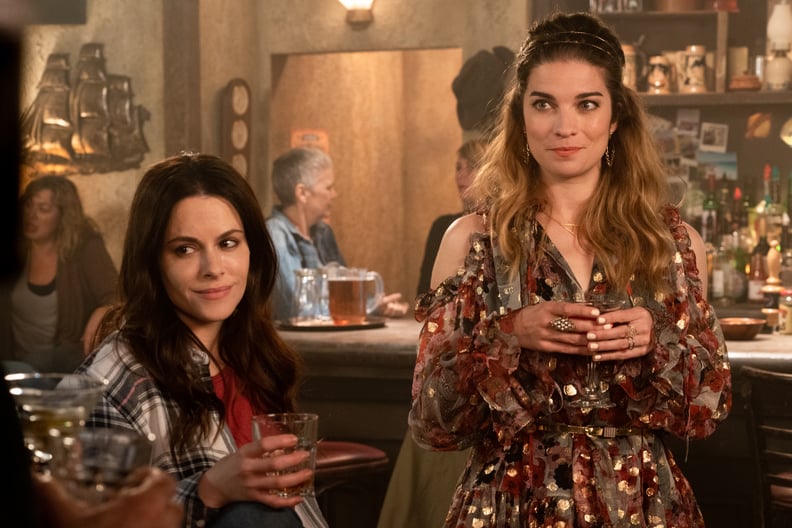 Turning heads in a shoulder-baring dress.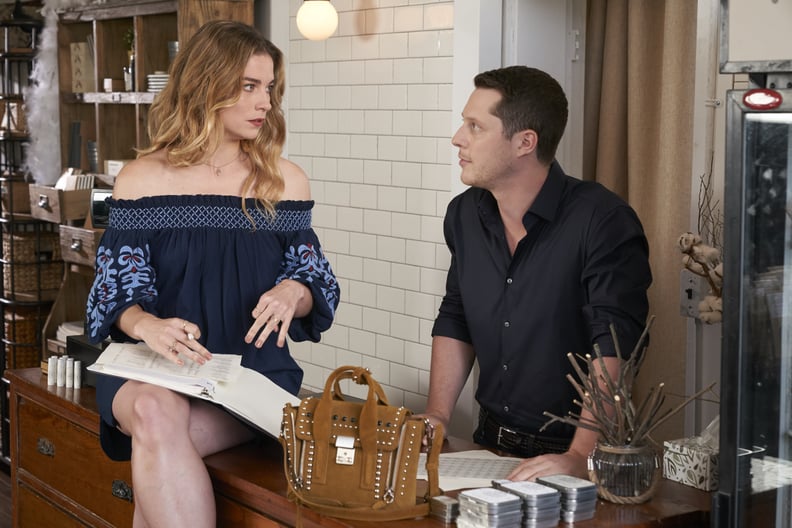 Alexis may just have single-handedly started the off-the-shoulder trend.
We imagine Alexis would have worn this chic LWD to the Hamptons in her former life.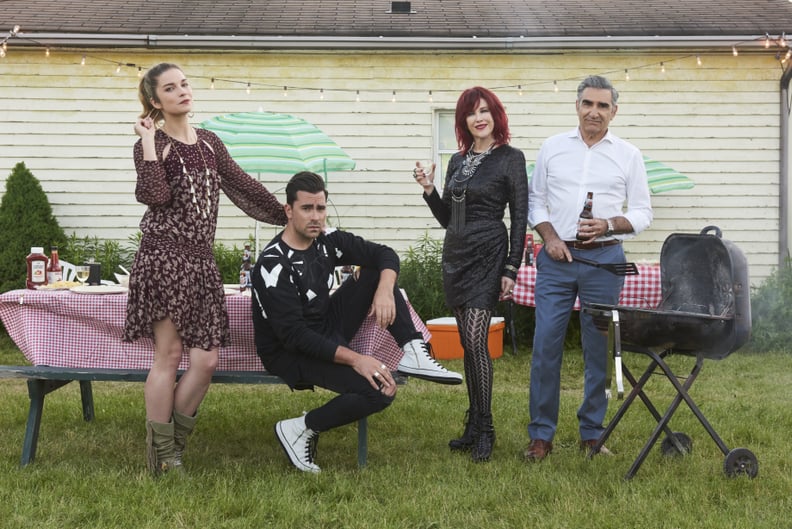 A bona-fide boho moment for a BBQ at the motel.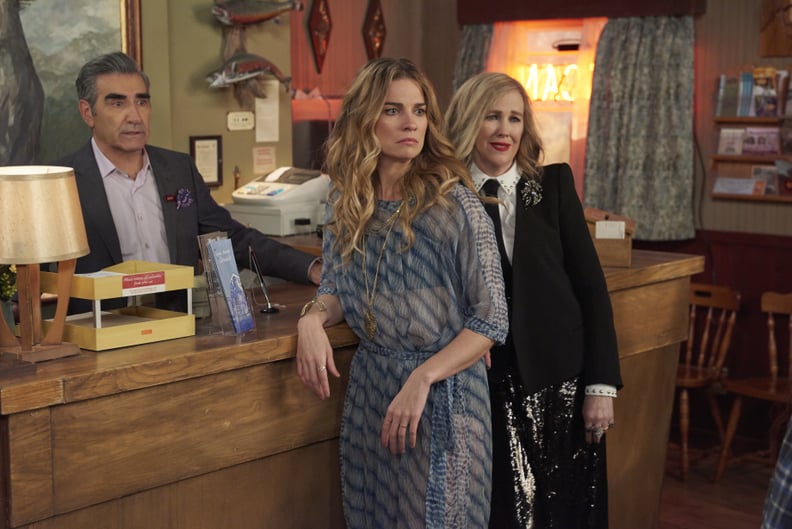 This see-through number would have made the perfect swimsuit cover-up on one of Alexis's yacht vacations.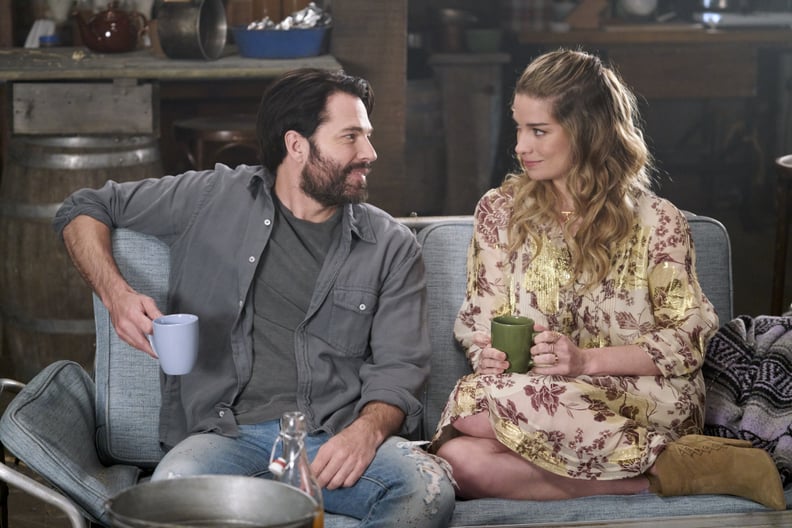 We're starting to wonder how many floral-print floaty dresses Alexis has tucked away at the motel.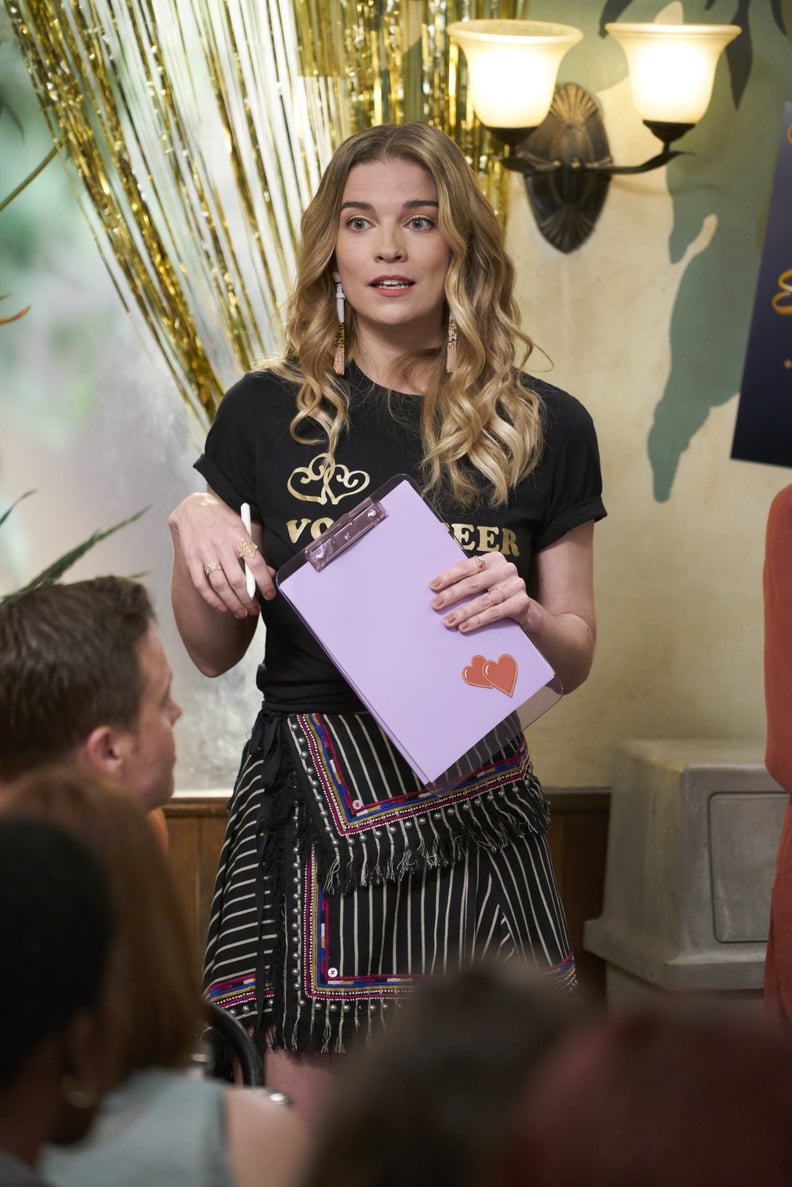 For her big inaugural Single's Week event, Alexis paired a luxe mini with her event t-shirt.