The "Selling Sunset" Cast on Their Personal Style and Favorite Outfits From Season 5
With each season of Netflix's "Selling Sunset," the cast's wardrobes grow bolder and more memorable. While Christine Quinn worked with stylist Kat Gosik on her over-the-top looks for season five, Emma Hernan collaborated with creative consultant Kendall Finzer for her wardrobe of thigh-high slits and monochrome suit sets.
Chelsea Lazkani is the newest agent to the Oppenheim group, telling POPSUGAR that she puts together all her own looks for filming, and aims to stand out from the rest of the crew. "When you're on a cast with a number of ladies and you all have different body types, you've got to know what your best assets are," she said over the phone. "I'm not 5'9" like the rest of the girls, I'm 5'5", but you may think that I'm a lot taller than I am because I show off the parts of me that are flattering. I think everything is about angles and knowing what works for you."
It's safe to say the rest of the women — including Chrishell Stause, Heather Rae El Moussa, Mary Fitzgerald, Davina Potratz, Maya Vander, and Vanessa Villela — all abide by that rule.
Ahead, the women of "Selling Sunset" break down their personal style for POPSUGAR and also choose a favorite look from season five.
Selling Sunset: Chrishell Stause's Style
"I love to feel confident in my clothes with a balance of business and fun. Anything can be office wear these days. Add a blazer to that cute dress and you are ready to go," Stause said, naming her architectural YSL mini from the champagne and caviar party as her favorite look of the season.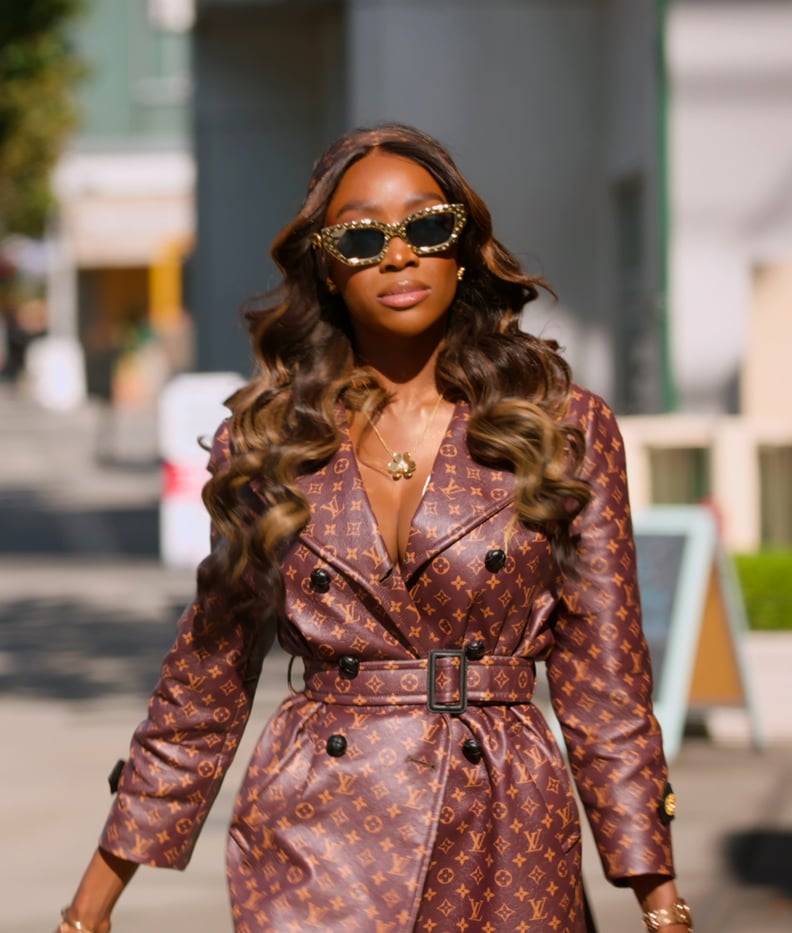 Selling Sunset: Chelsea Lazkani's Style
Lazkani says there's no distinction between her professional and personal style. "I don't actually feel comfortable in those tailored suit pants that women traditionally wear in business settings, so I choose not to wear them," she said. "I prefer to wear a cute dress and a blazer."
Lazkani, who styles all her own looks, picked her Louis Vuitton leather trench and limited edition glasses as her favorite outfit of the season, describing it as a business-sexy "Clueless" vibe. "It was a look for me because Christine and I didn't plan our outfits. And we came in on the same wavelength, you know? It was that day that I was officially made part of the O-group."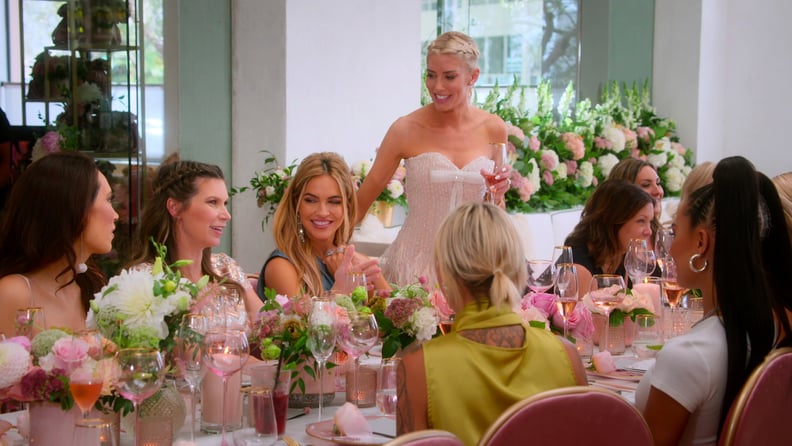 Selling Sunset: Heather Rae El Moussa's Style
El Moussa describes her aesthetic in five words: sexy, sophisticated, chic, girly, and fun. "I like to dress up and dress down outfits with heels or sneakers if I'm home with the kids. But when in the office I like to keep my outfits classy. I have a mix of both timeless and trendy pieces in my wardrobe," she said, naming her bridal shower dress by Karen Sabag as her favorite look of season five. "I wanted to do something unique, and that's why we went with a subtle blush color. There were accents of trend, thanks to the feathers, but it was a timeless silhouette."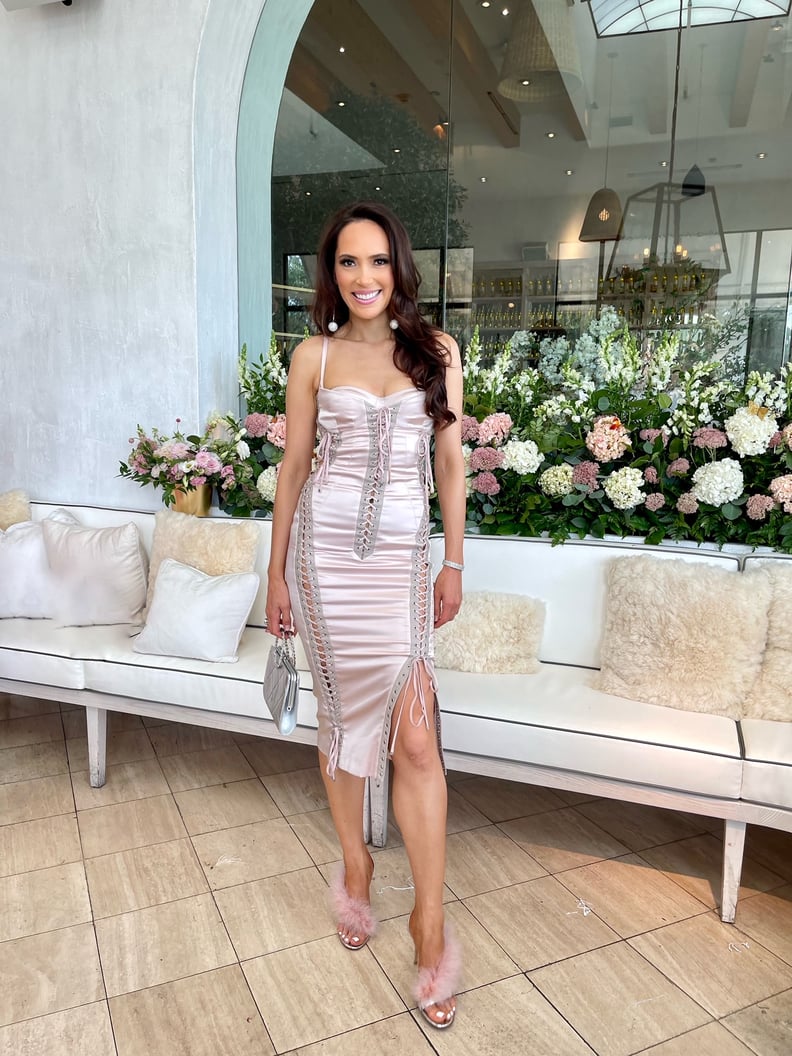 Selling Sunset: Davina Potratz's Style
"My style is elegant, feminine, and unexpected. I love bold jewelry and shoes or bags that echo the outfit. One of my favorite styles from season five was this vintage dress," Potratz said of the look she styled for Heather's bridal shower, which was worn by Beyoncé at the 2003 VMAs, and then repeated in 2021 by Madison Beer. "What I love about this look is the juxtaposition of the bondage-inspired structure paired with the ultra-soft pink color. The feather shoes are unexpected but add to the boudoir feel and the silver Chanel purse keeps the look sophisticated. I wore sparkly Chanel disco ball earrings to add a festive flair."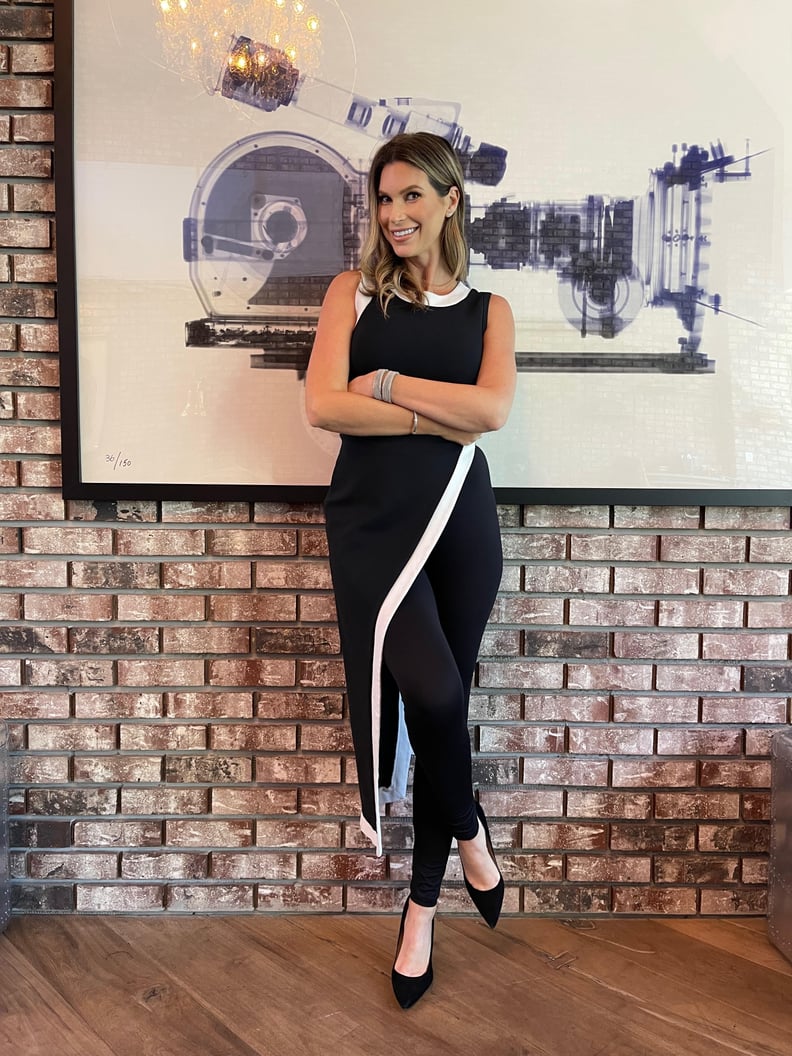 Selling Sunset: Maya Vander's Style
Vander leans toward streamlined pieces that are well-tailored and polished. "One of my favorite looks this season was this Pointer top from Staud," she said. "It's such a fun look because it's a beautiful mix of classy and business-chic that you can dress up or down, making it perfect for real estate meetings. You can never go wrong with black-and-white staples in your wardrobe."
Selling Sunset: Vanessa Villela's Style
"I would describe my style as classic with a touch of sexy," Villela said. "I love to spice up my closet with bright, fun colors, and I love form-fitting silhouettes that show off my curves. Working out is a big passion of mine, so any opportunity to show off my toned legs, I'll take." Villela named a pink Kolchagov Barba dress as her favorite look of "Selling Sunset" season five, which she wears to a tea party. "It's bright and beautiful while hugging in all the right places. The dress is also a subtle way of honoring my fiancé." Here, she wears a tweed LPA dress with poufy sleeves, finishing the look with a classic pair of nude pumps.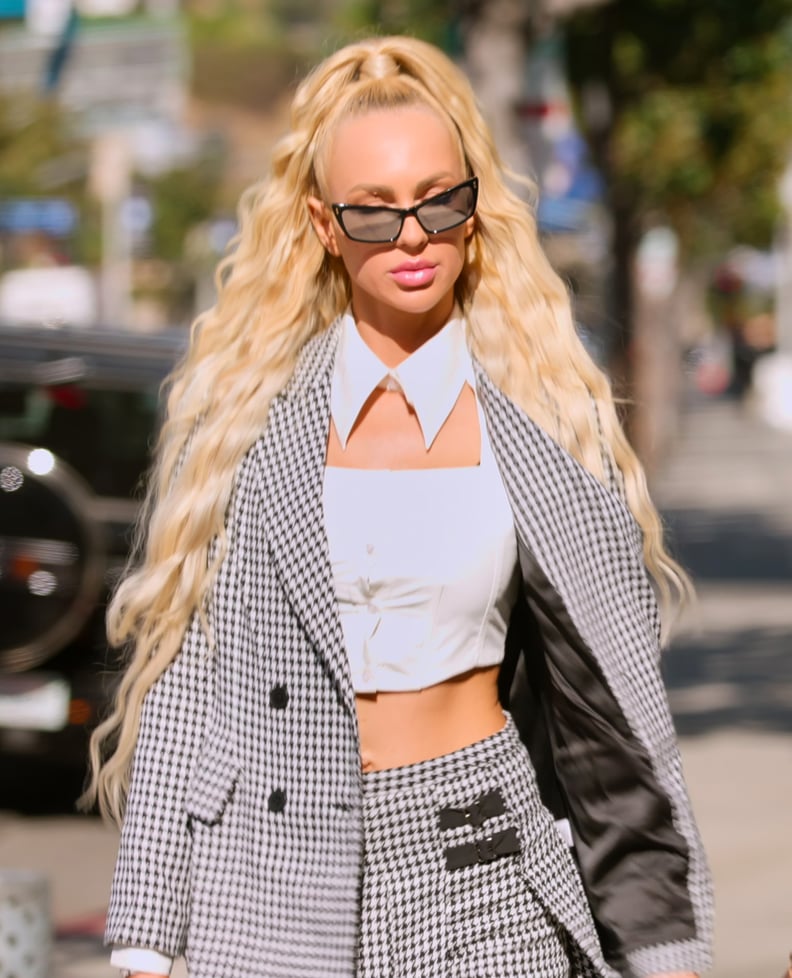 Selling Sunset: Christine Quinn's Style
Quinn's stylist Kat Gosik describes her looks as "campy." Gravitating toward statement pieces from Gucci, Area, and Balmain, Quinn fully commits to an outfit, even if it means sacrificing comfort. "Christine is like, 'I'll do anything for the look,'" Gosik said. Here, we see her in an Amanda Uprichard x Revolve houndstooth skirt suit.
Selling Sunset: Mary Fitzgerald's Style
Fitzgerald embraces a sophisticated aesthetic, typically opting for suit sets or co-ords teamed with pumps. Nevertheless, she's partial to a pop of color or wild print and tends to keep us guessing. While she might opt for pink ruffles one day, the next she's going edgy in leather and studs. Above, Fitzgerald wears a Marciano animal print ribbed knit set with a Balenciaga patchwork bag and Alexander McQueen pumps.
Selling Sunset: Emma Hernan's Style
Hernan rocks a fitted minidress just as often as she does jumpsuits with unique cutouts. The model, entrepreneur, and real estate agent wears plenty of Chanel and Saint Laurent throughout season five of the show. It's rare she'll step out in a look without a pop of color or a striking detail like a thigh-high leg slit. Here, Hernan wears a three-piece Stello pantsuit with two silver choker necklaces and hoops.