7 Viral Fashion Items Trending on TikTok Right Now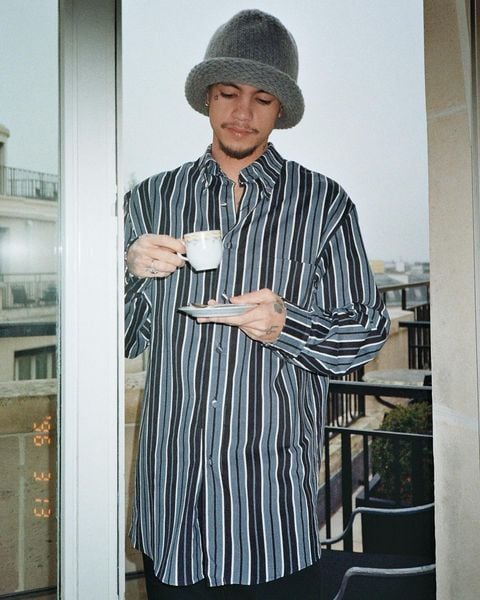 From the rise of Barbiecore to the takeover of Miu Miu's micro miniskirt, viral trends come and go at dizzying speeds. As a platform, TikTok documents the popularity of these aesthetics most rapidly, as the For You Page aggregates users' interests, putting people onto budding trends almost instantaneously. In a matter of moments, we see them everywhere, including on the social media feeds of celebrities.
These popular styles, which quickly go in and out of public favor, are often expensive ventures that rely on our tendency to impulsively consume so that we look as if we are "in the know." But just because an item seems to quickly fade from the mainstream doesn't mean it's an immediate wardrobe faux pas.
Miu Miu's micro mini, for example, will continue to be an interesting and memorable silhouette that is wearable enough to incorporate into your wardrobe at a sustainable pace. (This means, you don't have to toss it once it becomes unpopular and should instead allow it to inspire your ongoing sense of style.)
To keep you up-to-date with some examples of these viral fashion trends, we've put together a list of the latest looks buzzing on social media, the streets, and celebrities alike. With a variety of garments and accessories here — ranging from colorful, crochet shrugs to bulky headphones that look straight out of the '90s — you're bound to find something that suits you, along with a reason to tap into following the aesthetics that seem to be on everybody's radar.
01
Micro Miniskirts
2022 has undeniably been the year for micro miniskirts. Following the garment's resurgence after Miu Miu's spring 2022 runway collection debut, a slew of celebrities have sported takes on the item with various iterations and colors that offer a more original outfit surrounding the viral piece. Miu Miu's interpretation comes in neutrals with a pleated base and distressed hemline, worn by the likes of brand muses Hailey Bieber, Iris Law, Paloma Elsesser, and Nicole Kidman on the cover of Vanity Fair.
02
Maxi Skirts
Taking a complete 180 from the shorter hemlines that have been gracing our FYP this summer, maxi skirts are another item trending online. The TikTok "maxi skirt" hashtag has 27.1 million views alone and its popularity has seeped into other viral aesthetics, like the "witch core" TikTok trend, which borrows inspiration from '90s cult classic films such as "The Craft" and "Practical Magic."
03
Subversive Basics
Subversive basics do what the name suggests. This trend subverts basic items, like tanks, stockings, and cardigans, by deconstructing them with bold cutouts, eclectic layering, and DIY cutting or shredding. In many instances, it combines the whimsical excessiveness of maximalism with traditionally simple pieces, so that functional clothing becomes a serious fashion statement.
04
Bulky Headphones
Another trend that's taken TikTok by storm is the resurgence of chunky headphones. Airpods and other wireless devices, though comfortable and convenient, are no longer the audio accessory of choice. In true fashion over function attitude, teens are steering toward bulky, '90s style headphones (and the occasional portable music player). This coincides with the Y2K wave, so it makes sense that these old-school accessories are making a comeback. Popular brands of headphones include Bose and Sony, though no specific pair seems to stand out. As long as your set is clunky enough, you'll be on trend.
05
Carhartt Bags
Carhartt's Work in Progress crossbody Essentials bag is the design that's swept teens away with its simplicity and functionality. Touted as highly spacious, despite its curious square shape and size, it appears to be the proverbial bottomless Mary Poppins pouch of 2022. The Carhartt bag first went viral in late June, thanks to a TikTok video that has now garnered over one million likes and six million views. On the Carhartt website, it is still sold out in four of its five colorways. The only version currently available is the Woodland Trail Print, which features gritty camo colors.
06
'90s Style Claw Clips
In line with the Y2K resurgence, we've also witnessed this staple '90s accessory catapult back into the spotlight over the course of the last year. Spotted on multiple celebrities, from Bella Hadid to Kendall Jenner, this hair accessory is still going strong as its casual sensibility pairs well with the model-off-duty aesthetic. Many jewelry brands, like BaubleBar and 8 Other Reasons, are even updating their stock with hair collections to include the claw clips.
07
Crochet
Crochet has been trending for over a year now, with various silhouettes and accessories making their way onto the runway and red carpet. The trend has been carried out by multiple celebrities including Olivia Rodrigo, Harry Styles, and Dominic Fike. Styles's JW Anderson cardigan that took TikTok by storm is one prominent testament to crochet's lasting popularity.
Crochet dresses have been particularly popular for the summer, but cropped crochet shrugs are bubbling up as the throw-over of choice for fall. Multiple handmade versions of these fun tops have popped up on Depop and Etsy alike, with content creators across social media favoring certain small-owned labels. British diver Tom Daley's Made with Love is one such brand, with his crochet creations running the gamut from mug cozies to beanies.