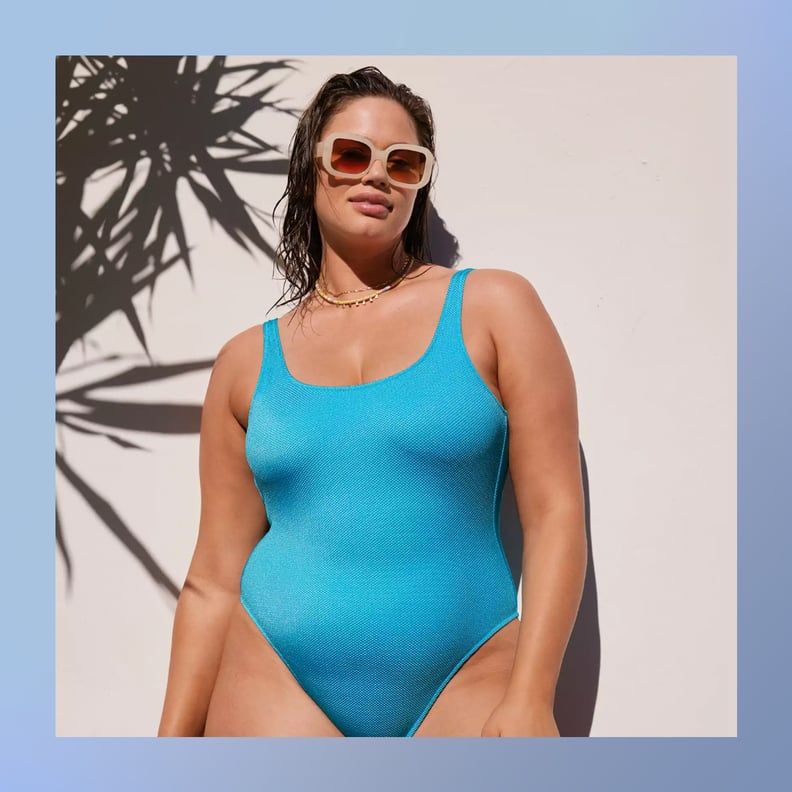 Aerie and Photo Illustration: Michelle Alfonso
Aerie and Photo Illustration: Michelle Alfonso
As POPSUGAR editors, we independently select and write about stuff we love and think you'll like too. If you buy a product we have recommended, we may receive affiliate commission, which in turn supports our work.
Looking for a new swimsuit is a lot easier said than done — especially if you're someone with curves who's in the market for something equally comfortable and cute. The trick to finding the right style is getting one that gives you the most flattering fit, whether it's a high-waisted bikini bottom or belted waist. Your swimsuit should play up your curves, not hide them. With so many options to shop online, our expert editors break down exactly what factors you should consider when scoping out the best swimsuits for curvy women — from the material to the bathing suit silhouette and more.
What Makes a Swimsuit the Best For Curvy Women?
When shopping for a new swimwear style, consider what silhouettes are best suited to the occasion. If you're looking for something to lounge around in by the pool, a bikini or sleeveless one-piece swimsuit will likely be your best bet for avoiding awkward tan lines. Alternatively, if you're a sporty beach girl who enjoys playing on the sand or boogie boarding through crashing waves, you'll likely want something with a bit more coverage and support — like a high-neck one-piece or long-sleeved swimsuit. Once you've determined your desired silhouette, you can then start thinking about fabrics. Contoured, spandex-like fabrics are ideal for those with curvy frames or large busts, as they hug the body in all the right ways (highlighting your curves, in the process) without feeling too constricting or tight.
Whether you're ready to shop for a tropical vacation or are trying to take advantage of any lingering warm days, it's time to treat yourself to one of the year's best bathing suits for curvy women. We curated swimsuits ranging from sexy monokinis to timeless one-pieces and, of course, some neutral and neon bikinis. We're particularly obsessed with a high-waisted, crossover bikini; a sexy ruched one-piece; and a shimmering swimsuit that's made to suit people with larger chests. Plus, they're all guaranteed to turn heads at the beach; now, all you need is a cute cover-up. Keep scrolling to shop our top picks.
— Additional reporting by Krista Jones, Marina Liao, and India Yaffe
01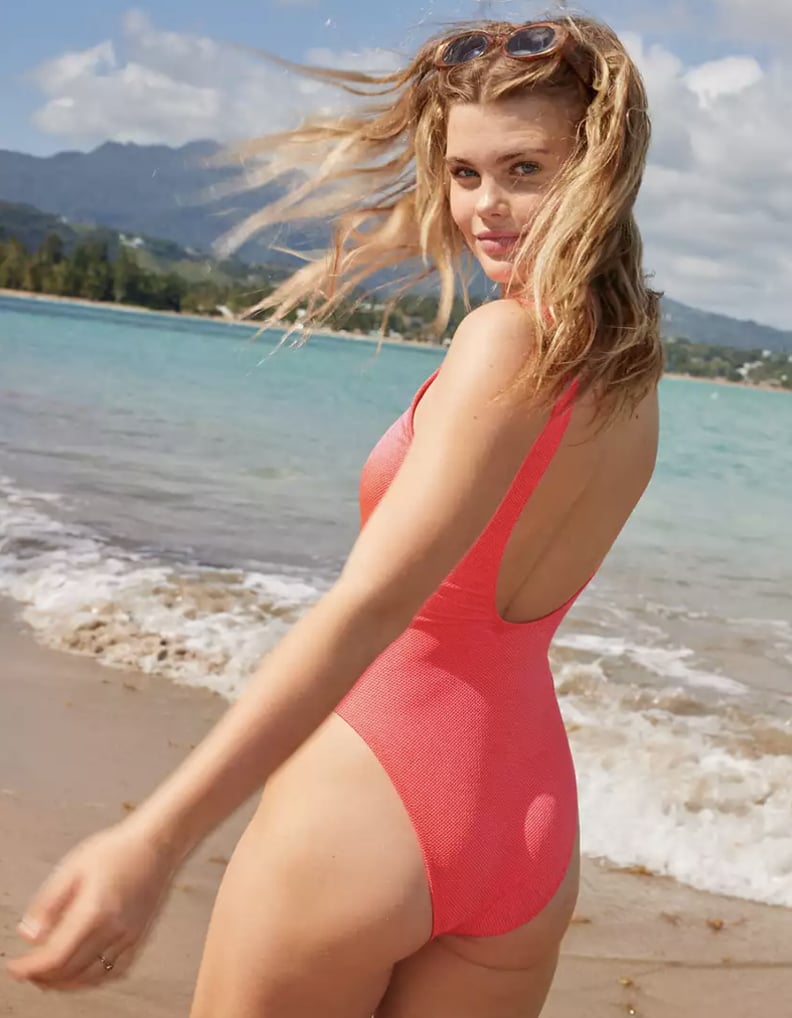 Best Comfortable Swimsuit For Curvy Women
Aerie Shine Pique Babewatch One Piece ($20, originally $50)
We have major heart eyes for pretty much all of Aerie's swimwear, but this one-piece is a particular favorite. It's a comfortable, affordable swimsuit for curvy women that you'll always want to pack in your suitcase — especially if you want something easy. It will keep you feeling supported and also ensure you don't attract any awkward tan lines. It has several rave reviews, with customers praising everything from its soft, comfy material to its effortless fit.
02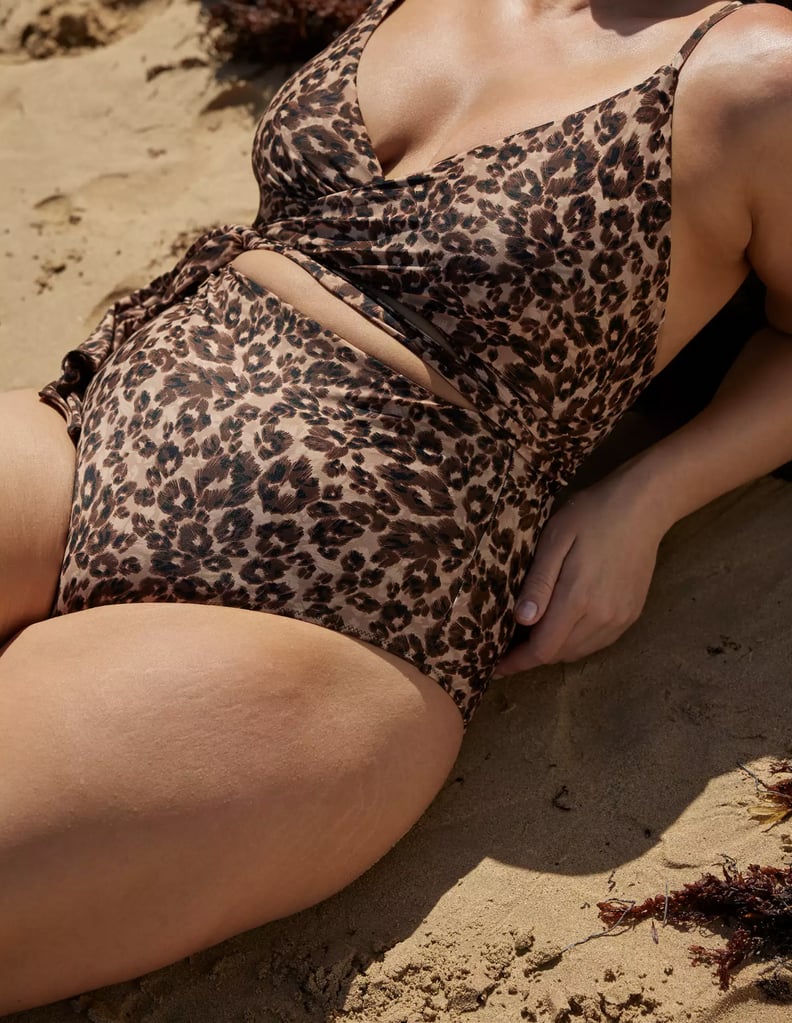 Best Cutout Swimsuit For Curvy Women
Aerie Leopard Wrap One-Piece ($25, originally $63)
Go for a beautiful wrap silhouette with this fun and comfortable swimsuit for curvy women. The cutout in the middle completes this one-piece with a more playful touch, making it resemble more of a two-piece instead. It comes in several colorways, but we love the seasonal versatility of this rustic piece. One editor detailed her love for the style in this review of the Aerie Wrap One-Piece Swimsuit, saying: "I ordered a ruffly black one-piece [from Aerie] with cutouts that was sexy and flattering and comfortable — I couldn't believe how good I felt in it. After wearing it in public, I was even more confident; so much so, in fact, that I went back and bought two more swimsuits in different styles."
03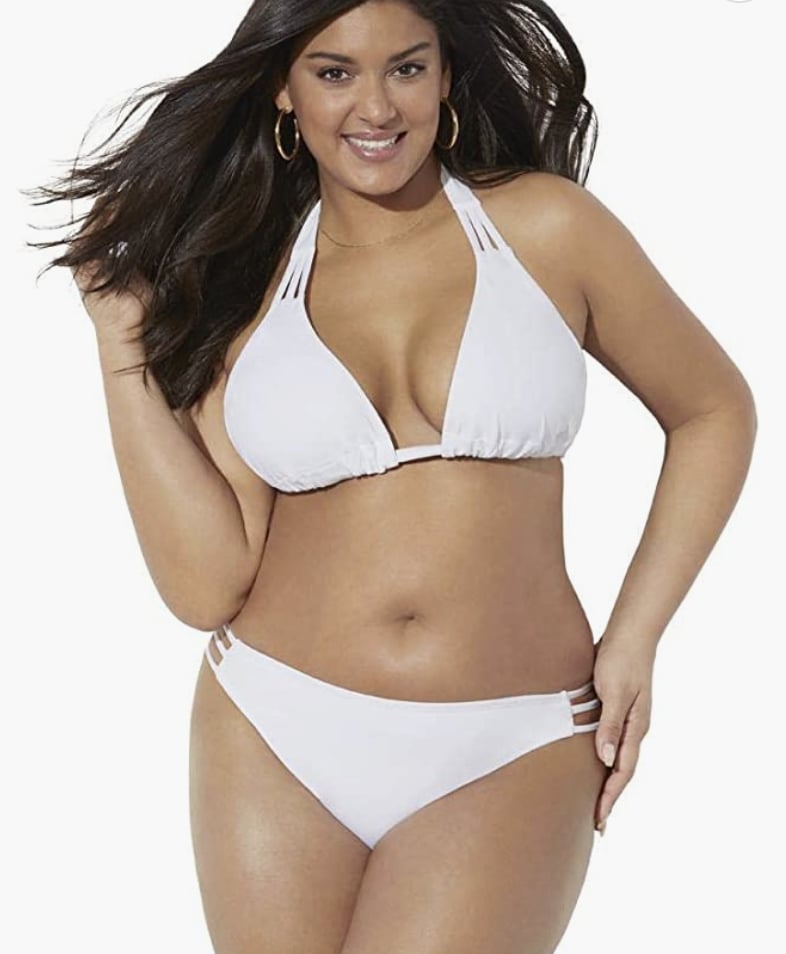 Best Bikini For Curvy Women
Swimsuits For All Beach Babe Triangle Bikini Set ($37)
This triangle bikini may just be the sexy style you need to upgrade your swimwear closet. The set features a halter bikini top that's incredibly supportive, particularly for those with larger busts. The bottoms are also great as they're made from a stretchy fabric that doesn't hug the body too tightly but also has enough grip to ensure they won't slip down in the pool or ocean. We'd argue that this is one of the best bathing suits for curvy women because it's practical but still flirty.
04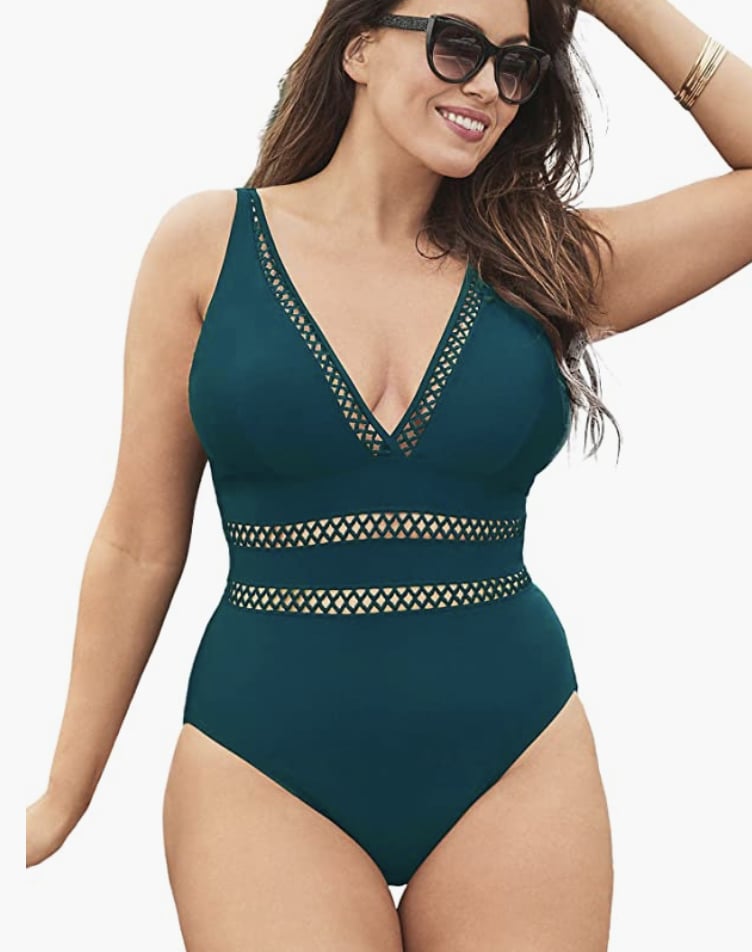 Best Plunge One-Piece Swimsuit For Curvy Women
Swimsuits For All Lattice Plunge One-Piece Swimsuit ($71)
If you have a larger bust, then you already know that finding the perfect one-piece swimsuit can feel like a chore in itself. Fortunately, we've found (at least what we believe to be) one of the best bathing suits for curvy women, and it comes in the form of this style from Swimsuits For All. From the cutout details to the extra-wide straps and removable bra cups, there's so much to love about this plunging one-piece swimsuit.
05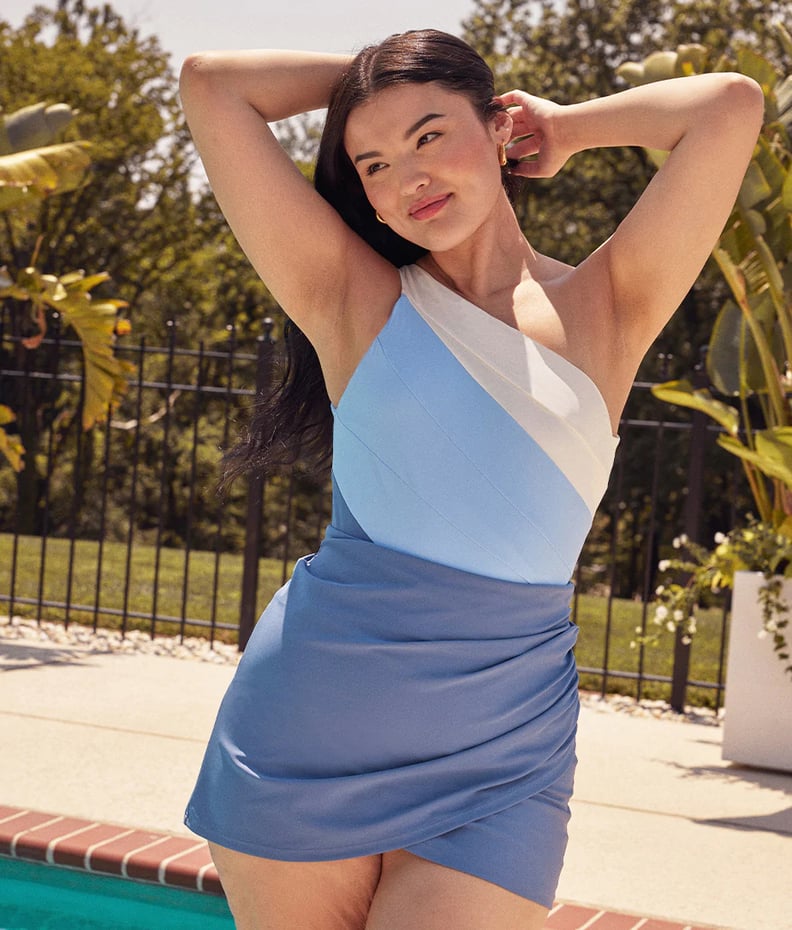 Best Swimsuit Set For Curvy Women
Summersalt The Ruched Swim Skirt ($65) and Summersalt Sidestroke One-Piece ($48, originally $95)
Fashion and swimwear seamlessly blend together in this flirty set from Summersalt. We love this swim skirt so much because it's comfortable and covered — and you can actually use it in the water (bonus!). It's an especially great resortwear style as the pairing can take you from the pool to the beach bar and beyond. This is truly one of the most versatile swimsuits for curvy women, and we love that it's stylish yet still modest. Use the code GETAWAY at checkout to get the style on sale.
06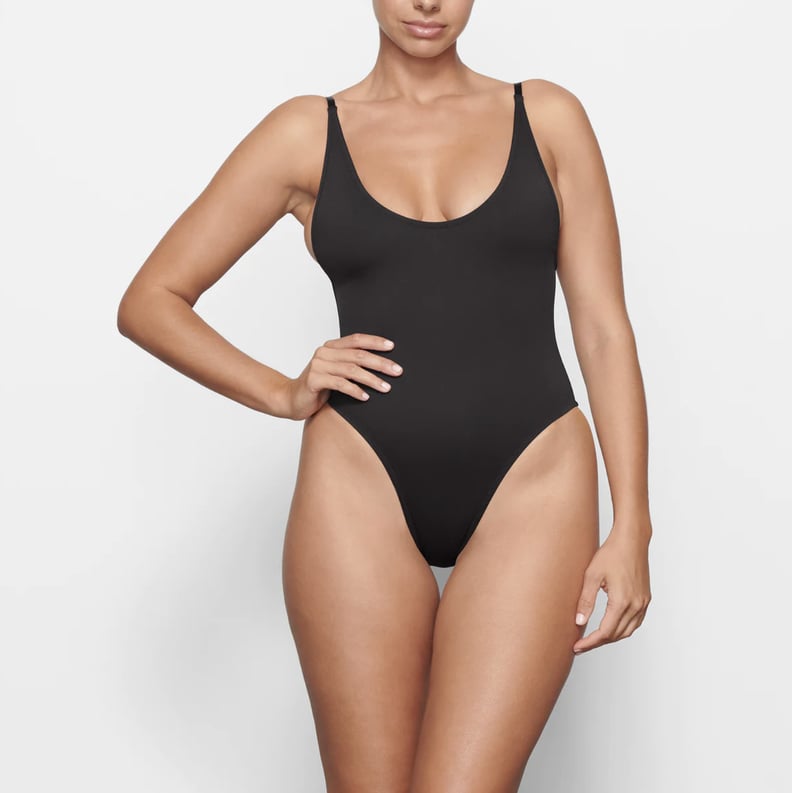 Best Sexy Swimsuit For Curvy Women
Skims Signature Scoop Neck One-Piece ($88)
If you're feeling daring, this plunging one-piece doubles as one of the best swimsuits for curvy women because it provides coverage and support in all the right places but is also incredibly breathable thanks to its cheeky design. A few of POPSUGAR's editors tested out similar styles and detailed their experiences in this Skims swimwear review, with one saying: "The formfitting fabric can still stretch up to a certain point, so I didn't really feel restricted in my movements. . . . I was already a fan of the brand's shapewear, and I've now just been converted to wear its bathing suits, too."
07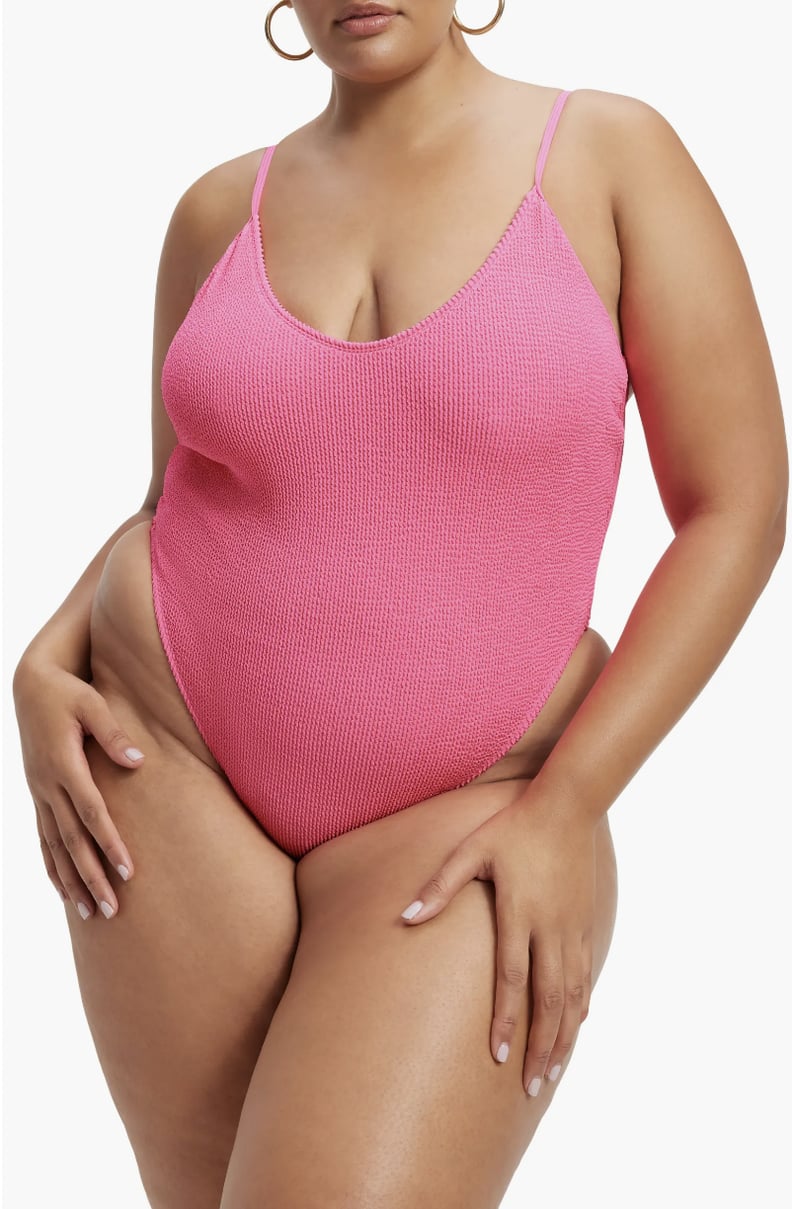 Best Overall Swimsuit For Curvy Women
Good American Always Fits One-Piece Swimsuit ($49-$89)
This relaxed style is one of the best bathing suits for plus-size women because it's supremely comfortable, breathable, and designed to move with your body rather than constrict it. The Good American Always Fits fabric stretches and forms to your body shape, so you'll always feel good in this suit and appreciate how it accentuates your curves. The pink swimsuit feels so fun for spring (or if you're looking to tap into the Barbiecore trend), but it's available to shop in several other colorways.
08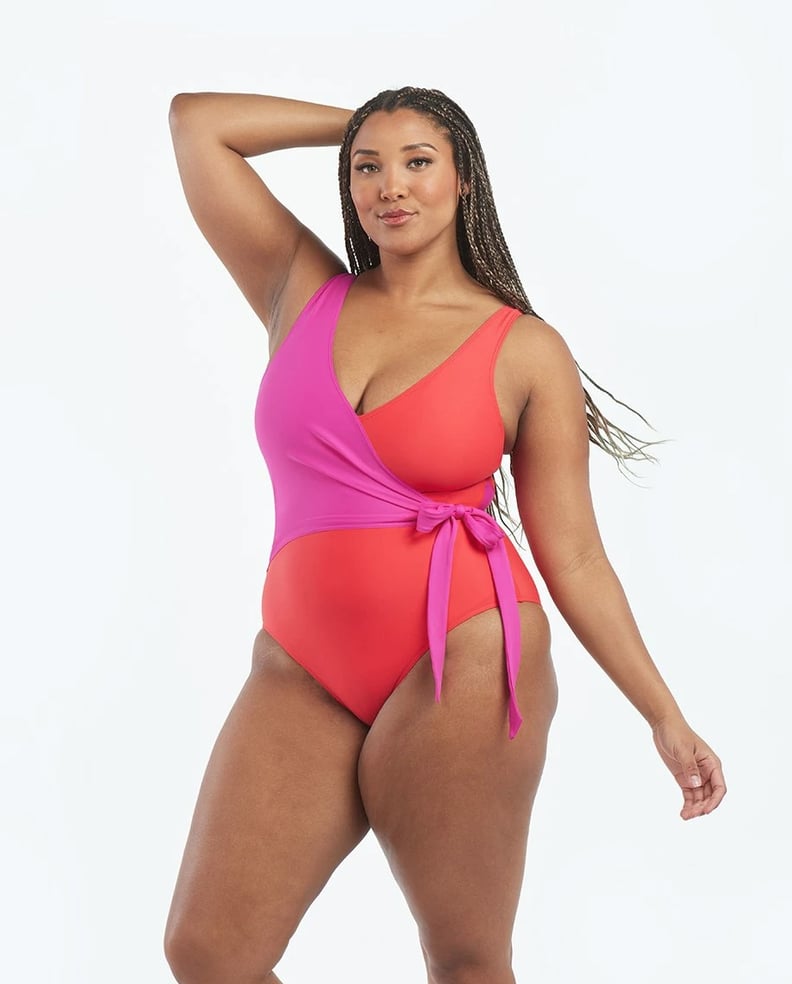 Best Wrap One-Piece Swimsuit For Curvy Women
Summersalt The Perfect Wrap One-Piece ($95)
After years of shopping out the best swimsuits for curvy women, we've discovered that a wrap style is always a winner because of its comfortable fit, universally flattering design, and ability to conceal the tummy in a way that still feels breathable. This colorful one-piece swimsuit is an internet and POPSUGAR editor favorite, as it comes in so many fun color and print combinations. One editor detailed her love for the style in this review of the Summersalt The Perfect Wrap One-Piece, saying: "This piece comes in sizes 2-22, and I'm telling you (no, begging you) to buy it. I sincerely feel so confident in it, and the fit is incredibly flattering. It's essentially the poolside equivalent to a classic wrap dress."
09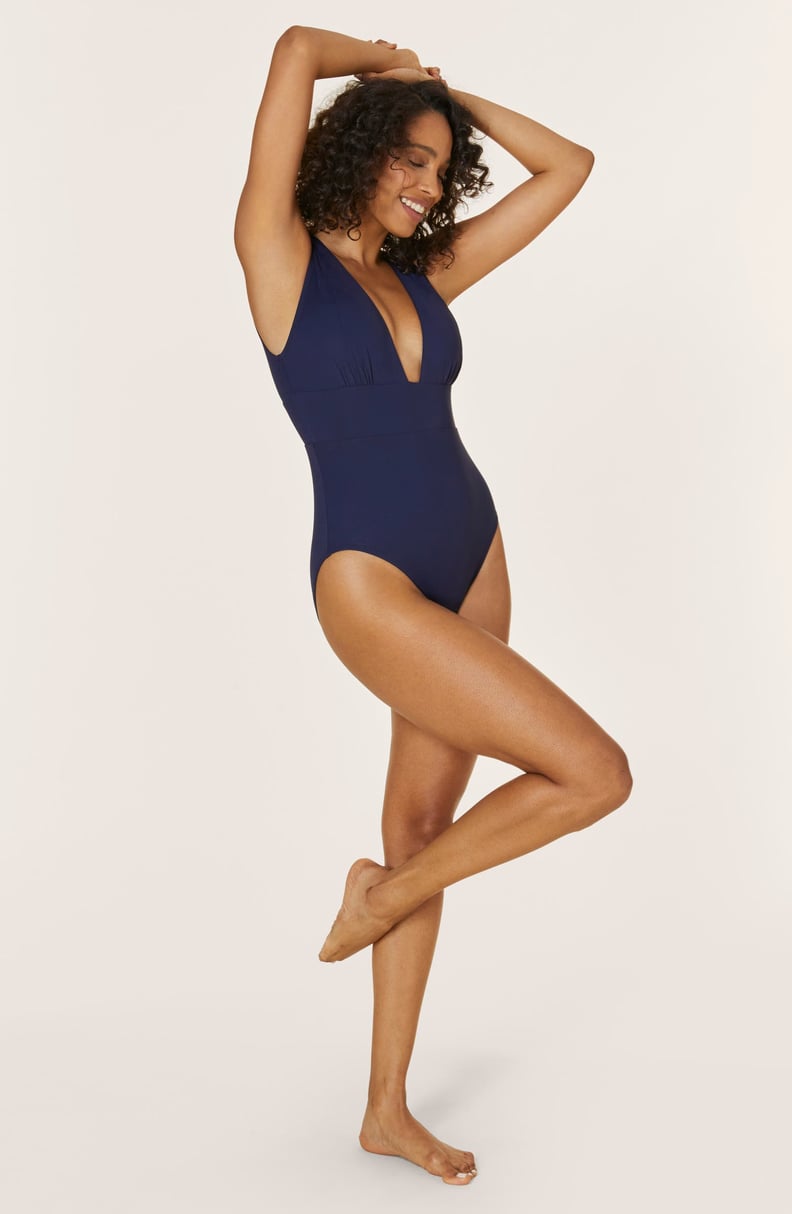 Best Low-Cut One-Piece Swimsuit For Curvy Women
Andie Swim Mykonos One-Piece ($98)
This elegant one-piece is supportive and sexy, which can be tough to find if you're shopping for swimsuits for curvy women that are equal parts practical and stylish. The thick underband will help keep everything together, while also giving your bust an extra lift. Plus, the plunging neckline is a beautiful, welcomed touch, and this suit is so easy to style with other fashion items like jean shorts or a sarong. One POPSUGAR editor detailed her love for the suit in this review of the Andie One-Piece, saying: "When I put the one-piece on for the first time, I immediately realized why it's one of the brand's bestsellers. The ribbed fabric has a slight hold to it, but it's not tight; the bathing suit is still easy to pull on and slide off. The brief-style bottom half has a gusset that is wide enough to provide full coverage in front while keeping the derrière shielded from the sun."
10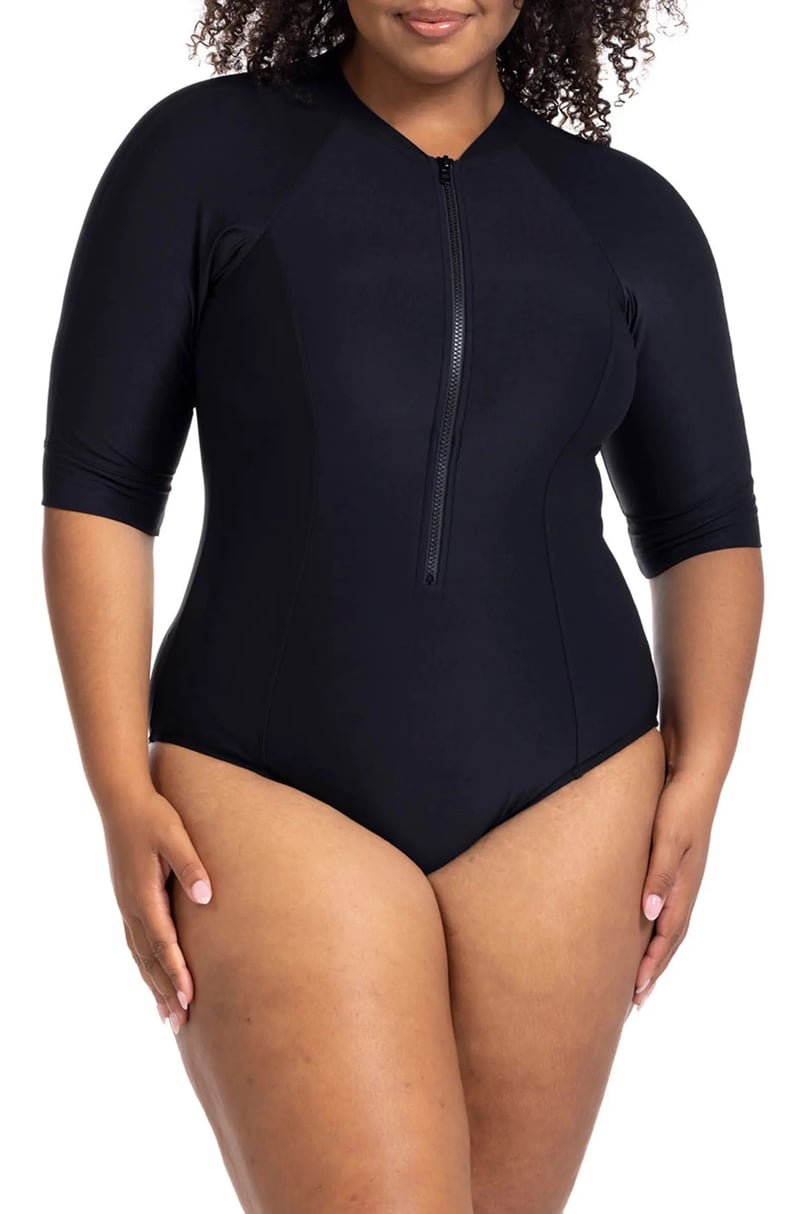 Best Long-Sleeved Swimsuit For Curvy Women
Artesands Sunsafe One-Piece Swimsuit ($160)
If you're looking to add a sporty swimsuit to your closet that's both functional and flirty, this long-sleeved one-piece bathing suit from Nordstrom is definitely the style we'd choose. The high-neck design gives the piece a full-coverage look and feel that's ideal for those who love to play around in the water and desire a little extra support. The black swimwear is one of our favorite bathing suits for plus-size women because of its all-over coverage, zip-up design, and the fact that it also gives us major surfer vibes.