Andie One-Piece Swimsuit Review With Photos: The Mykonos
This Andie Swimsuit Brings Mykonos Vibes to NYC
As POPSUGAR editors, we independently select and write about stuff we love and think you'll like too. If you buy a product we have recommended, we may receive affiliate commission, which in turn supports our work.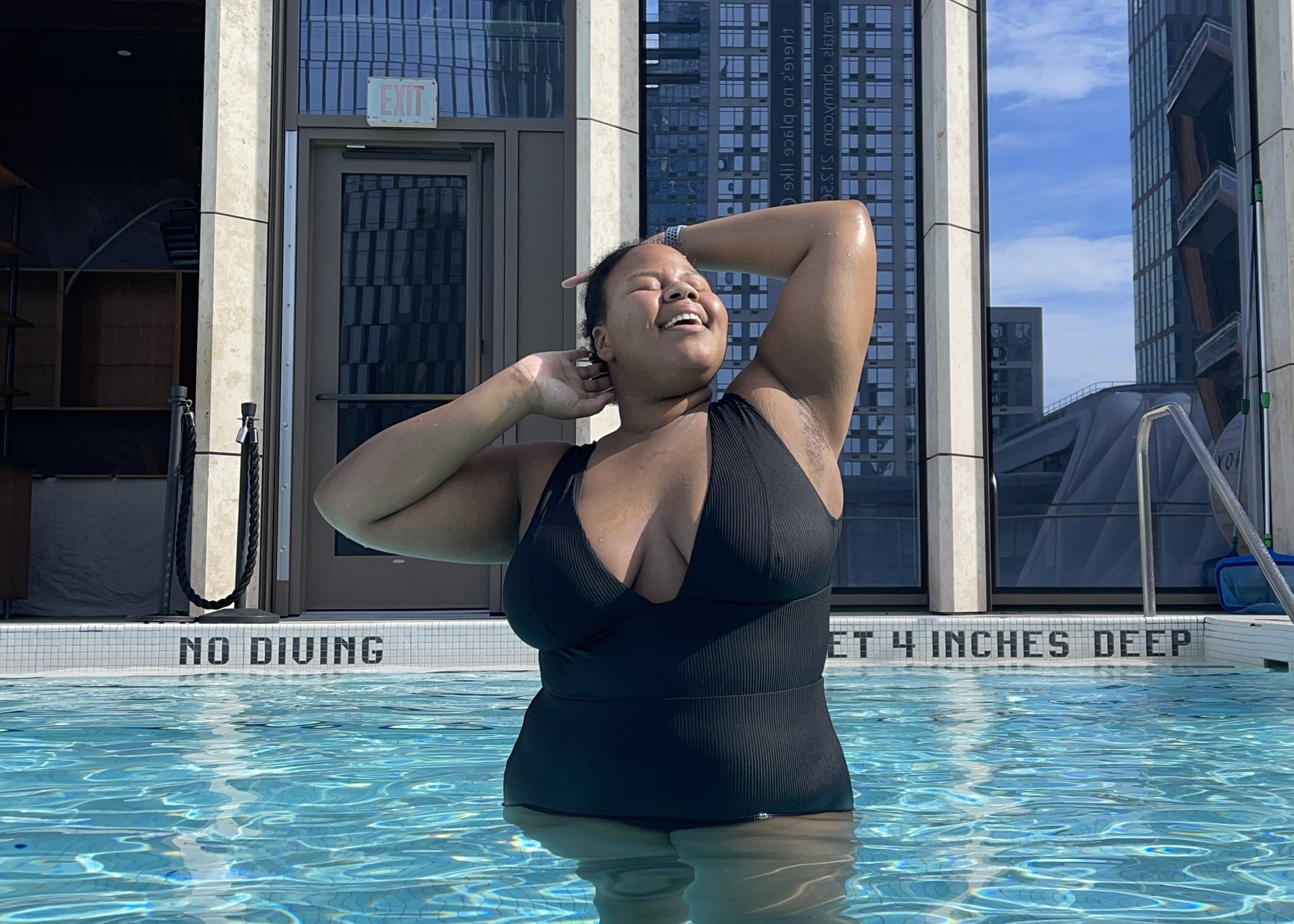 Swimwear brand Andie is known for making pool-ready pieces tailored to fit the body in all the right places. Scrolling through the swimsuit maker's site, you'll find a sea of figure-flattering one- and two-piece bathing suits in a range of colors and available in sizes XS-XXXL. Recently, I was offered the opportunity to give an Andie one-piece swimsuit a try and chose The Mykonos ($115).
The Mykonos silhouette is available in many fabrics and colorways. There's the "flat," which is made of nylon and spandex and available in black, cherry red, and navy. "Eco Poly," the second fabric, is made of spandex and a recycled, plastic-bottle-sourced polyester; it's available in a limited-edition espresso color. Finally, there's Ribbed: a nylon-spandex blend that offers the most compressive fit, according to Andie's site. It's available in two classic colors: black and white. After analyzing the size chart, I chose a black, long-torso version of The Mykonos — Ribbed in XXL. For context, I'm 6'2" and normally wear a size 18.
When I put the one-piece on for the first time, I immediately realized why it's one of the brand's bestsellers. The ribbed fabric has a slight hold to it, but it's not tight; the bathing suit is still easy to pull on and slide off. The brief-style bottom half has a gusset that is wide enough to provide full coverage in front while keeping the derrière shielded from the sun. Wide straps on the top half dive into a plunging neckline that has a couple of inches of fabric between the cups — a silhouette reminiscent of an upside-down trapezoid. As for the triangular cups, there's a vertical stitch that runs from the under-bust seam over the middle of the cups and all the way up to the straps. The stitch doesn't cut my breasts in half. I'm also relieved that the cups cover my 42G bust with no spillage. And, thankfully, there's no underarm spillage either (pictured below).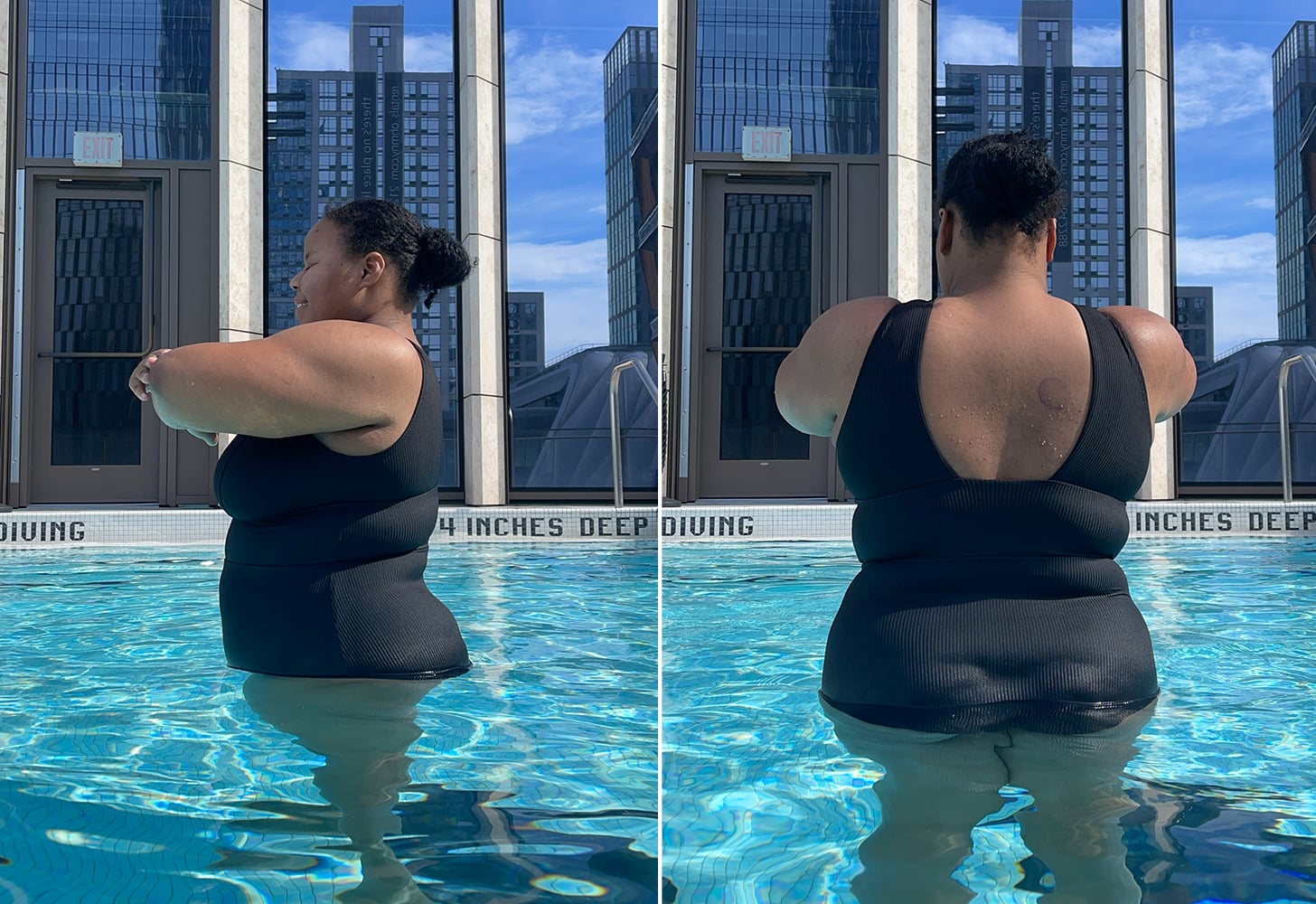 My favorite detail is at the waist. There's a seam beneath the removable cups, a few inches of fabric, and then another seam on the waistline. The ribbed fabric between the seams forms a band that gently hugs my waist and flatters my figure.
Once I was done ogling the details, it was time to try out The Mykonos. To give my new bathing suit a proper test, I went to the nearest Equinox in New York (it has a rooftop pool that's perfect for a plunge and photos). In 30 minutes of bobbing, doggy paddling, and splashing around in the pool, I never had to adjust the bottom half of my swimsuit — I normally end up having to pry sopping wet fabric from between my cheeks, butt not with this swimsuit. I did have to adjust the top after my test swim, but it was nothing a little shift-and-wiggle couldn't fix. With so many well-placed details — and nothing ever popping out on top or below — The Mykonos is ready to be worn poolside in Greece (or New York). As you can see from the GIF below, Andie's The Mykonos bathing suit made me so happy that all I could do was jump for joy!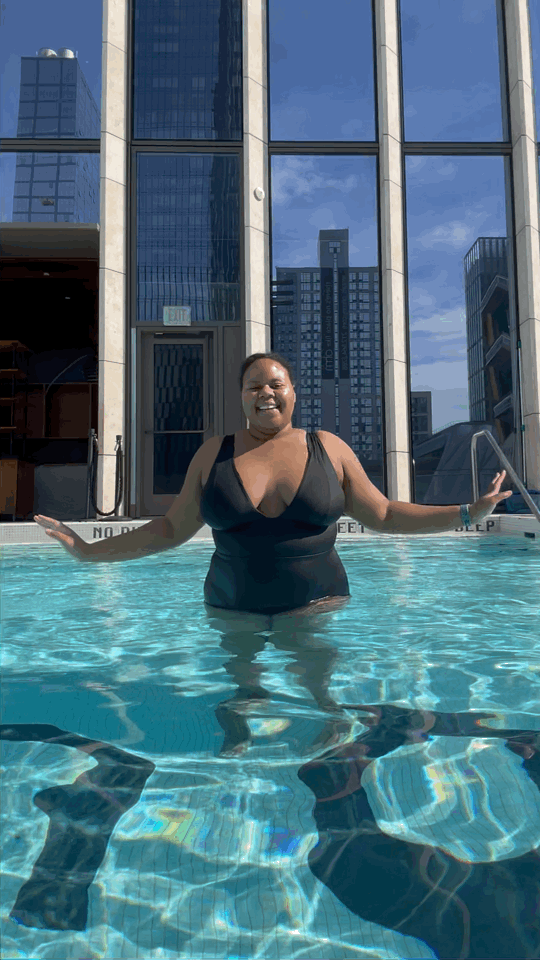 Image Source: POPSUGAR Photography / Angelica Wilson