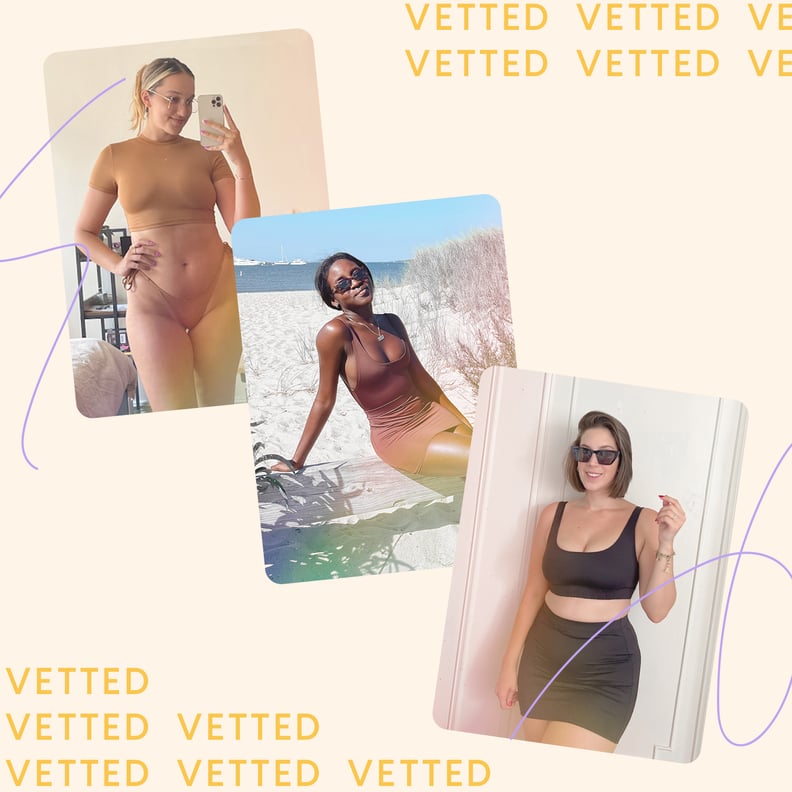 POPSUGAR Photography | Chiara Gero
POPSUGAR Photography | Shelcy Joseph
POPSUGAR Photography | Kelsey Garcia
POPSUGAR Photography | Chiara Gero
POPSUGAR Photography | Shelcy Joseph
POPSUGAR Photography | Kelsey Garcia
Every editorial product is independently selected by our editors. If you buy something through our links, we may earn commission.
Kim Kardashian's grand vision for shapewear for all seems to have come to fruition. Since launching Skims in September 2019, her shapewear venture has grown to an estimated $1.6 billion valuation and garnered a cult-like following for the brand's size-inclusive (XXS-4X) range of bras, underwear, and, most recently, swimsuits.
In a campaign released July 25, "Outer Banks" actress Madison Bailey, model-musician Paris Jackson, and TikTok personality Bella Poarch model the brand's newest swim styles, which are inspired by a summer pool party. The star-studded cast show off a variety of swimsuits — from cutout monokinis to sleeveless one-pieces — in a range of colors, including a new Barbiecore-approved shade: hot pink. While Kim and Khloé Kardashian have already made the case for vacationing in Skims swim, the new campaign further brings to life the full collection, which includes some expected and unexpected items alike. The limited-edition launch, for instance, also features gloves, dresses, and cover-ups, perfect for lounging poolside or relaxing with an iced beverage in hand in your backyard. From a white tube top to a ruched skirt that doubles as a cover-up, many of the pieces can be combined with your favorite denim or go-to crop tops for all your summer activities.
Ahead of the collection release on Thursday, July 28, three POPSUGAR editors tried the swimsuits in several colors and silhouettes to see if the brand's popularity has staying power in the competitive swim category. From a cocoa-colored one-piece and tube skirt to an ochre crop top matched with string bikini bottoms, each editor reviewed something different. Read on to see what we had to say.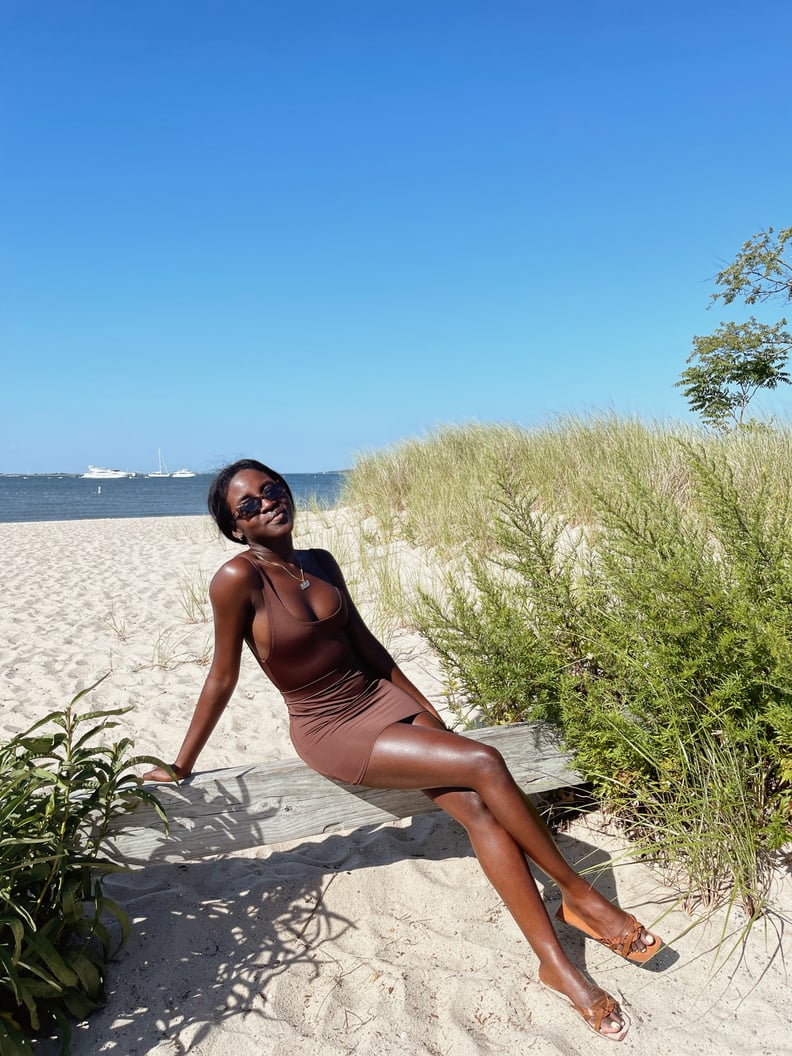 The Swim Scoop Neck One-Piece and Tube Skirt in Cocoa
"As a beach aficionado, I typically spend hours by the ocean, so my swimwear has to enable me to lazily nap under the sun or go for long swims. After spending a few hours in the Swim Scoop Neck One-Piece ($88) at the beach, I'm happy to report that it checks all my boxes: comfort, style, silhouette, and construction. The formfitting fabric can still stretch up to a certain point, so I didn't really feel restricted in my movements. I also find the design extremely flattering, with the bra being supportive of my chest and the matching Swim Tube Skirt ($54) hugging my curves. I was already a fan of the brand's shapewear, and I've now just been converted to wear its bathing suits, too. I especially love that you can combine the two into a slinky night-out look." — Shelcy Joseph, associate fashion editor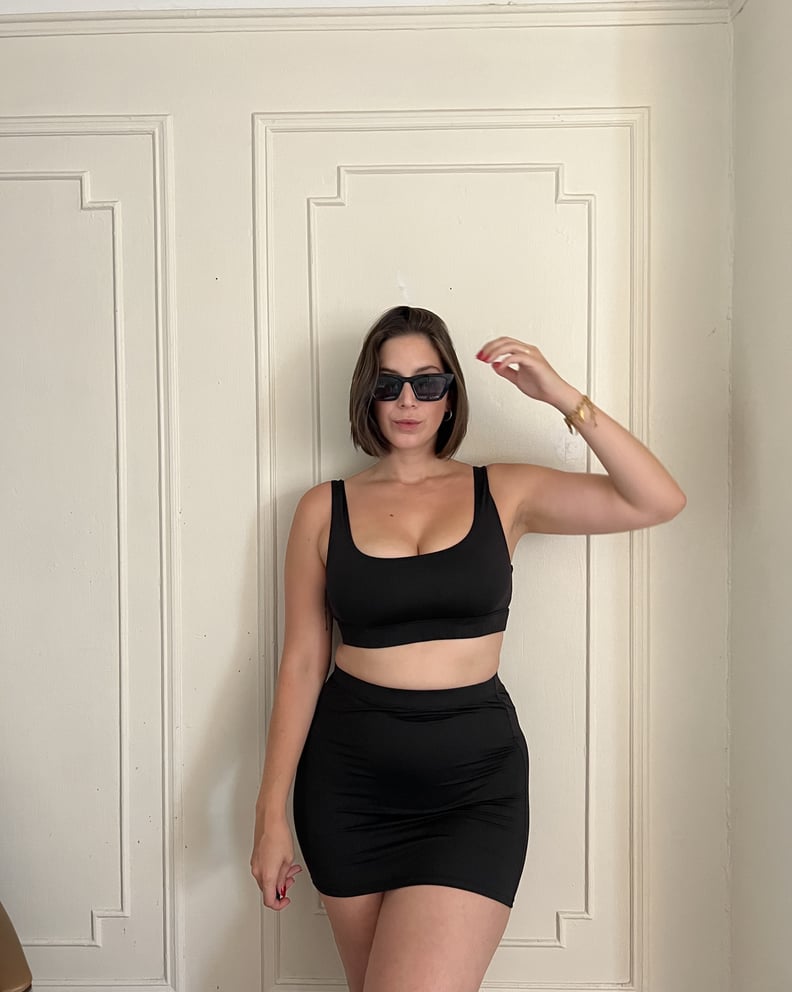 The Swim Tank Bikini Top and Tube Skirt in Black
"Let me start by saying I am no stranger to the Skims sartorial universe. The shapewear? Secured in the first drop. Pajamas? Got three. Bras? Big fan. Now that we've gotten that disclaimer out of the way, it should come as no surprise that the swimwear also now has my approval. One important factor stands out to me: it's comfortable. I could have hung out in this set all day, and probably should have given the historic heatwave.
The Swim Tube Skirt ($54) nicely hugged my curves. The Tank Bikini Top ($48) provided great coverage and support. (I truthfully could have sized down from a large to a medium because I found the band slightly ripples if it's not tight enough.) I was admittedly less comfortable wearing the Mid Waist Bottoms ($38) because of the high-cut silhouette on the sides, but hey, that's more of a personal preference." — Kelsey Garcia, senior editor, trending and viral features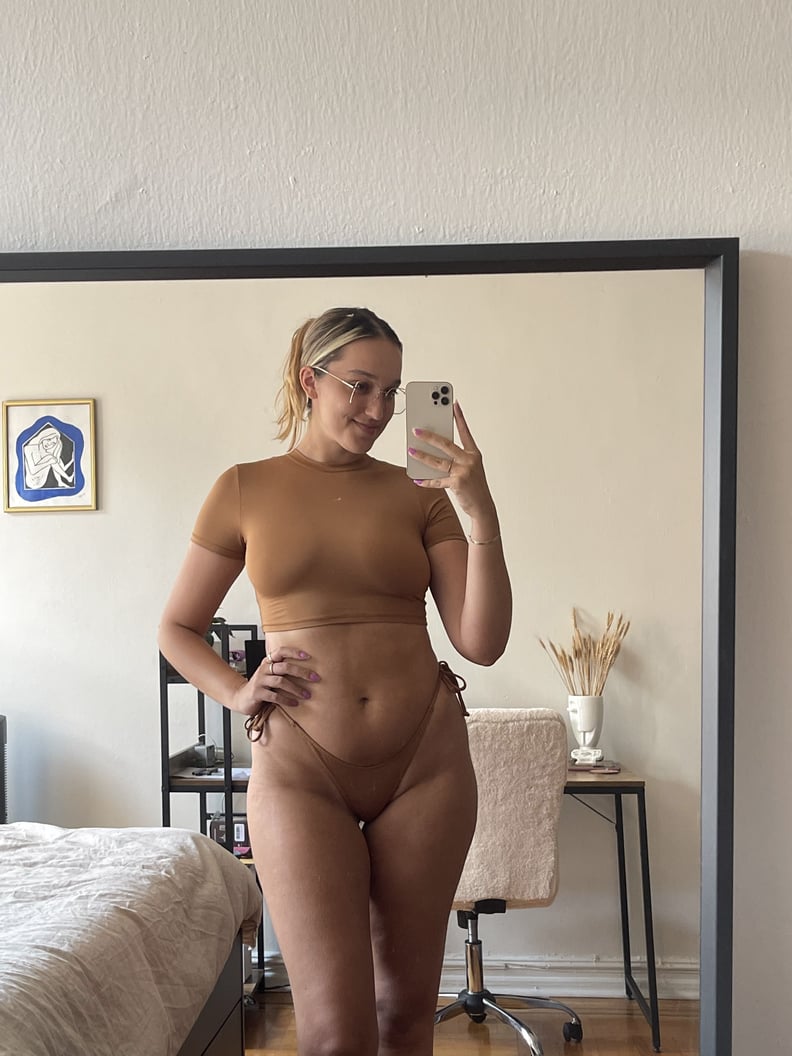 The Swim Triangle Top and Dipped Tie Bottoms in Ochre
"I love the suit, though I am a bit disappointed by the label that says the color will rub off on lighter-colored fabrics. I wouldn't expect that from Skims. The Swim Dipped Tie Bottoms ($36) fit, but I would definitely need a larger (than a medium) Swim Triangle Top ($38). The top has good support, even though it is a bit small for me. I always need tops with better support, and this one fits nice and snug. I would definitely buy another Swim Triangle Top, but I would be more careful about bust sizing. The bottom has nice coverage in the back, more than expected. I usually wear tiny bottoms, so this was a pleasant surprise. The Swim T-Shirt ($52) is my favorite part. It fits amazing, it's snug and comfortable, and it's stylish!" — Chiara Gero, social content producer