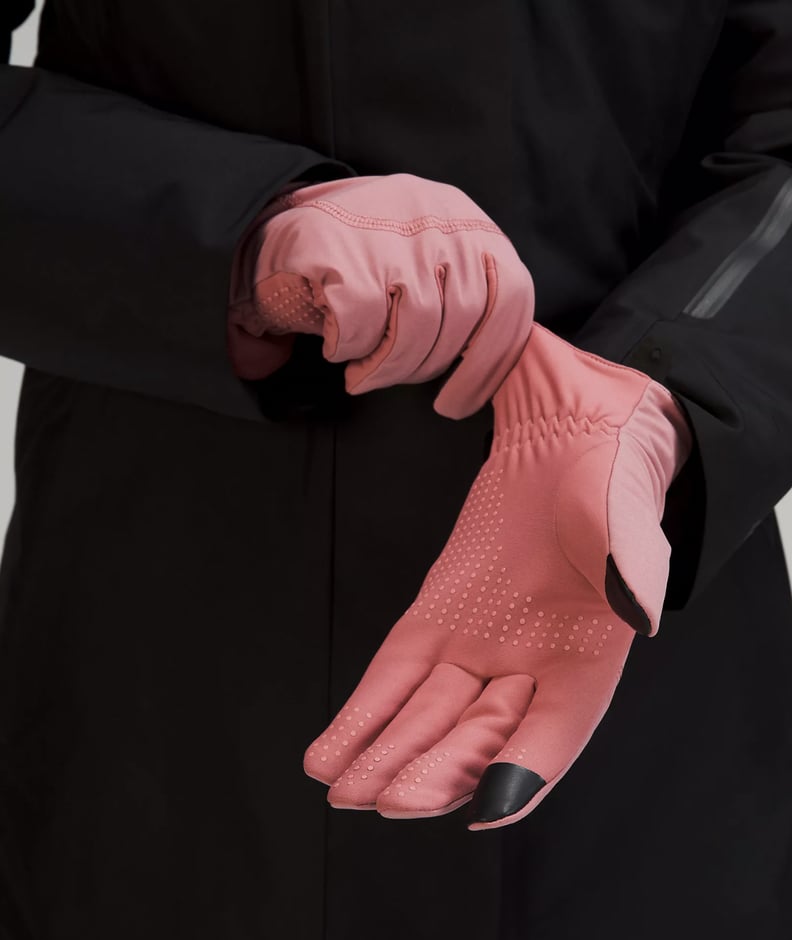 lululemon
lululemon
As POPSUGAR editors, we independently select and write about stuff we love and think you'll like too. If you buy a product we have recommended, we may receive affiliate commission, which in turn supports our work.
I hate admitting it, but I genuinely struggle going for long periods of time without looking at or using my smartphone. Whether it's the temptation to scroll through TikTok, the thrill of bouncing between my favorite playlists on Spotify, or just the entertainment that comes from keeping up with the constant flow of memes being sent in my friend group chat, there's seemingly always something pulling my attention back to my device.
It's for this reason that I decided it was finally time for me to invest in a quality pair of touchscreen gloves. After several frustrating winter seasons, mostly riddled with me trying (and failing) to decide whether to keep my hands warm with gloves on or take them off so that I could use my smartphone with ease, I realized this struggle actually wasn't worth the headache — especially with so many pairs of warm touchscreen gloves available online.
Following a month of nonstop searching for the best touchscreen gloves for cold weather (at least according to the internet), I've discovered a handful of top-rated styles that are not only practical and primed for use with any smart device, but also undeniably stylish. Since I'm not in the business of gatekeeping, I went ahead and rounded up a few of my favorite selections below. From waterproof touchscreen gloves that are built to withstand snow to thin touchscreen gloves that promote breathability and thermal touchscreen gloves that help to insulate heat and keep your fingers feeling warm in freezing temperatures, there are so many great styles to shop from brands like Moshi, UGG, Nordstrom, Lululemon, and Amazon. Keep reading to shop this season's best touchscreen gloves for women.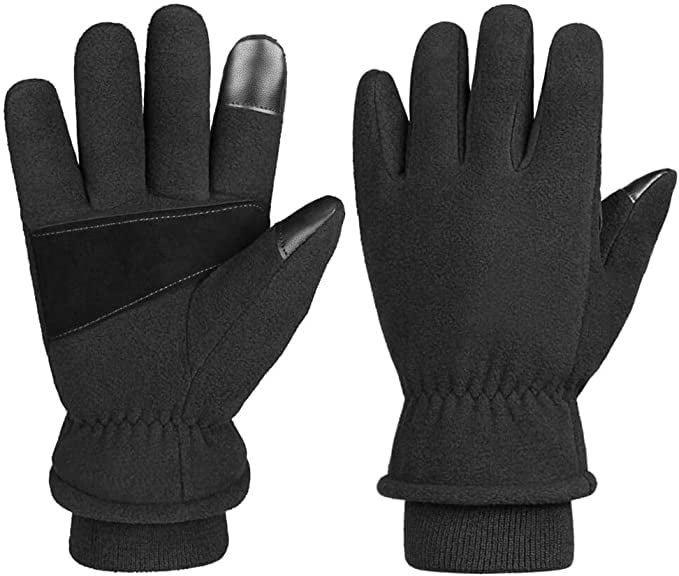 The Best Affordable Touchscreen Gloves
Ozero Thermal Winter Gloves ($19)
We'd be remiss if we didn't mention these bestselling touchscreen gloves from Amazon. They're one of the best pairs of touchscreen gloves money can buy, fitted with a plush imitation-lamb-wool insert that provides an added layer of warmth for users — making them a great pair of gloves for cold-weather wear or while enjoying outdoor sports activities in brisker temperatures. With over 1,000 rave reviews on Amazon, this windproof accessory is definitely a must have — especially at such an affordable price.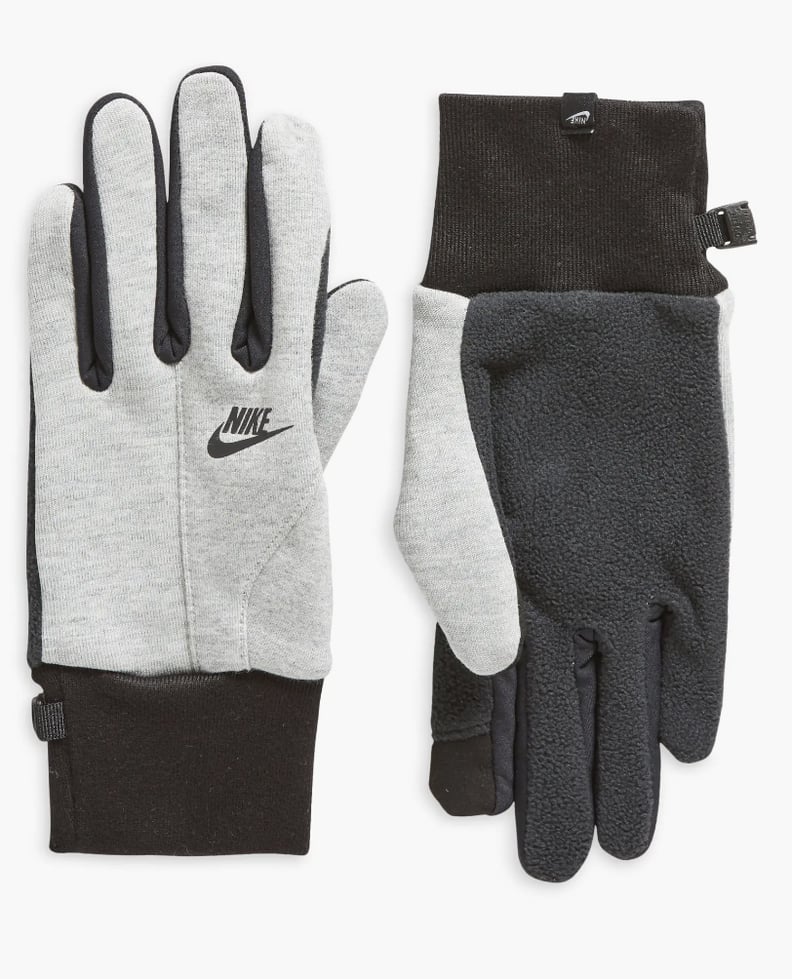 The Best Fleece Touchscreen Gloves
Nike Tech Fleece 2.0 Touchscreen Gloves ($40)
In terms of touchscreen gloves that are equal parts stylish and practical, we'd argue that it doesn't get much sportier than these fleece touchscreen gloves from Nike. The formfitting gloves are designed to keep your fingers feeling warm and protected, even while you're on the go. Beyond their touchscreen-friendly capabilities, the gloves also come fitted with a silicone print design that provides added grip support.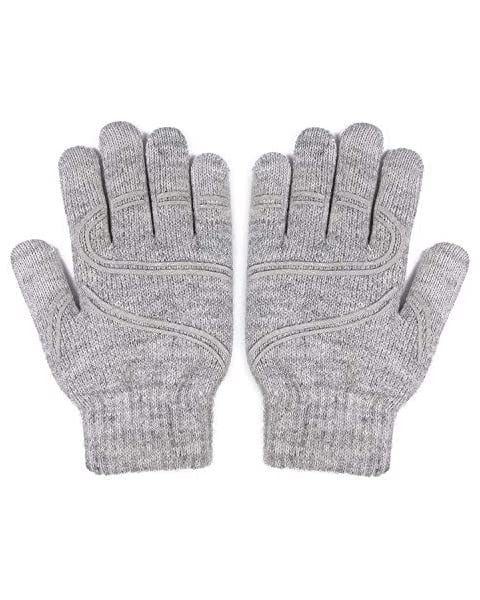 Best Touchscreen Gloves on Amazon
Moshi Digits Winter Touchscreen Gloves ($30)
If you're seeking out more affordable touchscreen gloves (or really any budget-friendly winter accessories, for that matter), Amazon is certainly a great retailer to start your spree at. We personally love the look and feel of these winter touchscreen gloves from Amazon. It's all in the details with this style, which features everything from a GripTrak pattern for added grip support to a plush microfleece lining that offers a more cozy appeal.
The Best Leather Touchscreen Gloves
Nordstrom Cashmere Lined Leather Touchscreen Gloves ($99)
These cashmere-lined touchscreen gloves definitely aren't your average pair of winter gloves, but they are undeniably tasteful. With a sleek leather design on the outside and a buttery-soft cashmere lining on the inside, the gloves serve as a welcome and, frankly, much more stylish departure from some of the classic knit gloves that tend to dominate winter fashion. Not only will they help to elevate any outfit with a chicer flair, but they'll also provide total ease in allowing you to wear the accessory and still access your smartphone!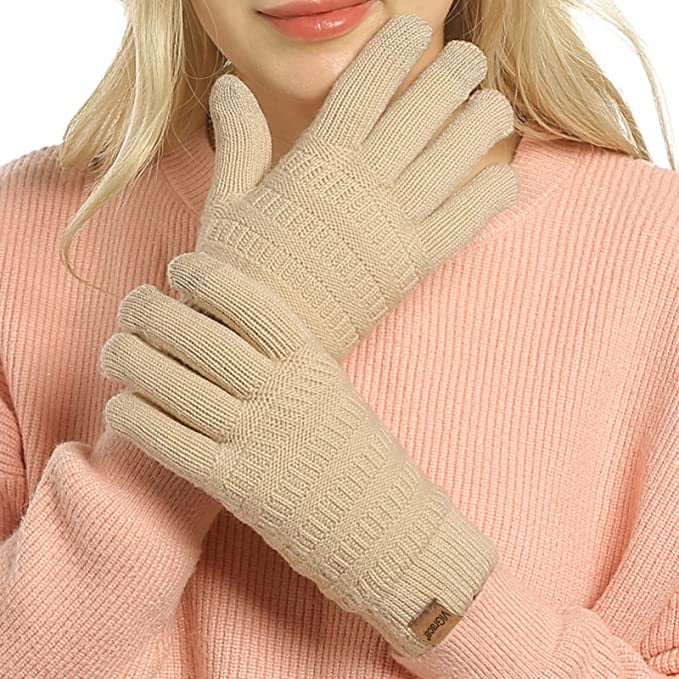 The Best Warm Touchscreen Gloves
ViGrace Touchscreen Gloves ($13)
Make navigating even the coldest winter temperatures a breeze with the help of these cozy touchscreen gloves. The seasonal accessories get a more modern (and stylish!) update with this pair's cable-knit design and touchscreen capability, which gives wearers the ability to access their smartphone via a three-finger design, rather than the traditional one-finger arrangement. Bonus: these bestselling touchscreen gloves are available to shop in eight colors, including beige, black, and ivory!
The Best Thin Touchscreen Gloves
Achiou Winter Gloves ($103)
If you're in the market for versatile touchscreen gloves that are breathable and a bit less constricting than other styles, these winter touchscreen gloves come highly recommended. Crafted from a four-way stretch fabric, the winter accessory provides ample warmth and coverage on the hands, all without being too thick for users to easily move their fingers around in the style. These touchscreen gloves are compatible with any smart devices, and even feature a more elastic design so that they can stretch around any hand shape or size with total ease.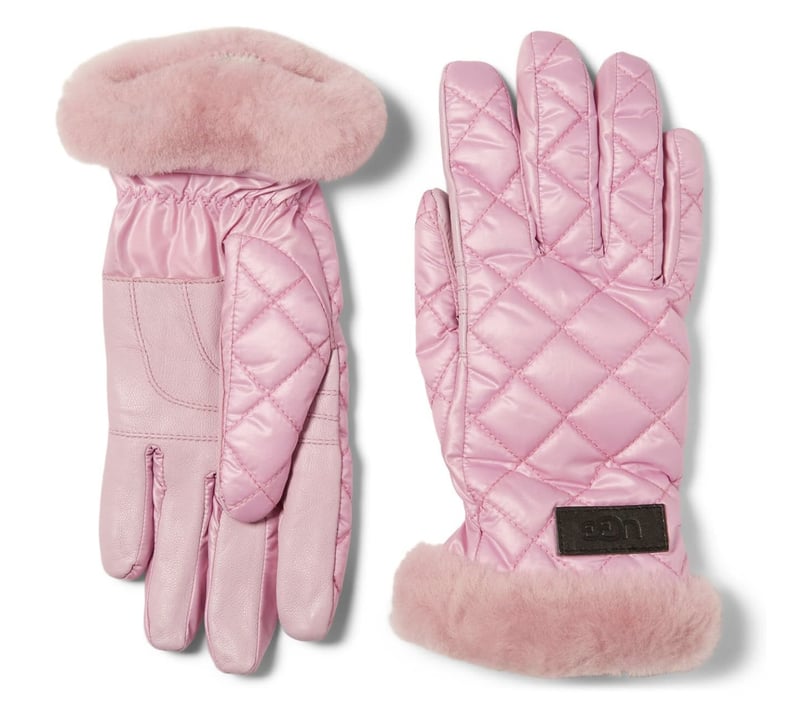 The Best Waterproof Touchscreen Gloves
UGG Quilted Performance Tech Glove ($50)
When shopping for the perfect pair of winter gloves, we're looking for an accessory that's comfortable and sure to keep us warm; durable enough to withstand exposure to snow or other harsh weather conditions; stylish enough to be paired with any seasonal ensemble; and ideally, also fitted with touchscreen capabilities so that we can seamlessly use our smartphone even with the accessory on. This quilted touchscreen glove from UGG checks all of our boxes, and that pink colorway is just so darling.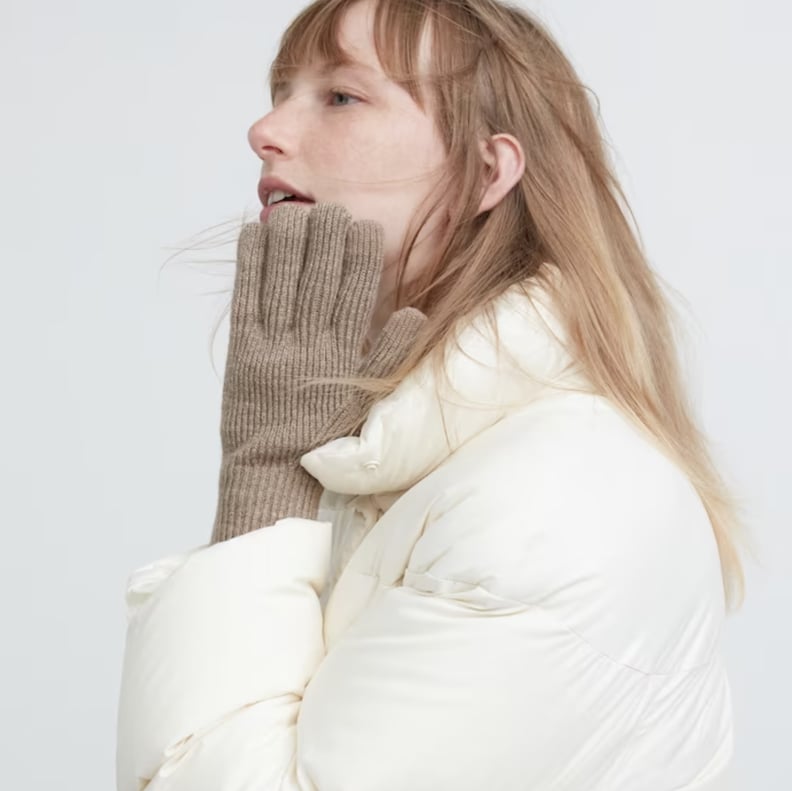 The Best Thermal Touchscreen Gloves
Uniqlo Heattech Knitted Gloves ($20)
For touchscreen gloves that you can comfortably wear all day, look no further than these knitted touchscreen gloves. The accessory is compatible with all smartphone devices, so you can browse through Instagram, search for the perfect Spotify playlist, or even text friends back, all while wearing the fluffy acrylic gloves. The style also boasts an insulated, bio-warming design that warms the hands up and keeps them feeling toasty for extended periods of time.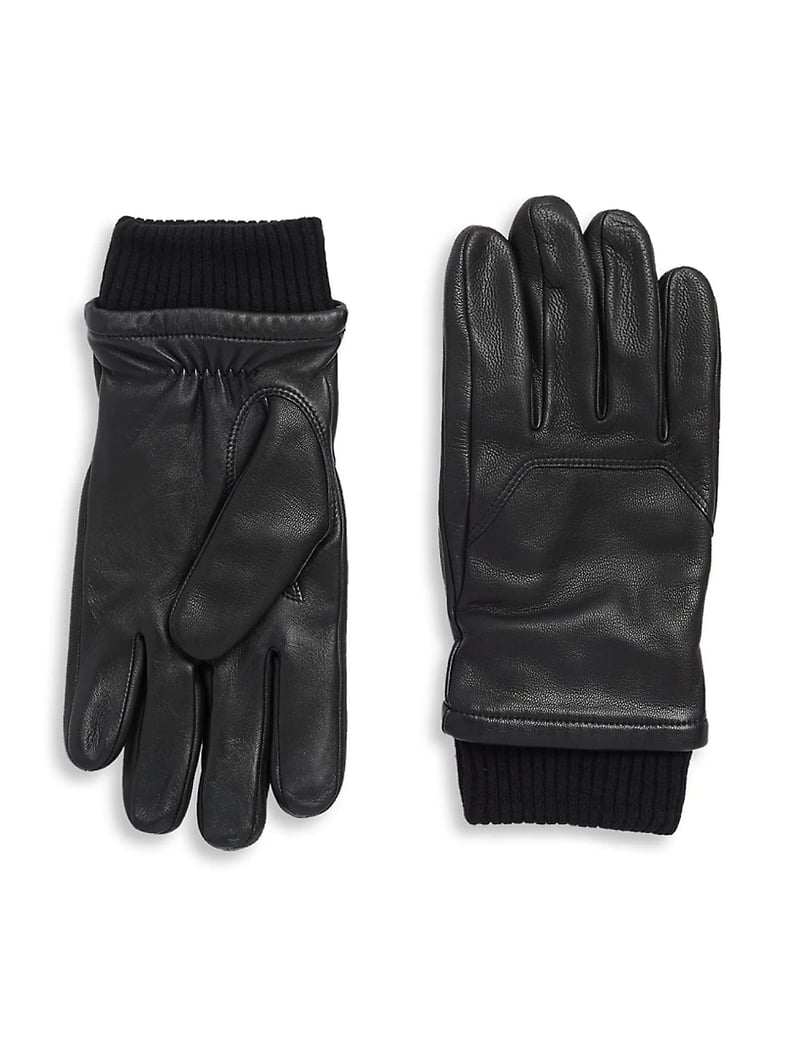 The Best Touchscreen Gloves For Cold Weather
Canada Goose Workman Leather Gloves ($195)
These leather touchscreen gloves definitely require a bit more of an initial investment. But if you're looking for a touchscreen glove that can remain a staple in your winter wardrobe for seasons to come, the durable style is certainly worth the extra splurge. From the goat leather lining to the glove's tonal stitching accent, this thoughtfully designed accessory is built for outdoor wear. Plus, these gloves are just so timeless.