As POPSUGAR editors, we independently select and write about stuff we love and think you'll like too. If you buy a product we have recommended, we may receive affiliate commission, which in turn supports our work.
Pulling out your white denim in the summer is like catching up with an old friend who you haven't seen in years. You wonder, at first, if there will be any moments of awkwardness, but then you pick up right where you left off. That is, if you've found the right pair of jeans. Striking the balance between material that's rigid and stretchy can be tough. When it comes to the color white, you probably don't want something see-through, but you also aren't looking for a heavy fabric to wear through the warmer months.
That's where we come in. We read the customer reviews posted on some of our favorite denim sites and combed through the market to find white jeans in a wide array of styles. Hopefully, there's at least one solid option for you to try. The good news is, most of these retailers allow you to receive a full refund for anything that doesn't work out, and Universal Standard even offers the option of ordering a pair to try for free for up to two weeks! Scroll through to read up on the pants we found, and if you need inspiration for styling your new purchase, we've got you covered there, too.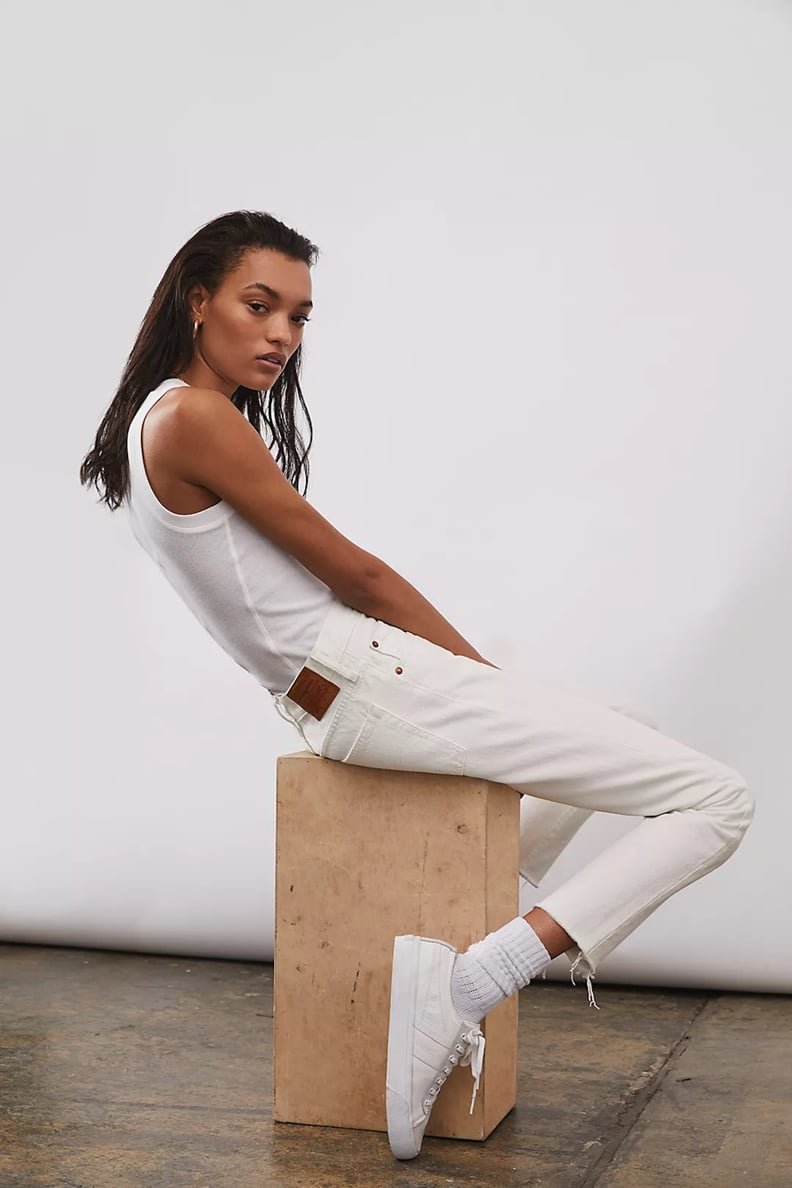 Best White Skinny Jeans
These Levi's 501 Skinny Jeans ($98) are said to be live-in worthy. Most customers suggest taking a size down, although Levi's are also known to be slightly stiff and structured, so read the size chart and get out your measuring tape.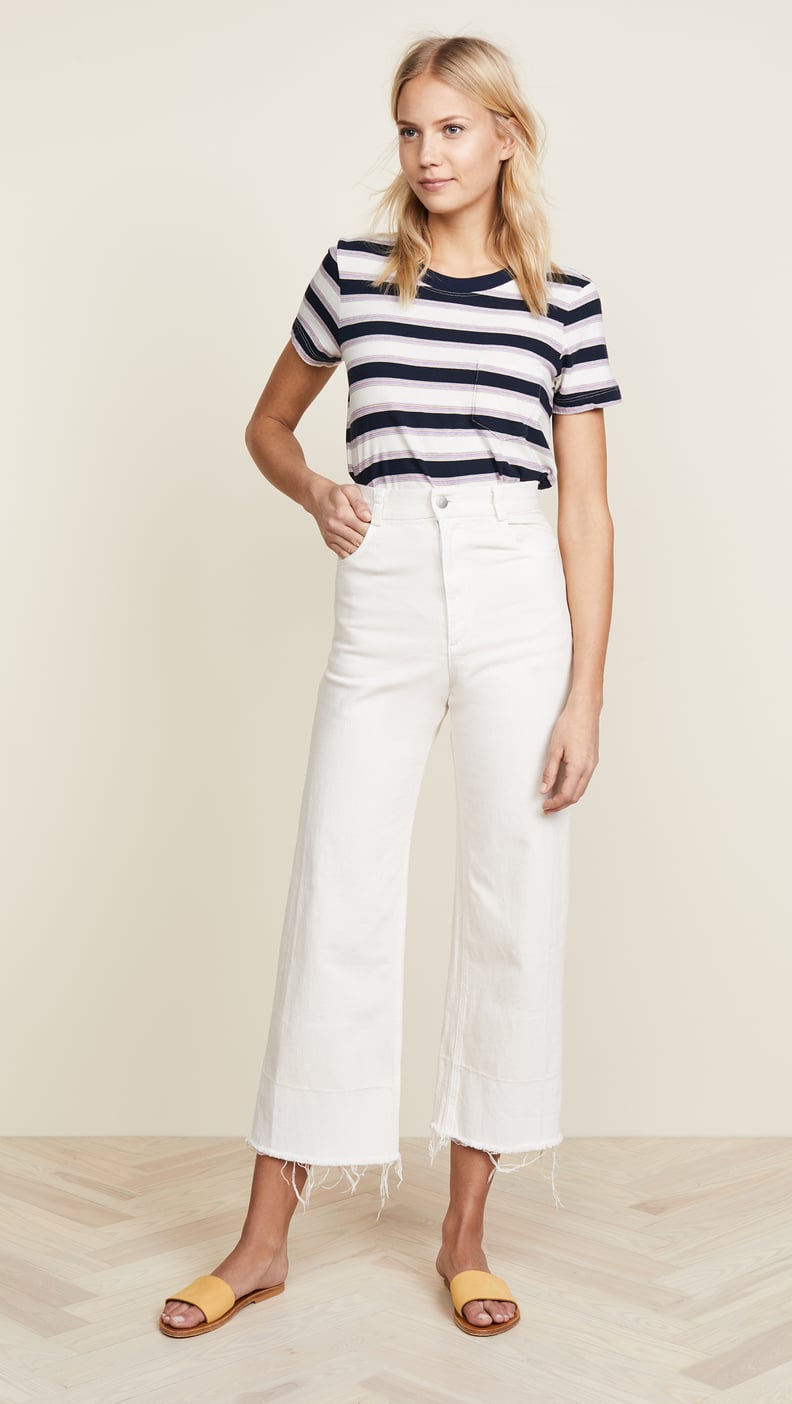 Best White Wide-Leg Crop Jeans
The Rachel Comey Legion Jeans ($345) are a bit of a splurge, but if you love a high-rise fit and the opportunity for a shoe moment, you'll get bang for your buck. Customers say they run slightly small but are very comfortable.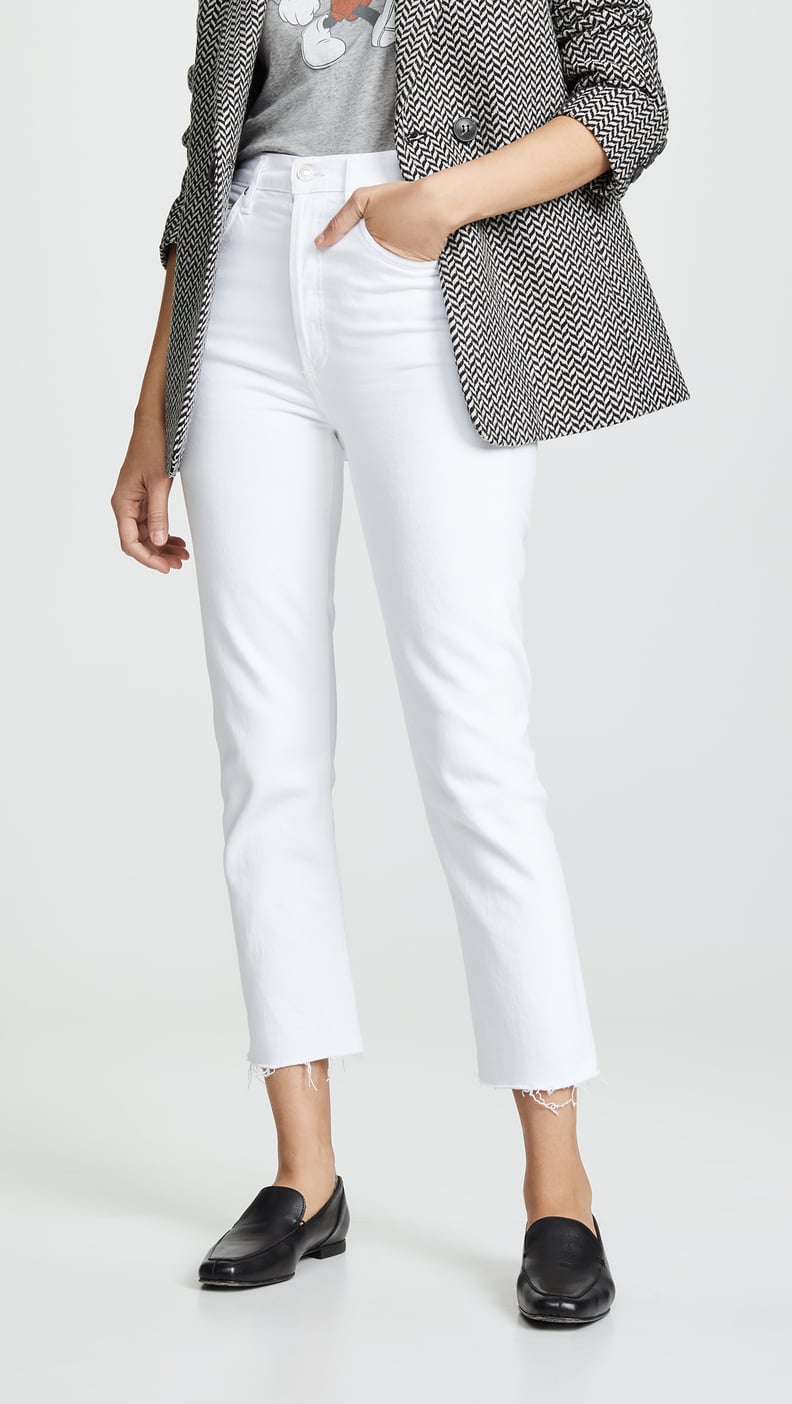 Best White Straight-Leg Jeans
As far as flattering denim goes, Agolde continues to reign supreme in our book. The Agolde Hi Rise Straight Riley Crop Jeans ($178) are less rigid and have some give. "These are hands down the best white jeans . . . Just thick enough where none of the skin imperfections stand out, like with so many other white jeans," one customer wrote.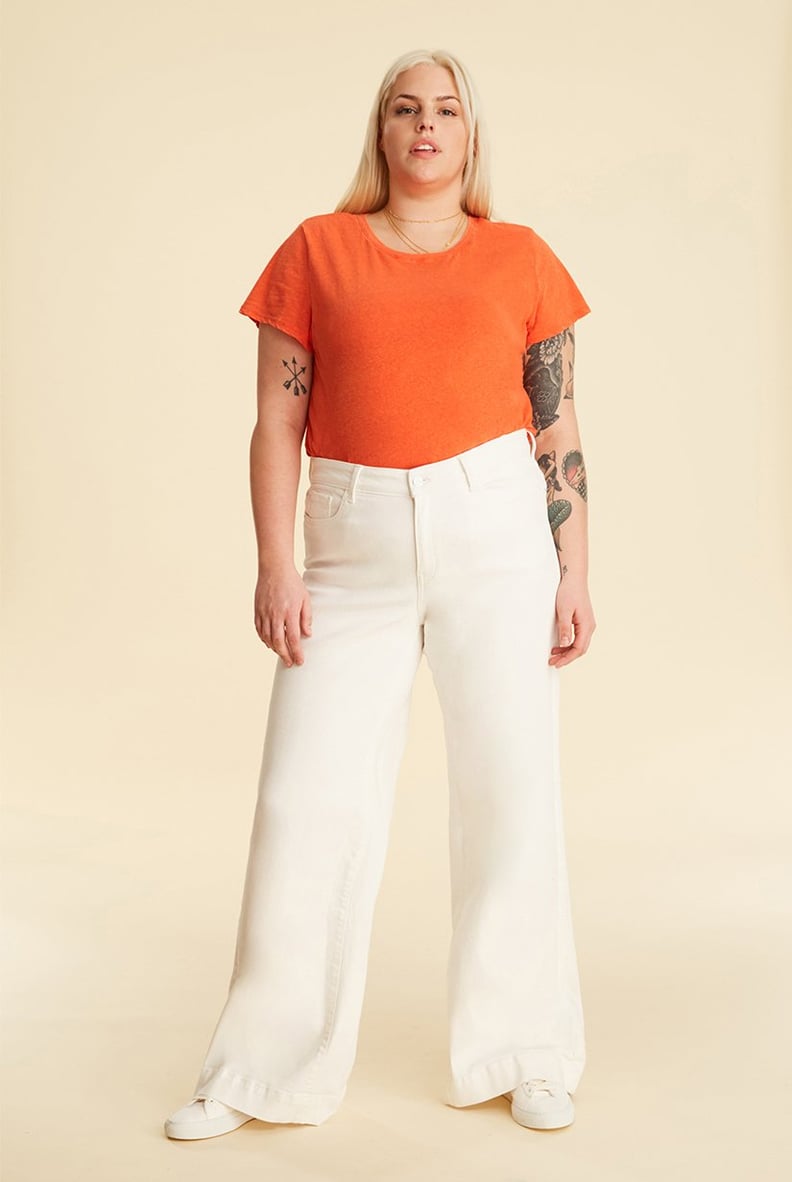 Best White Wide-Leg Full-Length Jean
Best White '90s Mom Jean
The Everlane '90s Cheeky Jean ($78) comes in a curve fit, too, and you can choose the option for regular length or ankle length. The size guide is said to be reliable, and fear not if they feel tight at first — customers say they have give after a couple of wears.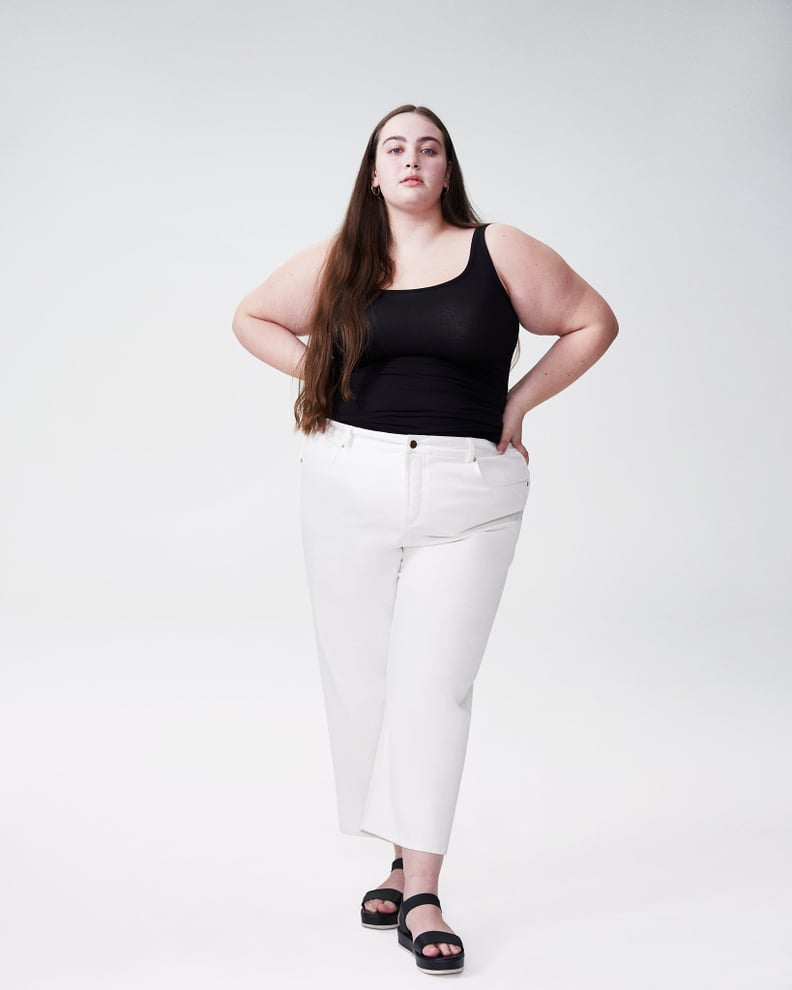 Best White Cropped Boyfriend Jeans
The Universal Standard Bae Boyfriend Crop Jeans ($98) come in sizes 00-40, and you can try them at home for free before you commit to buying them. Customers love the fit and feel and describe these as a wardrobe staple.
Best White Slouch Jean
The Thrills Pulp Jeans ($130) are made with at least 50 percent eco-conscious fiber and are not the brightest shade of white, if you'd rather go for something more muted and natural.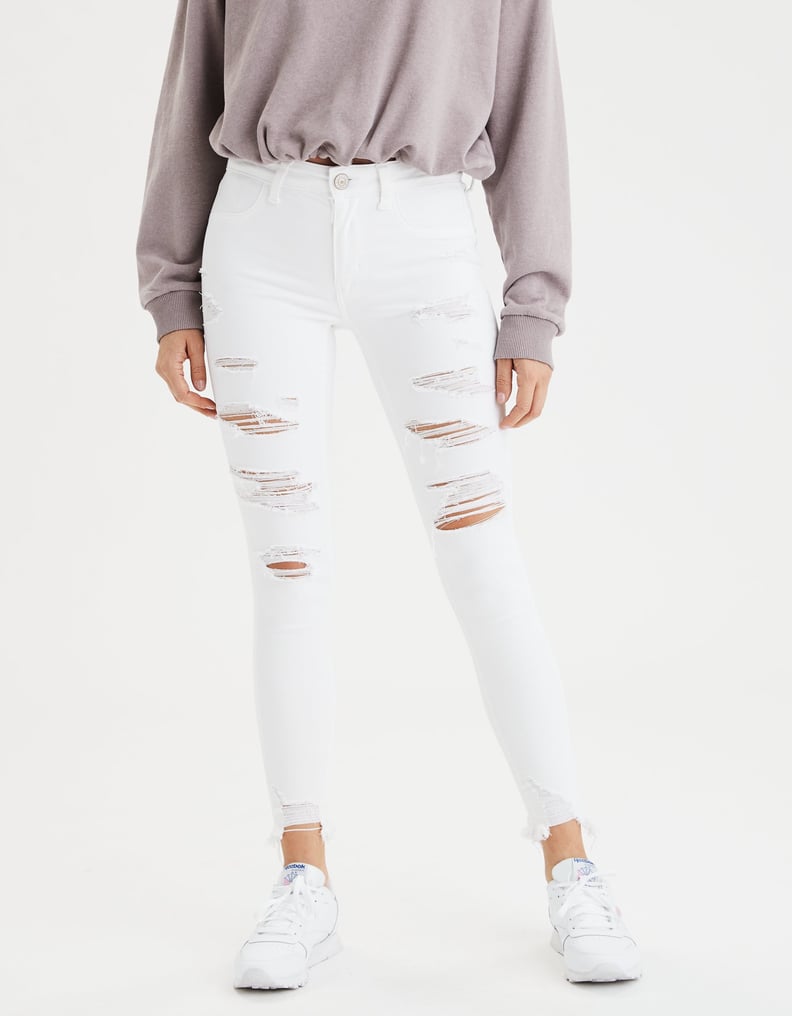 Best White Ripped Jeans
Over 200 reviews on the American Eagle website confirm that the AE Ne(x)t Level Jegging ($30, originally $60) is comfortable enough to marry. If you're going for the slashed-but-not-too-slashed look, the placement on these holes is pretty perfect.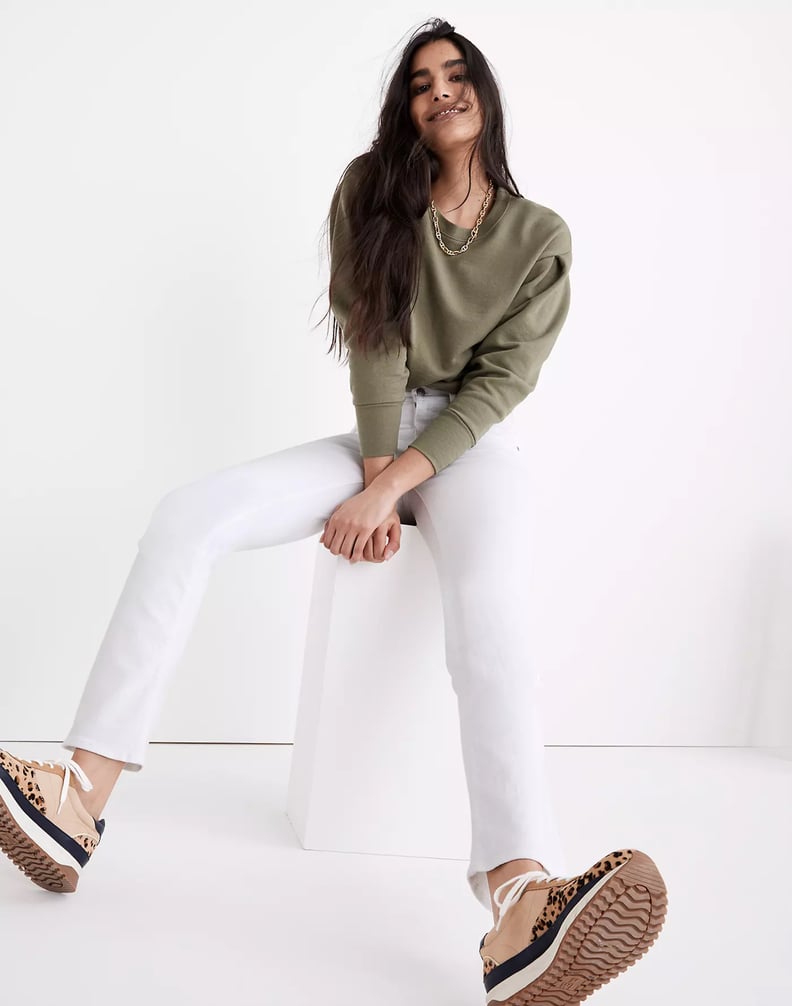 Best Tall Bootcut White Jeans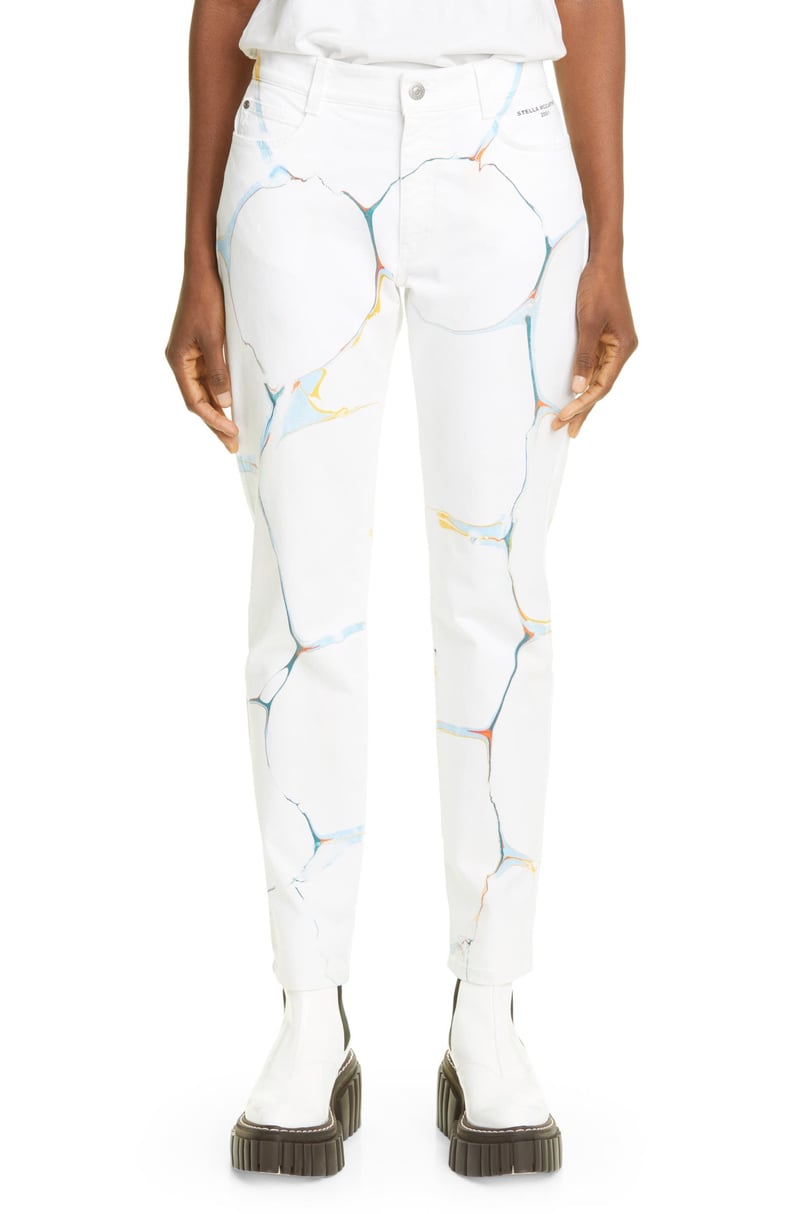 Best White Printed Jeans
We're always here for an eco-conscious jean, and the Stella McCartney Stretch Organic Cotton Skinny Jeans ($625) are a great contender if you like an ethereal print like this smooth liquid marble. The denim is stretchy and allows you to move freely, so if you're going for comfort instead of a rigid skinny, these are perfect for you.