The Details You Must Know About the Outfits on Generation, Straight From the Costume Designer
If you thought you've seen all there is of HBO Max's buzzy Gen Z show Generation, fortunately, you thought wrong! The show, created by 19-year-old Zelda Barnz and her father, Daniel Barnz, is back for the second part of the first season on June 17 — just in time for Pride Month celebrations. In case you missed it, the dramedy follows high-school students Chester, Riley, Greta, Arianna, Delilah, and siblings Naomi and Nathan as they explore their sexuality and identities against the backdrop of social media, conservative families, and adolescent antics.
For those who've seen even one episode of Generation, you know the costumes are key to the show's world and the way each character expresses themselves. Costume designer Shirley Kurata's Gen Z wardrobes are incredibly on point and back and better than ever in the second part of the series.
Kurata told POPSUGAR that she's used a variety of sources to put together each character's wardrobe, sourcing mood-board material from Instagram, YouTube videos, and pop icons such as Harry Styles, Jaden Smith, and even Gwen Stefani and Chloë Sevigny for the '90s and Y2K aesthetics. Whereas Nathan (Uly Schlesinger) is more preppy and Naomi's (Chloe East) style is inspired by VSCO girls and Brandy Melville, Chester (Justice Smith) is more resourceful, fashion forward, risky, and gender fluid, according to Kurata. (Chester is also, admittedly, Kurata's favorite character to dress.)
Rest assured the brands that make up Kurata's wardrobes are just as diverse as Generation's cast and characters. Kurata purchased pieces from LGBTQ+ designers and brands such as Official Rebrand, which is an antiwaste, gender-free brand; A Tribe Called Queer; and musician/artist Seth Bogart's brand Wacky Wacko. She also purchased vintage clothing from LGBTQ+ vendors such as L.A.G. And Greta, portrayed by Haley Sanchez in her first major TV project, wears Latinx brands Viva La Bonita, Mija Cultura, and Hija de tu Madre.
"When I hear back from queer teenagers saying how great it is to see a show where they feel like there's someone they can relate to or feel like represents who they are, it really means a lot to me," Kurata said. "I feel like it's great to be able to show diversity in TV shows and to represent marginalized groups." Read on for a breakdown of the inspirations, influences, and brands behind the standout fashions on Generation.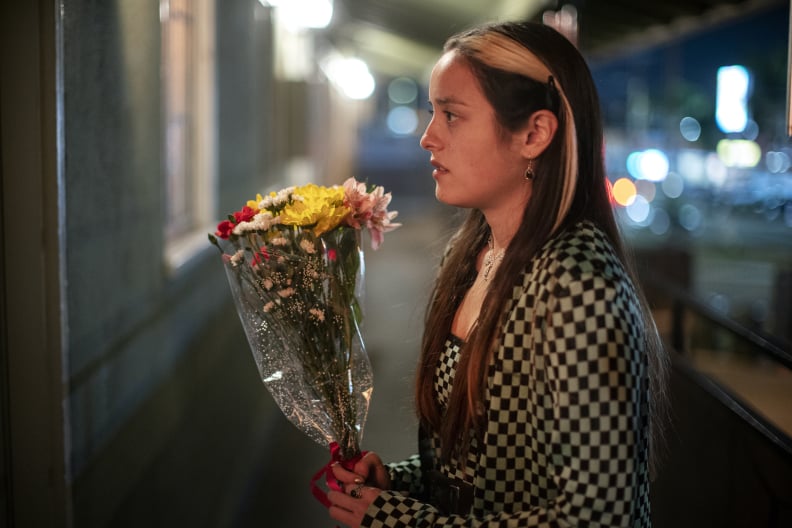 Kurata Looked to Pop Icons For Riley and Chester's Mood Boards
"Riley, I figured she would be into '90s Gwen Stefani. In the '90s, Gwen mixed some of the vintage thrifted pieces with crop tops and baggier pants, and that's very much a Riley silhouette. Because she's into art and photography, she'd be into Chloë Sevigny and that sort of '90s world. And then Chester, I feel like he'd be into Harry Styles and Jaden Smith," Kurata said.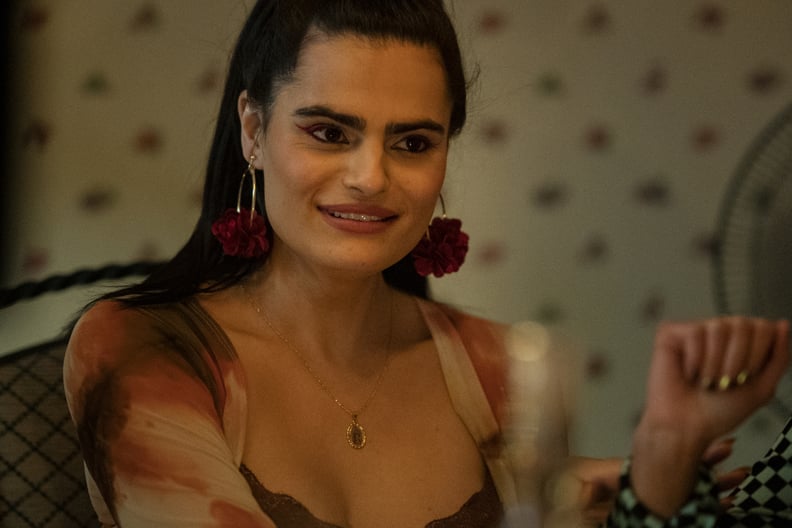 "Queen of Tejano" Selena and RuPaul's Drag Race Inspired Ana's Costumes
"She's trans and very curvy, so I felt like she wants to show off her body. She's got a great, curvy body and so a little bit Selena vibes and just wanted to accentuate her curves. I love going to the Slauson Swap Meet, so I found some pieces for her there, and I.Am.Gia is a brand that I think really suits her because it's great for her body type and her style. She's someone that's fun and confident, and she doesn't give a sh*t about what other people think about her, and she's ready to show who she is," Kurata explained.
In a scene in the second part of the season where Ana (Nava Mau) hosts a drag show, she dons a sparkly gold matching set that definitely looks like a concert-ready outfit Selena might've worn on stage.
"Definitely for that episode especially, Selena was an inspiration for her outfit," Kurata confirmed. "I love watching RuPaul's Drag Race, and I love seeing all their costumes, so I knew it had to be something sparkly, and I always feel like adding details like feathers and statement jewelry is also a part of that scene, and so it was a look inspired by the drag world and influences like Selena."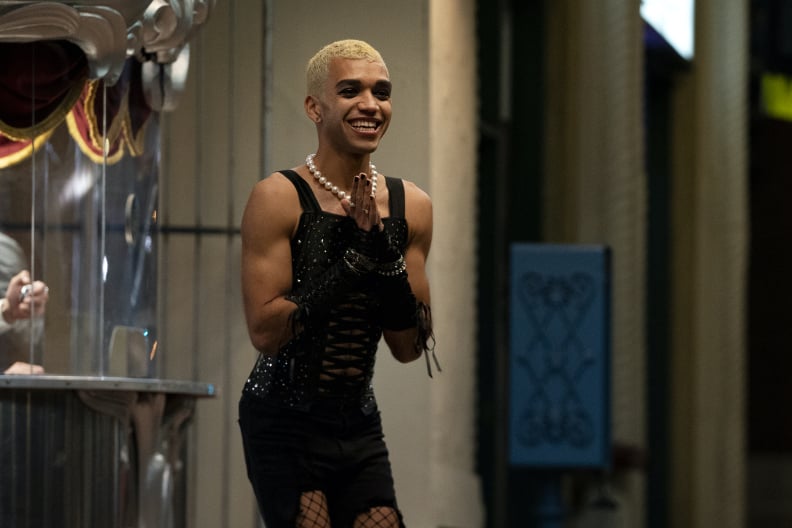 The Cast's Wardrobes Embrace Gender Fluidity and Breaking Rules
Many of the characters on Generation are exploring their sexuality and gender identities through self-expression and the way they dress. To incorporate that into the characters' unique styles, Kurata didn't follow rules that say men should wear men's clothes and women should wear women's clothes.
"For most of the Gen Z cast, they're very fluid and gender neutral in a way, so I would shop for men's clothes for some of the girls and some women's clothes for the guys. Actually for Chester, it's more women's clothes than men's because he looks so good in it. Chester likes to show off a little skin, so the crop top is a key staple in his wardrobe," Kurata said. "I think that sort of ties into the growing sentiment that we should break these rules and we should be open to wear what we want to wear."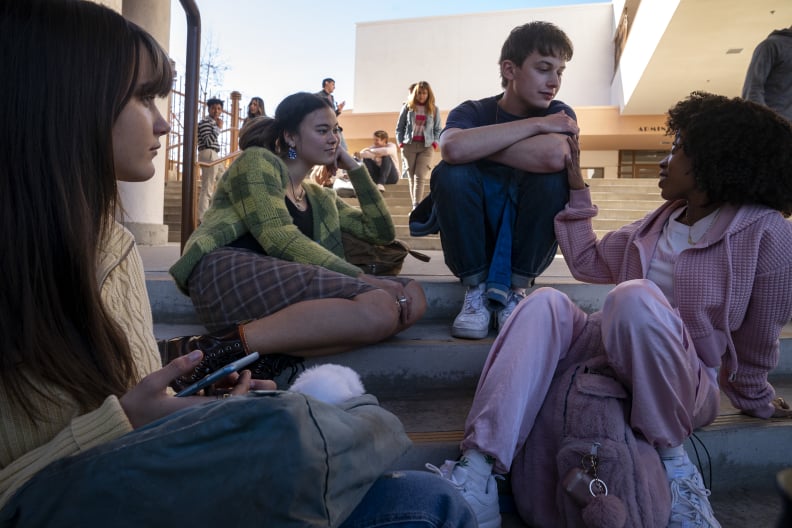 Look Out For Subtle Changes in Characters' Style
Kurata told POPSUGAR that she believes after giving up her baby, Delilah is dealing with the emotional ramifications and resists being pushed into adulthood. "She's still young and still going through all these things that teenagers go through and crushes on boys and stuff like that. So I think her style begins to change where before it was more like eco-conscious social justice, statement T-shirts, and a little bit baggier, and now she's being a little bit more girlish and trying to be a little bit more feminine," Kurata said.
"Nathan is also kind of starting to break free from his ultrapreppy style, and he starts to wear a little more vintage and a little bit baggy, a little bit more relaxed. His change is a little more subtle, but it's sort of creeping in," Kurata said.
As for Arianna, Kurata assured us that she's always her "baddie self" even as she starts to explore her style more and gets into (surprise!) IG witches and witchy vibes, as Kurata described it. "I think because she has two gay dads, there's this battle of feminine and tough-girl street vibes, and so she mixes that and she's figuring out where she wants to go in this world. Will she get out of this pink phase? Who knows. There's subtle changes I think with the second season that go in line with the action that's happening in the world," Kurata explained.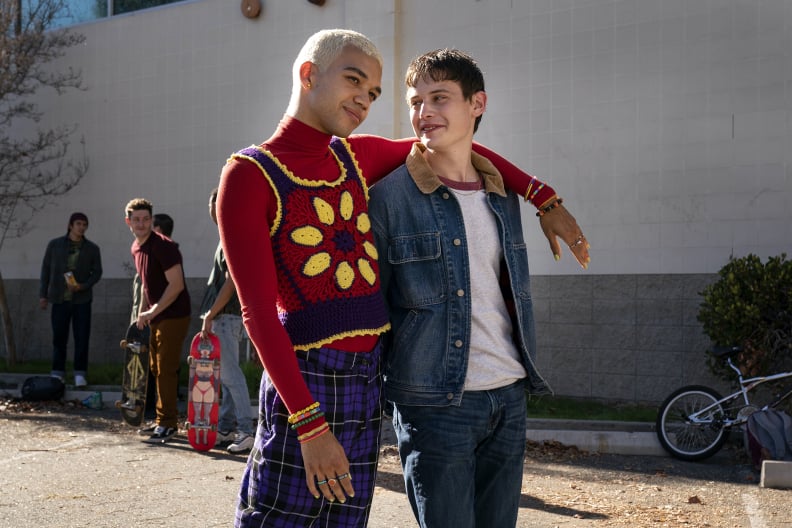 Shhh! Even Costume Designers Have Favorites
"With Chester, there's some looks where he wore some vintage pieces, and there's one that's a crochet tank top with a turtleneck, and that's one of my favorites," Kurata told POPSUGAR.
"I'm also loving what Riley is wearing. When Chase was in the first few episodes, she was in the Marc Jacobs Heaven line. It's very geared toward Gen Z-millennial kids and really influenced by the '90s and the early 2Ks, so she wore a lot of stuff from the Heaven collection, and also if you go to the store . . . they carry vintage pieces, so they have pieces from Hysteric Glamour, which is a Japanese brand that was really popular during the mid-late '90s, so I got some vintage pieces for her there and some vintage Anna Sui. I think that her style is really in line with what a lot of kids her age are into and the more fashion-forward world, and I'm really loving some of her outfits," Kurata said.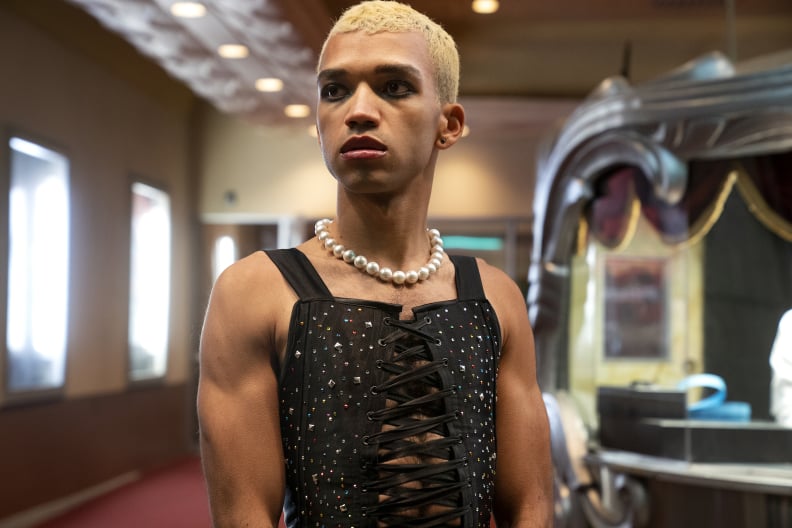 Pieces That Are Sure to Stand Out
"There was this vintage sweater Chester wore that's from the '60s. It's this sweater that's embroidered with flowers. And it's white with pink and red flowers, and it's such a typically girly sweater, but on him, it just looked amazing. I liked that a lot because that's like a very ballsy thing for a guy to wear to school or out," Kurata said.
Kurata also told POPSUGAR that she loved a denim-on-denim look she put together for an episode where Chester attends a drag show. "It's like a whole denim look, and I think it was on Etsy that we found some jeans with pearls on it, and then at the Slauson Swap Meet I found the jean jacket that had all these pearls on it, and so that one was great because it was perfect for a drag show because it had the embellishment. And he wore this halter crop top from Dolls Kill that was rhinestone and then the belt that said 'B*tch . . . ,' that was one of my favorites," Kurata said.