When Dazed's Colleen Nika sat down for a virtual interview with the cast of HBO Max's Gossip Girl reboot, she got straight to the point of re-creating the show in 2021. The characters in the reboot won't appeal to a narrow demographic, and the cast will be inclusive. It's about damn time we get to enjoy a Gossip Girl like that! Whitney Peak will play Zoya Lott, Emily Alyn Lind will play Audrey Hope, skater and model-turned actor Evan Mock will play Alki Menzies, and Jordan Alexander will play Julien Calloway (who we already know owns a great pair of covetable white boots).
"There's a lot of representation, which I can't say we saw a lot of in the first [Gossip Girl series]. It's dope being able to see people who look like you and who are interested in the same things, and who happen to be in entertainment, because it's so influential and obviously reflective of the times," Peak said.
Emily Alyn Lind got more specific about the storyline: "We're making a series in 2021. It's really important for us to not just talk about (queer culture) but also express (it) as normal... It shouldn't be this new, exciting thing to talk about, it just exists. It's about normalizing things that used to be different or taboo," she said.
She and the rest of her castmates also revealed how they got involved with the project and touched on working with stylist Eric Daman, who was behind the first Gossip Girl. They gave Mock snaps for his brilliant first acting gig and explained what it's like to film a show during this crazy time in our world (Emily said the crew gets tested for COVID twice a day). For the Dazed photo shoot, Roe Etheridge was behind the camera, and the wardrobe was curated by Emma Wyman, who pulled from Valentino, Miu Miu, Vaquera, Coach, and more to bring this fun, colorful feature to life. Read on to take it in, and trust we'll provide you with any further Gossip Girl updates right here when we have them.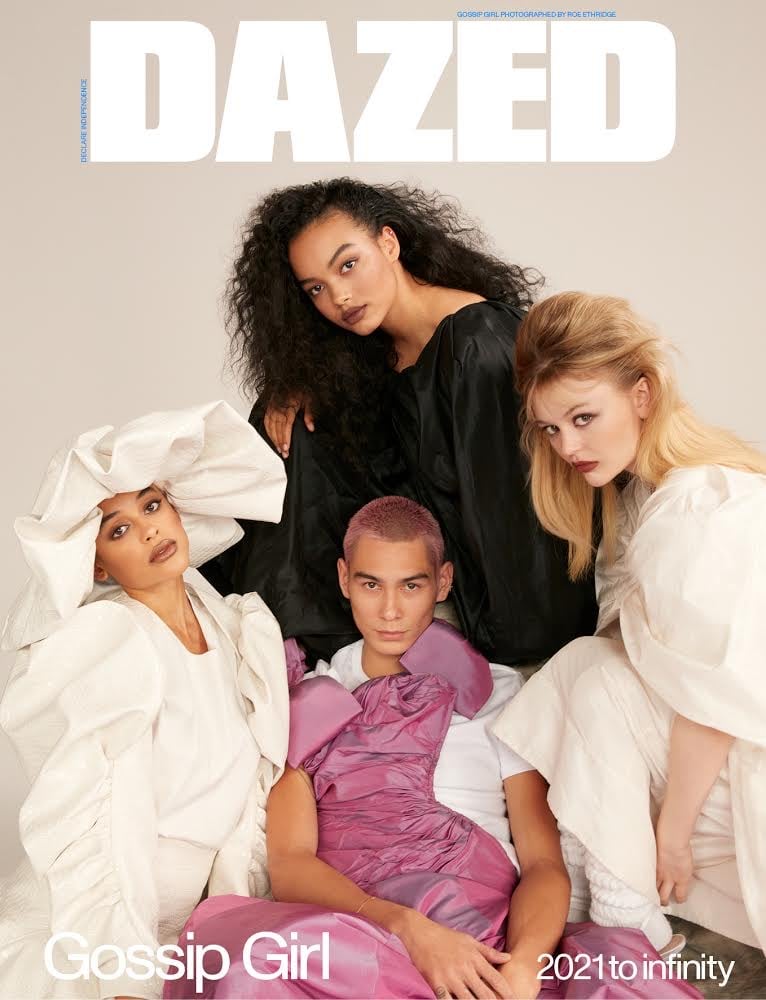 Whitney Peak and Emily Alyn Lind wear Simone Rocha, Emily wears leather mules by Kalda, Evan Mock wears a vintage Murray Arbeid dress and Gap T-shirt, and Jordan Alexander wears Vaquera.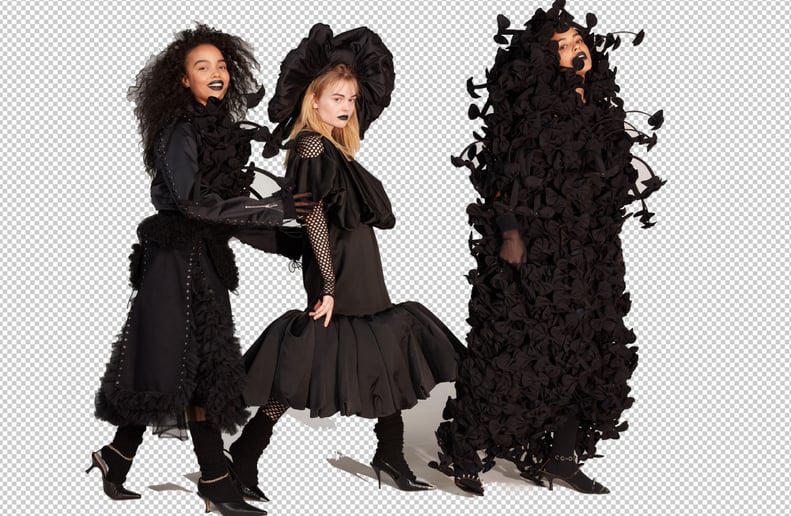 Whitney wears Noir Kei Ninomiya, Cornelia James gloves, stylist's socks, and Kalda mules. Emily wears a Loewe dress with a fishnet catsuit and taffeta hat by Vaquera with Saint Laurent by Anthony Vaccarello pumps. Jordan wears a Noir Kei Ninomiya dress with Cornelia James gloves and Abra sandals.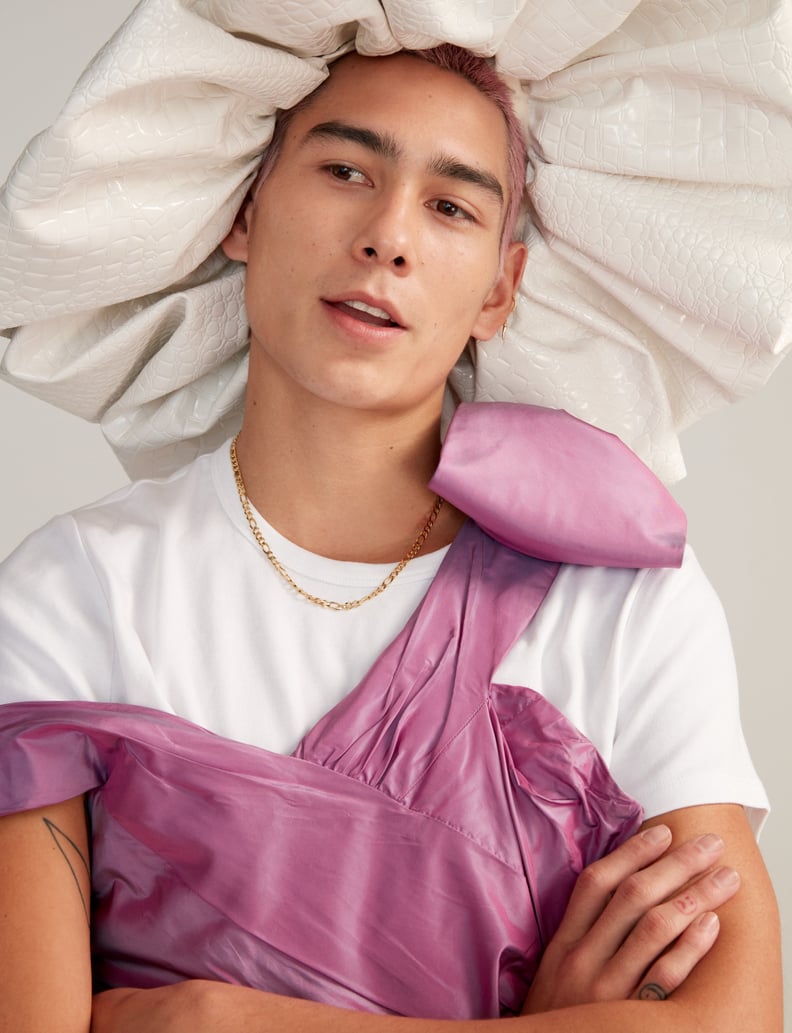 Evan wears a vintage Murray Arbeid taffeta dress over a Gap T-shirt with a Vaquera hat and his own jewelry.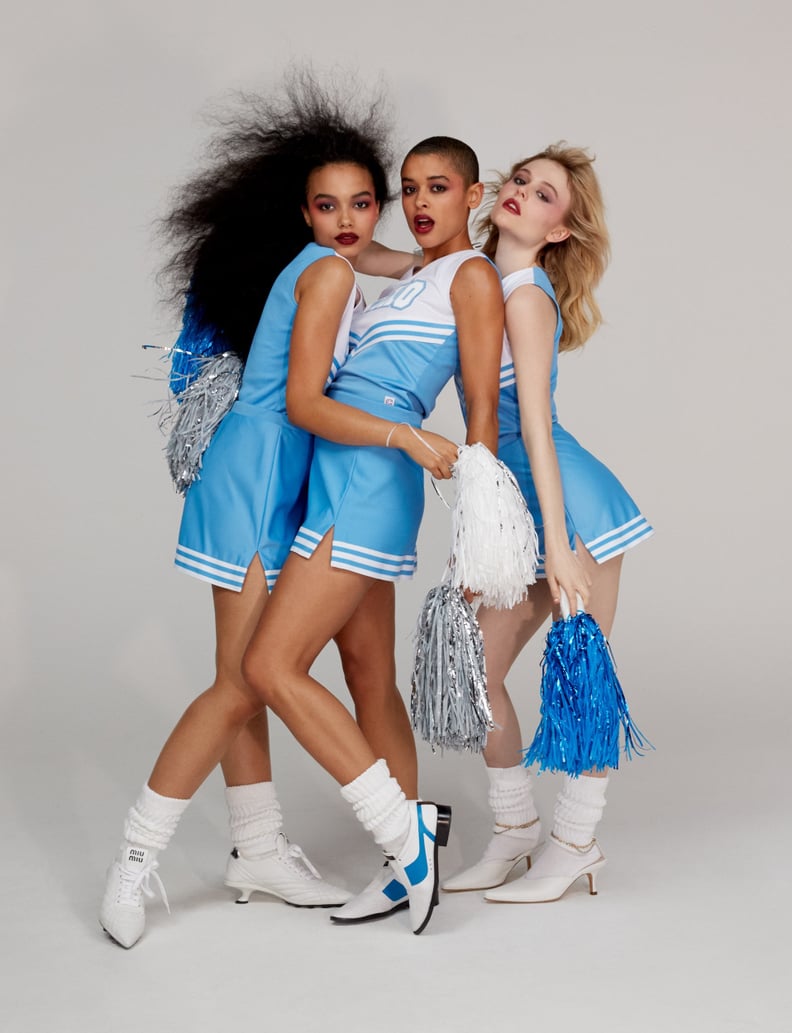 Whitney, Jordan, and Emily wear custom Cheerleading Company with stylist's pom-poms. Whitney wears Miu Miu boots, Jordan wears Louis Vuitton shoes, and Emily wears Kalda mules.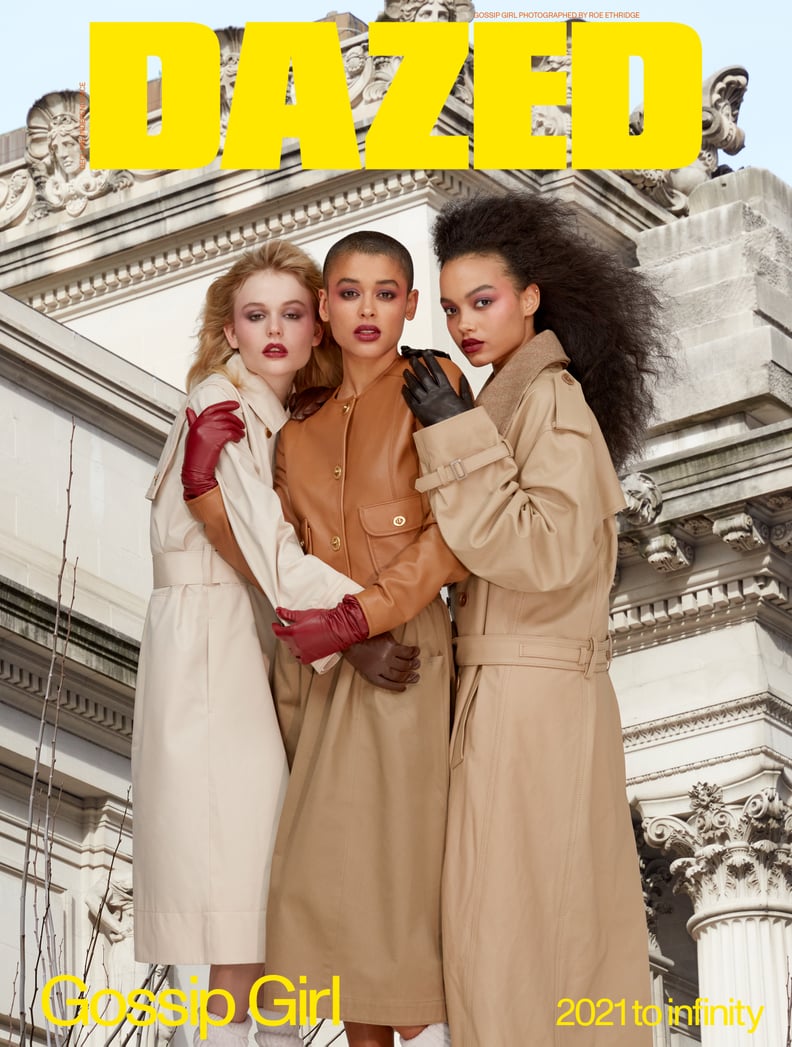 Emily, Jordan, and Whitney wear Coach with Shaneen Huxham gloves. Emily wears Coach mules.