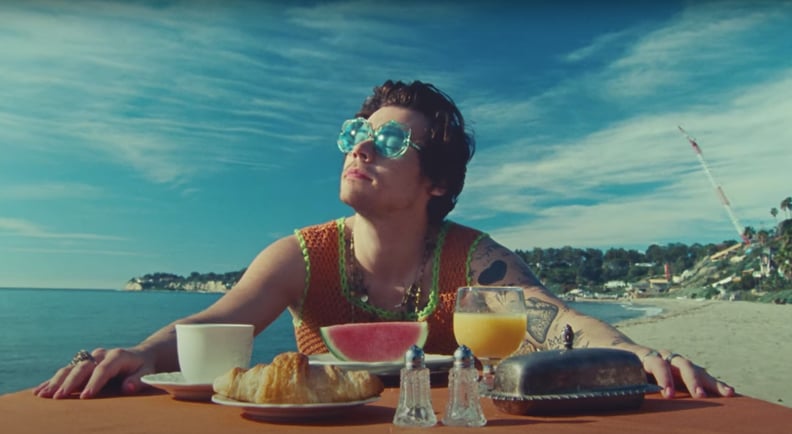 Don't bother texting or calling me for the rest of this week, because I plan on spending the vast majority of my time watching Harry Styles's "Watermelon Sugar" music video on a loop just to fully wrap my head around his incredible outfits. In the highly anticipated video, the Fine Line singer frolics on a beach and sensually munches on an entire year's worth of watermelon slices and strawberries whilst simultaneously blessing us with all the summer style inspiration we could possibly need. Now that's what I call multitasking.
Harry wears not one, not two, but four looks total in the three-minute masterpiece, including a smattering of designs by his favorite label (Gucci, duh), plus fun vintage sunglasses and bold prints galore. Every outfit has a retro, '70s-style vibe that most definitely has me on a (watermelon sugar) high, if I do say so myself. Ahead, get up close and personal with all four of Harry's latest music video outfits, which most definitely deserve a spot on your summer outfit mood board. After that, check out a lineup of retro swimwear inspired by the patterns in Harry's video.
Watch Harry Styles's "Watermelon Sugar" Music Video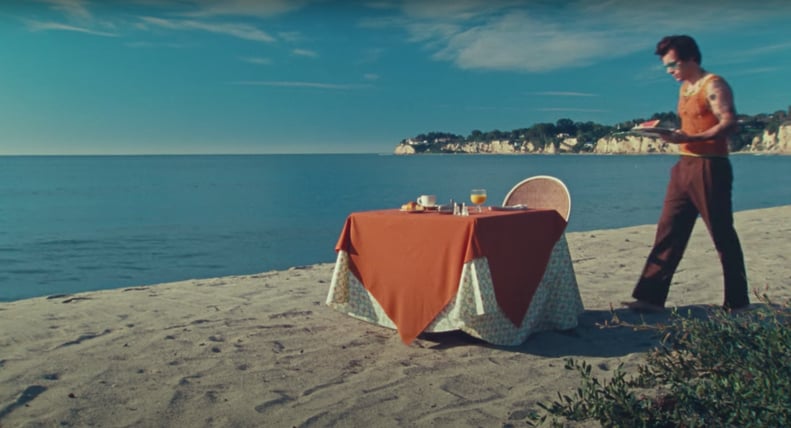 Outfit #1: A Knit Tank Top, Slacks, and Blue Sunglasses
In the first scene of the music video, Harry posts up at a table on the beach wearing an orange knit top with brown Gucci slacks, blue sunglasses from The Contemporary Wardrobe, and vintage necklaces. I mean, could he possibly be any cooler?! (The answer is no, he actually couldn't.)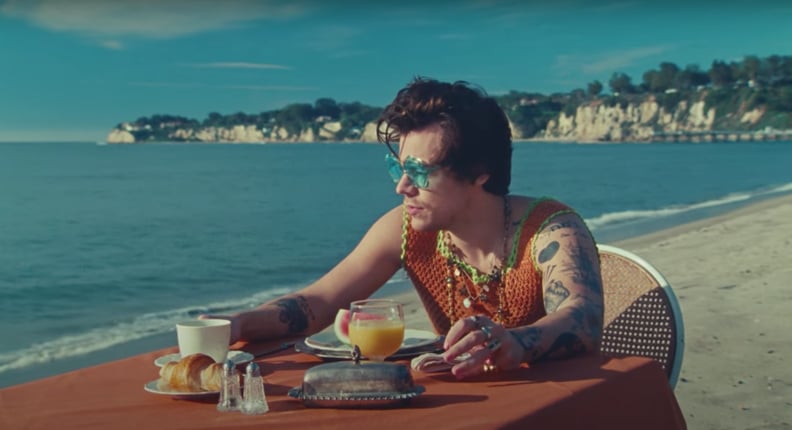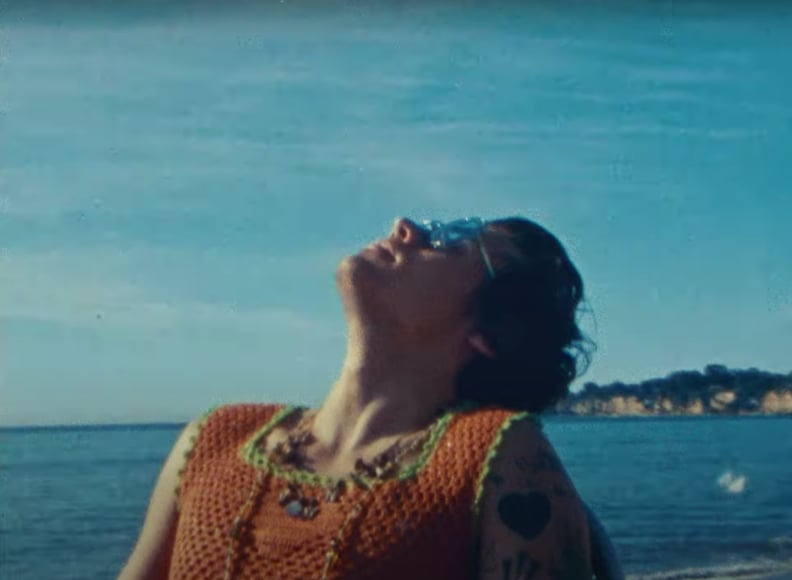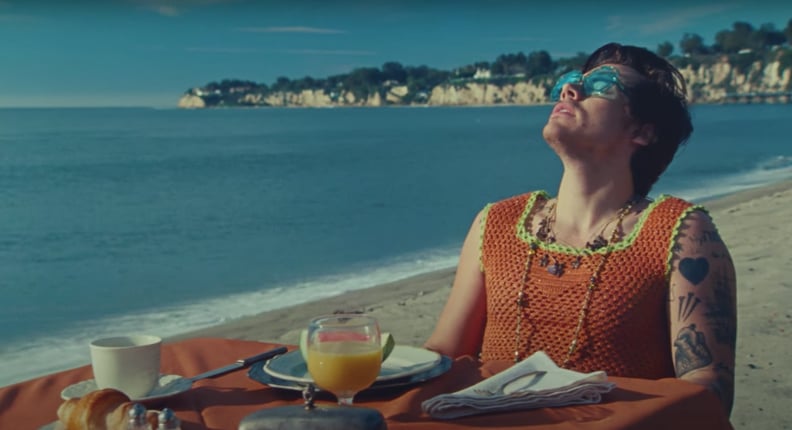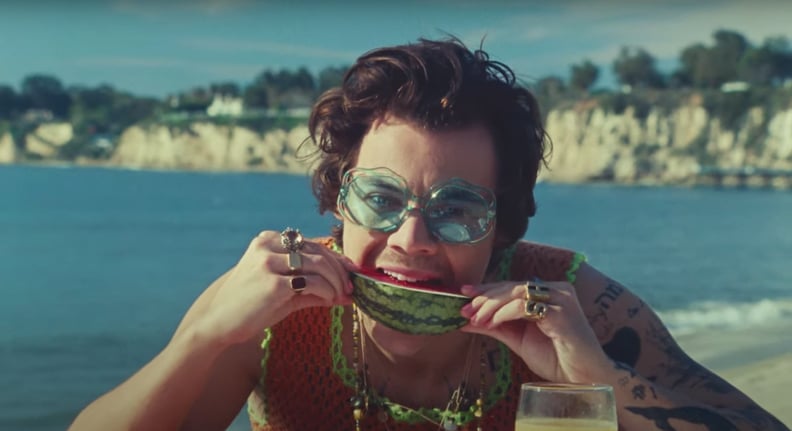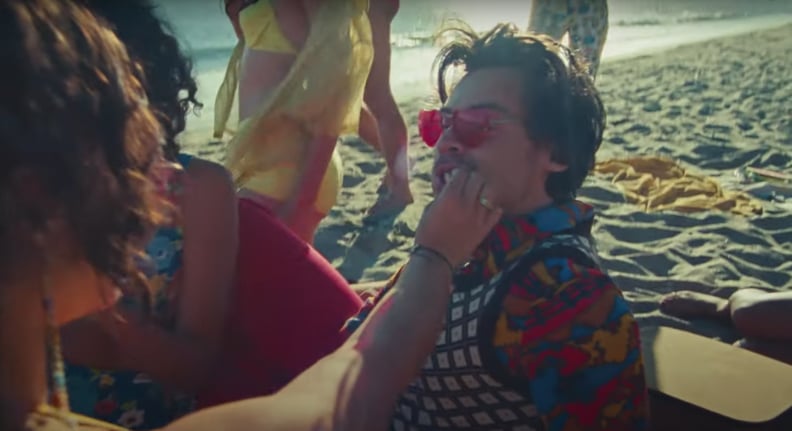 Outfit #2: A Knit Vest, Patterned Shirt, Red Trousers, and Heart-Shaped Sunglasses
Next up, Harry shows off his affinity for sweater vests, styling this one with a colorful printed button-down by The Contemporary Wardrobe, bright red trousers by Gucci, and heart-shaped shades from the National Theatre Archive. This is a Whole Ass Lewk™ if I ever saw one.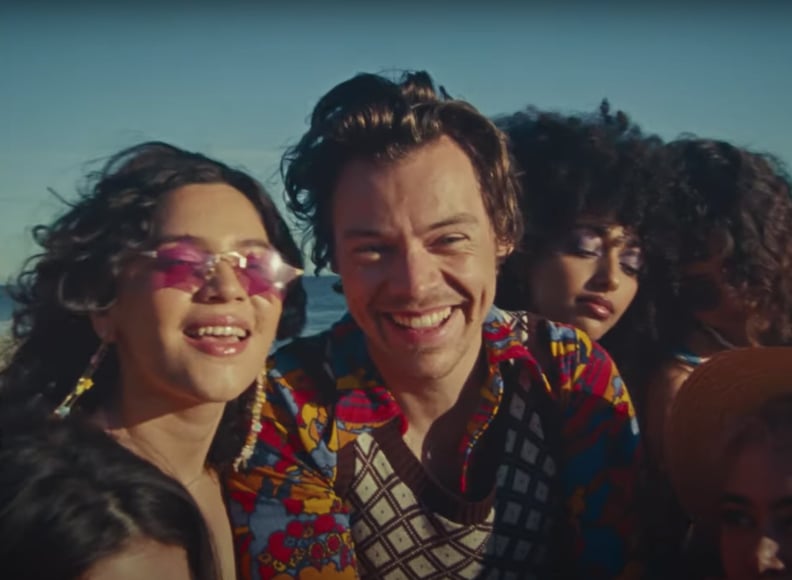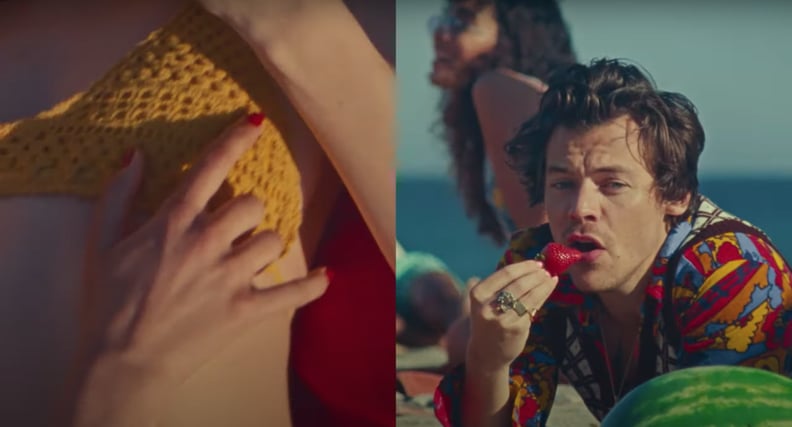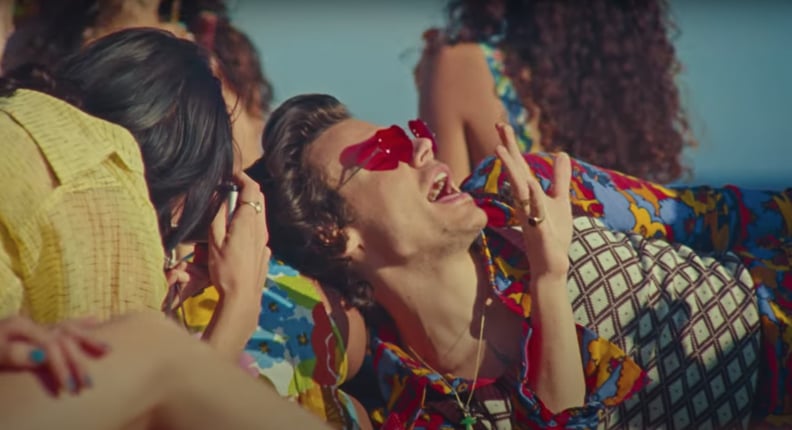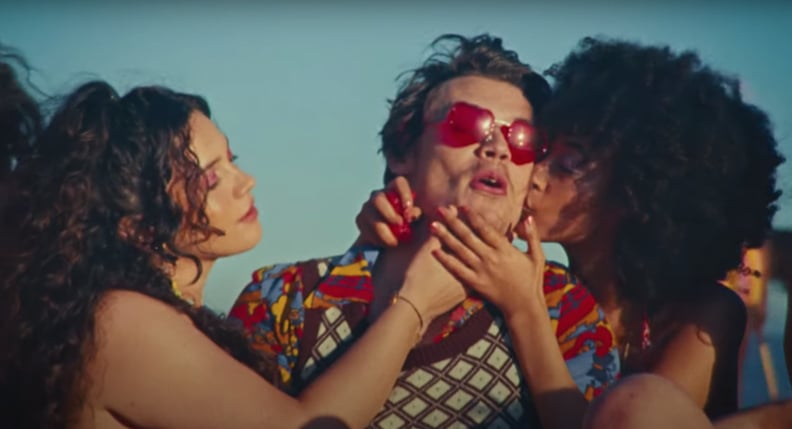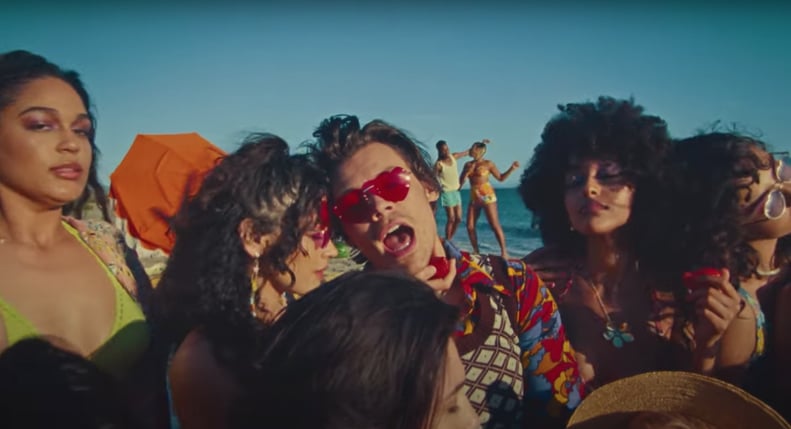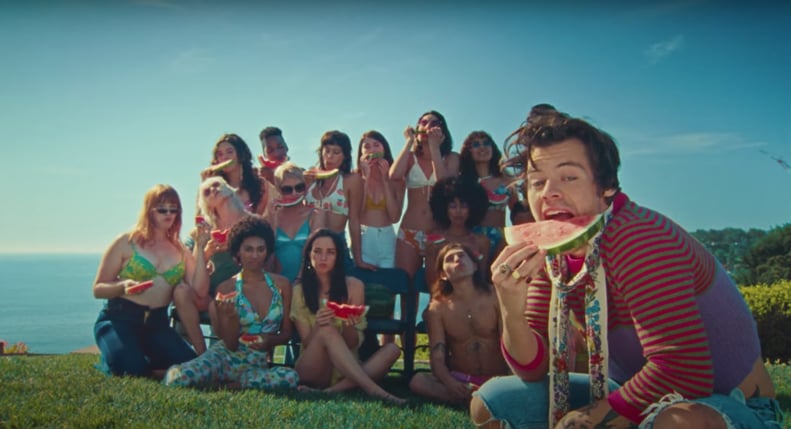 Outfit #3: A Cropped Sweater, Ripped Jeans, and Floral Scarf
A trifecta of Gucci pieces, this outfit consists of a pink and purple cropped sweater, ripped jeans, and a long floral scarf. Oh, the things I'd do to be that piece of watermelon in his hand.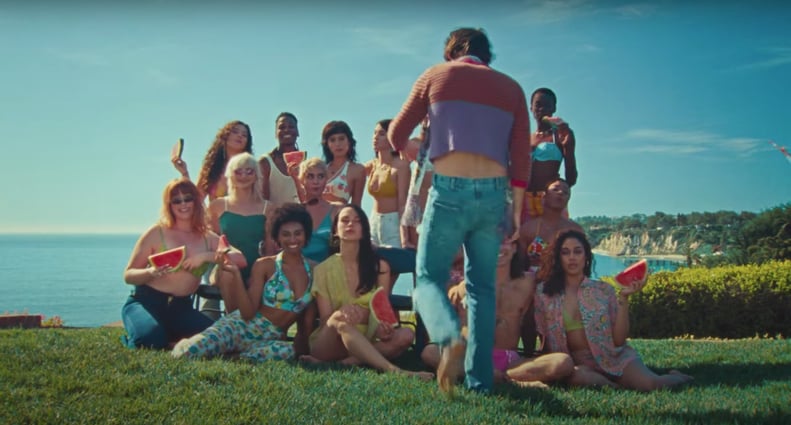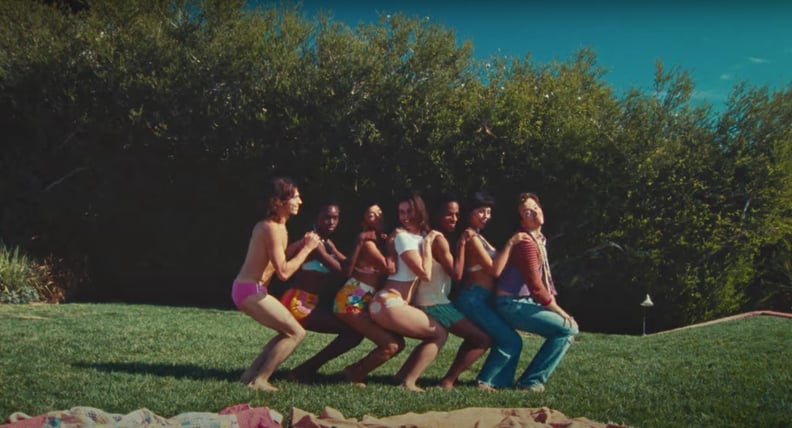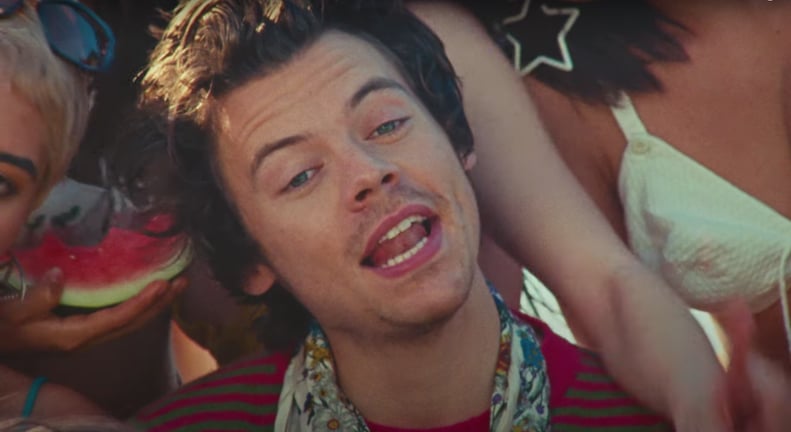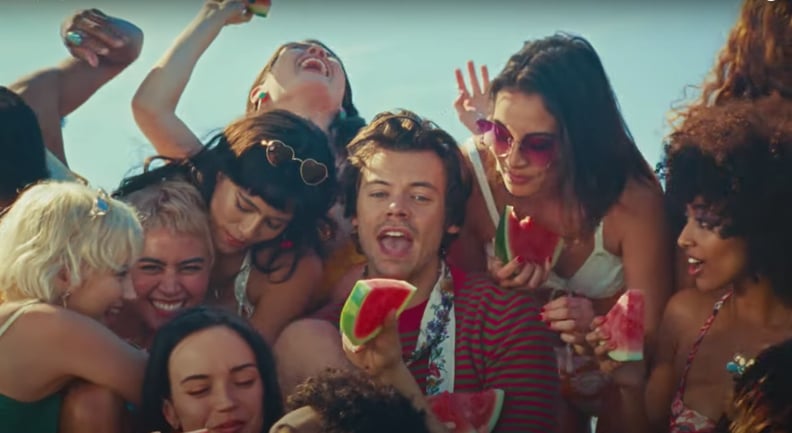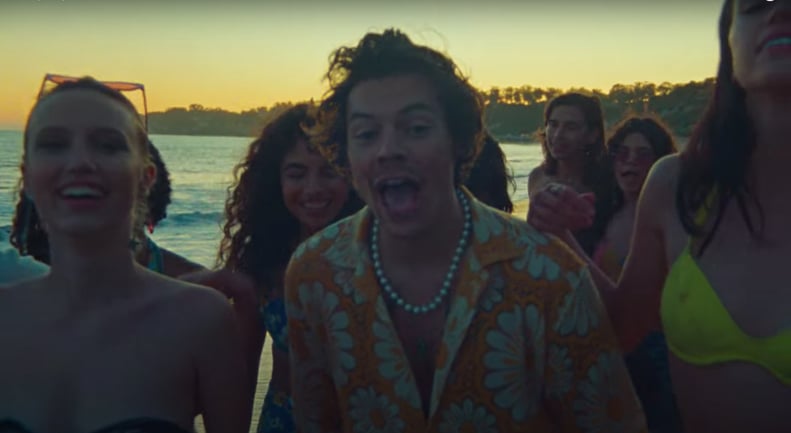 Outfit #4: A Floral Shirt, Yellow Shorts, and Pearl Necklace
Last but most certainly not least, Harry teamed a yellow flowery Bode shirt with matching side-striped shorts and one of his signature pearl necklaces. I don't know about you, but I desperately need to borrow that yellow top.