Ladies, It's Tights Season — and We've Got 33 Bold Ways to Wear Them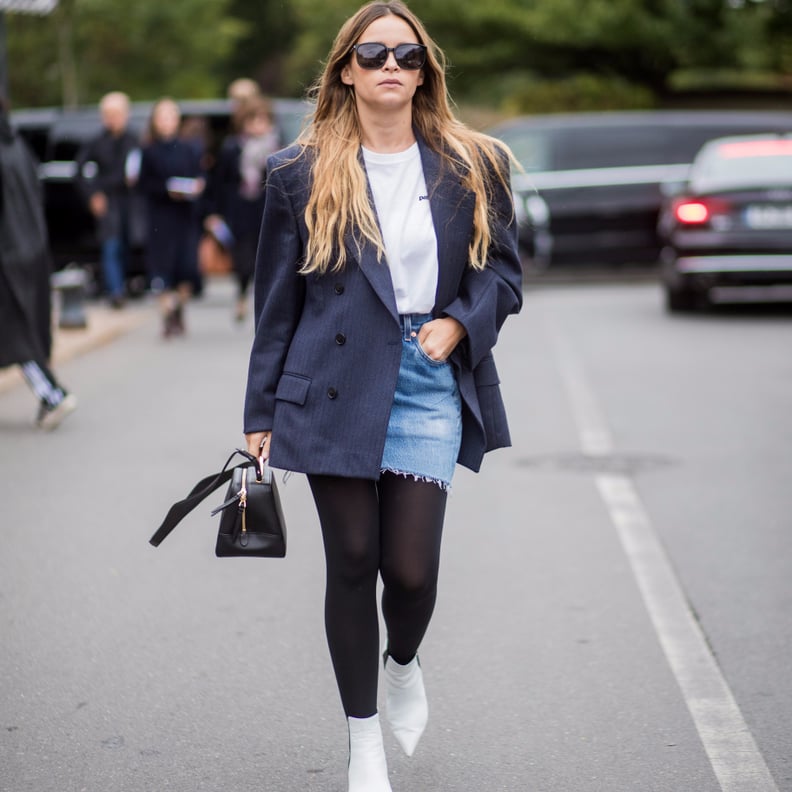 No matter what you do, you just can't seem to add variety to your tights drawer. We've been there, too. But then we looked to our favorite style bloggers and found countless styling tricks on their feeds. These bold ladies are breaking out their fishnets and sheer stockings, and colorblocking with vibrant opaque styles — some of which are so bright, they could stop traffic.
All it takes is a little push to become a tights fan. One day you'll pair them with your espadrille sandals, and just like that, a handful of new outfit ideas will pop into your head. Tights don't only make those Spring and Summer staples wearable, as we transition seasons — they also add a subtly sexy touch to a leggy look, and of course, a bit more warmth. Read on for 33 inspiring ways to rock 'em while we wait for things to warm up.
01
Let a Dark Pair Contrast Your Light Feather Skirt
02
A Sheer, Natural Shade Complements Jewel Tones
03
Crisp Black Tights Look Sharp With Patent Leather Shoes
04
They're the Answer to Wearing Your Bedroom Slip Out on the Town
05
Go '60s Mod in a Structured Romper and Turtleneck
06
Let Them Be the Foundation to Your Over-the-Knee Boots
07
Contrast Edgy Fishnets and Moto Boots With a Lacy Dress
08
Tights With a Shimmer Are Appropriate For Fancy Events
09
They Add a Wintry Touch to Your Classic Miniskirt and Tee Combo
10
Don't Be Afraid of Bold Colors Like Cherry-Red
Just mute your brighter tights with darker prints.
11
They'll Bring Cool-Girl Appeal to Your Glitter Boots
12
Highlight a Metallic Dress With Tights That Have a Sheen
13
Elongate Your Legs By Starting With Tights and Boots and Finishing With a Miniskirt
14
Remember You Can Always Work a Pair Under a Maxi Dress When It's Super Cold
15
They'll Look Ridiculously Chic With a Sophisticated Cape and Block Heels
16
Let Them Break Up a Lot of Leather
17
Invest in a Pair With Can't-Miss Stitching at the Back
18
Don't Rule Them Out For New Year's Eve or a Night of Dancing
19
You Can Even Wear a Lighter Pair Under Denim
20
Create a Sleek Foundation For an Intricately Stitched Party Dress
21
Use Them As the Start to a Neutral, Layered Winter Look
22
Pull Out Your Summer Shorts and Get Creative
23
Use 'Em to Make Your Plaid Stand Out
24
They'll Add a Romantic Touch to a Vintage Look
25
They Look Awfully Sexy With Your Overalls and a Beanie
26
Let Your Dotted Pair Compete With Your Furry Coat For the Spotlight
27
Go Retro By Working Them Under Biker Shorts and a Flouncy Skirt
28
Wool Gray Is an Alternative to Mixing Neutrals Into Your Outfit
29
They'll Break Up Your Dress and Metallic Boots
30
When You're Wearing Them, You'll Stand Out as the Sleekest Girl in the Bunch
31
They Help You Pull Off Navy and Black All at Once
32
And They Look Artsy Paired With Studded Shoes
33
Never Underestimate the Combination of Tights and Your Favorite LBD