23 Winter-White Outfits You Haven't Considered Yet
Wearing winter whites can be daunting, and not just because you'll stand out from the seasonal sea of black that's typical this time of year. Whether it's because you're simply scared to get your clothes dirty or you fear your pieces are too lightweight, it's natural to want to ease into a full-on monochrome moment. That's why we've curated outfit ideas that will encourage you to layer effortlessly.
Whether you're styling an all-white long-sleeved dress with your new leather knee-high boots, looking to add warmth and dimension with a puffer coat, or keeping it casual by dressing up your sweatpants, these tips will prove useful no matter the occasion. Don't knock the white-on-white ensemble until you've tried it. The bright hue is sure to bestow you with newfound confidence.
Ahead, read about complementary shades and accent colors for your winter whites and learn how to distinguish which pieces might be considered too skin-baring for a night out in the cold weather due to design details or fabrics.
Winter Whites vs. Summer Whites
While your summer separates might be skin-baring (think: an off-the-shoulder minidress or a button-down that doubles as a swimsuit cover-up), winter whites are all about thick and cozy wardrobe essentials. Even though you're dressing in monochrome from head to toe, you can play with textures and tones to add volume to your outfit, so it has dimension and also keeps you warm.
Which Colors Go With Winter Whites
Winter whites go best with other neutral tones such as oatmeal, khaki, off-white, ivory, chocolate, and caramel or blue-gray pieces that accent your look without taking it over the top. Stay away from bold neons or other flashy shades that compete with the brightness of your whites. They're surprisingly eye-catching to begin with.
01
Winter-White Outfits With a Sherpa Coat
Layer your winter-white sherpa coat over a white sheath dress and complete with pearls to play up the color scheme. Incorporate hardware with the addition of a belt, a bag, and everyday rings.
02
Winter-White Outfits With Pearl Jewelry
Add a pretty pop to your monochromatic winter-white outfit when you accessorize with pearl-adorned hoops, studs, costume jewelry, or even a necklace.
03
Winter-White Outfits With a Furry Coat
Keep your white furry coat the center of attention when you close it over your casual coordinates and add a crossbody bag.
04
Winter-White Outfits With a Pussy-Bow Minidress
A bow tie at the neck of your winter-white minidress adds a touch of class to a look grounded in black suede knee-high boots and topped with a leather moto coat.
05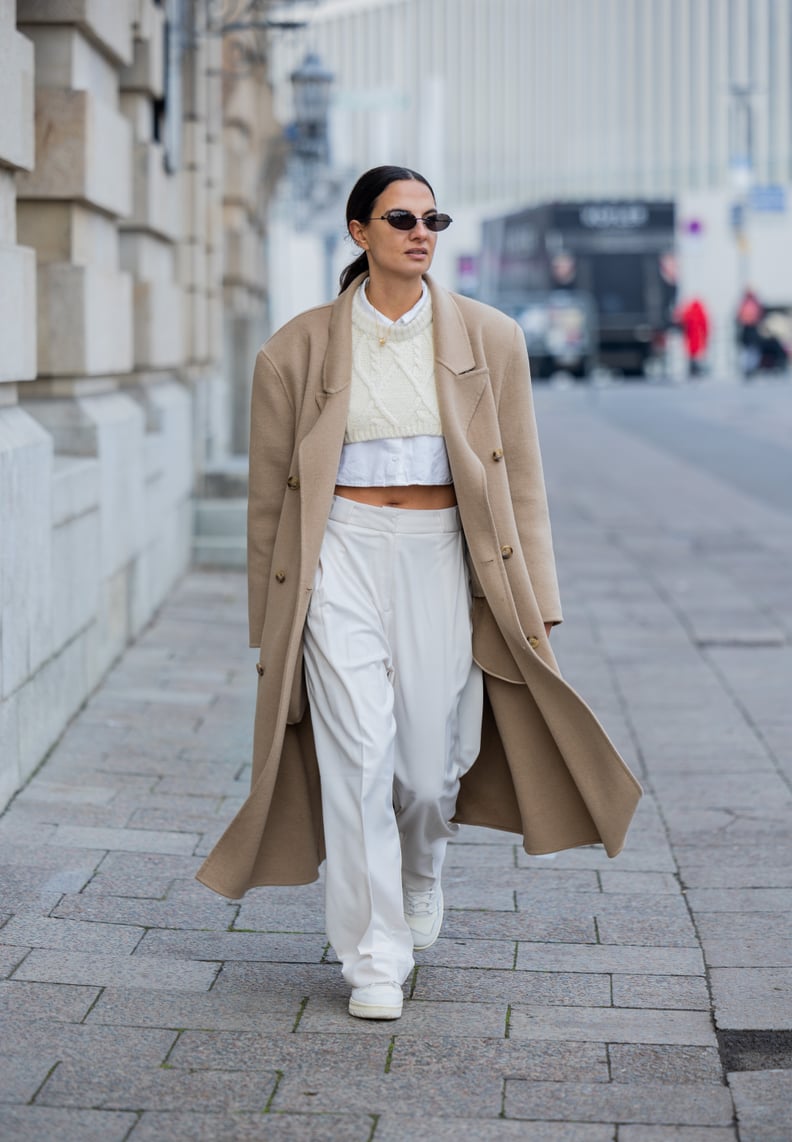 Winter-White Outfits With White Trousers
Style your tailored winter-white trousers with a pair of platform sneakers for a more youthful daytime look, and layer two crop tops at varying heights to add dimension. Finish the ensemble with a neutral wool coat and sunglasses.
06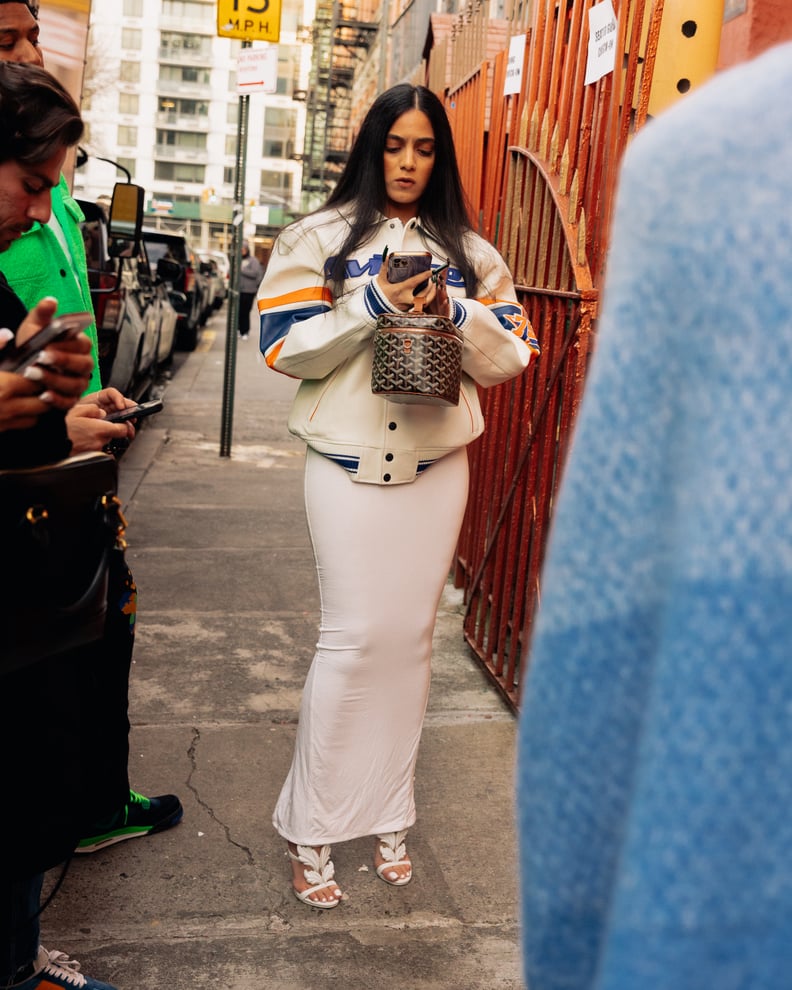 Winter-White Outfits With a Varsity Jacket
Choose a long maxi dress in a thick jersey fabric, and button your varsity jacket all the way up over the fitted sheath. Finish the winter-white outfit with heels or an elevated boot, plus a simple pouch or mini bag that doesn't take away from your coat.
07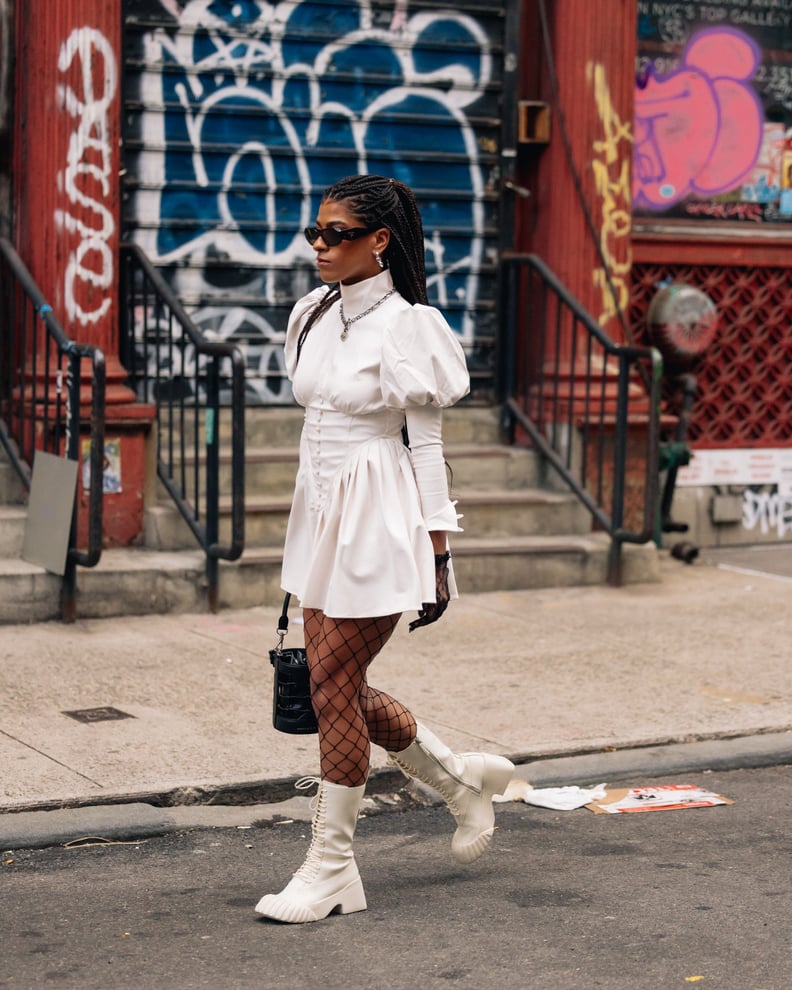 Winter-White Outfits With Tights
You can allow your tights to be the contrasting factor of your winter-white outfit. Choose a long-sleeved minidress with standout details, such as pouf sleeves or a corseted bodice, and finish with a pair of white waterproof boots that are just as sturdy and functional as they are eye-catching.
08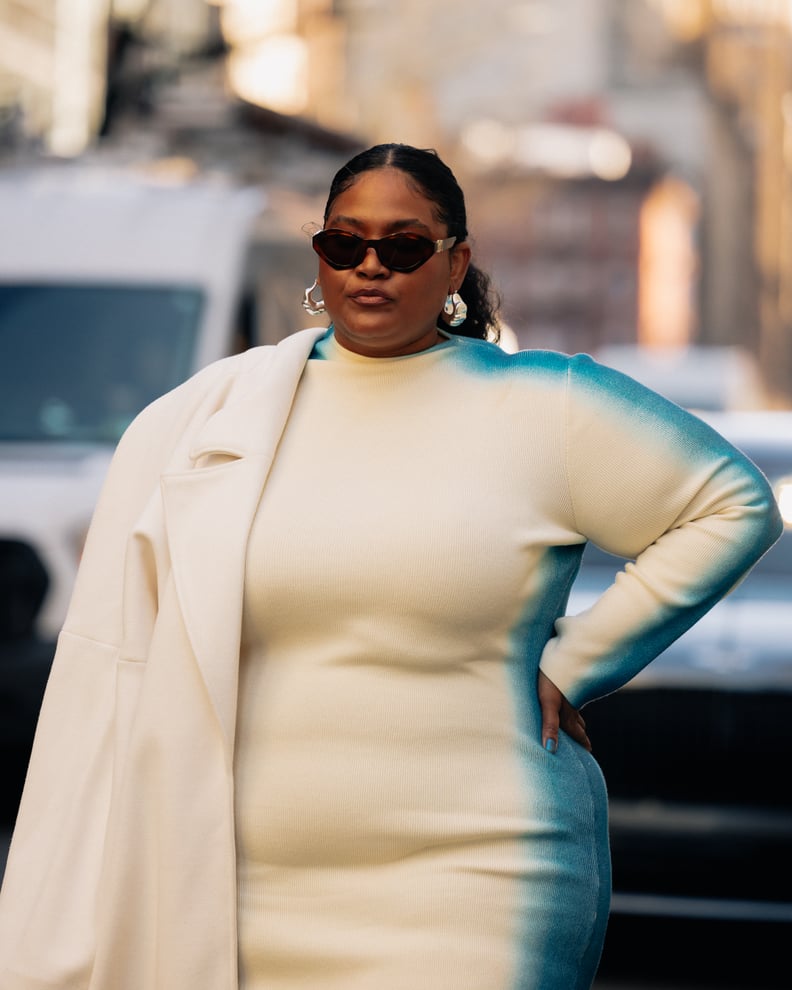 Winter-White Outfits With a Ribbed Sweater Dress
Investing in a long-sleeved ribbed sweater dress will go a long way this season. Complement an ivory-toned dress with a wool jacket in a similar shade, and finish your winter-white outfit with on-trend sunglasses and chunky hoop earrings.
09
Winter-White Outfits With a Pantsuit
Play up the festive holiday vibe in a pearl-toned pantsuit with a subtle sheen. Draw attention to the color with a matching pearl-encrusted headband and a milk-bath manicure.
10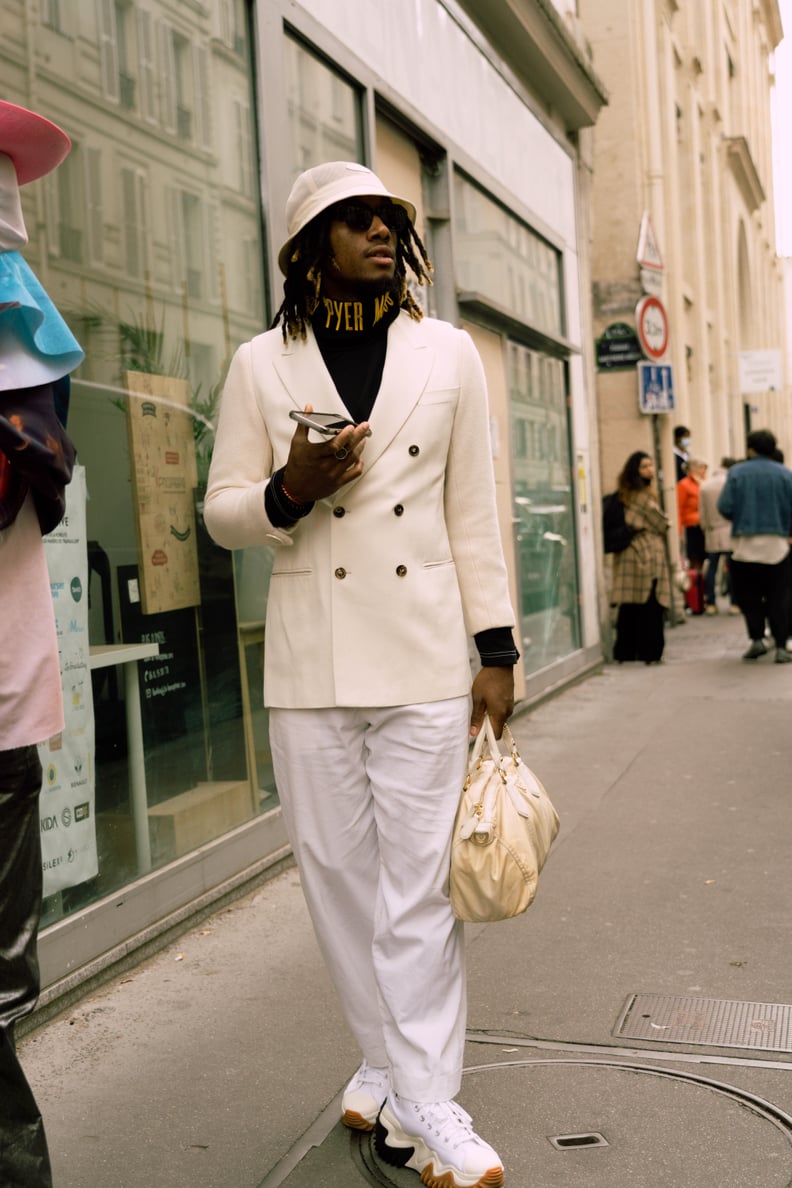 Winter-White Outfits With a Blazer and Bucket Hat
Secure a double-breasted blazer over a turtleneck for a look of sophistication. Tone down your outfit for daytime with casual '90s accessories, such as chunky sneakers and a bucket hat in the same hue.
11
Winter-White Outfits With a Cozy Knit Turtleneck
Opt for a white ribbed cowl-neck sweater styled loosely over a pair of denim flares. Cater to the bohemian vibes with an oversize hobo bag.
12
Winter-White Outfits With a Cardigan Set
Whether it's with a dress or knit bra, add dimension and warmth to the foundation of your winter-white outfit with a matching cardigan for consistency.
13
Winter-White Outfits With a Puffer Coat
Try knotting a white sweater over your winter-white puffer for an unexpected, preppy touch. A pair of cap-toe flats will also play to the aesthetic, incorporating an otherwise sporty staple into a more streamlined combination.
14
Winter-White Outfits With Knee-High Boots
Structure a long-sleeved, free-flowing dress in silk or satin with a pair of knee-high leather boots. The winter-white look is perfect for party season when completed with a few layered necklaces.
15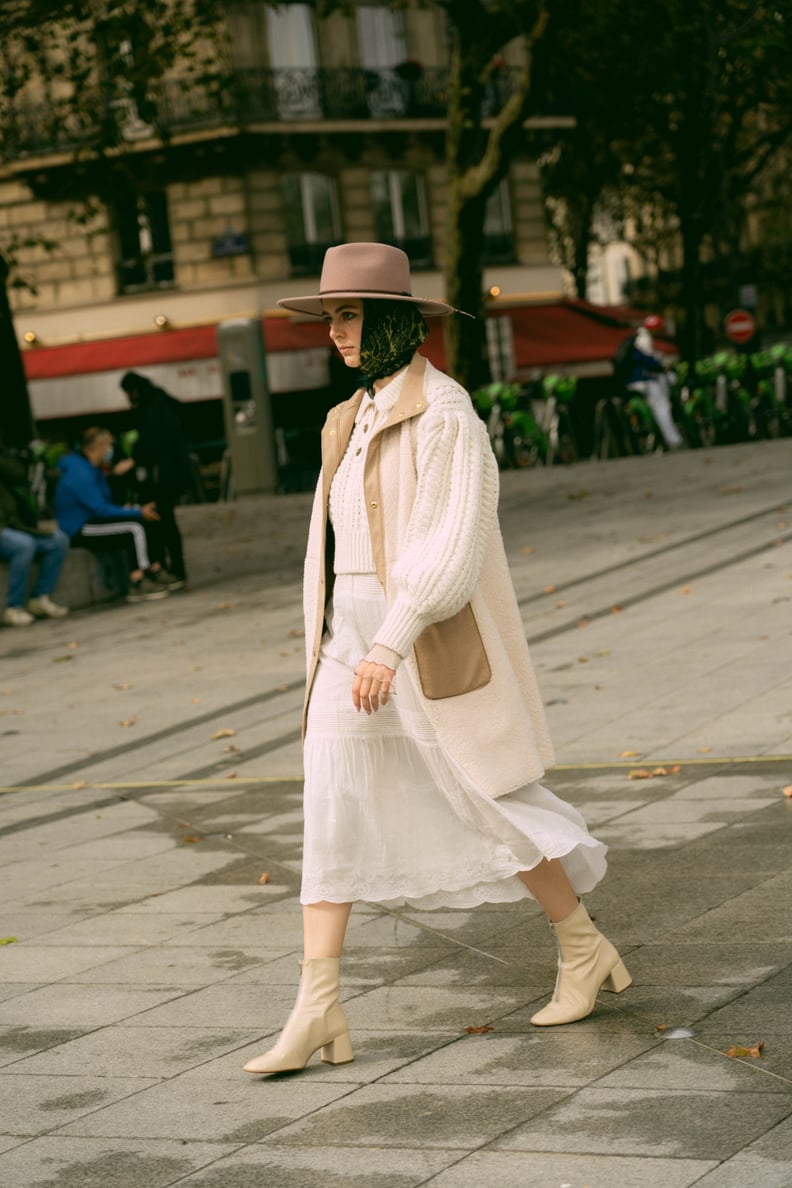 Winter-White Outfits With a Long Vest
While you may not think to layer up with sleeveless items, mixing materials by coordinating your knitwear with a sherpa vest goes a long way and helps to add dimension to your winter-white outfit.
16
Winter-White Outfits With a Bodysuit
Owning a winter-white turtleneck bodysuit is key this season. Go for a '70s moment by accenting it with a cropped jacket and finishing the outfit with flares and platform boots.
17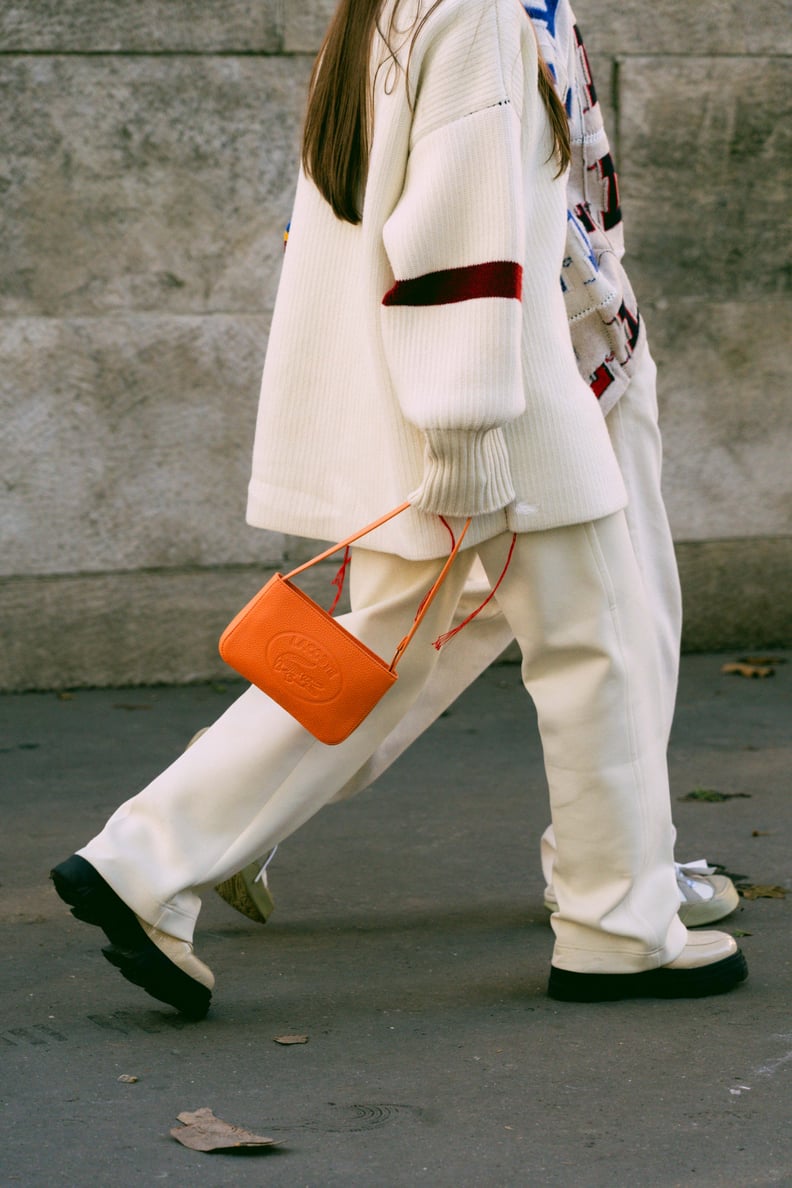 Winter-White Outfits With Pooling Pants and Platforms
Style your long trousers with chunky lug-sole loafers and a luxe, oversize sweater for a cozy-chic winter-white outfit.
18
Winter-White Outfits With Coordinated Sweats
Team your white-on-white sweats (which can be slightly different in shade) with complementary tones and some statement jewelry to make your outfit feel more considered and less like loungewear.
19
Winter-White Outfits With a Little White Dress
Wear your ribbed, knee-length dress with tall cowboy boots, and finish the winter-white outfit with a simple pair of earrings so as not to distract too much from the standout details.
20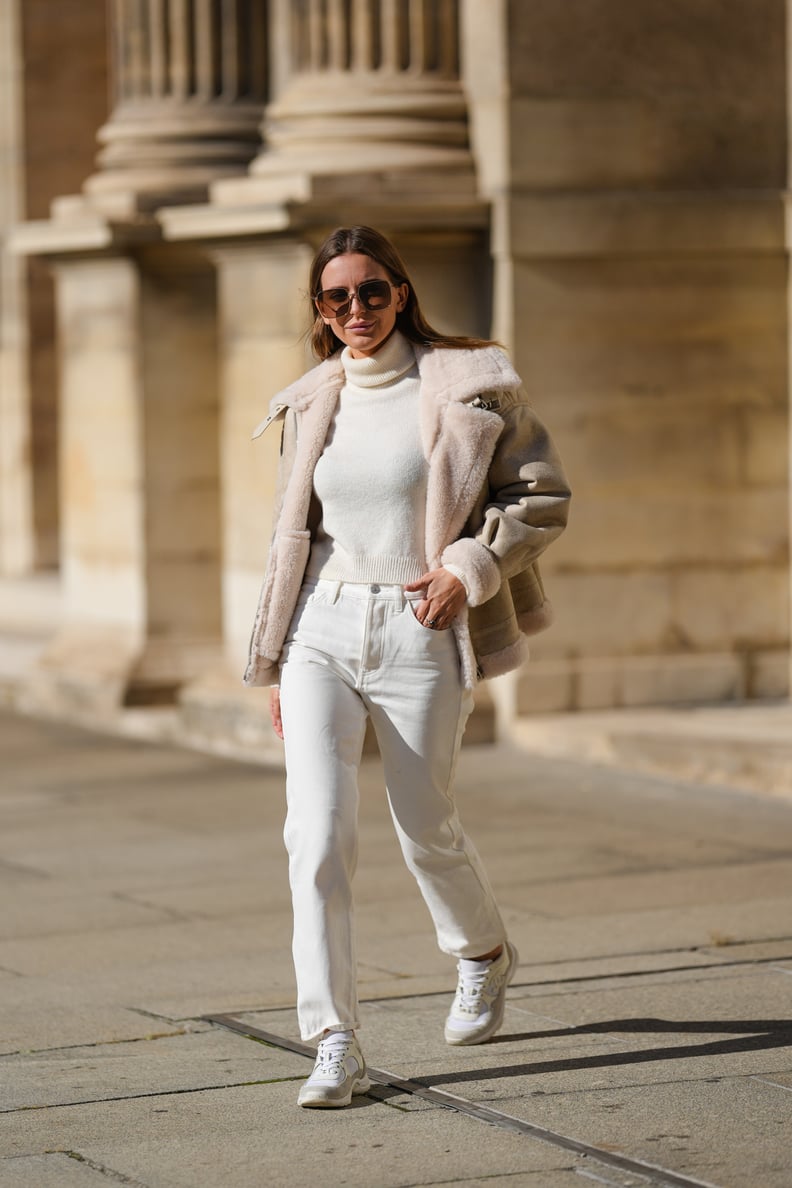 Winter-White Outfits With a Shearling Moto Coat
Complement the white shearling lapels of your jacket with a fuzzy turtleneck. Finish your winter-white outfit with casual sneakers for a relaxed vibe.
21
Winter-White Outfits With Denim
Play up a colorblock winter-white denim set with an ivory shoulder bag and a pair of go-to sneakers.
22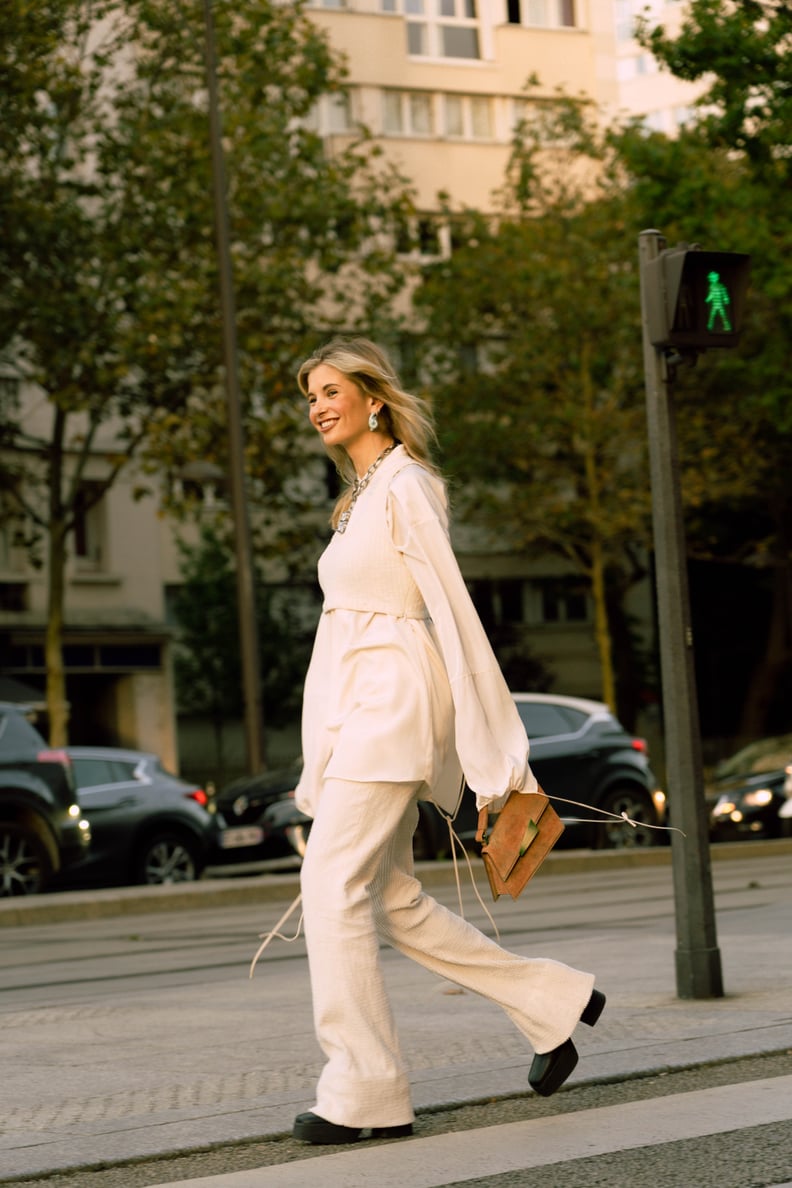 Winter-White Outfits With a Billowing Blouse
Wear a breezy boho blouse under a cropped white tank to add form and structure to the design. Work the look with '90s platform boots and distressed denim.
23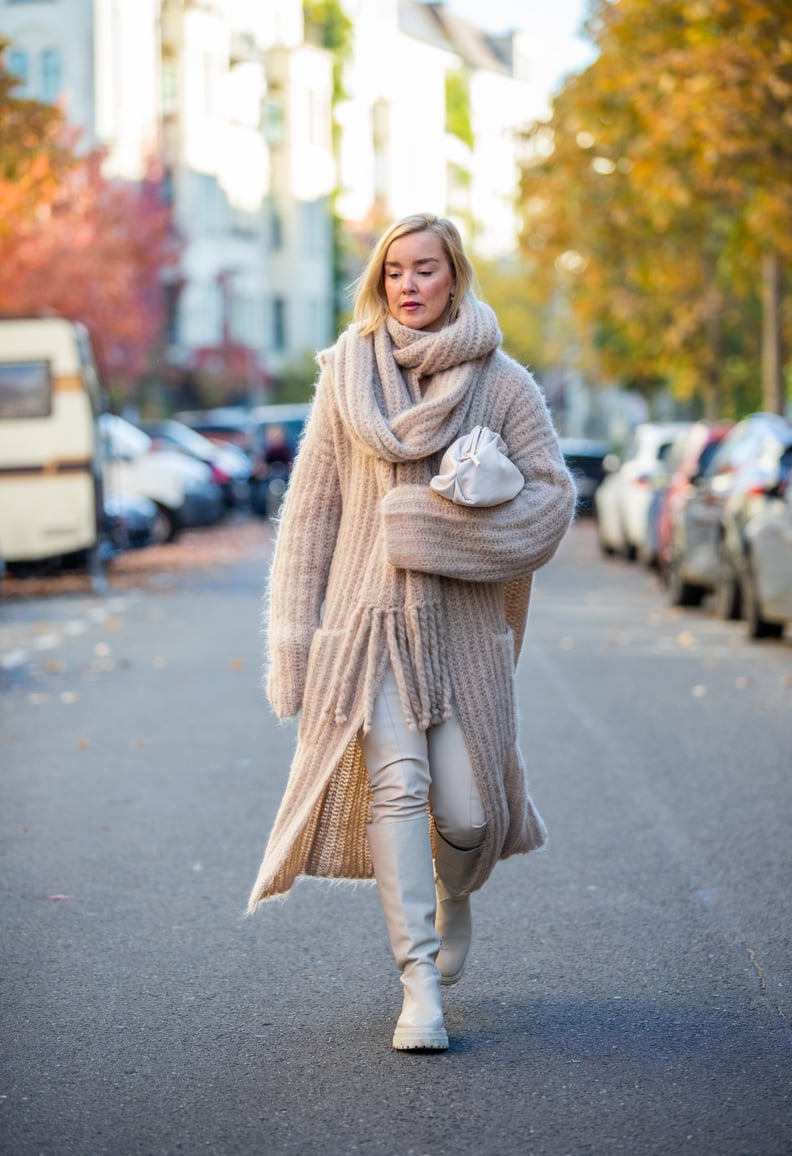 Winter-White Outfits With Leather
Coordinate your white leather clutch, pants, and boots with cozy oatmeal knitwear for daytime.