As POPSUGAR editors, we independently select and write about stuff we love and think you'll like too. If you buy a product we have recommended, we may receive affiliate commission, which in turn supports our work.
Planning the perfect fall or winter ensemble is tricky enough — especially when you're still in the thick of summer temperatures. During that in-between period when the days are warm but the nights cool down pretty significantly, we prefer to lean into more transitional styles and layering techniques to ensure we feel comfortable regardless of what the weather is like. We love pairing a jacket over a dress for the ultimate summer-to-fall look that can take us from the office to happy hour and beyond — and evidently, there are a lot of cool jacket options to shop online these days.
Dresses with jackets might seem like an unlikely combo at first, but really it's one that makes perfect sense for any occasion when you're not quite sure what to wear — whether it be because of the dress code or fluctuating temperatures. If you're wondering what kind of jacket is best to wear with a dress, we shopped out the best jackets to wear with dresses that you'll actually be excited to style on repeat this fall. From the best jackets to wear with a formal dress and more polished layers like a poncho or blazer, to relaxed daytime outfits like a classic jean jacket with a dress pairing, there's an option in here that's perfect for everyone — regardless of your personal style or budget.
Keep reading to browse our selects.
— Additional reporting by Samantha Sutton and Nikita Charuza
01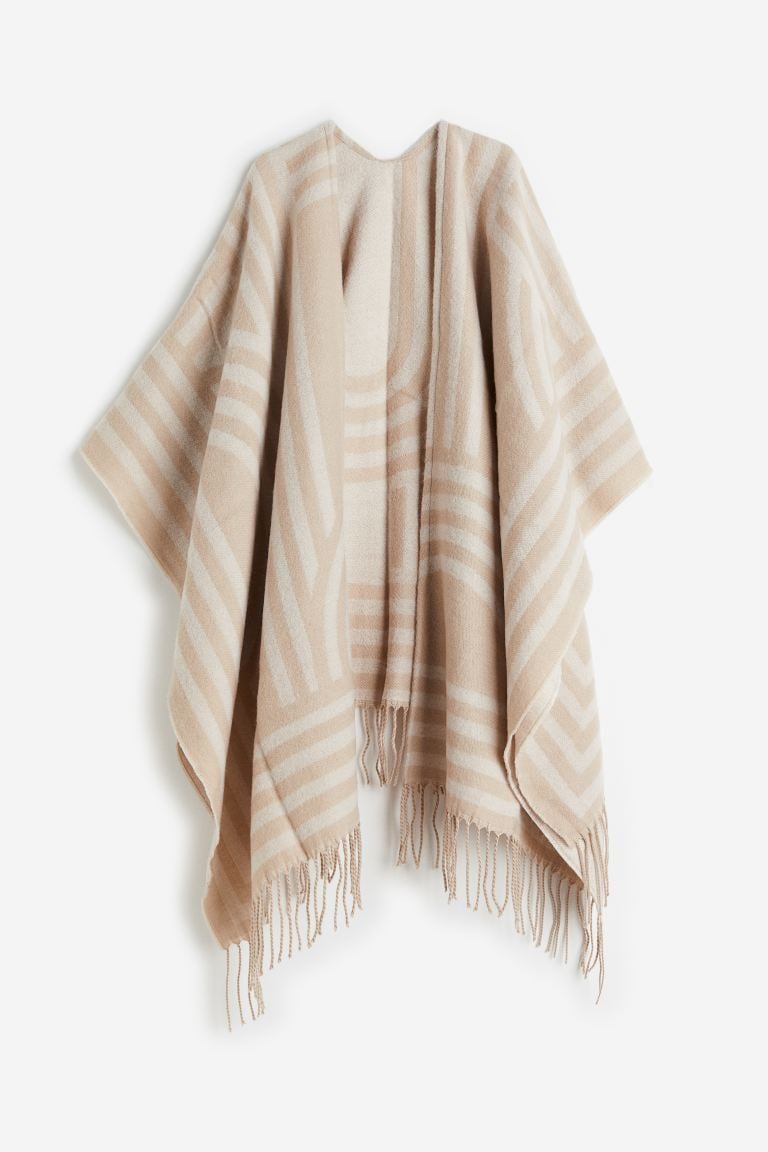 Best Poncho to Wear With a Dress
H&M Fringe-Trimmed Poncho ($33)
When you want a lightweight layer that'll add a little volume to your look without being too heavy that you might feel bogged down by it, go for a classic poncho like this fringe style from H&M. The piece would add such a cool flowy essence to any bodycon piece and we love its edgy trimmed design.
02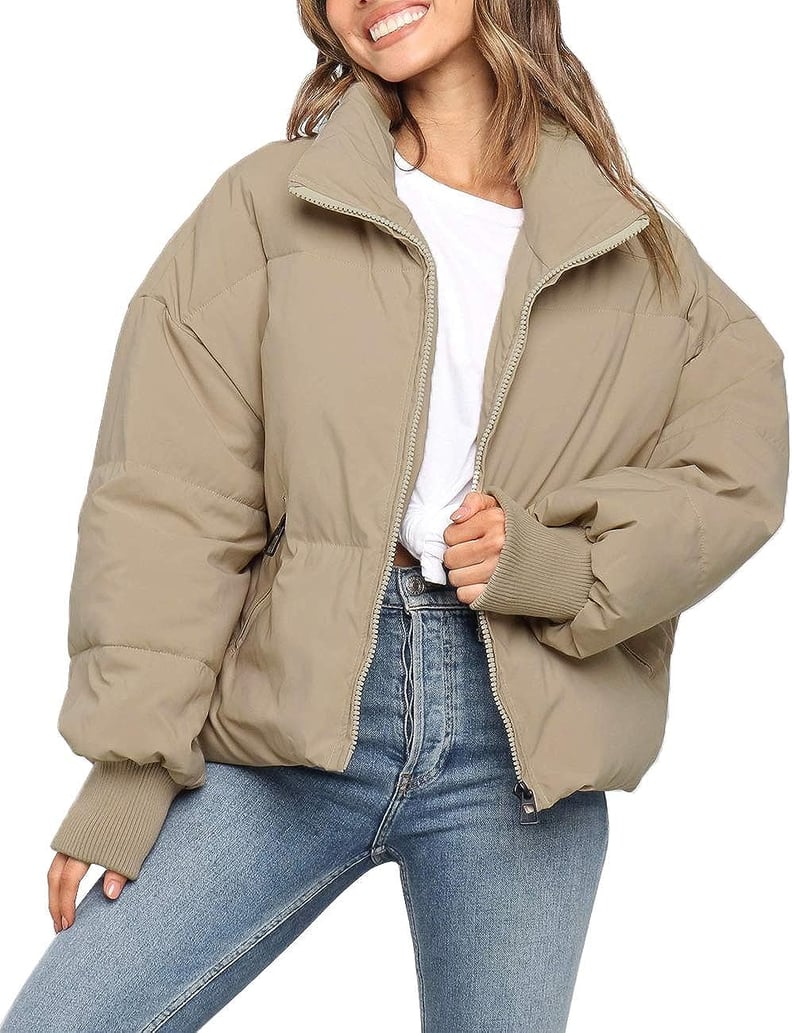 Best Puffer Jacket to Wear With a Dress
Merokeety Winter Long-Sleeve Zip Puffer Jacket ($75, originally $80)
A puffer jacket might not be the most obvious choice to wear with a dress, but hear us out — the style provides ample warmth, offers a layer of thickness that'll help elevate any look with a little extra volume, and also might be the key to completing your ensemble with some more structure. It's especially great for daytime wear or if you're looking to pair your dress with sneakers for an outfit that's as comfy as it is sporty.
03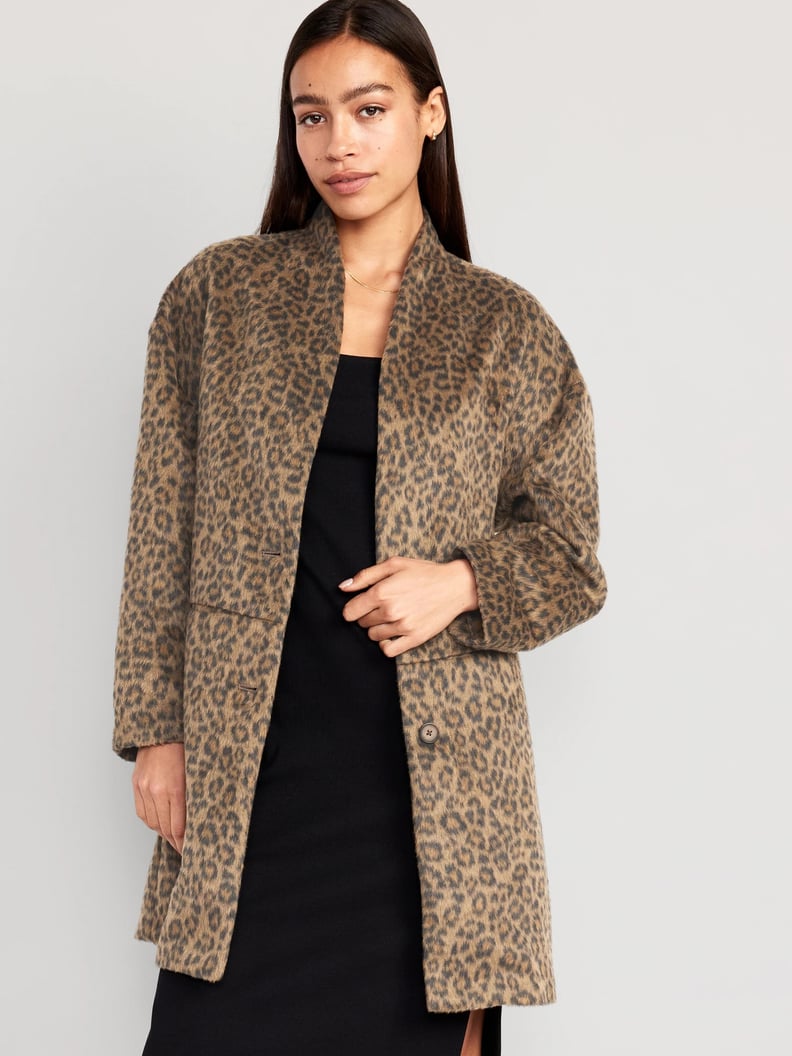 Best Cardigan to Wear With a Dress
Old Navy Long-Line Cardigan Coat ($65)
If you're working with a longer dress, you can also get away with wearing a longer coat — the proportions simply look better and oftentimes even help to elongate the look of your upper body. We love the fiece cheetah print on this cardigan coat, in particular.
04

Best Sleeveless Jacket to Wear With a Dress
Shein Double-Breasted Long Vest Jacket ($37)
Outside temperatures might not be cold enough just yet to warrant a long-sleeve dress with a long-sleeve coat — and that's precisely why having a sleeveless jacket in your wardrobe is so essential. This long cardigan vest has such a breezy, everyday kind of vibe that makes it ideal for layering on top of a long-sleeve maxi dress or even a thick sweater dress.
05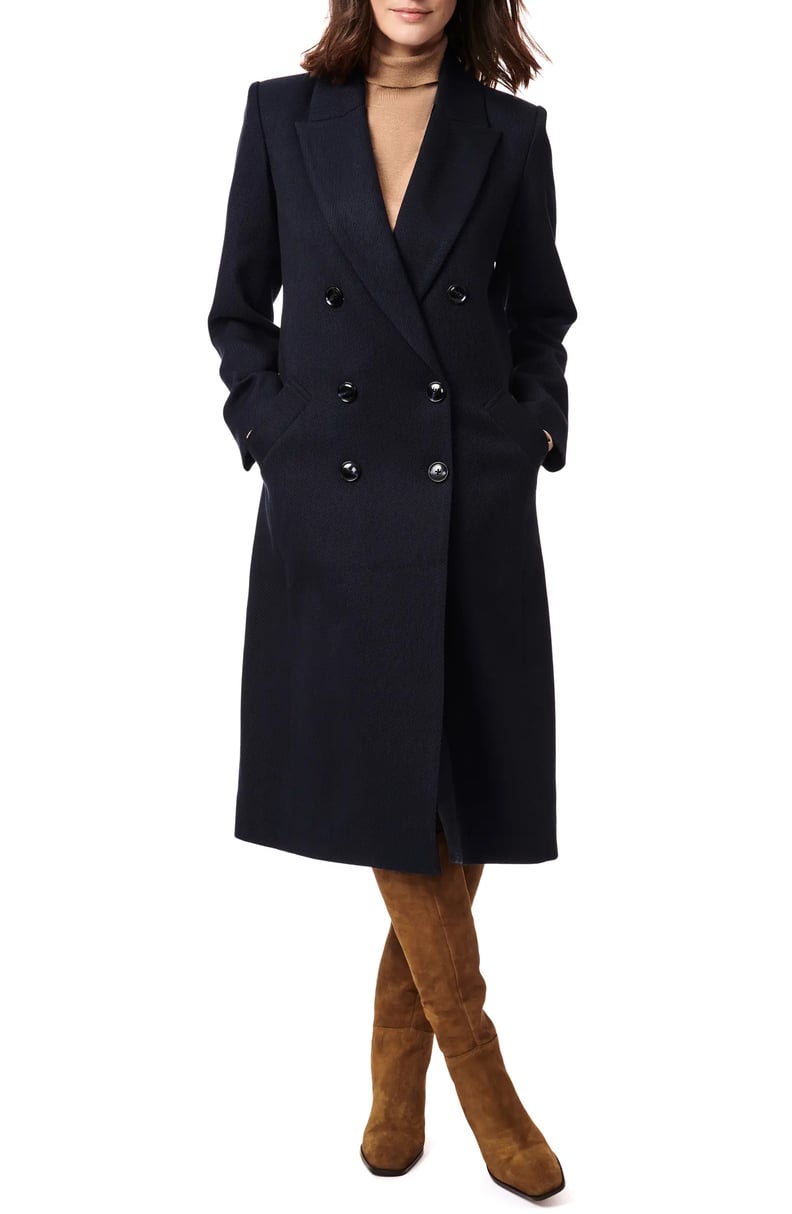 Best Double-Breasted Jacket to Wear With a Dress
Bernardo Double Breasted Twill Coat ($225)
With this luxurious double-breasted jacket, you might not need a dress to wear underneath it at all. The elevated style boasts a midi length that extends past the knees and provides ample coverage. You can style it with a lightweight sweater dress and knee high boots for the most quintessential fall look.
06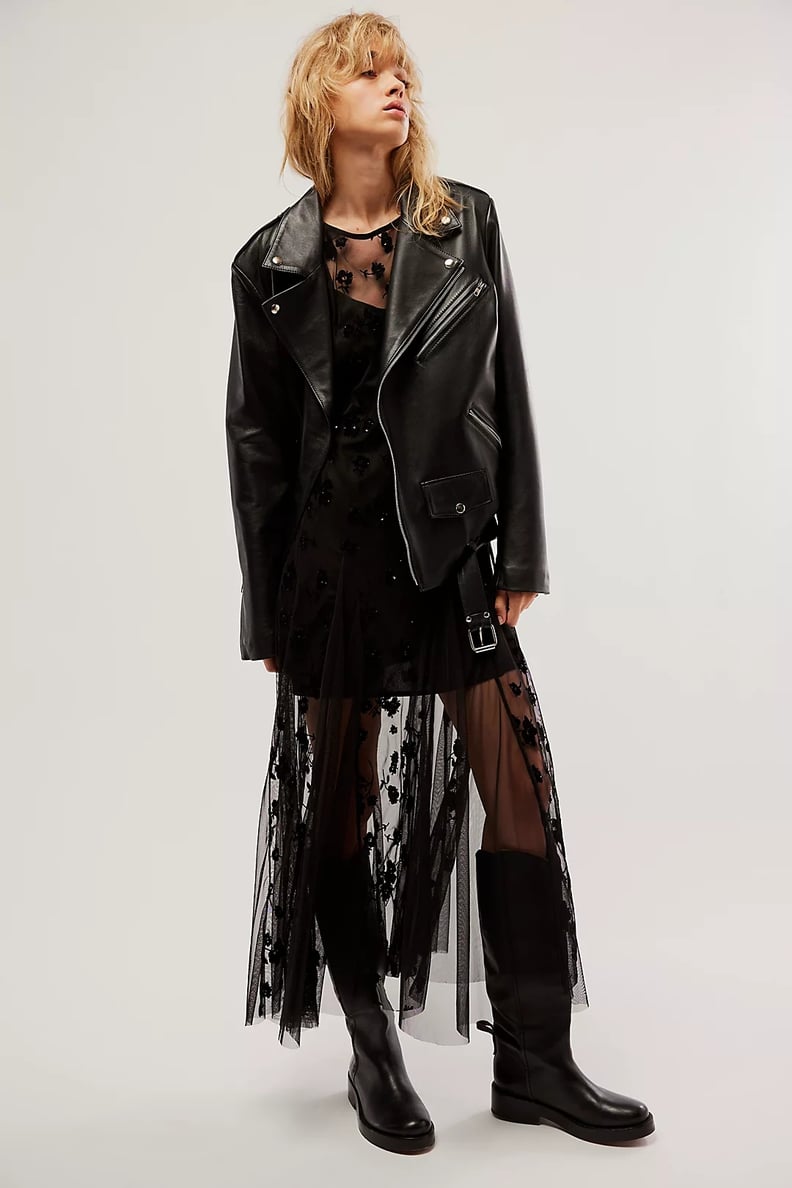 Best Leather Jacket to Wear With a Dress
We The Free Jealousy Leather Moto Jacket ($698)
The dark-academia aesthetic is already trending on TikTok for fall, and with this edgy leather moto jacket, you'll be able to infuse a fresh twist on the fad. If you want to embrace a sexier evening look, you can pair this layer with a black mini dress, black boots, and tights.
07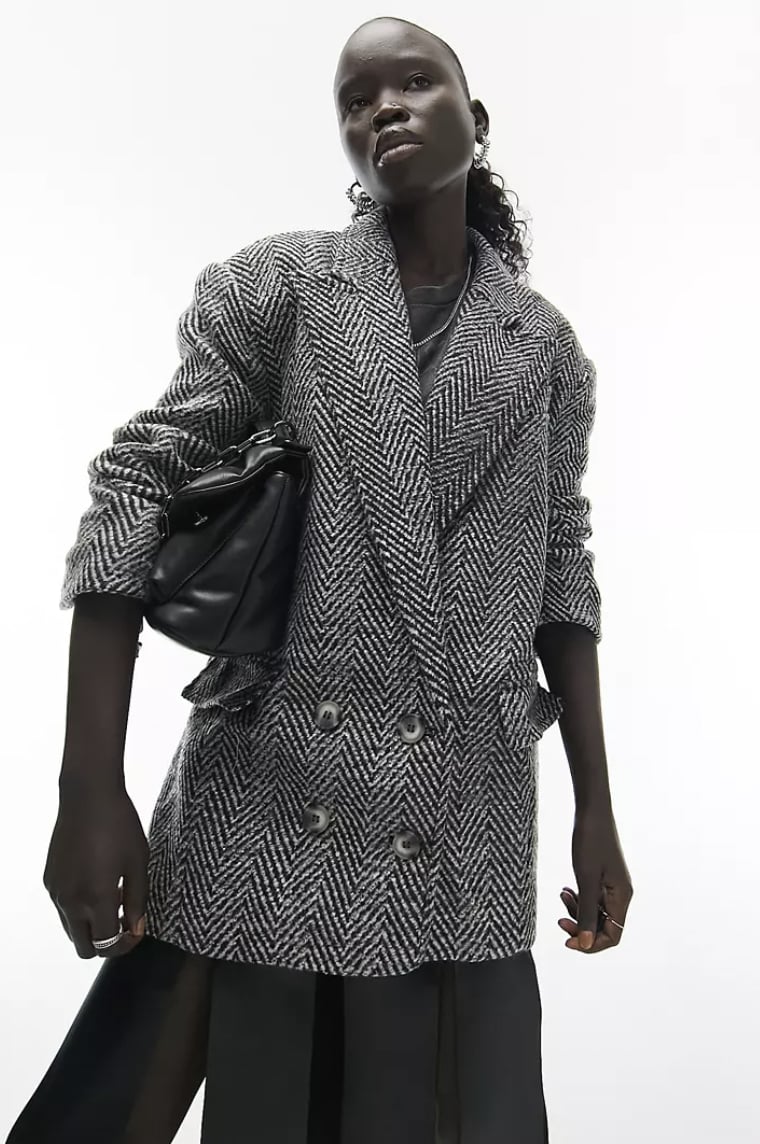 Best Blazer to Wear With a Dress
Topshop Petite Textured Blazer Coat ($109)
While it's not exactly a proper winter jacket, this thick blazer can definitely double as a cute layer to pair on top of a pleated dress or even a flounced maxi style. The piece would add a more tailored look to an otherwise flowy outfit, and a cute waist belt could help take it to the next level.
08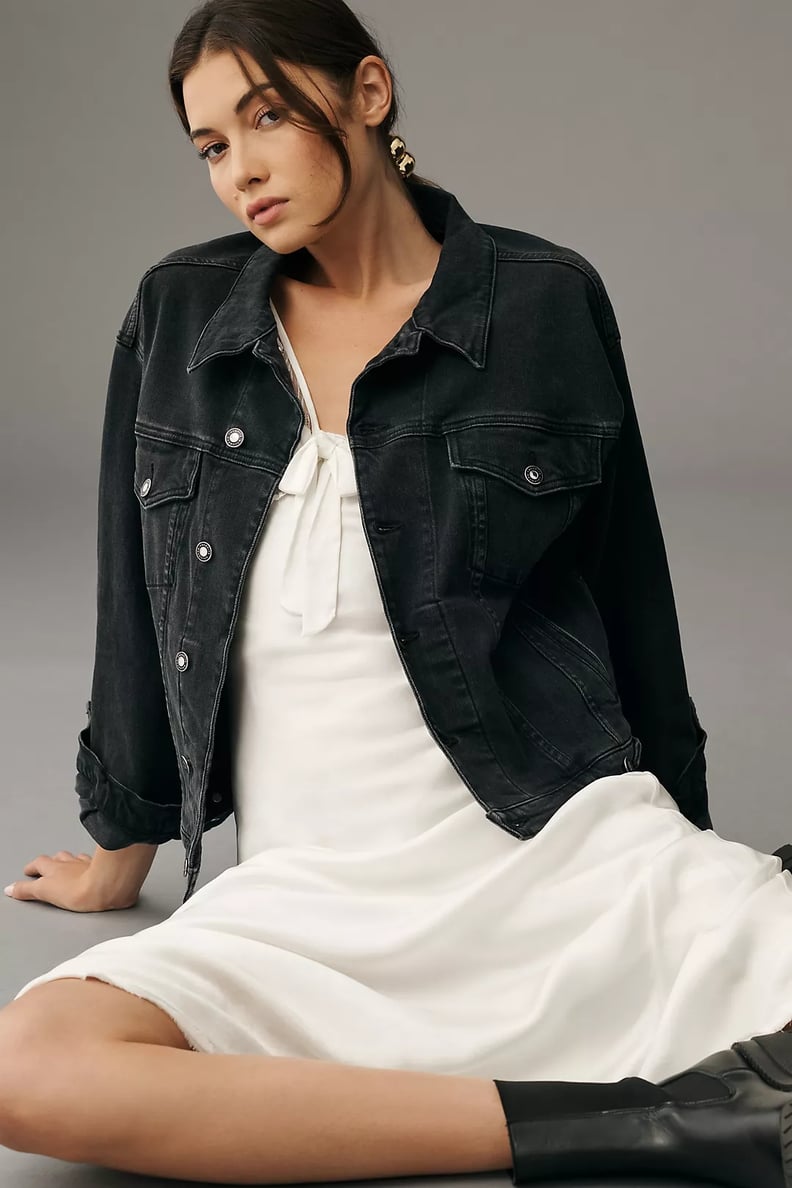 Best Denim Jacket to Wear With a Dress
Favorite Daughter The Otto Boyfriend Denim Jacket ($218)
Denim jackets are the ultimate wardrobe staples, and this dark wash style from Favorite Daughter is currently high on our shopping wishlist. We love the jacket's moodier coloring and the fact that it's versatile enough to be worn for day or evening occasions.
09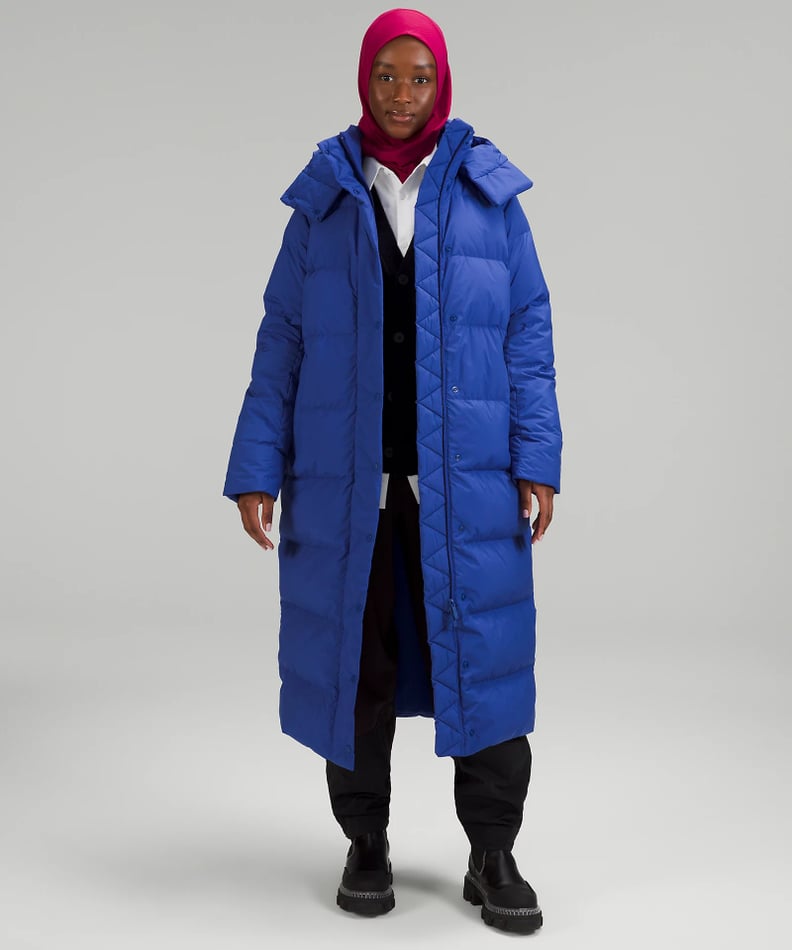 Best Winter Jacket to Wear With a Dress
Lululemon Wunder Puff Long Jacket ($398)
This maxi puffer jacket definitely requires more of a commitment, but it's a worthwhile investment if you're looking for a piece that will actually keep you warm in even the brisket temperatures. The style extends to the mid-calf portion of the leg, making it a great coat to layer on top of a shorter dress where your legs might be more exposed (and naturally, chillier too).