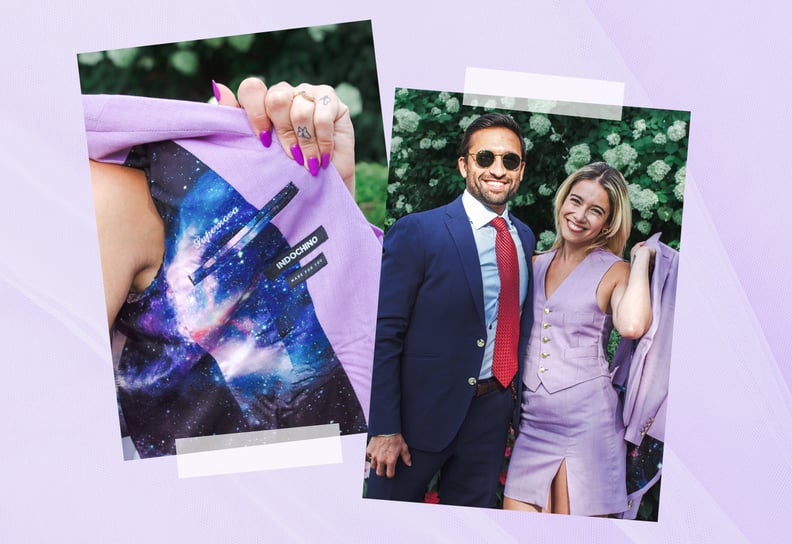 Megan Kai; Getty | Eun KYoung Jung
Megan Kai; Getty | Eun KYoung Jung
In the past, I've coordinated wedding-guest looks with a partner simply by matching my dress to his tie. In my experience, the task can be frustrating — especially when some dudes couldn't quite grasp the concept of color clashing — but appearing in sync with your date is possible. Never did I consider the idea of his-and-her matching suits until I scrolled past an Indochino ad on Instagram and completely fell in love with a powder-pink blazer-and-miniskirt combo, replete with a modest leg slit and styled with metallic pointed-toe booties. Maybe it was my Barbiecore inclination, but I immediately had to have it.
I've worn suits before, but never one molded to my every curve, with my measurements taken into consideration.
As the number one made-to-measure retailer in North America, offering clients quality, bespoke tailoring at their fingertips in more than 50 showrooms across North America, Indochino is at the forefront of personalization in retail — and the price point is more affordable than high-end luxury, with suits of the same caliber starting at $549. It takes only three weeks for a garment to arrive at your doorstep after having your pick from an extensive range of fabrics, cuts, and colors.
While my boyfriend and I chose to design our suits in person at the NYC flagship store on Madison Avenue, you can also make all your selections online as an easy alternative. This option has established the brand as a go-to for many a groomsman. Even if the bridal party is limited to wearing navy, for example, there are an incredible amount of ways to achieve the look. You can choose a jacket with one vent at the back or two, decide on any number of buttons below the lapel, and even monogram the inner lining. Believe me when I say the options get far more involved from there.
Ahead, read my review of the full suit customization process at Indochino.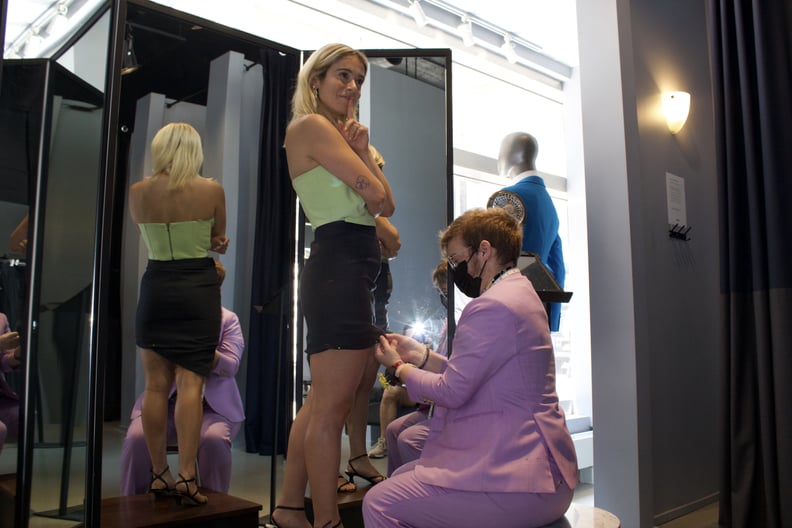 How Does Indochino Work?
When we arrived for our first appointment, our sales associate and stylist walked us through each step of the process, which began with sifting through fabric swatches and a conversation about our personal taste. The stylist was armed with an arsenal of knowledge about tailoring, explaining which stylistic choices veer more traditional and which are more modern when it comes to each and every detail on the garment — particularly those in which we were able to customize.
While my boyfriend opted for the Stapleford Seersucker Navy Suit, with the intention to add something more lightweight to his wardrobe for summer weddings and events, I was in the market for a look that really showcased my personality and was inspired by the Knotting Birdseye lilac co-ords our stylist happened to be wearing that day. I wanted a miniskirt, just like the one I'd seen in the Instagram ad, so the team adjusted the pencil silhouette to the appropriate height. I also wanted to be able to wear a matching vest as a top underneath my jacket, since I tend to sweat easily while dancing, so I tacked on a third piece to my order.
How Can You Personalize Your Custom Suit?
The personalization details were like our own hidden little secrets that we harbored.
My boyfriend chose marbleized cream buttons and a burgundy mosaic lining, making for a relaxed, bohemian vibe. He loved it so much, he instantly thought of one of his signature, upbeat phrases to embroider on the inside: "FULL SEND." Meanwhile, I went with gold buttons, picturing a pair of strappy, lace-up stilettos in my closet with the same opulent finish, and settled on an intergalactic lining that I complemented with my favorite word in the dictionary: "Supernova." (My boyfriend also happens to be fascinated by outer space, aliens, and UFOs, so I thought of these embellishments as an homage to him and our first fashion project together.)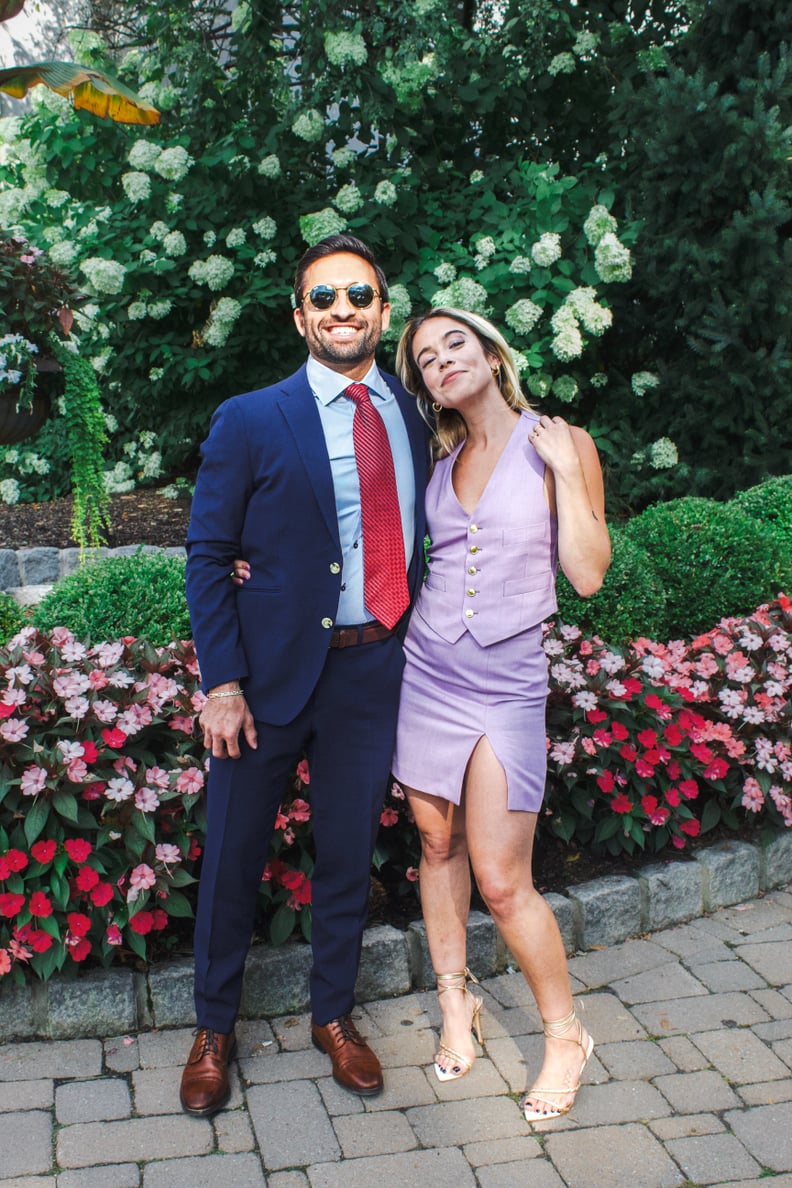 How Long Does Indochino Take?
After waiting out the 3-week production period, we were notified that our suits were ready for pickup, so we headed in for a final fitting to make sure we loved the finished products. My boyfriend's suit was perfect, but my vest was not quite as snug as I'd hoped for, with room at the shoulders and around the bust. The Indochino team quickly pinned back the extra fabric, and in-house alterations meant that my top would be ready just two days later — right in time for the wedding we were attending together.
I've worn suits before, but never one molded to my every curve, with my measurements taken into consideration. The level of comfort I felt dancing, filling my plate to the brim at cocktail hour, and posing for pictures in the photo booth was honestly astounding. While my boyfriend had previously used Indochino's made-to-measure service for his brother's wedding, he was delighted to find how flexible the fabric of his seersucker suit was. And, of course, the personalization details were like our own hidden little secrets that we harbored at the wedding — the first of many places we'll go in these looks.
To book a showroom appointment at Indochino, you can find a list of all the stores across North America here. Womenswear is available across all of Indochino's directly owned showrooms, though it is not currently available at the Nordstrom shops. Each showroom page will clearly state if it is available at the location you are planning to visit.