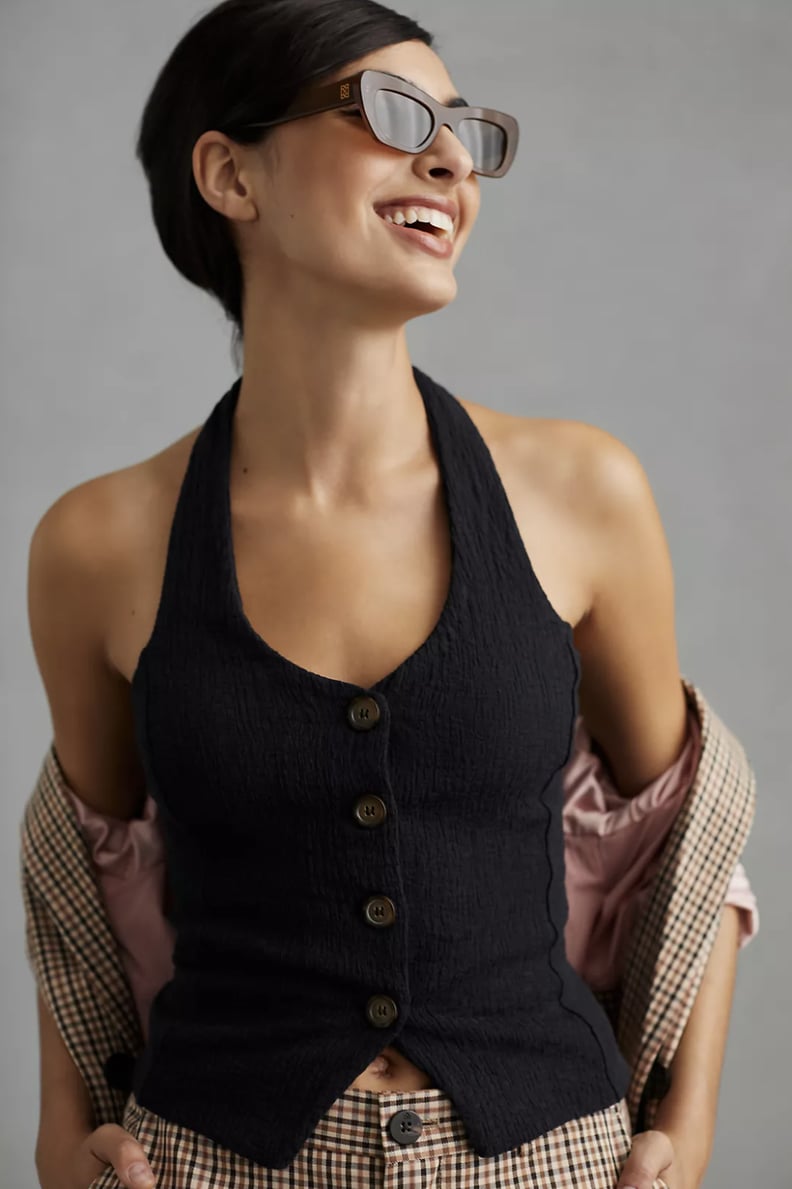 Anthropologie
Anthropologie
Every editorial product is independently selected by our editors. If you buy something through our links, we may earn commission.
In this week's episode of "'90s Fashion Trends That Have Inevitably Made a Comeback" (not an actual TV show, but probably should be!), we have the suit vest — the perfect embodiment of business-casual fashion. Let us explain: suit vests certainly aren't new to mainstream fashion, but they are seeing a major resurgence this fall — with the style proving to not only be polished enough to wear to the office (even better with a trouser pant, to match) but also edgy enough to wear out on your next date night or even to a swanky evening soirée. The sleek, day-to-night piece can be sported on its own or even layered with another tailored top.
In the spirit of this style's resurgence, we've scoured the internet in search of the absolute best suit vests for women to wear this fall — with pieces from some of our favorite retailers like Zara, Anthropologie, Nordstrom, Neiman Marcus, Banana Republic, Wolf & Badger, and more. Whether you're in the market for a sleek, black suit vest to wear to the office, an edgy denim style to layer for fall, or just a versatile suit vest that will take you from work to evening cocktails and beyond, there's a variation ahead that's sure to be a staple in your wardrobe this season. Keep reading to shop our picks!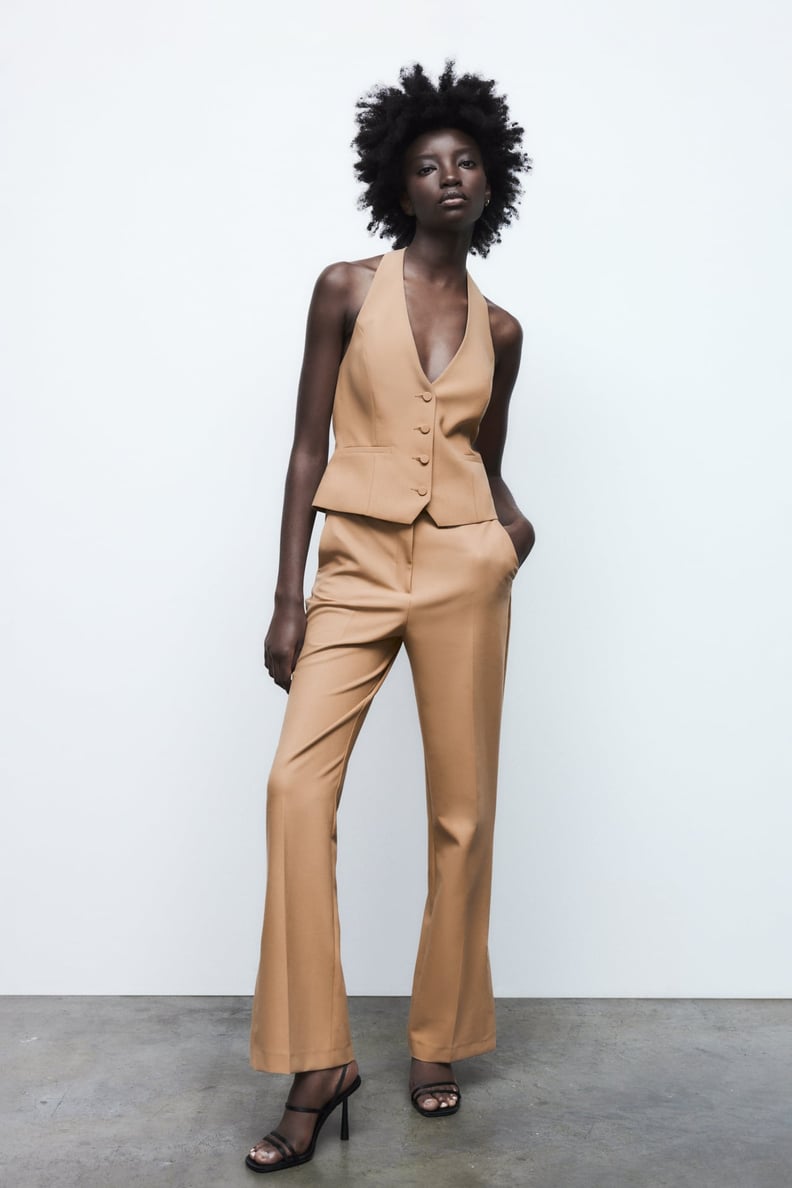 Best Halter Suit Vest: Zara Halter Vest
Make a serious fashion statement in any room with the help of this Zara Halter Vest ($50). The camel-colored vibe of this piece is so elegant and versatile, giving you the freedom to wear the top all through the fall and well into the spring, too.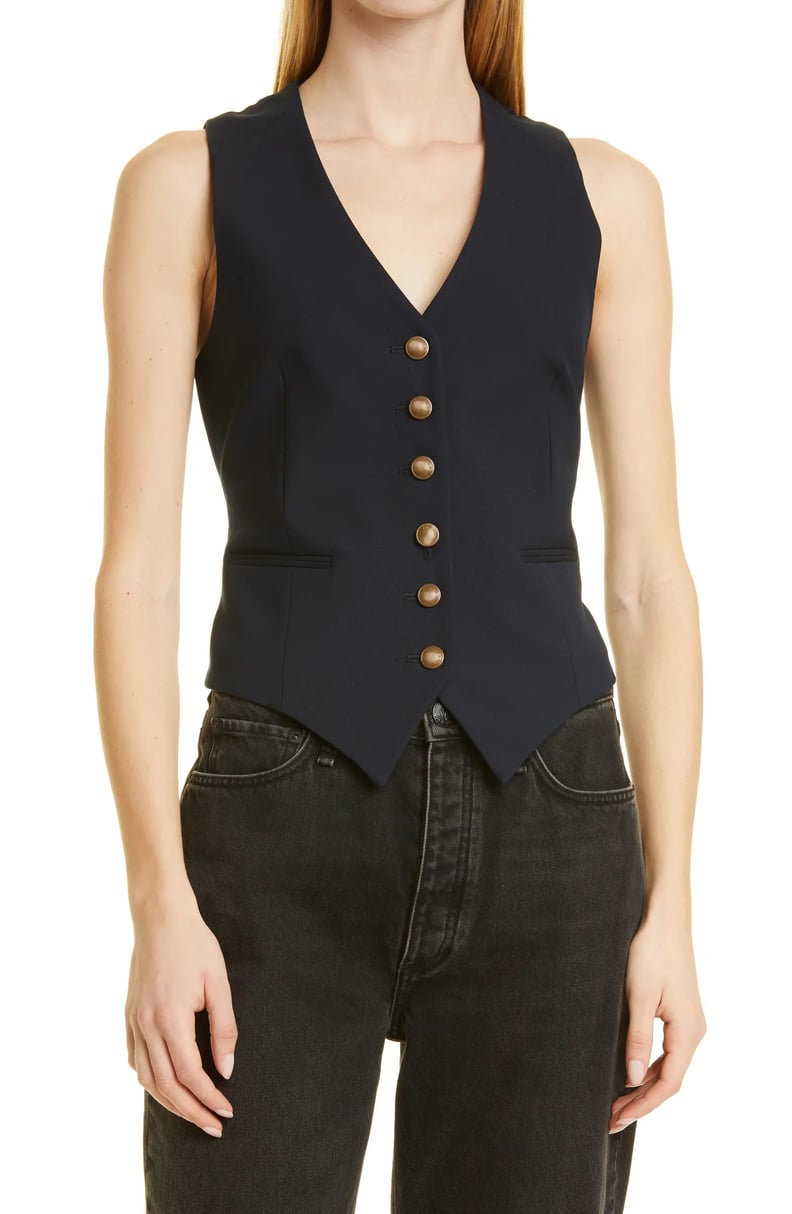 Best Black Suit Vest: Rag & Bone Vanessa Vest
Trends may come and go, but some fashion pieces are so timeless, we're convinced they'll exist forever. This bold and black Rag & Bone Vanessa Vest ($295) is one of those styles that's sure to stand the test of time in your wardrobe — and pair beautifully with everything from distressed denim to trousers and beyond.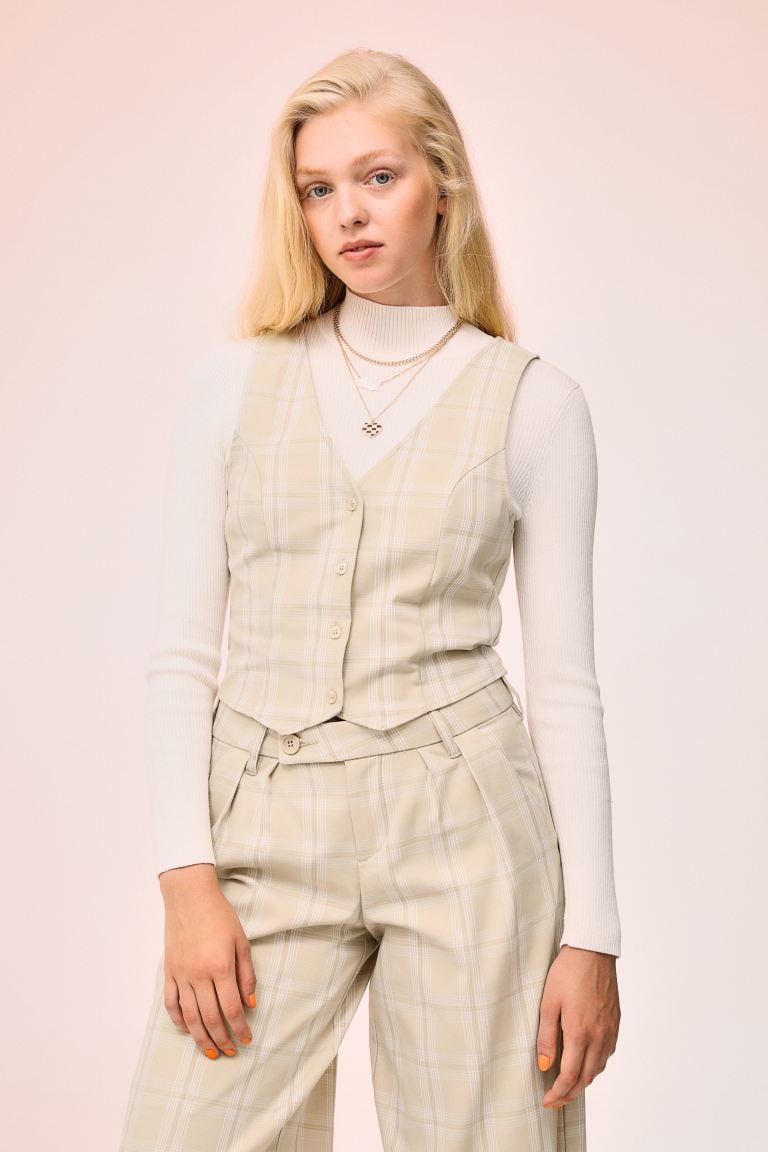 Best Patterned Suit Vest: H&M Suit Vest
Could we love the '90s-inspired vibes that are oozing from this H&M Suit Vest ($18) any more? As if! But in all seriousness, this suit vest and its matching trouser pant are all that you need to create the "Clueless"-centric ensemble of your dreams this fall.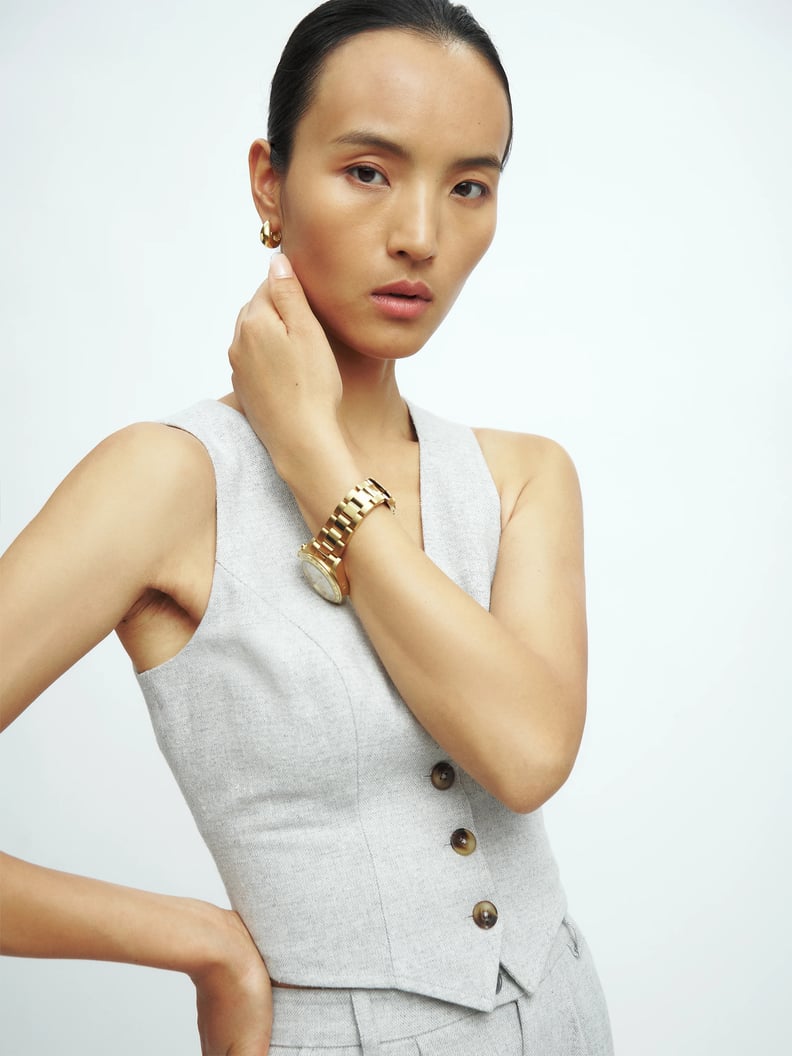 Best Fitted Suit Vest: Reformation Devin Vest
Stick to the classics in this Reformation Devin Vest ($128). The simple and muted suit vest is chic enough to be worn on its own, or even as a base layer beneath an oversize blazer, too (it is the season of layering, after all!). Plus, those tortoise-colored buttons are so darling and provide the perfect contrast!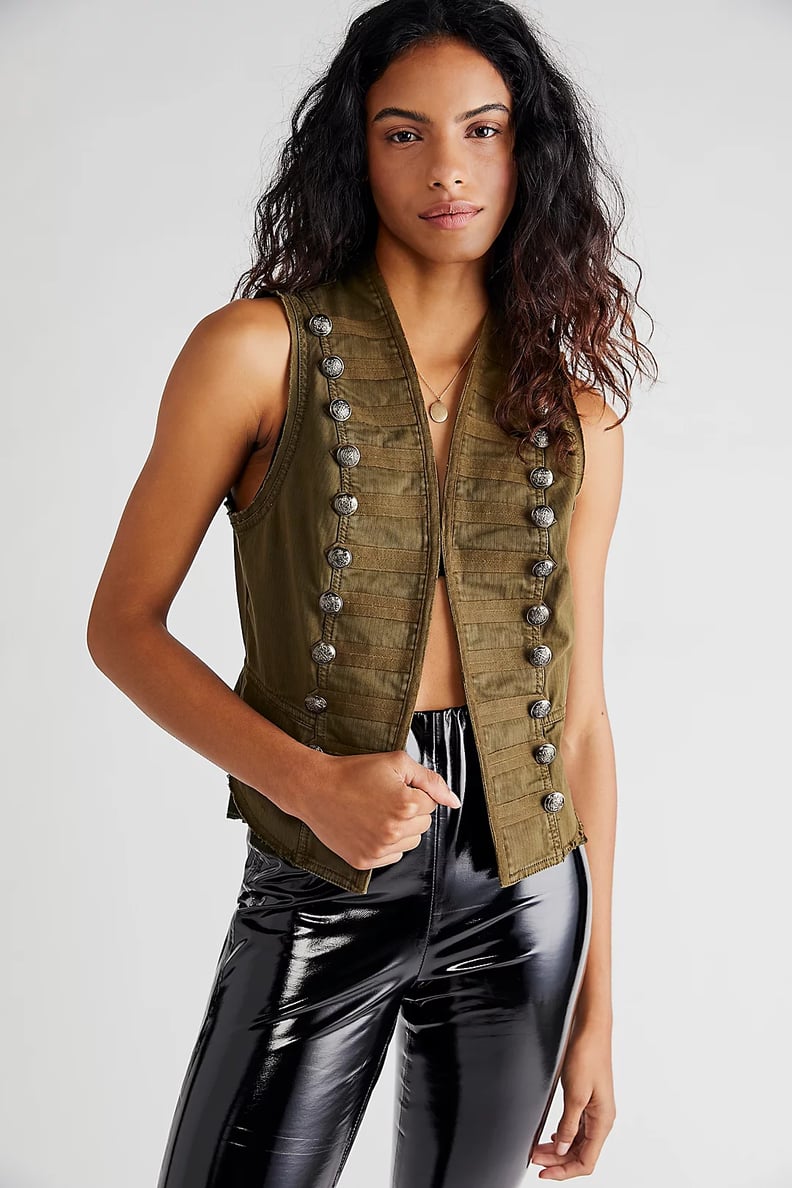 Best Unique Suit Vest: Free People Officer Grunge Vest
This Free People Officer Grunge Vest ($128) completely throws the fashion rule book out the window (assuming it was ever relevant to begin with) and is the style to have on hand in your closet if you're hoping to turn heads this season. It's also giving some edgy Coachella vibes — and we're all for shopping out our festival wardrobe early!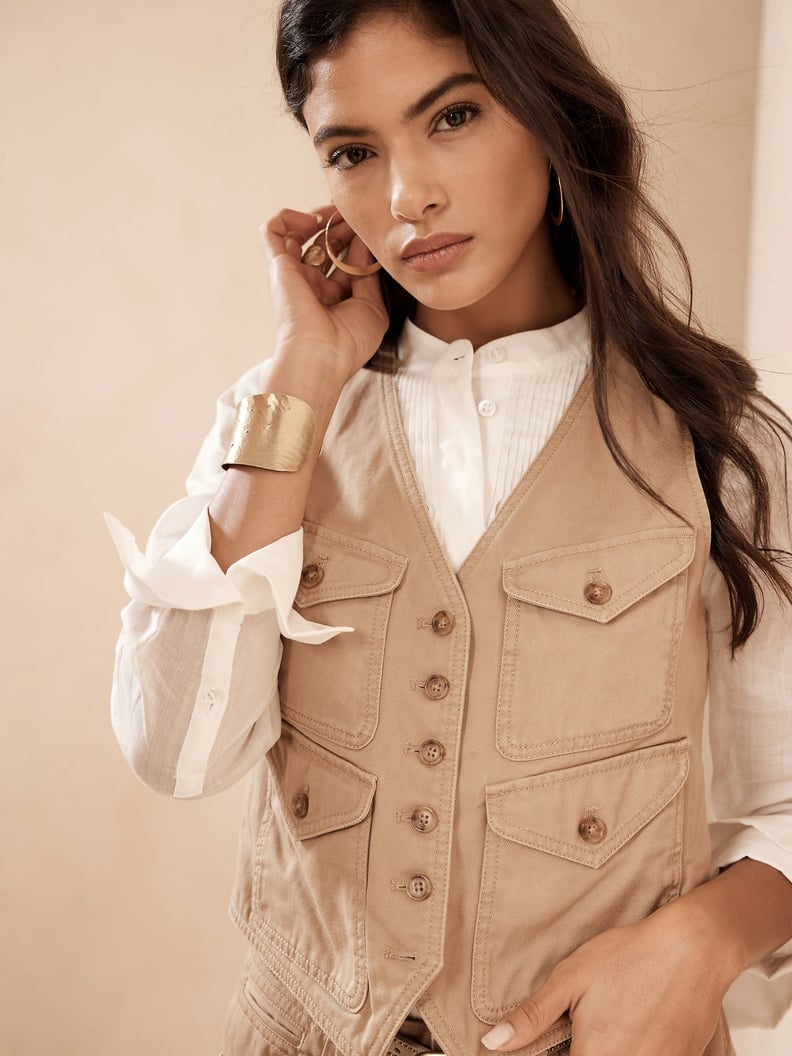 Best Pocketed Suit Vest: Banana Republic The Riding Vest
We love pockets just as much as the next fashionista — which is why we're particularly obsessed with the look of this Banana Republic The Riding Vest ($140). Not only do the front pockets give the vest some added texture, they also boast deep interior space that's perfect for holding everything from credit cards to cash, cell phones, emergency lipsticks, and more!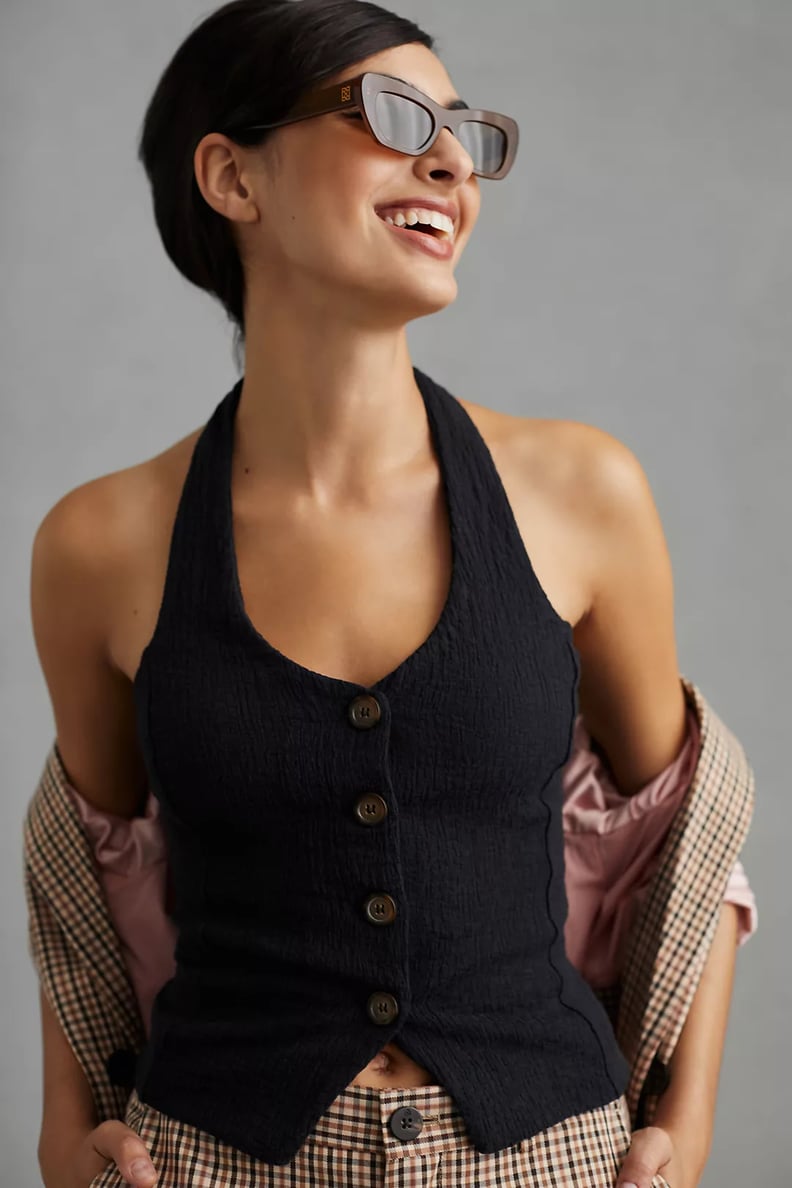 Best Relaxed Suit Vest: Anthropologie Halter Vest
If the look of a tailored suit vest isn't exactly your style, then this Anthropologie Halter Vest ($88) might just be the perfect piece for you — and your fall wardrobe, of course. The body-hugging suit vest boasts more of a snug fit that's sure to accentuate every curve and pair effortlessly with any houndstooth-printed or fall-colored trouser in your closet.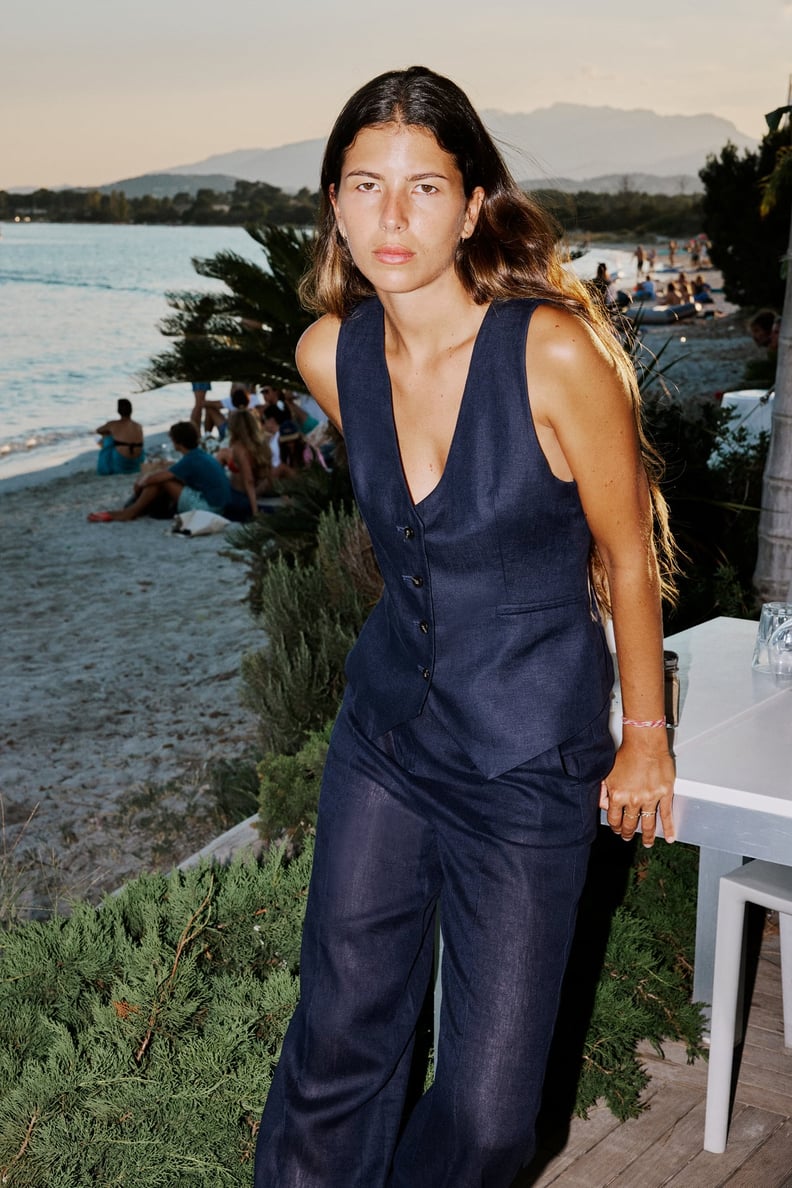 Best Linen Suit Vest: Zara Tailored Linen Vest
It simply doesn't get breezier or chicer than this Zara Tailored Linen Vest ($50). When it comes to nailing seasonal fashion, Zara is always a winner in our books — and this tailored suit vest proves it. Did we mention shoppers can even pair the top with matching, tailored trouser, too?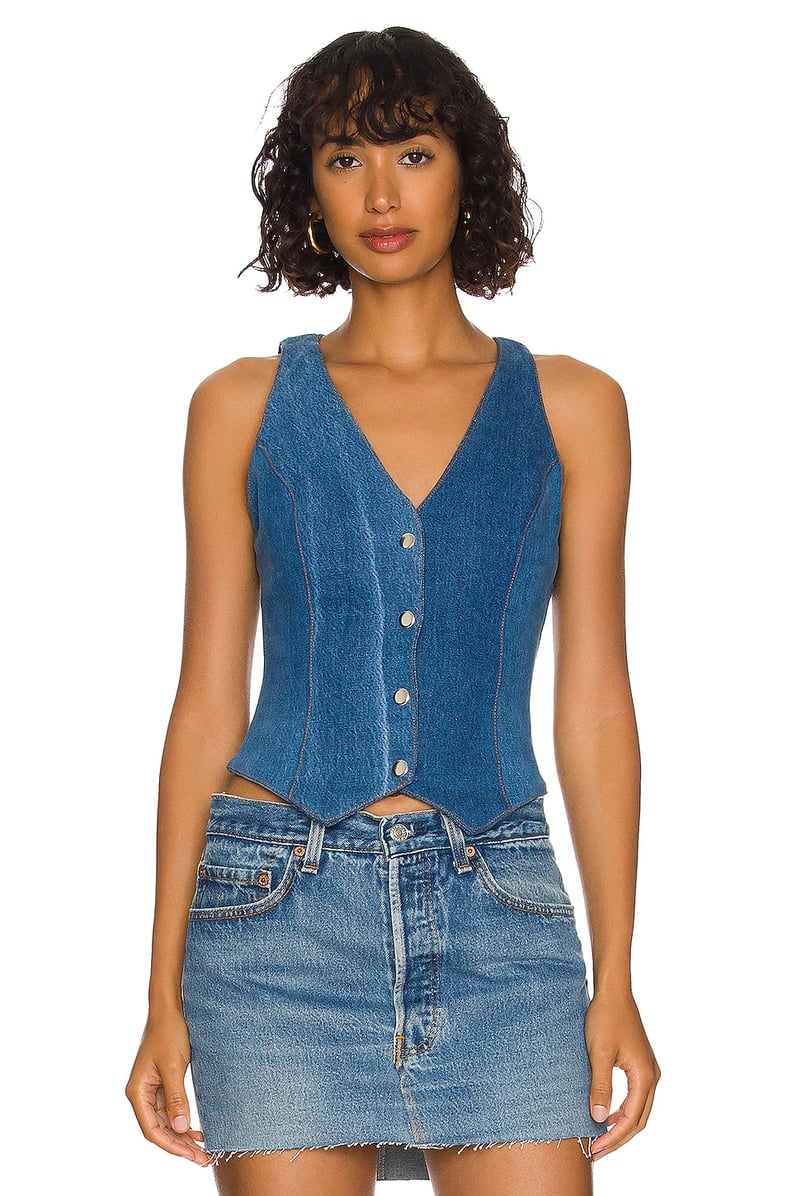 Best Denim Suit Vest: EB Denim Ava Vest in Dark Wash
While suit vests might have a reputation for their polished and clean-cut design, this relaxed EB Denim Ava Vest in Dark Wash ($245) proves that the style is also great for relaxed, daytime wear, too. And if you really want to embrace the resurgence of '90s fashion trends, pairing the denim-centric style with a pair of high-waisted jeans is the way to go!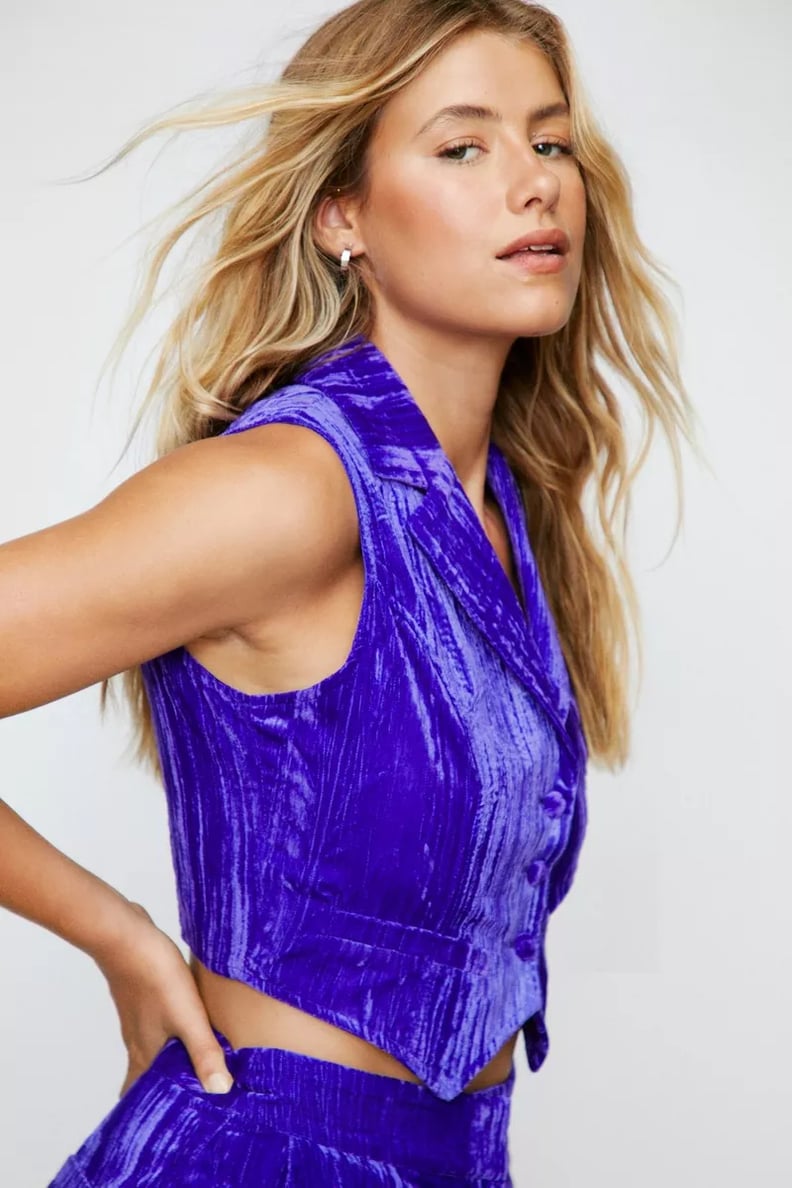 Best Velvet Suit Vest: Nasty Gal Premium Velvet Tailored Vest
Are you looking for a suit vest that's as unconventional and chic as you are? If that's the case, you're sure to love the appeal of this colorful Nasty Gal Premium Velvet Tailored Vest ($45, originally $112). The bright purple coloring of the jacket vest is only half the fun of the style — we also adore its buttery soft, velvet design.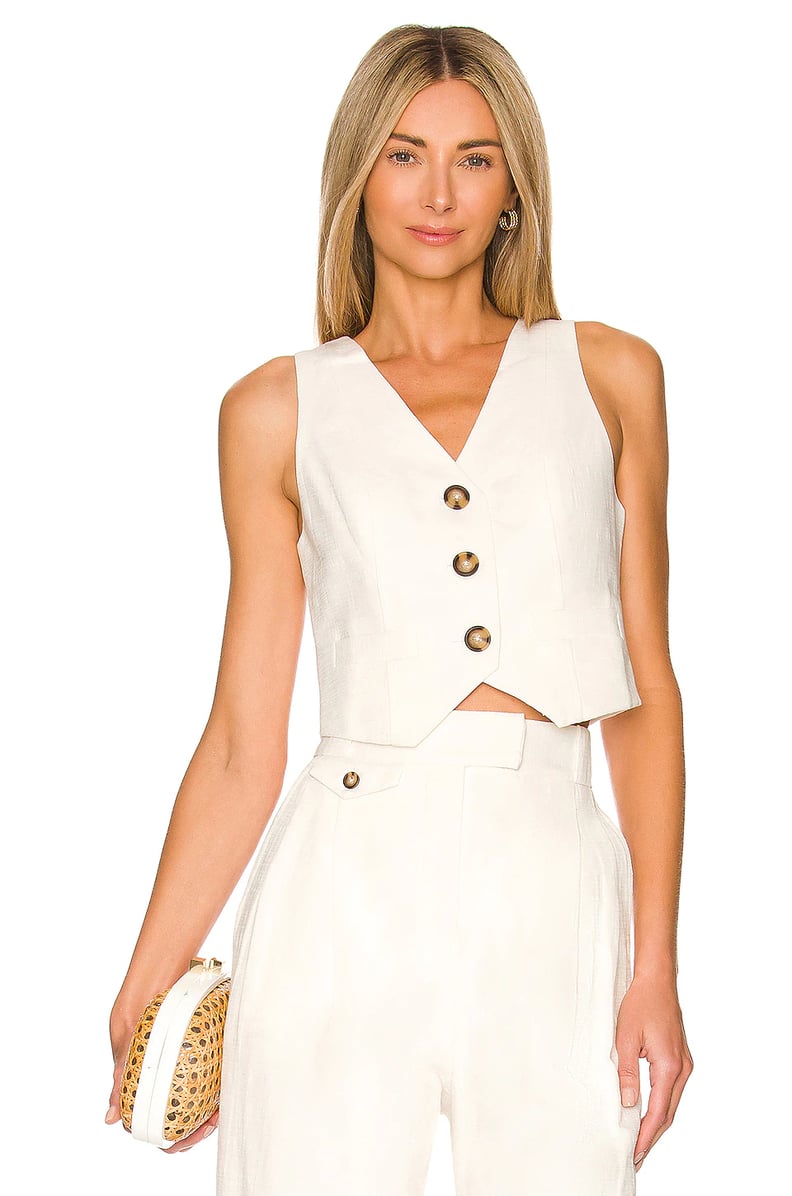 Best White Suit Vest: Shona Joy Priscila Vest
There's so much to love about this Shona Joy Priscila Vest ($180) — but more than anything, we appreciate the style's refreshing versatility. Whether pairing the white suit vest with jeans, matching trousers, or even a high-waisted linen pant, the cropped blouse can go with everything in your closet and be worn in any season!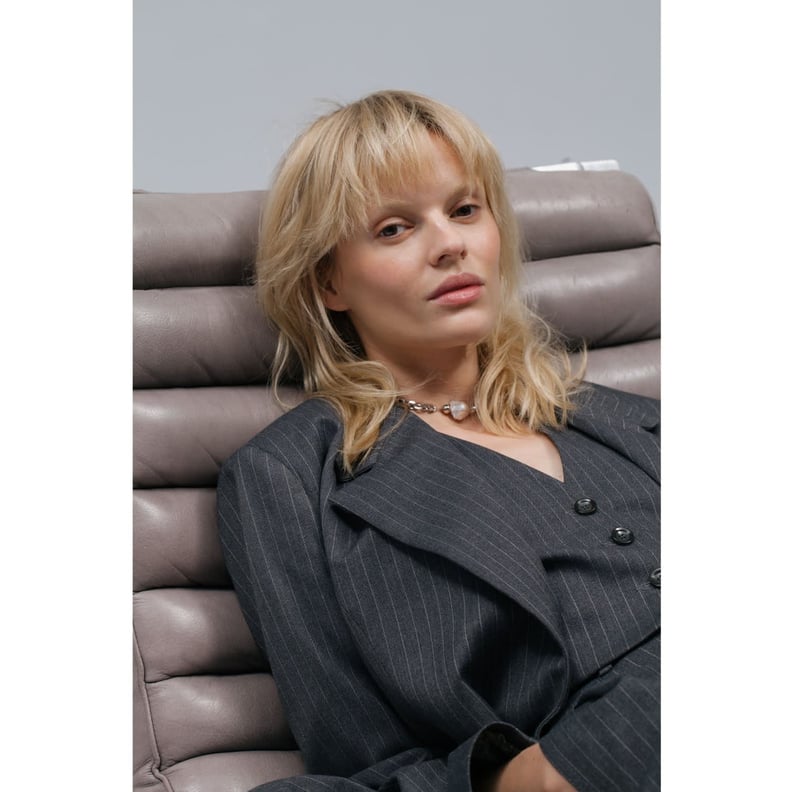 Best Striped Suit Vest: Wolf & Badger Sienna Downtown Grey Vest
It simply doesn't get more '90s-centric than this Wolf & Badger Sienna Downtown Grey Vest ($238). The classically black style is elevated by a muted and subtle vertical stripe detailing that gives a polished, textured allusion. We love that the V-neckline also provides an added sensuality that's perfect for creating a robust, day-to-night look.
Best Tailored Suit Vest: Phillip Lim Tailored Vest
It doesn't get more polished or perfect than this Phillip Lim Tailored Vest ($550). Wrapped in an earthy green coloring, the style boasts a body-hugging design that helps to create a universally flattering silhouette and fit. The side pocket slits complete the look with added elegance, too.