Janet Jackson's Most Iconic Performance Looks, From Crop Tops to Corsets
Janet Jackson made a sparkly return to the Essence Festival, otherwise known as the biggest cultural event for Black women. Joining an all-star lineup of artists, the queen of pop headlined the festival on July 2, and her performance received high praise on the internet. She took the stage at New Orleans's Caesars Superdome in a custom shimmery black jumpsuit by The Blonds. The high-neck, long-sleeve design came covered in sequins and featured metallic inserts at the shoulders and sleeves. Jackson layered a silver waist belt over the look and finished with matching knee-high Christian Louboutin boots, also covered in sequins.
Prior to the performance, the pop icon shared her excitement in an Instagram video, showing her and her dance crew in action during a rehearsal. In the post, the "Rhythm Nation" singer is seen pulling her leg into a heel stretch while her backup dancers practice some steps on her left. "Trying to properly stretch before these rehearsals," she captioned the post.
Jackson was scheduled for the 2020 Essence Fest, which was canceled, so this year's performance was highly anticipated. Her illustrious career has earned her five Grammy awards, 160 million albums sold worldwide, 10 number-one singles, and a permanent place in our collective memory. She has inspired not only with anthems like "Rhythm Nation," "That's the Way Love Goes," and "All For You," but also with her trendsetting style (which drove stars like Kim Kardashian to splurge on her archival look, the iconic "If" outfit) as well as her unwavering commitment to activism. The music industry simply wouldn't be the same without Jackson's contributions.
For all the boundary-pushing looks she's served through the '80s,'90s, 2000s, and well into the present day, confidence hasn't always come easy to her. As she revealed in her recent documentary, her body image issues were exacerbated by her siblings. "I mean, you have someone say you're too heavy," she said. "Even if it was out of love, it affects you." She told Allure in an interview that although it was difficult at times, she eventually started cultivating body positivity over time.
Jackson's rich catalog of performance looks tell the story of a woman growing more confident with each passing year. Her style in the '90s was defined by a Y2K and military-inspired sensibility, seen in ab-baring crop tops, plunging necklines, sharp suits, and baggy jeans. And she remains a style muse today. In honor of her return to Essence Festival, let's revisit some of her best performance looks.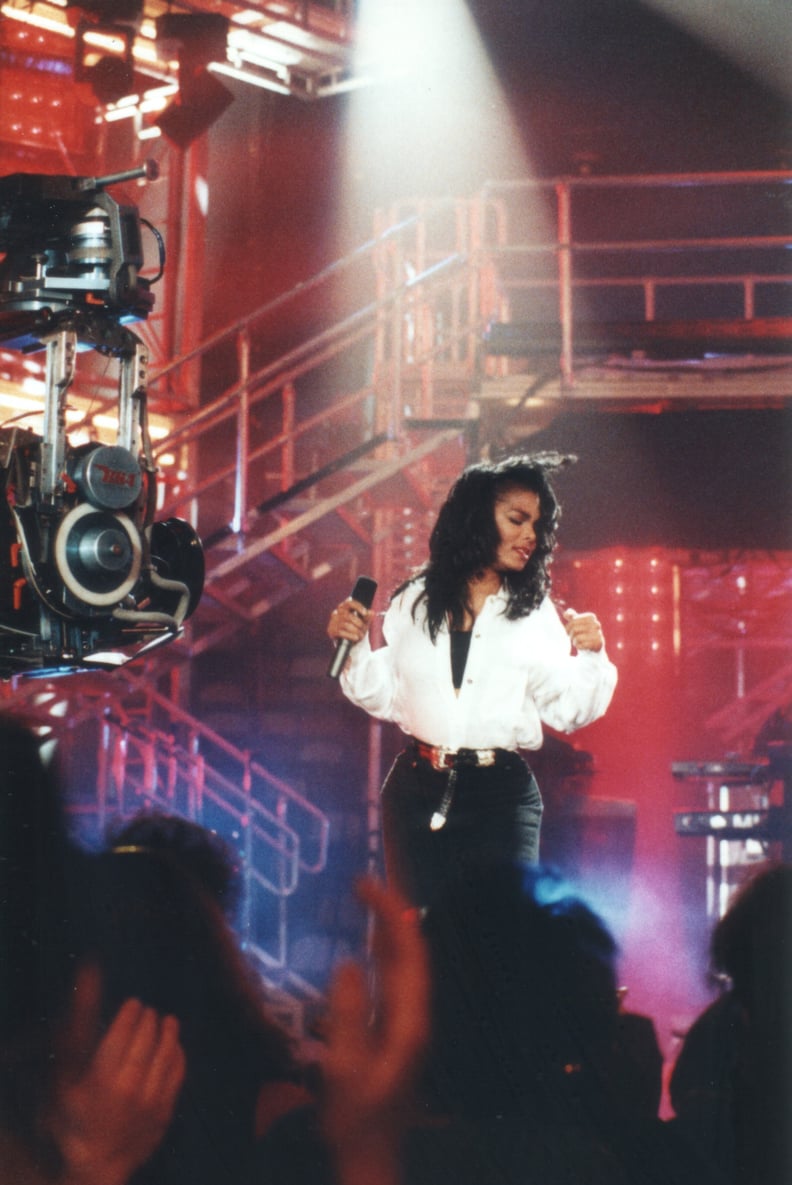 Janet Jackson at the Met Center in Bloomington, MN, in 1990
She looked effortlessly cool in a white button-down shirt tucked into black jeans.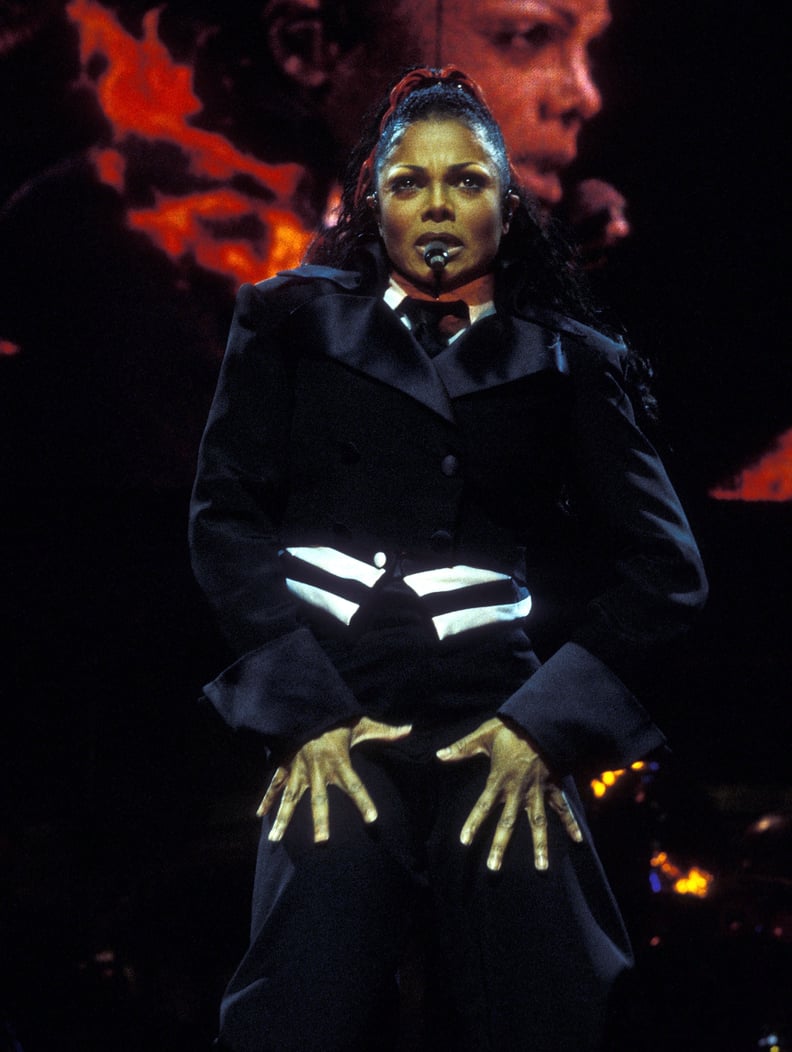 Janet Jackson's "Velvet Rope" Tour in 1998
The music legend stunned in a sharp suit composed of a cropped black blazer worn over a white-and-black striped shirt and black trousers.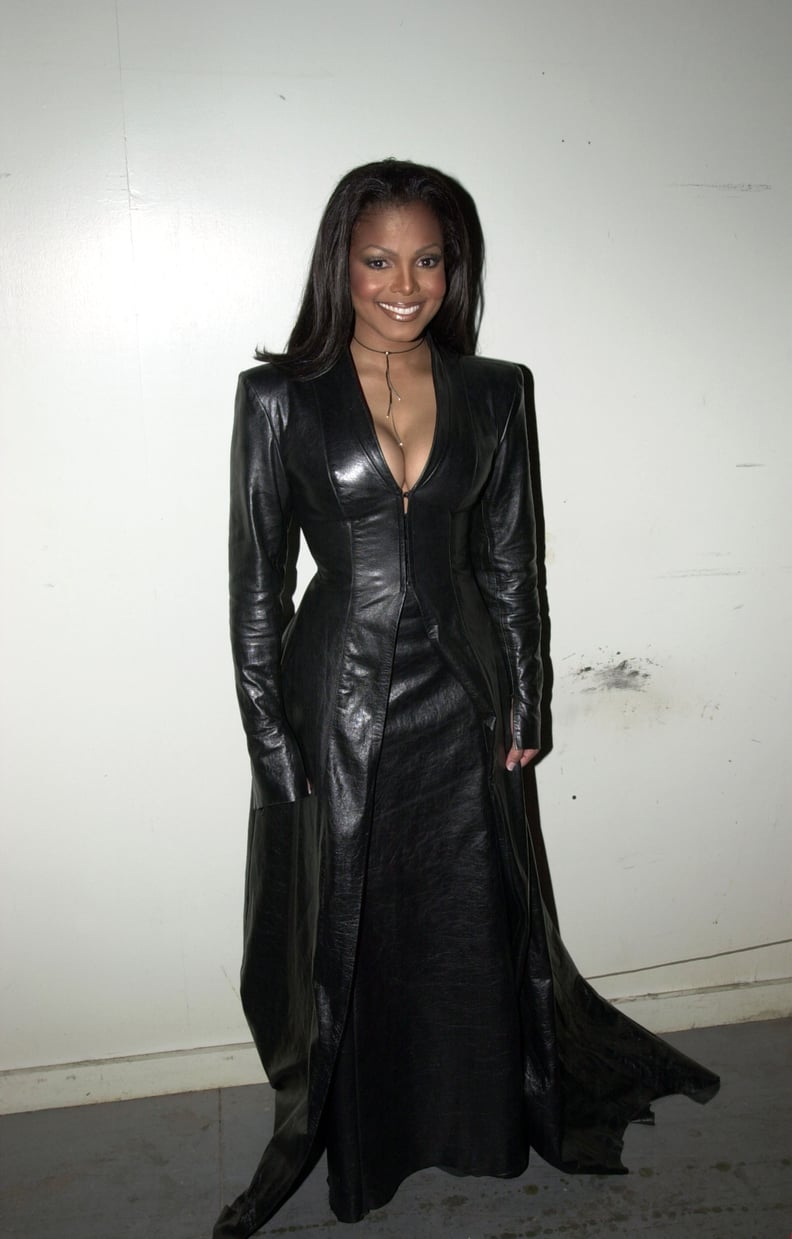 Janet Jackson at the 2000 MTV Movie Awards
Jackson embraced a Matrix-inspired aesthetic in a floor-length black leather coat paired with a matching maxi skirt.
Janet Jackson at the "MTV ICON: Janet Jackson" Show Taping in 2001
The pop star who was named the most successful female recording artist of the '90s by Billboard tapped into Y2K style in a white distressed cropped shirt with slashes on the chest layered over a spangled bra. She finished the look with matching low-rise denim jeans, a denim jacket, and an edgy silver belt chain.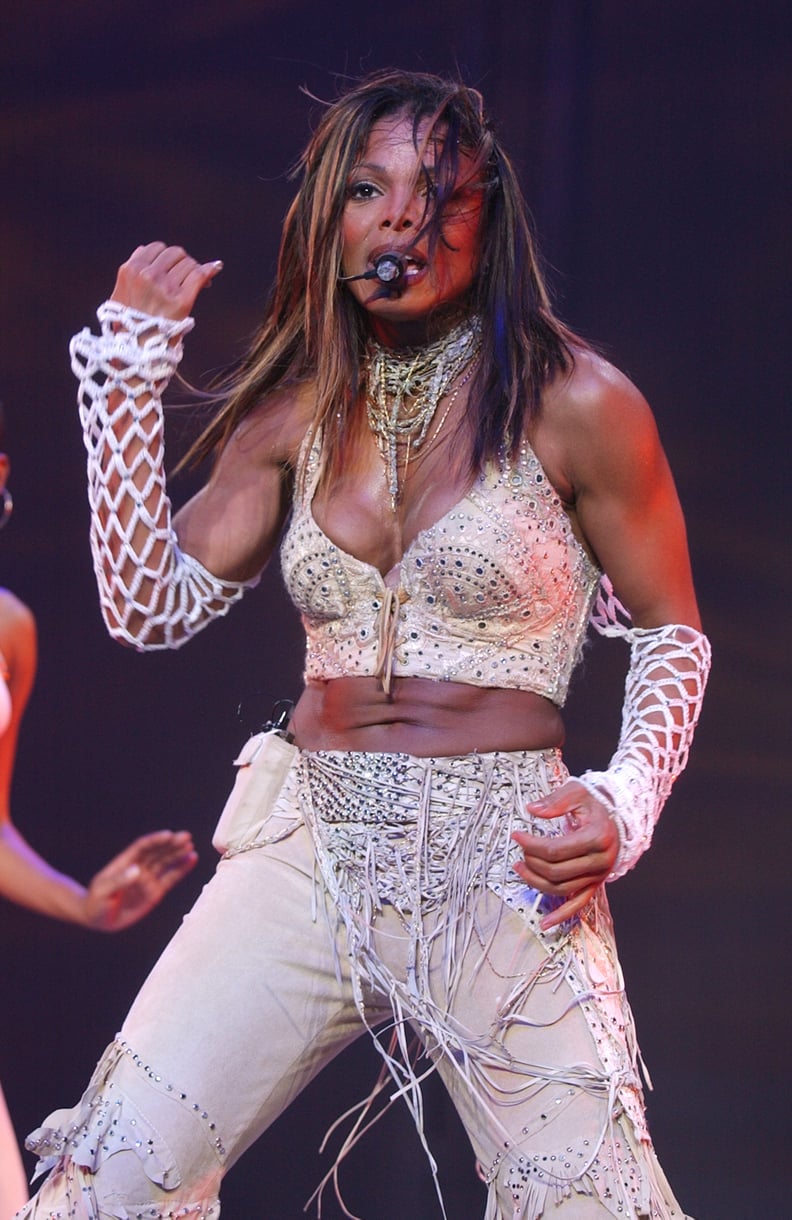 Janet Jackson's "All For You World Tour 2001" at Madison Square Garden
Jackson wowed the crowd at Madison Square Garden in fringe low-rise pants and a bra top with fishnet arm gloves. Her look blended Western influences and Y2K edge seamlessly.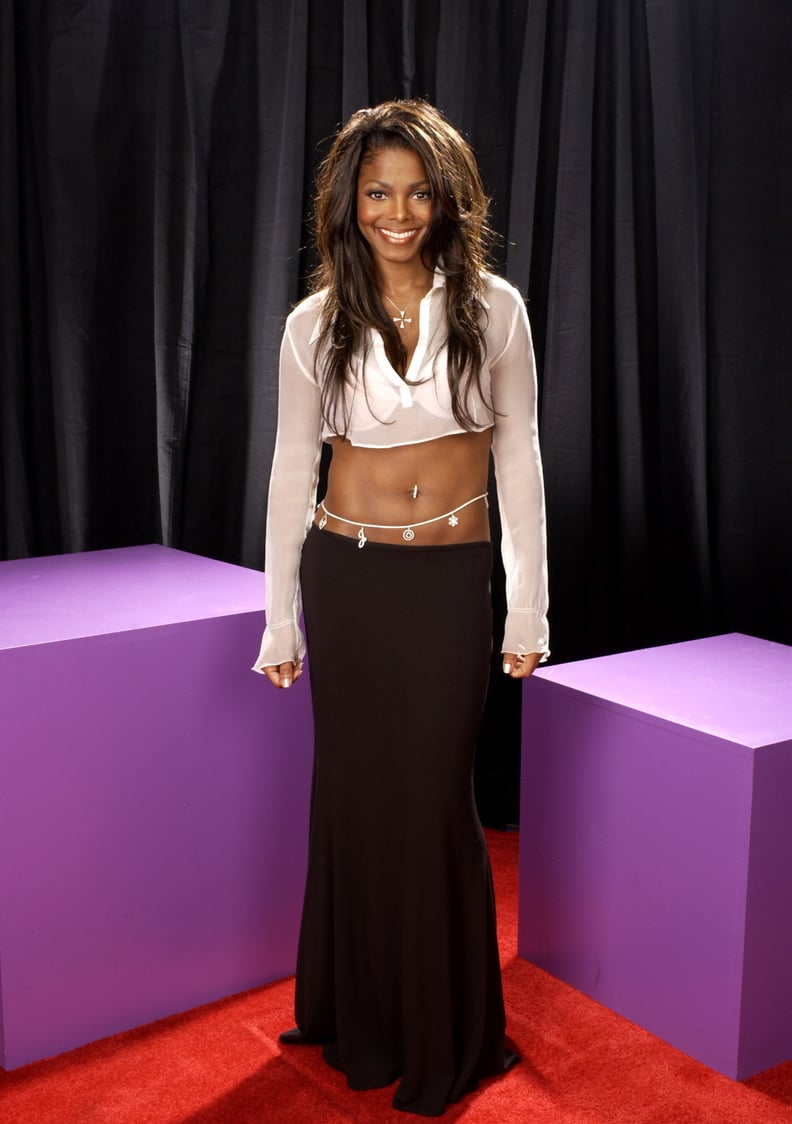 Janet Jackson at the 2nd Annual BET Awards in 2002
The star looked stunning in a black Y2K-style low-rise maxi skirt, a sheer white cropped shirt and a crystal belt chain.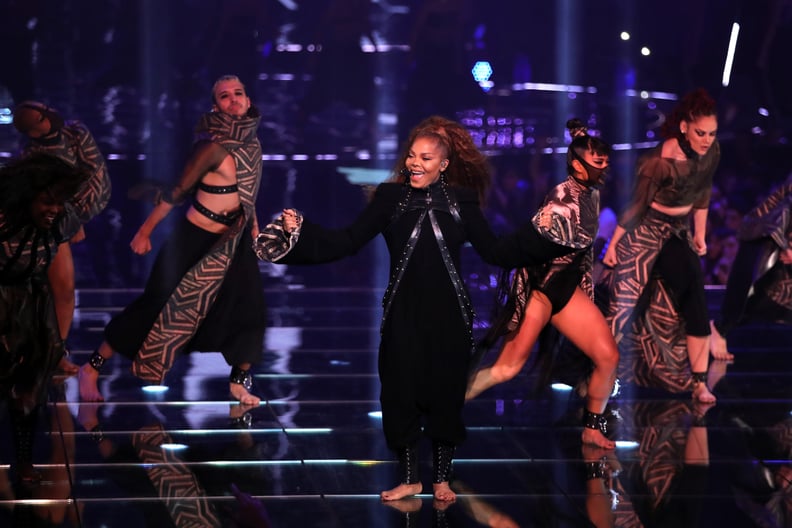 Janet Jackson at the MTV EMAs in 2018
The pop icon styled an all-black jumpsuit with sequin lining and a BDSM-inspired three-layer harness belt.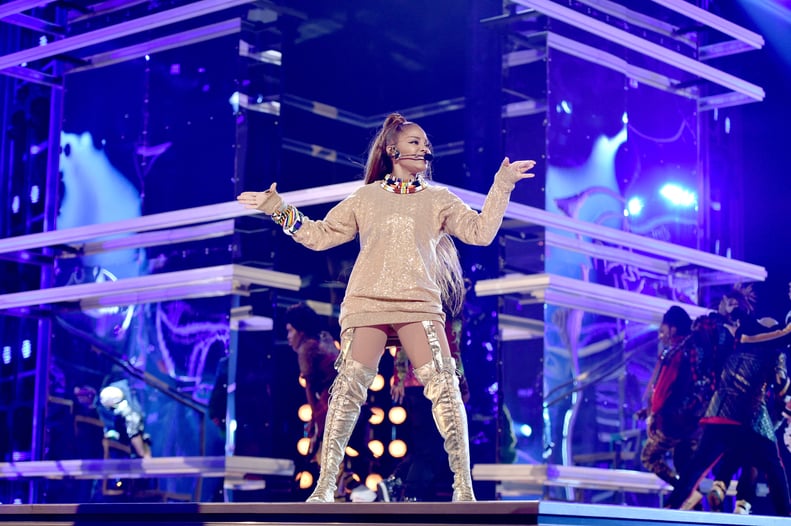 Janet Jackson at the 2018 Billboard Music Awards
Jackson looked golden in a long-sleeved metallic sweatshirt with knee-high, lace-up boots.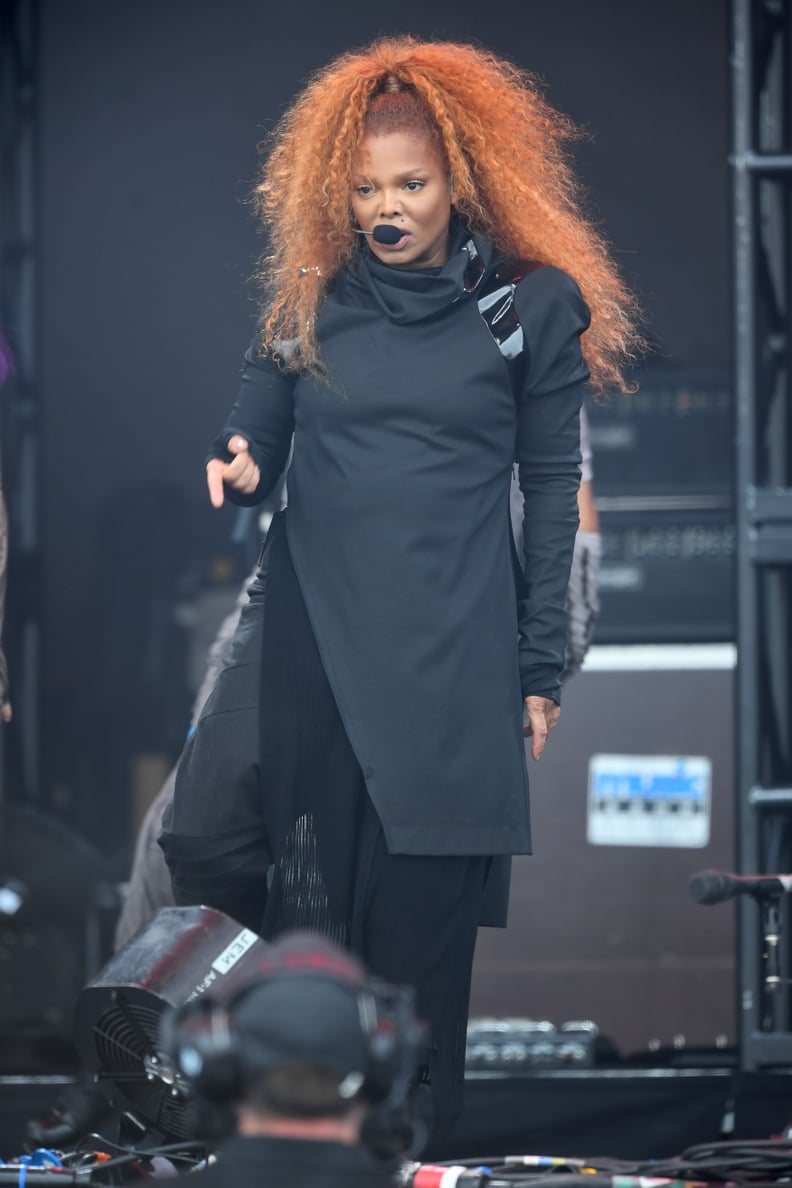 Janet Jackson at Glastonbury Festival in June 2019
She wore an all-black military-inspired ensemble, composed of a long shirt with voluminous sleeves and an asymmetrical hem paired with matching trousers.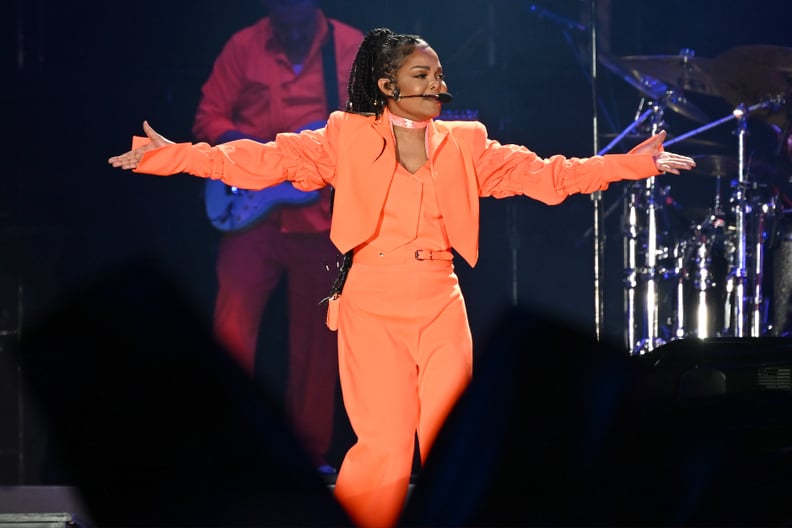 Janet Jackson at The Kentucky Derby in May 2022
Styled by Laurel Thomson, Jackson performed at Lynn Family Stadium in an eye-catching orange belted pantsuit by queer artist Karis Wilde, composed of a buttonless blazer, cropped vest, and tailored trousers.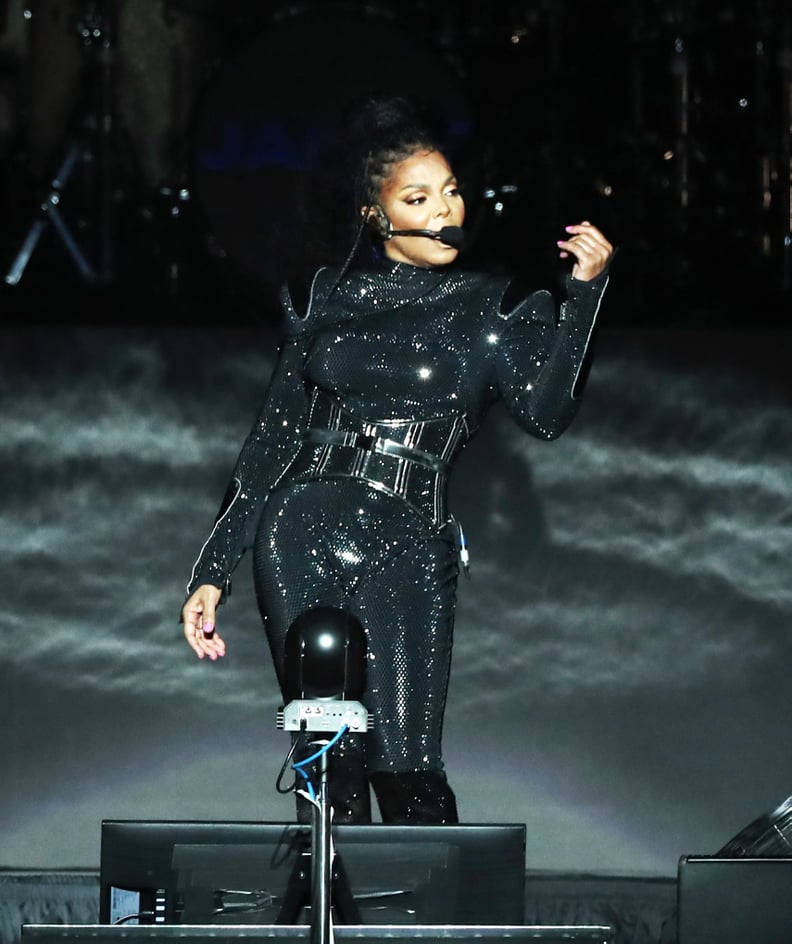 Janet Jackson at Essence Festival in July 2022
Jackson stunned in a sparkly jumpsuit by The Blonds, covered in sequins. She paired it with a silver waist belt and matching knee-high boots by Christian Louboutin.