As one of the fashion industry's most famous models, with access to any stylish look her heart desires, wardrobe expectations are high for Kendall Jenner — especially on Halloween. But the "Kardashians" star has proven, year after year, that she's more than up to the challenge. Whether she's attending a red carpet soiree or just dressing up for an impromptu Instagram photo shoot, Jenner's Halloween costumes are always impressive and well thought out, from her hairstyle down to her choice of footwear.
Jenner's job basically requires her to play dress-up, so it stands to reason that she would fully commit to her costume on the most haunting day of the year. She usually collaborates with her stylist on her Halloween fashion moments, sourcing looks from vintage stores and mass retailers alike.
Over the years, she's transformed herself into everything from a Super Mario Brother — a collaboration with Hailey Bieber — to Karl Lagerfeld, where she made use of a sparkly bodysuit. While she often chooses costume ideas you may recognize, she's not adverse to more obscure references, dressing up as a goth glamour girl in a latex dress and choker, or an '80s fashion guru complete with bike shorts and lace, fingerless gloves. Her most memorable look yet was a pink Halloween costume; she dressed up as a Fembot from "Austin Powers" in a poufy lace babydoll dress that stole the spotlight.
No matter which costume direction she chooses, Jenner is committed to being an endless source of costume inspiration. Check out her best Halloween outfits ahead, and get a head start on planning your own costume.
2014
Jenner and Cara Delevingne went as Mario and Luigi to Adam Lambert's Halloween party in 2014, replete with hats and fake mustaches.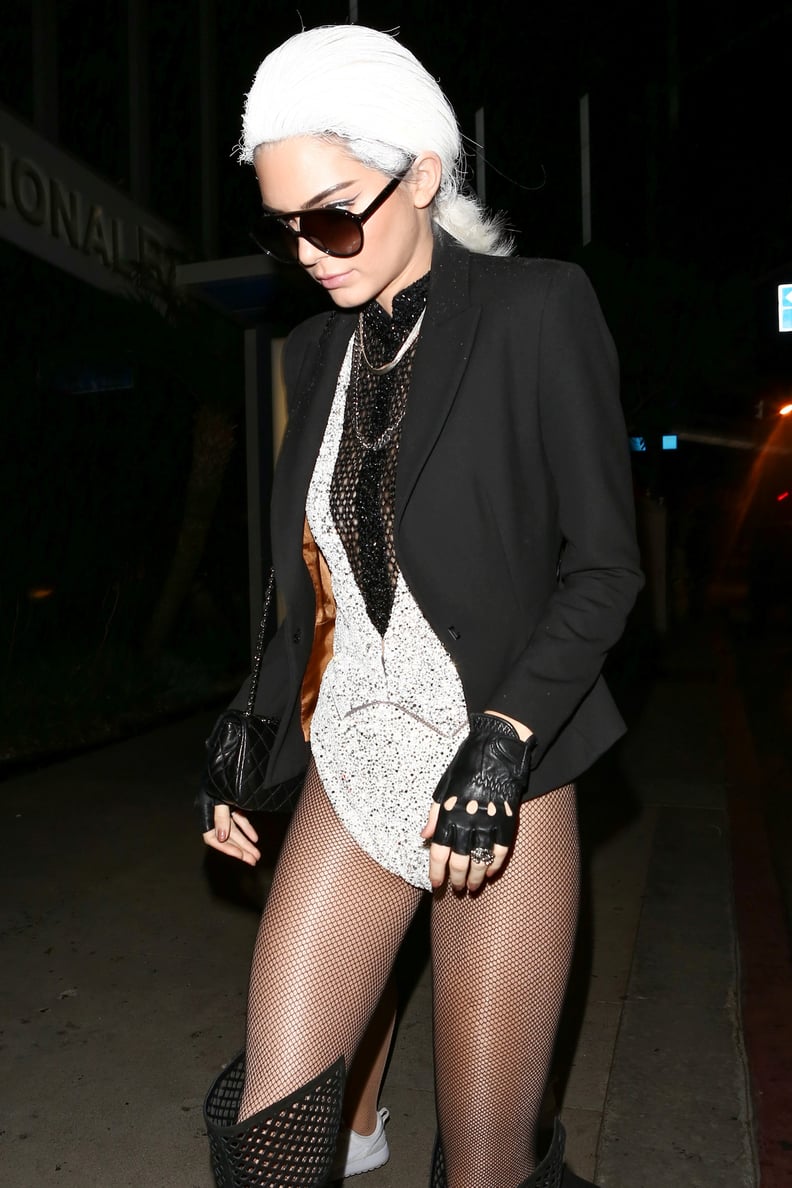 2015
Jenner paid homage to Chanel's Karl Lagerfeld, rocking a glittery bodysuit, thigh-high Sophia Webster boots, and fishnets. She even completed the costume with a friend dressed as Karl's famous cat, Choupette.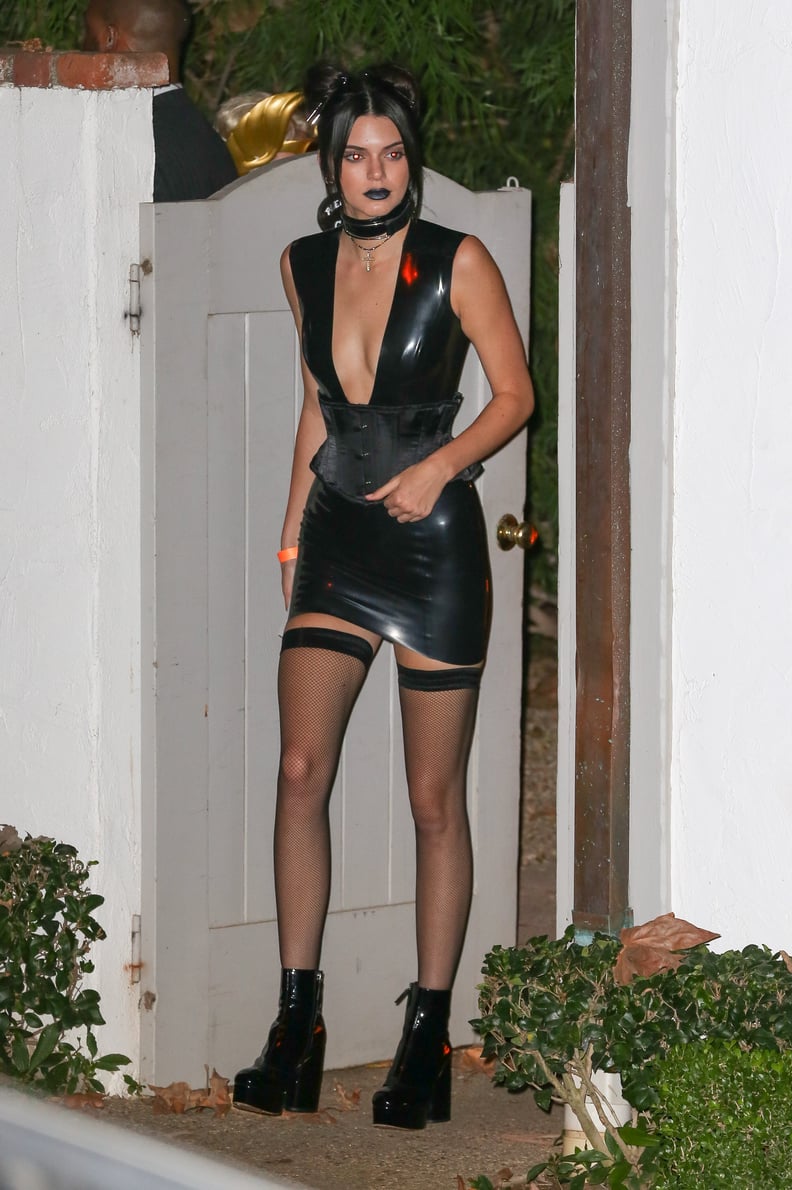 2016
For Kate Hudson's Halloween party, Jenner slipped into a latex dress and corset, thigh-high fishnets, and platform heels. From the plunging neckline to the black lipstick, Jenner commanded the spotlight.
2017
Jenner's former stylist, Marni Senofonte, sourced an entirely vintage "K-St. Laurent" costume, courtesy of shops What Goes Around Comes Around and The Way We Wore. Jenner posed in the one-of-a-kind look, which included a Saint Laurent shorts suit paired with a corseted Gucci blouse and striped Chanel hat.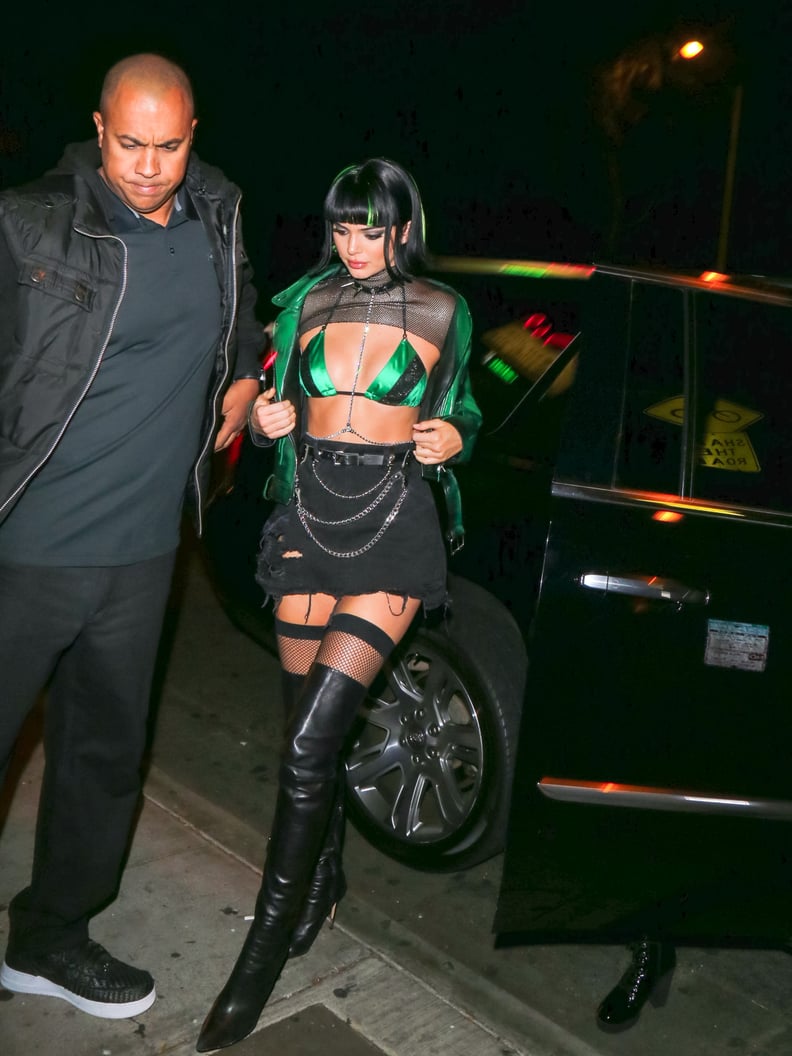 2017
That same year, she stepped out as a Powerpuff Girl, Buttercup, in a custom Bryan Hearns green-and-black striped bra and ripped denim miniskirt. A metallic green jacket, silver body chains, thigh-high fishnet stockings, and boots completed the look.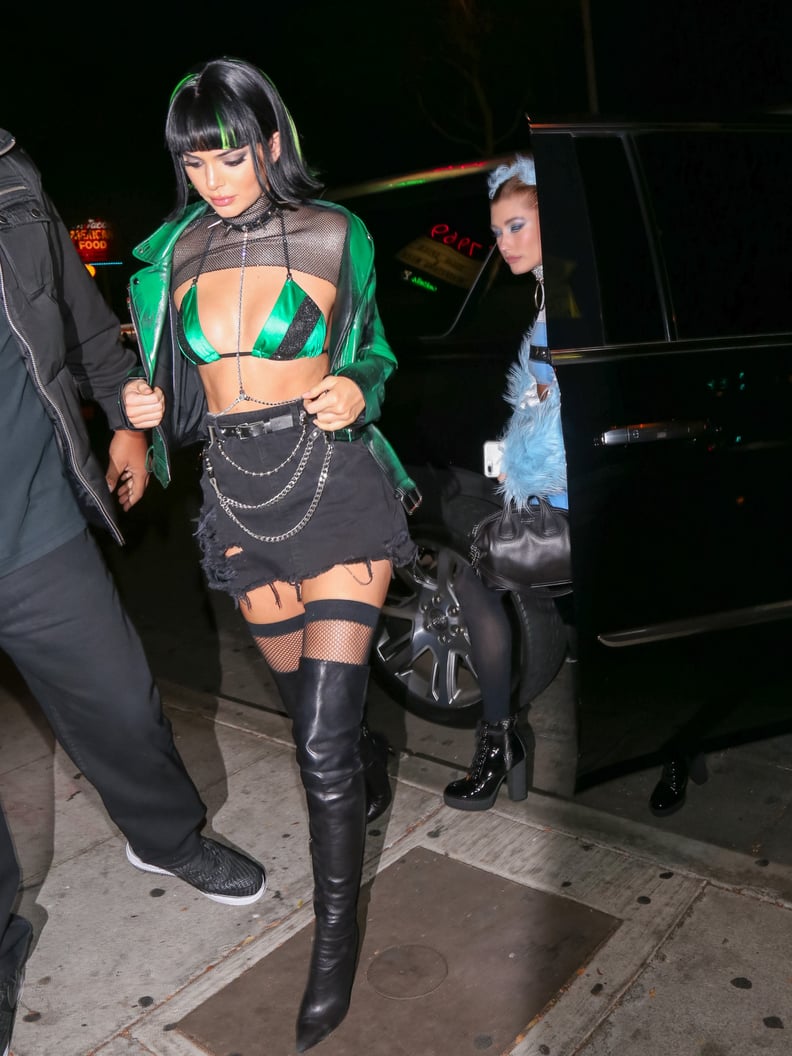 2017
Bieber and singer Justine Skye also joined Jenner, with Bieber dressed as fellow Powerpuff Girl Bubbles.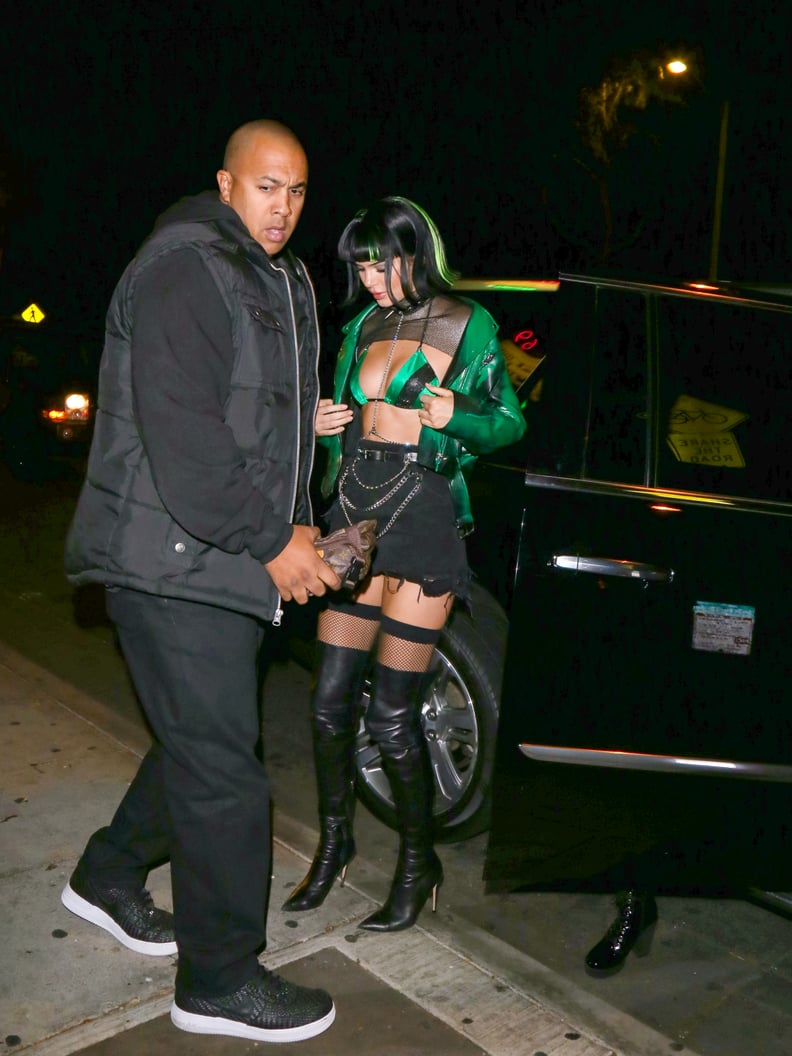 2017
Jenner also added green stripes in her hair and a spiked choker for a dose of edge.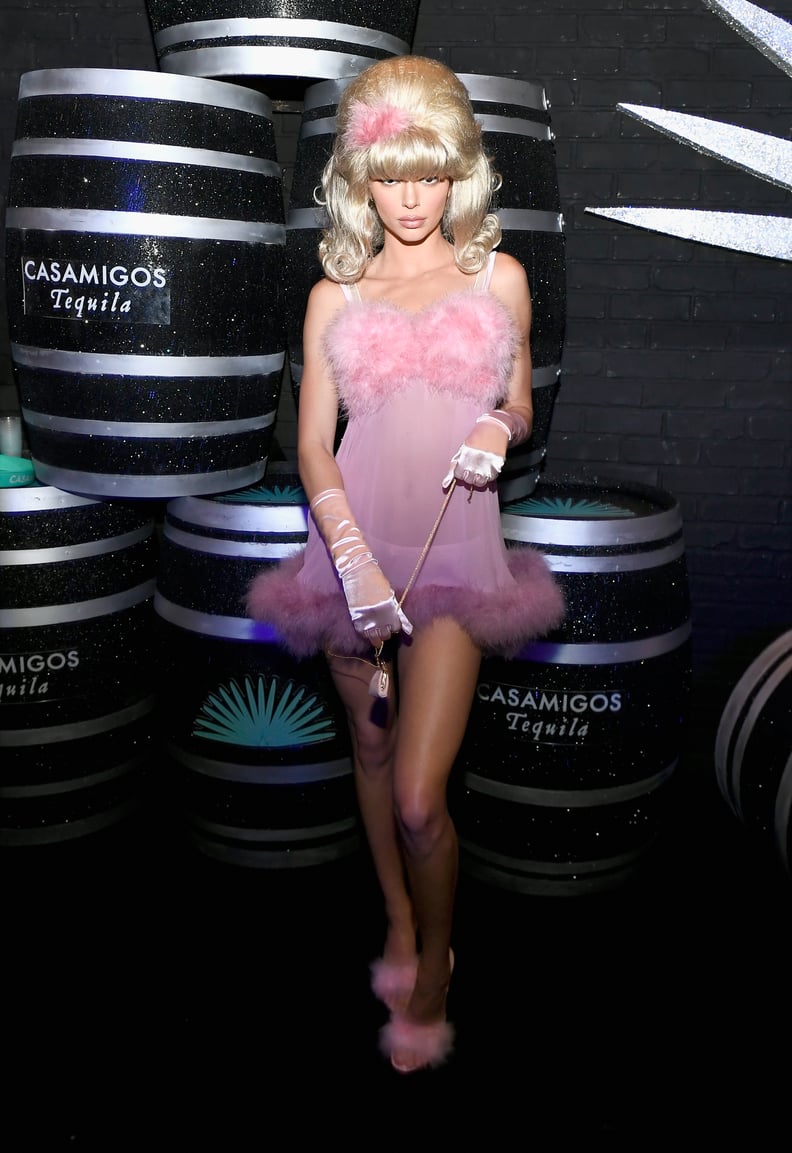 2018
For the Casamigos Halloween party, Jenner dressed as a Fembot from "Austin Powers," pairing a fuzzy pink sheer babydoll dress with matching sandals and gloves.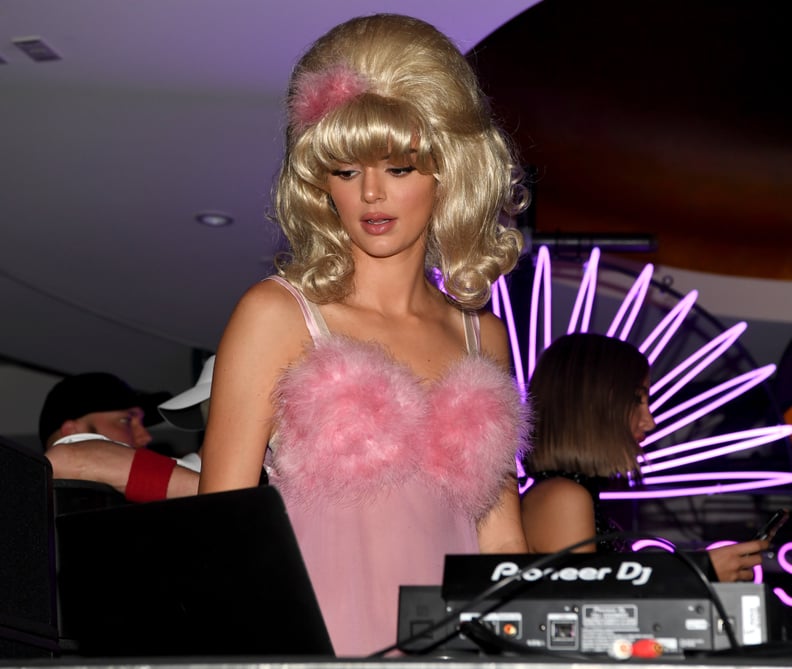 2018
The supermodel wore a blond wig styled in a half-up, half-down look, complete with a pompadour. She accessorized with a poufy pink headband to bring the look together.
2018
Jenner attended the party alongside her friend Fai Khadra, who went full Austin Powers in a suit with an eyelet ruffled blouse and signature black-rimmed glasses.