Lands' End Natural Open Top Beach Bag | Editor Review
This $39 Beach Bag Has Been My Go-To All Summer
As POPSUGAR editors, we independently select and write about stuff we love and think you'll like too. If you buy a product we have recommended, we may receive affiliate commission, which in turn supports our work.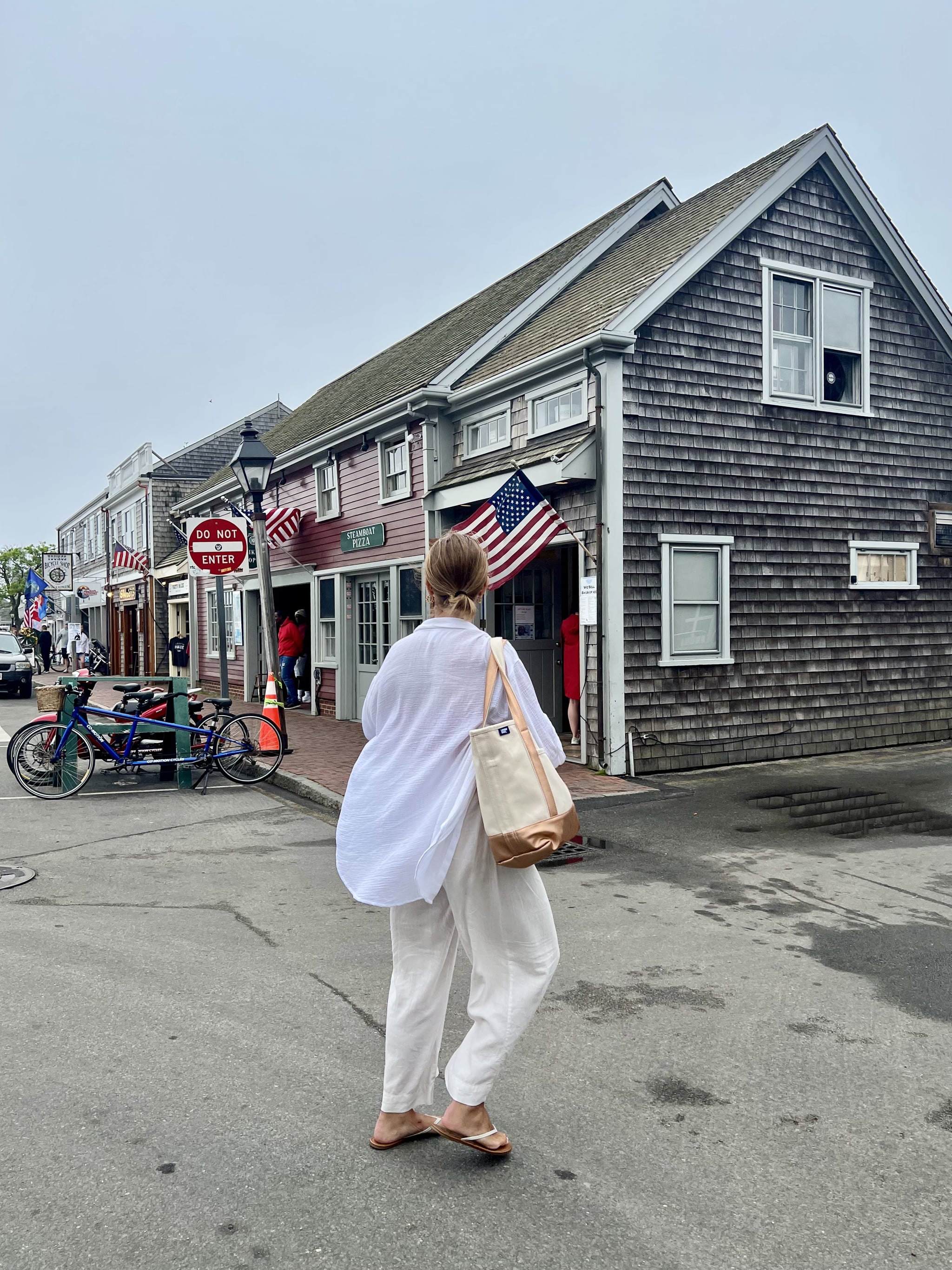 To say I'm a beachgoer is spot on. I visit the ocean any moment I get the chance — for sunset, sunrise (if I'm lucky), and on weekends to lie in the sun. I love being by the water, and ever since I obtained the Lands' End Natural Open Top Beach Bag ($39), it's been by my side for all my ocean adventures. I'm always taking items to the beach, whether it be a laptop, a book, a towel, sunscreen, my phone, or a speaker — I'm never without a bag full of necessities. I've found the Lands' End beach bag to be one of my favorite beach companions. It's durable, and it has a water-resistant base, a plethora of pockets, and a cotton canvas that can withstand a heavy load. It's truly one of my favorite beach bags, and I've owned many.
What I Like About the Lands' End Natural Open Top Beach Bag
Have you ever opened your beach bag only to sift through it (for what feels like hours) trying to find your sunscreen, sunglasses, water bottle . . . etc.? I know I have, but with this beach bag, I haven't had that problem. There's a pocket for everything. Sunglasses? Check. Laptop? You bet. Sunscreen? Yup. Book? You got it. There's even a pocket in the front to put items you reach for often (like a phone). The pockets are deep and hold objects securely without having to worry about them falling out. The bag even has a clip to hook your keys to — I swear Lands' End thought of everything. Aside from its incredibly useful pockets, this bag is made with impressive quality. You can tell by touching it that it won't fall apart. Its wide seams allow it to stand upright when you put it down, and the brand's website says it is strong enough to hold up to 500 pounds. I've taken this bag on trips where I've filled it to the brim with miscellaneous items, and it held everything with ease. I even have taken it on an airplane as a carry-on, and it worked perfectly fine.
What's Worth Noting About the Lands' End Natural Open Top Beach Bag
The bag comes in tons of color options and can be monogrammed. You can also choose to purchase it in different styles and sizes. Whether you want a zip top or an open top, a bag that's medium, large, or extra large (I have the medium, for reference), or you want a long or regular handle, there are a handful of options to choose from.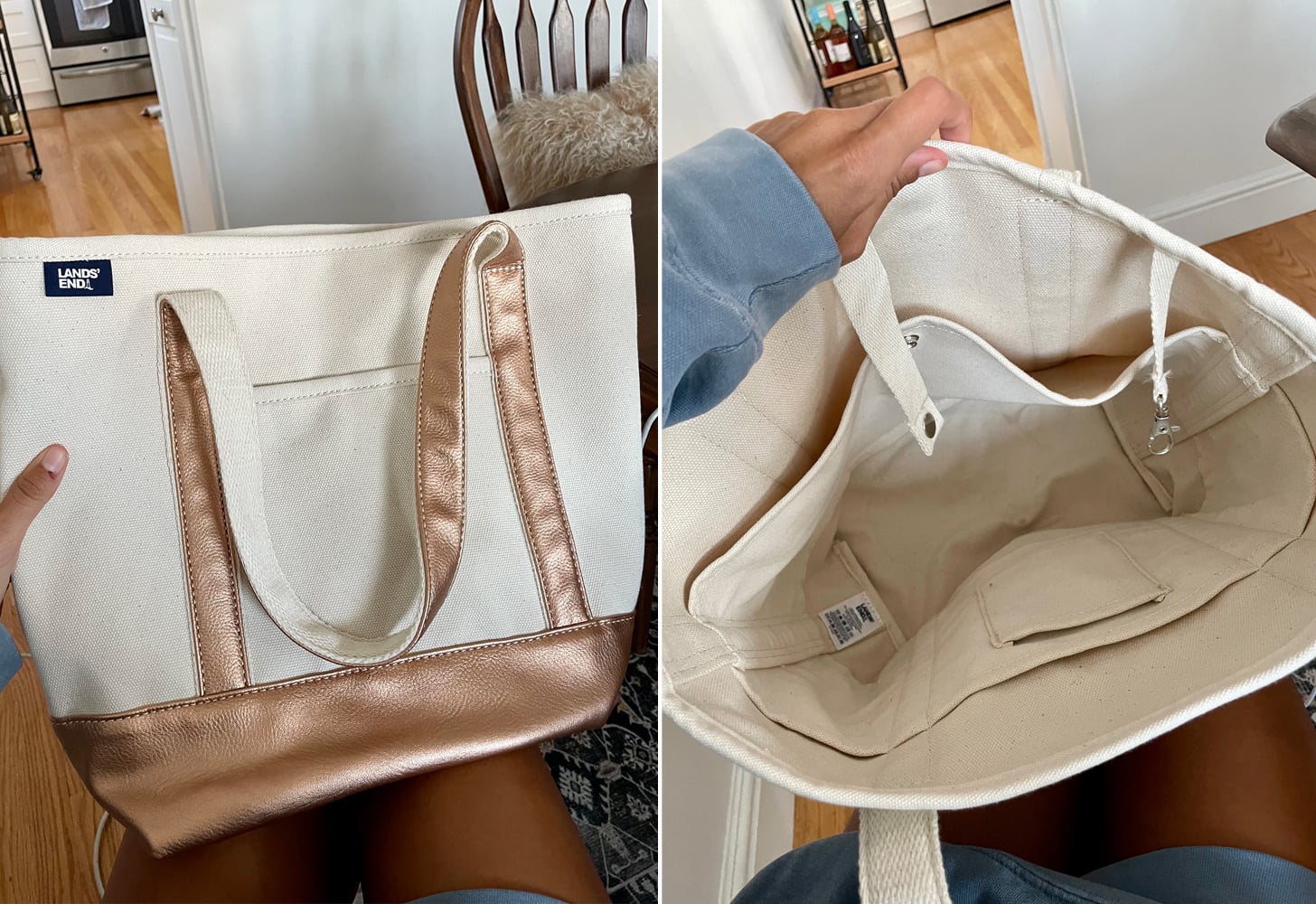 Who Is the Lands' End Natural Open Top Beach Bag Best For?
This bag is great for everyone. Not only for those who go to the beach but for people who travel consistently as well. Its pockets make it super easy to find everything you need, it can be spot cleaned relatively easily, and it can be taken as a carry-on when jetting off somewhere. If you choose the zipper design, it doubles down on ensuring your items stay in place. I personally have the open-top version of this bag and use it for everything — travel, vacations, as a purse, you name it.
Additional Details
This bag has a water-resistant base and trim.
It contains one outside pocket and four interior pockets.
The canvas is made of 100 percent cotton.
You can add a monogram, embroidery, or both.
Where Is the Lands' End Natural Open Top Beach Bag Available?
As of right now, you can purchase the Lands' End Medium Natural Open Top Beach Bag at Kohl's ($39), Target ($39), and the Lands' End website ($23, originally $39).
Editor's Rating
Image Source: POPSUGAR Photography / Haley Lyndes