11 Extra-Large Beach Towels That Cover You From Head to Toe
As POPSUGAR editors, we independently select and write about stuff we love and think you'll like too. If you buy a product we have recommended, we may receive affiliate commission, which in turn supports our work.
Have you ever grabbed a towel for the beach only to find it's a few sizes too small? I have, and it's not ideal. There's nothing better than hopping out of the water and wrapping yourself in an oversize towel that covers your whole body. It feels like a warm hug, and its large size can later be used as a place to lie down on the sand. The average beach towel hovers around 30 by 60 inches, which is great if you're five feet tall, but any taller and you'll likely find your legs hanging off its ends. Extra-large beach towels are typically longer, more spacious, and overall a safe bet for those who want more coverage while lying out in the sun. Even if an average beach towel suits you, there's no denying a longer one doesn't come with more benefits (like less sand in your bathing suit).
We gathered 11 incredible extra-large beach towels that are long, plush, comfortable, and stylish. From absorbent and thick striped beach towels that will dry you off in seconds to towels with colorful and fun designs to even some with fringe on their ends, it's hard to choose just one. If you're interested in a towel that's large enough for you to stretch out on, take a look at our top picks for extra-large beach towels ahead.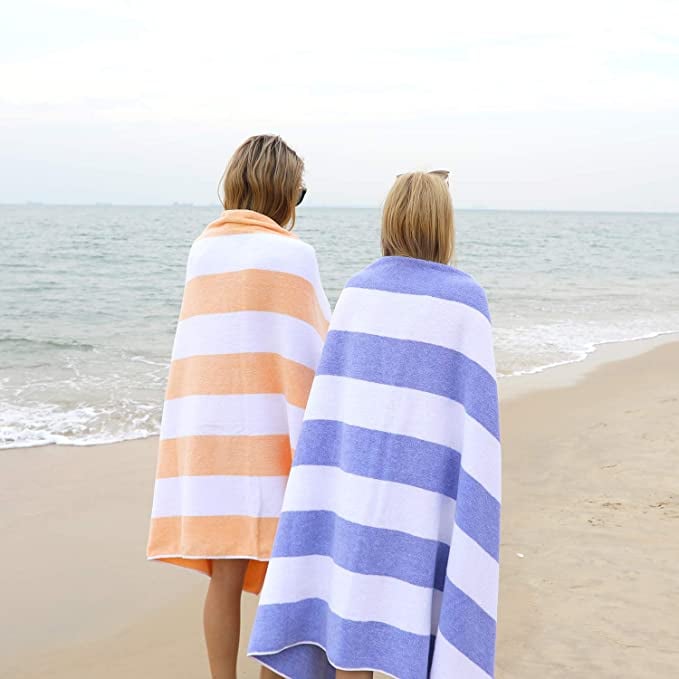 Best Plush Extra-Large Towel: Clowood Plush Oversized Beach Towel
If you're looking for a striped towel that's both plush and breathable, this Clowood Plush Oversized Beach Towel ($30, originally $39) is the one. This towel is 40 x 72 inches with a five-star quality that can easily shake off sand, dry you off, and be washed in the washing machine without ever fading. Made of bamboo and cotton, this towel deserves to be your new beach companion.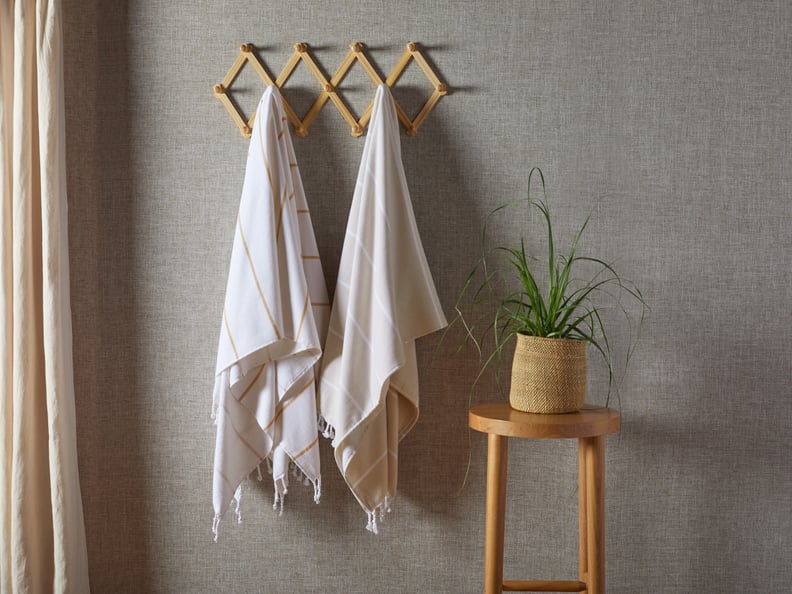 Best Lightweight Extra-Large Towel: Oversized Beach Towel
Coming in at 57 x 70 inches, this Oversized Beach Towel ($69) is almost double the width of a regular towel. Its Turkish cotton material is lightweight and will dry off quickly and easily in the sun. Made without harmful chemicals and synthetics, you can feel good about wrapping yourself or a loved one in this fringe towel.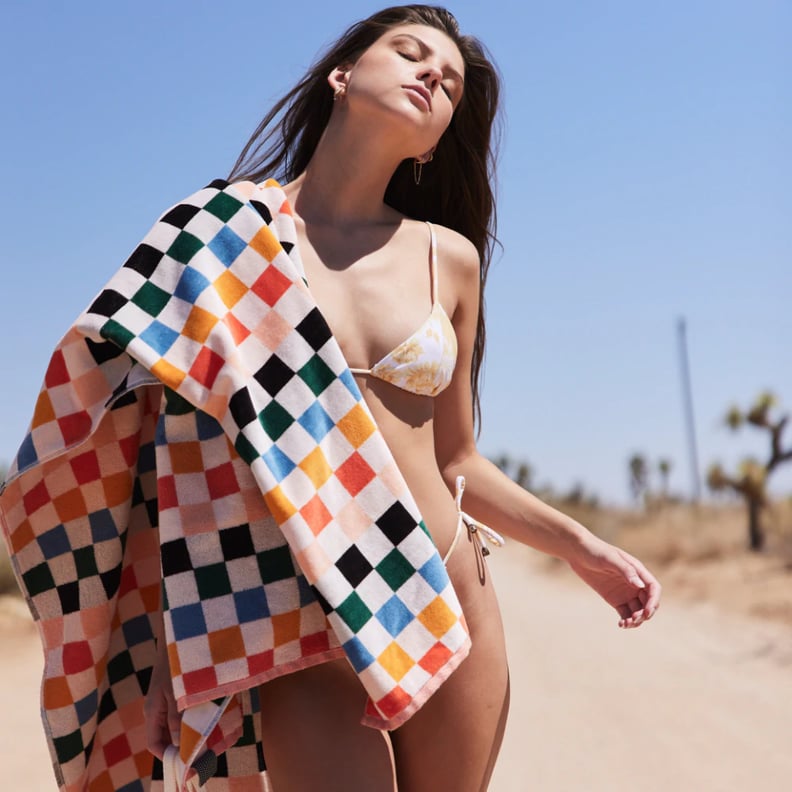 Best Colorful Extra-Large Towel: Sundown Oversized Beach Towel
If you're looking for a towel that best reflects your summer energy, this Sundown Oversized Beach Towel ($70) is it. It's 40 x 70 inches, which is large enough for you and a friend to sit on. We love the colorful checkered print that can be spotted from yards away.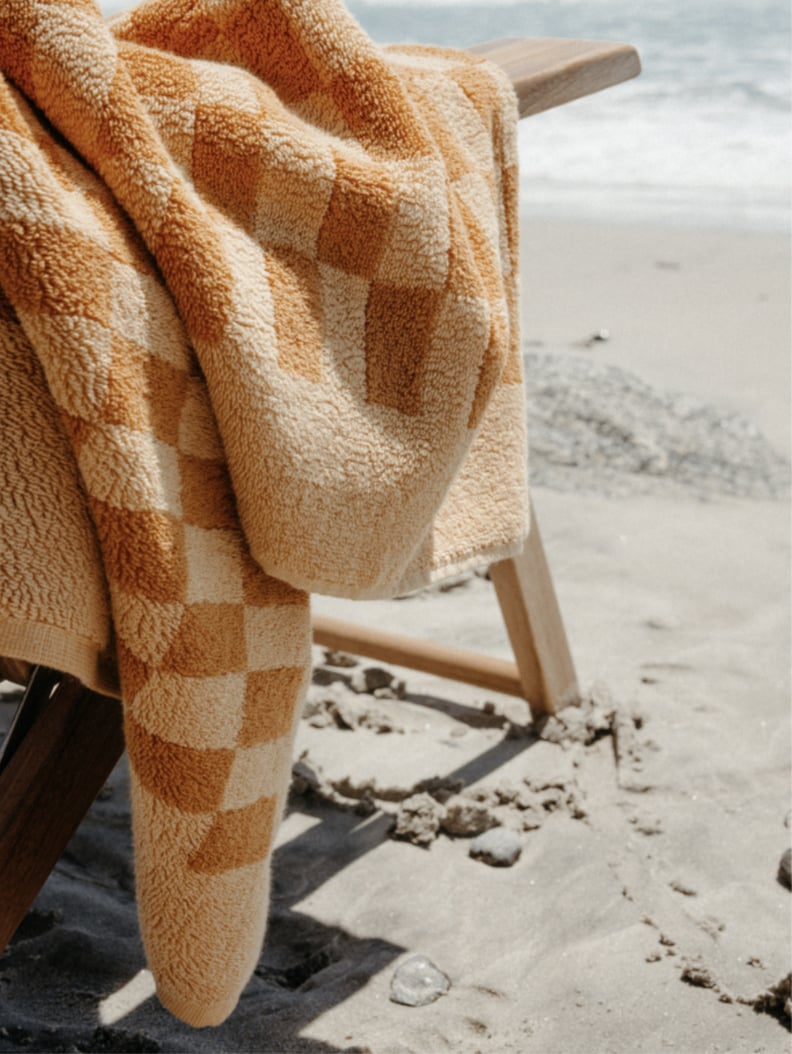 Best Vintage Extra-Large Towel: Beach Towel Gold Business & Pleasure Co. Design Adult
Checkered print is very in right now, and this Beach Towel Gold Business & Pleasure Co. Design Adult ($97) reflects it. It's handmade from 100 percent cotton and slightly larger than the average towel, landing at 34 by 66 inches in size. Its toweling gives it a luxurious feel, and its checkered print makes it appear like it's from the '70s.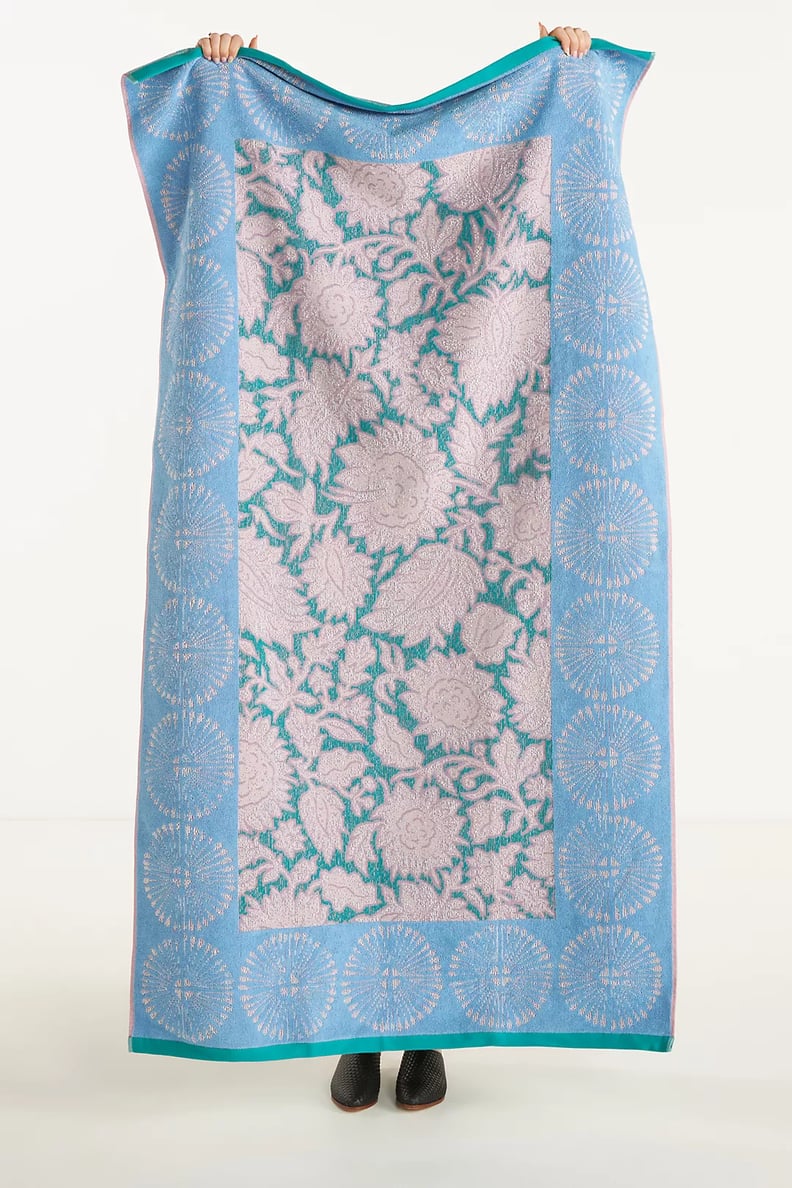 Best Eco-Friendly Extra-Large Towel: Mixed Motif Beach Towel
This gorgeous oversize Mixed Motif Beach Towel ($46, originally $58) shows off a beautiful pink and blue motif. It's made of 100 percent cotton and Oeko-Tex certified, meaning it's free of over 300 harmful chemicals, toxins, and irritants. It is 40 by 70 inches and not only looks good but feels good to own, too.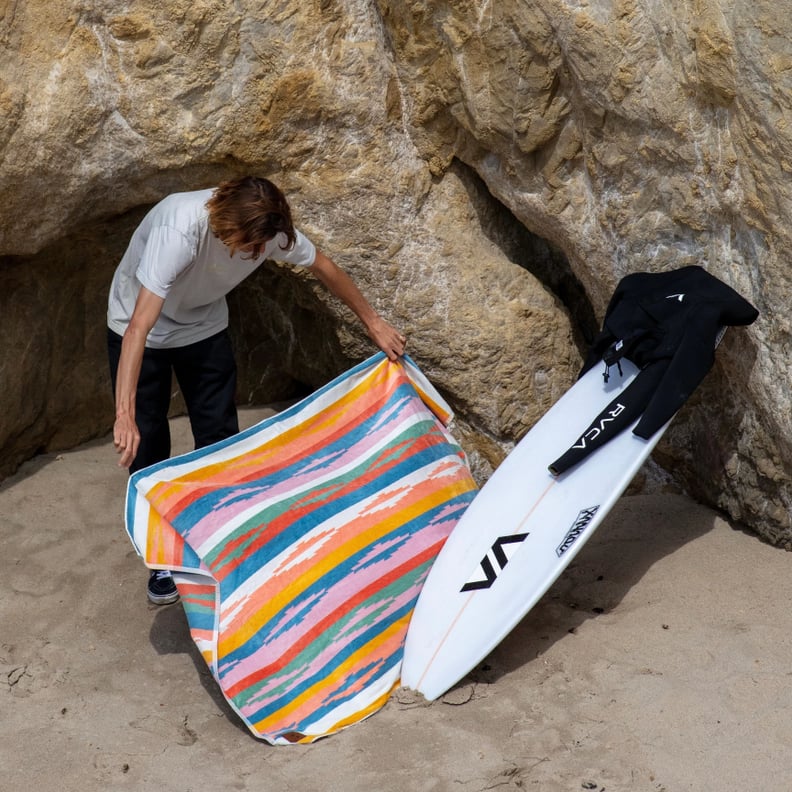 Best Thick Extra-Large Towel: Duvall Oversized Beach Towel
Express your passion for the beach with this Duvall Oversized Beach Towel ($70). It has a heavily looped terry back that's thicker than the traditional woven towel and features a drawcord loop for drying. Wrap it around you once, and you'll never want to take it off — it's that comfortable.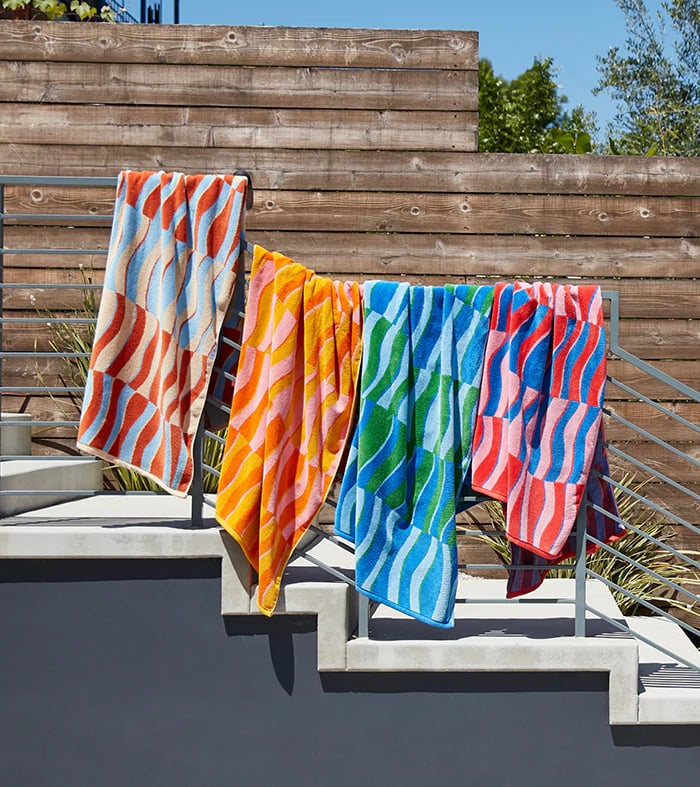 Best Absorbent Extra-Large Towel: Wave Runner Beach Towel
Pick up on a '70s vibe with this Wave Runner Beach Towel ($65). Its design is inspired by water, sand, and waves to give a free-flowing look to your beachwear. Hang it off the back of your chair, and no one will ever miss your beach setup. It's 34 by 70 inches, making it just oversize enough without going over the top.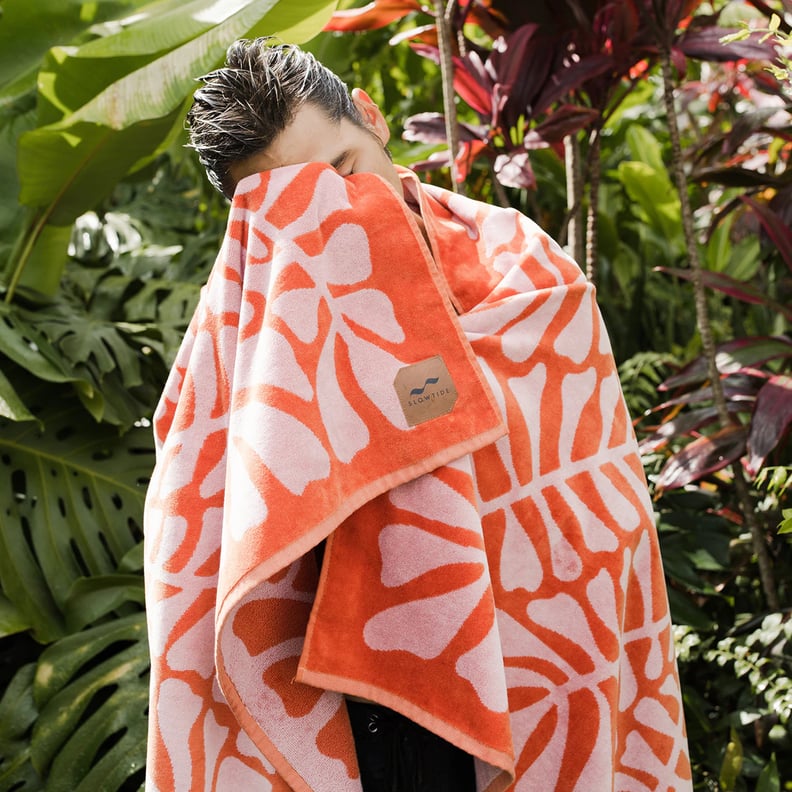 Best Quick-Drying Extra-Large Towel: Hapa Oversized Beach Towel
No one likes a towel that takes too long to dry, and this Hapa Oversized Beach Towel ($70) will dry in an instant when left in the sun. It's made with a jacquard weave that's comfortable and breathable, so you can use it multiple times at the beach or pool without it feeling damp. It comes with a unique hanging loop for drying, which allows it to air out even faster.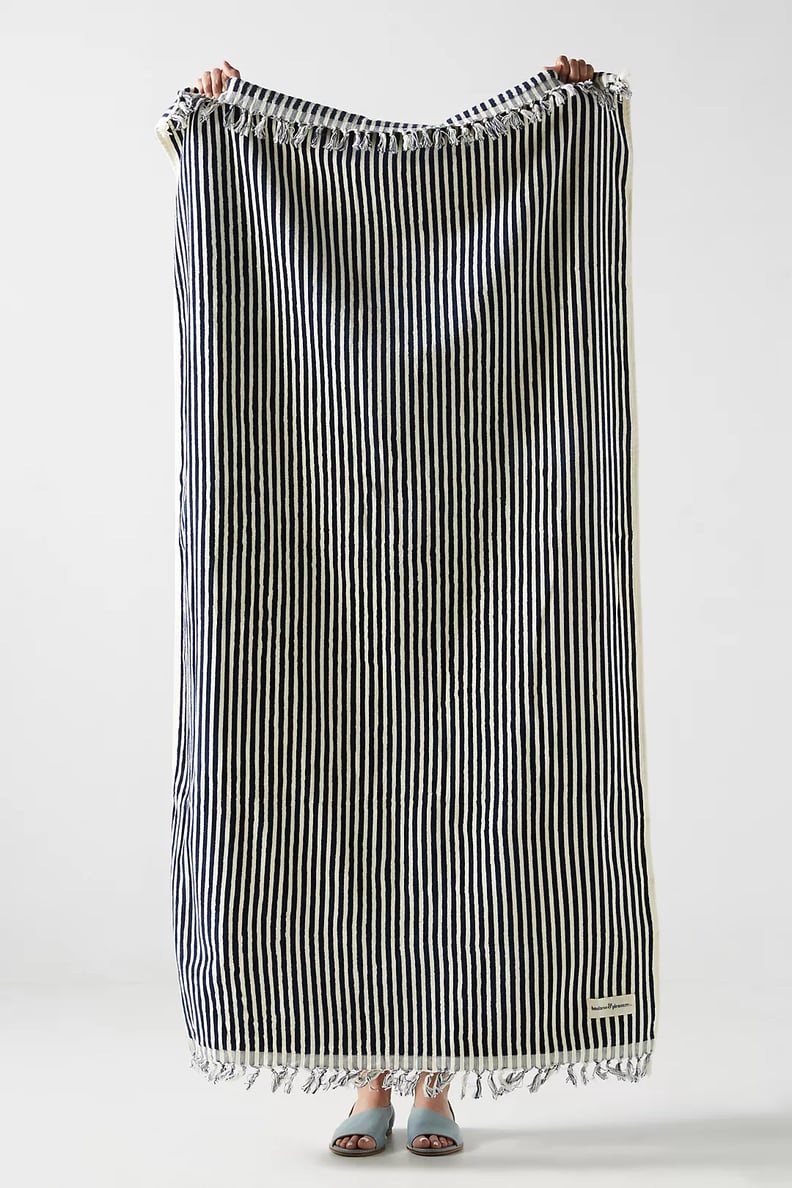 Best Fringe Extra-Large Towel: Business & Pleasure Co. Stripe Beach Towel
Not only is this Business & Pleasure Co. Stripe Beach Towel ($79) made of high-quality materials, but it's extremely stylish, too. Toss it over your beach chair, and prepare to rake in the compliments. It's 34 by 66 inches, making it the perfect size for an adult.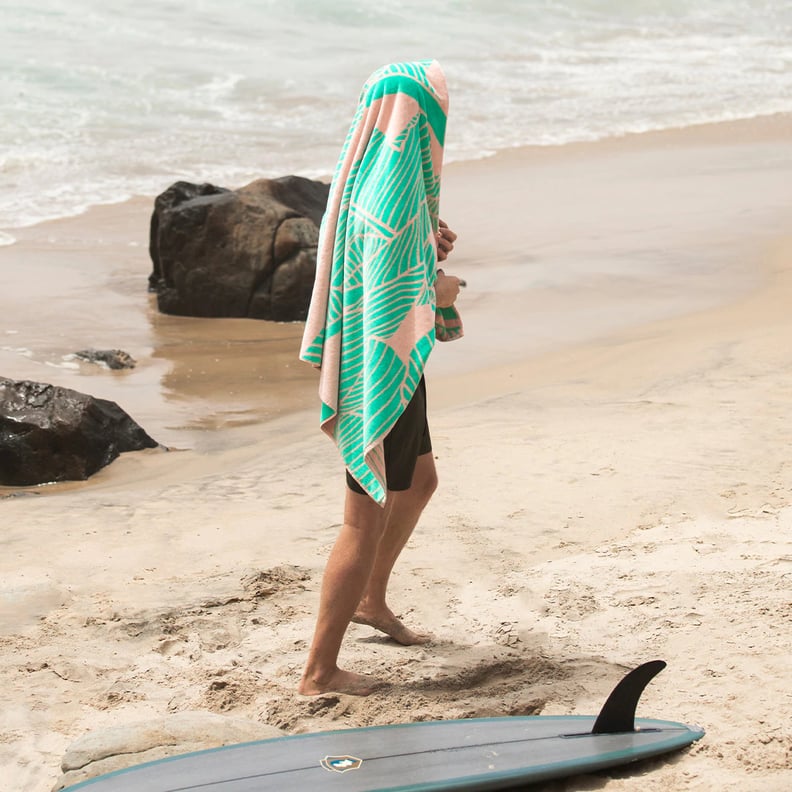 Best Bright Extra-Large Towel: Iholena Beach Towel
If you want a towel that will make an impression, this Iholena Beach Towel ($70) will do the trick. The towel shows off bright pink and green colors that will stand out from the rest. It's perfect for the beach, pool, or lake, and it's 40 by 70 inches, which can comfortably fit a 5'8" adult.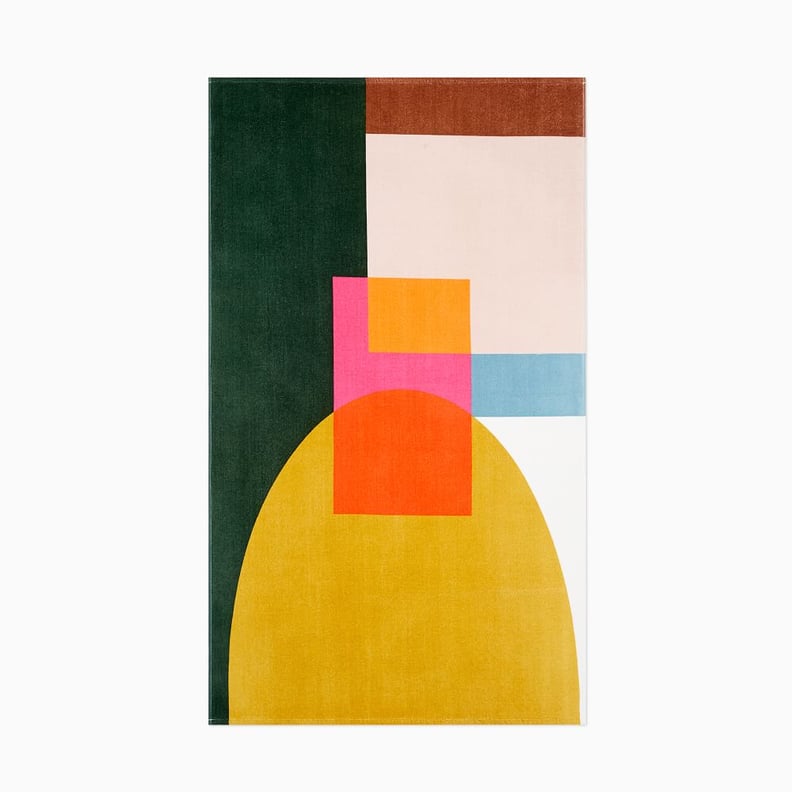 Best Terry-Cloth Extra-Large Towel: Half Moon Layered Blocks Beach/Pool Towel
Made from sustainably sourced cotton, this Half Moon Layered Blocks Beach/Pool Towel ($28, originally $35) is the perfect go-to after a swim. Its sheered-velour front is plush against the skin, and its terry-cloth back is super absorbent. It's 40 by 70 inches, so it can comfortably wrap you and a friend inside.