North West Is the Newest Yeezy Muse in Futuristic Silver Sunglasses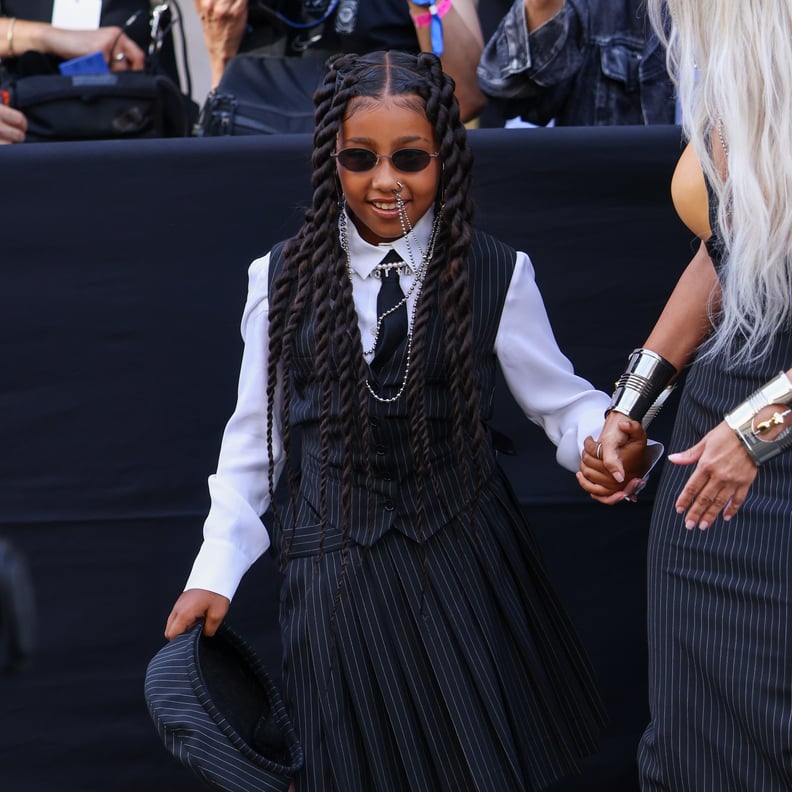 North West makes quite the convincing Yeezy model, and you only have to look at the brand's latest social media post to see why. On Sunday, July 29 a selfie of West appeared on the brand's Instagram profile, featuring her clad in a large pair of silver shield sunglasses at the brand's studio. "YZY SPLY SHDZ," the caption read, referring to an upcoming launch by YEEZY SUPPLY, Kanye West's sneaker line.
Kim Kardashian also documented the moment on her Instagram story, showing her daughter modeling the futuristic eyewear in a black sleeveless leather onesie. During her visit, West showed off her creativity when she got to making some Yeezy design sketches. She drew two alien figures on pieces of fabric, one of them rocking a pair of dark sunglasses similar in silhouette to the ones she wore and the other sporting what appeared to be a tongue accessory in the shape of a plait. Both sketches featured physical braids. Clearly, the young star takes after her parents with her budding design skills.
During Paris Fashion Week, West pulled off edgy ensembles and accessories — from oversize Balenciaga jackets to faux-nose rings — cementing her place as a rising style icon, not to mention the vintage cobalt blue Pastelle jacket she casually brought back from her father's archives or the steampunk-inspired Jean Paul Gaultier suit she wore to the brand's show. Although she had the help of stylists for these appearances, West has consistently shown a unique point of view when it comes to her fashion choices.
Does her recent visit hint at a future collaboration with Yeezy? While we wait to find out, read on to view the young star in action.