North West Has a Paris Street Style Moment in Kanye's Vintage Jacket
Kim Kardashian and North West are attending Paris Haute Couture Fashion Week, where the Skims designer, Skkn founder, and Balenciaga muse just made her debut on the couture catwalk on July 6. In the days leading up to the event — which marked the unveiling of the French fashion house's 51st couture collection at the original 1937 atelier near the Champs-Élysées — Kardashian and her 9-year-old daughter were spotted shopping and running errands. One of West's outfits, in particular, made headlines as she repurposed dad Kanye West's blue varsity Pastelle jacket that he wore onstage at the 2008 American Music Awards.
Coordinated by Kardashian's stylist Dani Levi, West wore the recognizable piece — which was a product of Ye's short-lived brand launched alongside Ian Connors, the late Virgil Abloh, Ben Baller, KAWS, and Kim Jones — with nylon pants, Balenciaga's HardCrocs (built on impressively tall platforms), a mini City bag, silver rings, a monogrammed pearl and beaded necklace, and matching blue square sunglasses.
Kardashian, meanwhile, contrasted her daughter in a fitted camouflage tee, neon green pantaleggings, oversize, rimless sunglasses, and her Balenciaga rhinestone Le Cagole X shoulder bag, which she previously styled with red, white, and blue pantaleggings in New York. West's sartorial ode to her father was a bit nostalgic, harkening back to the fashion trends of the early aughts. Back then, he paired the Pastelle coat with a camouflage baseball cap, which happened to be reminiscent of the print on Kardashian's top.
Click through the gallery to make the connection between this full circle family fashion moment, then see the rest of the ensembles Kardashian and North West have sported in Paris.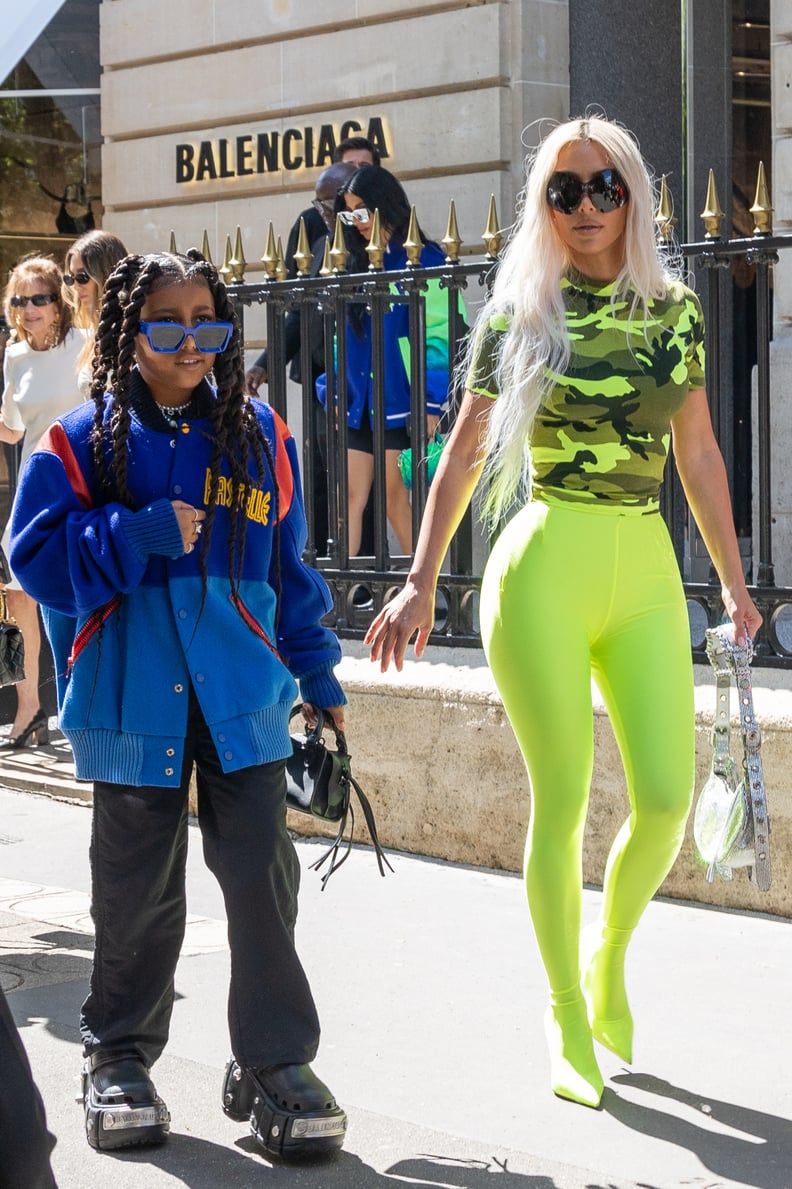 North West and Kim Kardashian at Paris Haute Couture Fashion Week
North West wore a Pastelle look — the same blue varsity jacket dad Kanye wore to the American Music Awards in 2008 — complete with black nylon pants, Balenciaga's HardCrocs, a mini City bag, and blue geometric-structured sunglasses. Kardashian was in head-to-toe Balenciaga with neon green pantaleggings, a camo T-Shirt, oversize sunglasses, and her rhinestone-encrusted Le Cagole X shoulder bag. The duo were spotted at the Balenciaga store and leaving Jean Paul Gaultier headquarters on July 5.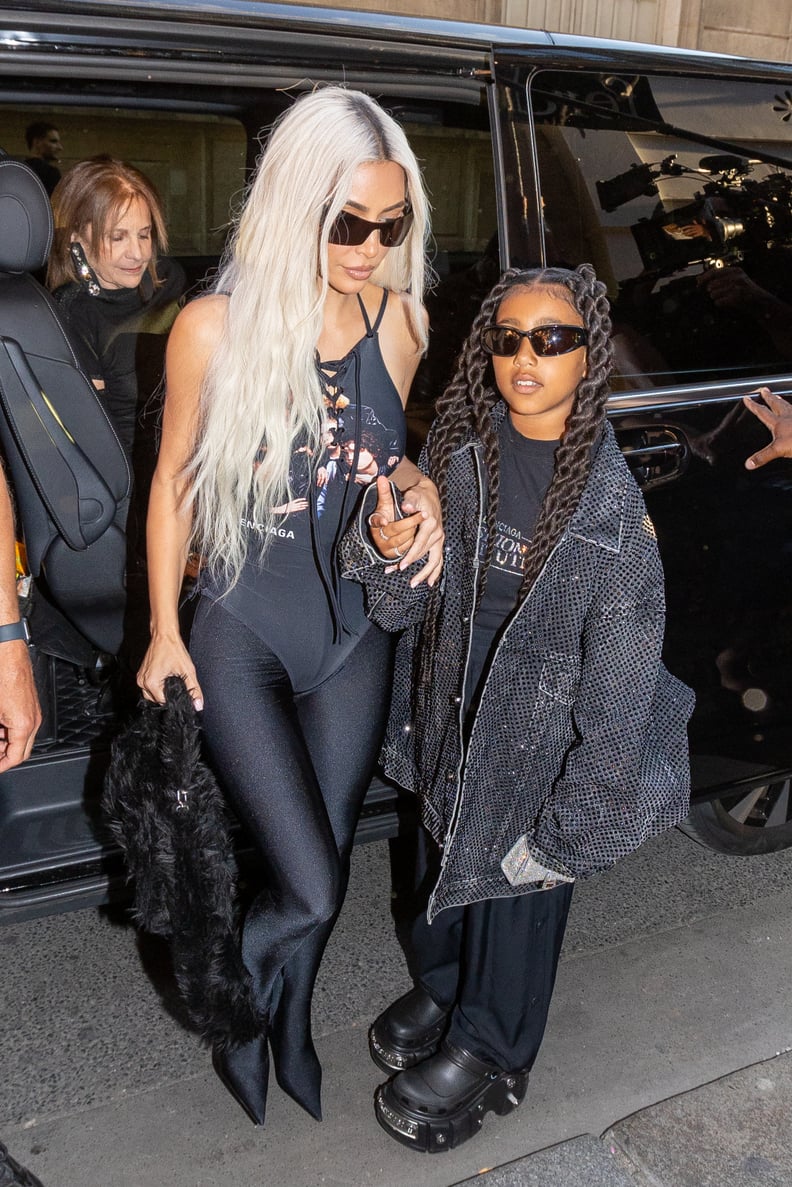 Kim Kardashian and North West at Paris Haute Couture Fashion Week
Later on July 5, Kardashian sported her black nylon pantaleggings underneath a Speed Hunters bodysuit rendered from the fall/winter 2018 Balenciaga collection. She styled the look with rimless bat rectangle sunglasses and her fuzzy Balenciaga Hourglass bag while daughter North stood by her side in a black rhinestone-covered oversize denim jacket, nylon snap pants, a Balenciaga tee, her platform HardCrocs, and Balenciaga's D-frame sunglasses.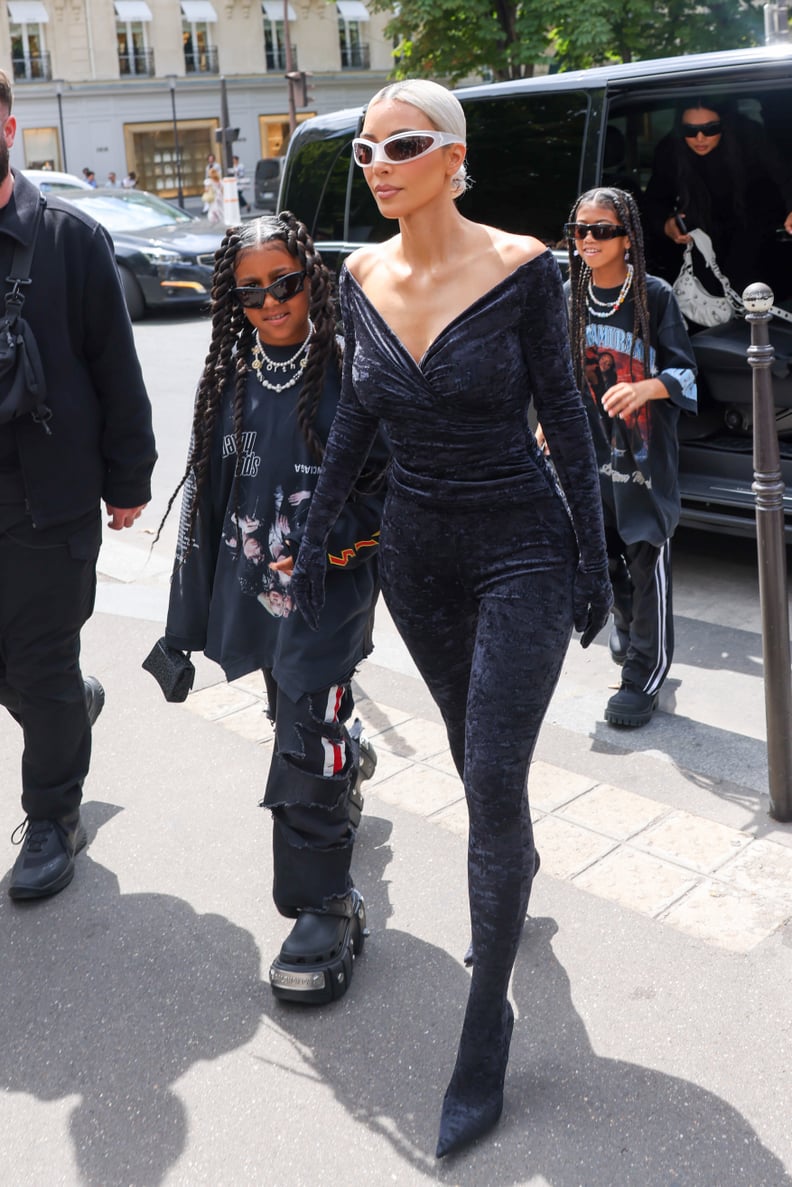 North West and Kim Kardashian at Paris Haute Couture Fashion Week
On Wednesday, July 6, Kardashian made her Balenciaga runway debut and arrived at a restaurant following the event in a black crushed-velvet catsuit with built-in gloves and knife boots. The off-the-shoulder design was complete with a pair of translucent, futuristic sunglasses. North followed in her mom's footsteps in an oversize fall/winter 2018 Balenciaga Speed Hunters tee, complete with deconstructed cutout denim, a miniature Hourglass bag, and the new bat rectangle sunglasses, along with layered bead and pearl necklaces.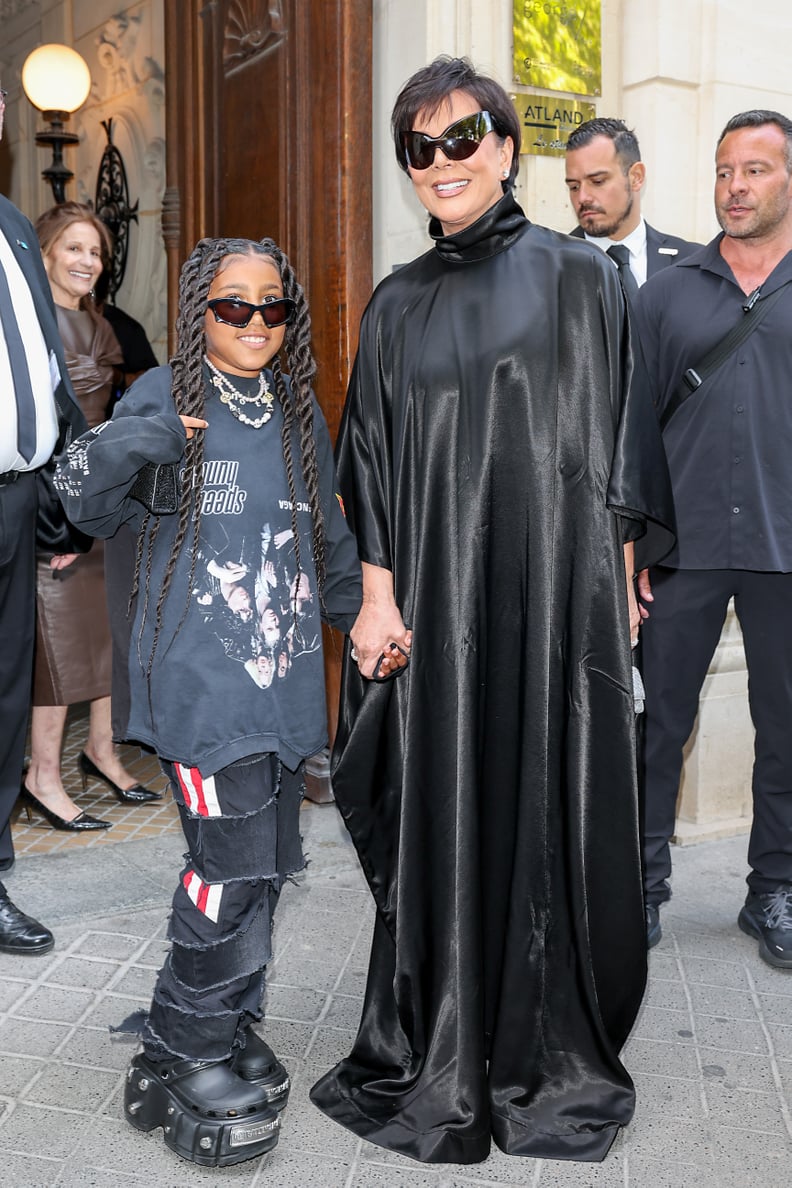 North West and Kris Jenner at Paris Haute Couture Fashion Week
North West and Kris Jenner arrived at the Balenciaga show to watch mom Kim Kardashian take the runway with North rocking the same outfit and Jenner in a floor-sweeping satin tunic, diamond rings, and oversize architectural sunglasses.