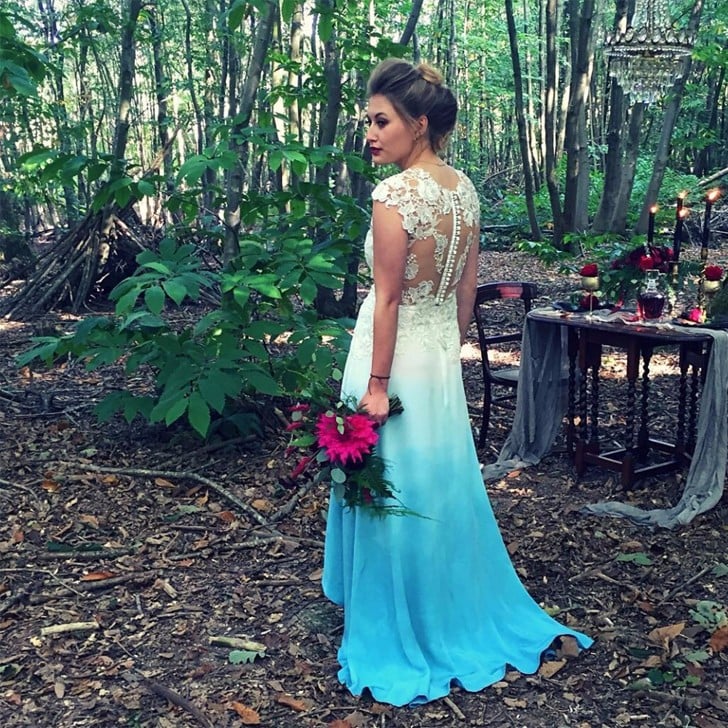 White wedding gowns are traditional and beautiful, but for ladies seeking that unexpected wow factor, they'll want to go ombré. Many brides have worn colored dresses before, but ombré, or dip-dye as Pinterest calls it, is slightly different. Instead of the entire dress being one color, only the bottom portion of it is dyed. The color intensity ranges from light (we dubbed it the watercolor effect) to dark, though blue and pink seem to be among the most popular shades.
Given that color was big on the runway for Fall 2017, designers will be quick to adopt the trends for their bridal collections. In fact, dip-dye dresses are plentiful now. Read on to see women who have worn them IRL in stunning snaps. They might convince you to ditch that white wedding dress for good.
Lydia Hearst tapped Christian Siriano to create her beautiful multicolored pink wedding dress.
For the brides who need that something blue.
Forget the painting in the background, this blush dress is the real masterpiece.
This bride's two-piece wedding gown and dip-dye skirt hits two trends in one look.
When your wedding gown matches the sky, a photo needs to be taken.
Brides who love purple will want to consider incorporating it into their wedding gowns.
As this bride proves, boho ladies can wear the dip-dye trend too.
The bright orange and yellow hues in this dress caught the sunlight just right.
For a fun surprise, consider dyeing the inner layers of tulle in your gown multiple colors. When you lift the train, voilà!
The train of this bride's dress matches her bouquet of flowers.
This bride's dress is on fire (figuratively speaking).
A pink ombré dress even works for a desert wedding.