5 Sustainable Fashion Creators on How to Find the Best Thrifted Clothing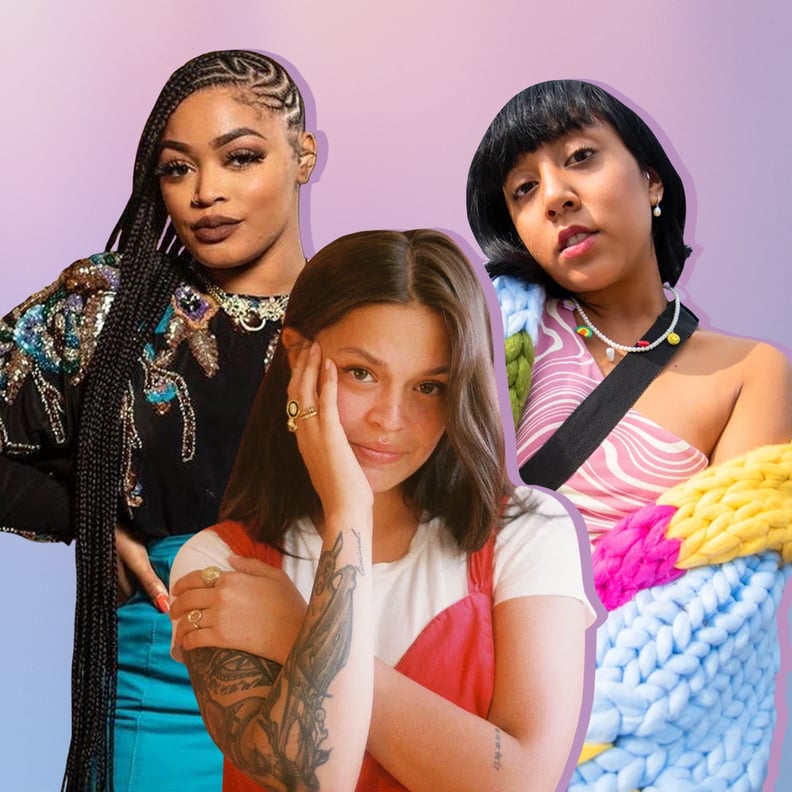 Photo Illustration: Aly Lim
Photo Illustration: Aly Lim
At this point, there's space on the internet for every type of fashion-lover. If you're looking to shop more sustainably and affordably, then you probably found yourself scrolling through hundreds of videos of people running around thrift stores and consignment shops around the world, finding great fashion at low prices. This special corner of social media (sometimes known as "ThriftTok") is filled with creative and sustainably minded people showing off their latest thrift-store finds.
From a fashion-inspiration perspective, it's an antidote to the fast-fashion hauls that make up millions of videos. These thrifting creators are not only championing personal style through unique finds but also offering up an alternative to fast fashion that has the potential to change the way we think of clothing and the way we shop.
While it's certainly a great option, thrifting can be intimidating. When you walk into a vast store filled with racks and shelves of clothing, it's hard to know where to start. The key is patience and a discerning eye. Most of what you'll see is not going to be right for you, and that's OK. But if you go into your shopping experience with an idea of what you need, then take the time to check the condition of the clothing, take note of the brand, and consider how often you'll rewear the garment, then you'll have a much easier time. That's exactly what these creators are trying to teach their audiences with their videos on TikTok and Instagram — and it's working.
What Is Thrifting?
Fashion thrifting can be done through online shopping or at flea markets or thrift stores. Thrifting is usually all about the hunt and, of course, the discounts. In contrast to some vintage or consignment shopping, where finders curate and sell their own finds at a markup, thrifting is all about discovery. Most thrifting creators on social media look through stores like Goodwill, Salvation Army, estate sales, or local flea markets to get their incredible pieces.
To give you some inspiration on your own thrifting journey, we found five sustainable fashion creators and asked them all about how they find the best secondhand fashion. Scroll through for their advice.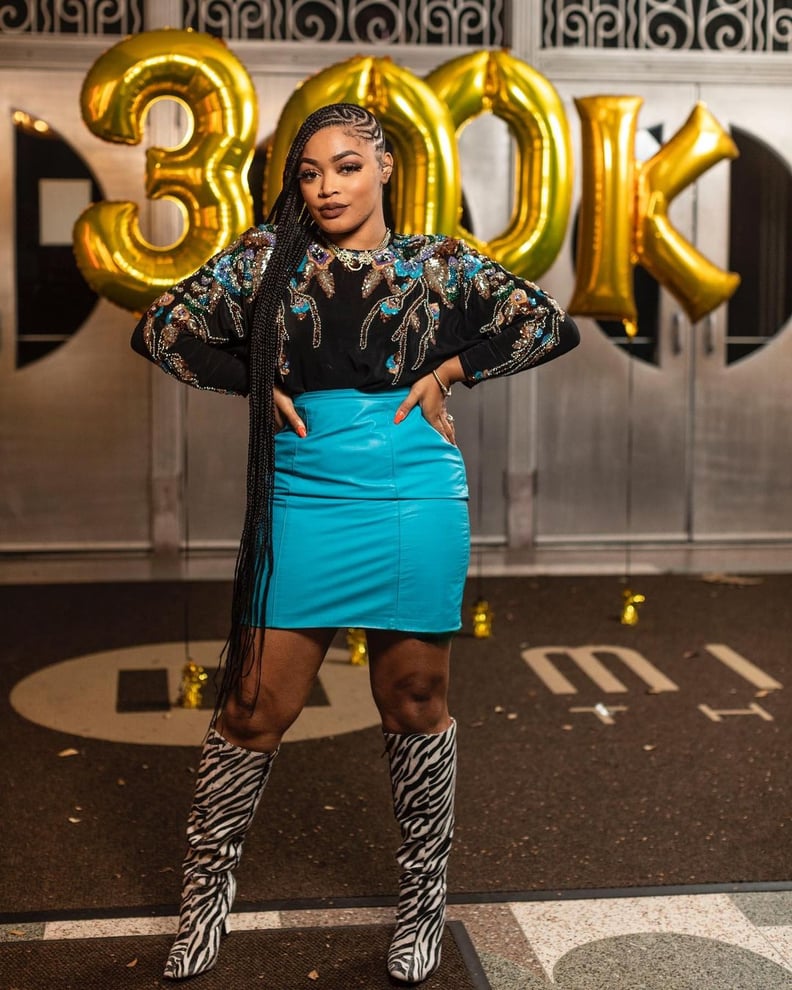 Iesha Gilchrist, @ThriftNtell
POPSUGAR: Tell us about yourself.
Iesha Gilchrist: I am about to be 31, I'm a mother of one, and I have been thrifting since I was a young teenager. Fashion has always been a passion of mine, even before Instagram and "influencing" was a thing. I'm originally from the 757 area of Virginia but decided to move to Georgia in 2019, which is also the same year I decide to create @ThriftNtell to show others thrifted style hacks. My content has opened many doors for me including being able to work with Access Hollywood, The Real Real, Good Day DC, The Rachael Ray show, Good Morning America, Facebook, TikTok, Essence, Target, and more coming soon.
PS: Why do you love to thrift?
LG: I thrift because I've always enjoyed vintage clothing and standing out from the crowd. I like to think that I am responsible for the fact that, "thrifting" is now a trend in the black community because before I created ThriftNTell, there were very few women of color openly admitting to thrifting and even doing style hacks. I take pride in [that] because it was a change that needed to be made.
A lot of "my people" used to be so stuck on a designer or only feeling stylish if their outfit was $1,000 and up. That's no longer the case now, and I love that for us. Outside of my own selfish reasons for thrifting, I "always check the thrift store first" for the betterment of our home: earth. I've always said thrifting was the future because as our resources run low, so will our productions. Being wasteful is tasteless.
A lot of the "new items" in the trendy stores today are just an inspiration from the past. I'd rather build with sustainable items and add in modern items here and there.
PS: What makes you pick up a piece of clothing when you are thrifting?
IG: When I'm thrifting, I always gravitate toward prints, sequins, or anything dramatic. Even though there are a lot of vintage imitations, prints are the dead giveaway for vintage especially if it's from the '80s. The sequins or beaded items are always the most sustainable to me because it was never cheaply made. Also, a lot of people can't stand shoulder pads, but I love them. The higher, the better, in my opinion.
PS: What are your predictions for the future of thrifting?
IG: The future of thrifting really depends on the consumers of today. I always encourage my supporters to buy quality clothing if they are shopping outside of thrift stores, because let's be honest: nobody wants to have creative restrictions when it comes to their style. Lately, I have been seeing a lot of fast fashion in thrift stores. My hope is that these brands can find a way to make affordable clothing more sustainable; otherwise some of the landfills we know today will become our very own backyard.
Fashion can still be fun without it contributing to so much waste, and that is one of the major goals for my platforms. I shop fast fashion sometimes because I am not perfect. However, I try to make conscious choices on what's being purchased by asking myself "how many times or ways can you wear this?" If I can't wear the items in at least 10 different ways, I won't buy it.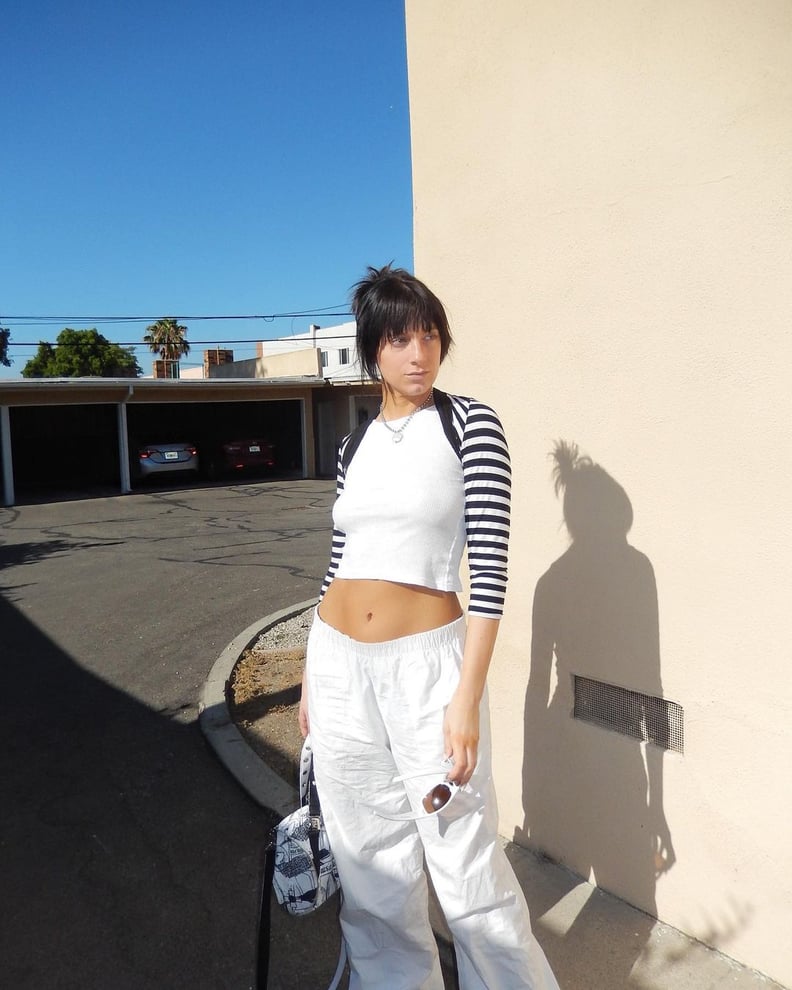 Macy Eleni @BlazedandGlazed
POPSUGAR: Tell us about yourself.
Macy Eleni: I'm a content creator and media personality based in Los Angeles, currently focused on reinventing the fashion entertainment space and striving to make it a more sustainable, ethical, inclusive, and fun place to create and consume.
I love the idea of using fashion and used clothing as a vessel for storytelling and spend my days uploading videos all around the internet on thrifting, my personal mental health journey, and being your fabulous self.
PS: What makes you pick up a piece of clothing when you are thrifting?
ME: I'm one of those people that has to look at every single item on the racks because gems are truly always hidden in the most random places throughout the thrift. I curate seasonal thrift list boards via Pinterest, which is one of my favorite ways to thrift manifest, and I let those images guide me in terms of the colors, silhouettes, cuts, and fabrics that I might pick up while shopping.
PS: What do you hope your content shows people?
ME: That being your authentic self is extremely cool and thrifting is a god damn super power. When I was in high school, the girls that knew I thrifted my outfits were so nasty about it. One even told a teacher I "smelled," just so the teacher would pull me aside in front of everyone in the class to tell me. It made me feel so less than, and I'll never forget it.
I never want any of my followers to feel that way about their secondhand clothing. I often say "everything hot already exists," which on its own, is a very privileged statement to make. I live in a thin body that gives me the privilege to fit into most vintage garments, which does make the thrifting process easier.
When I say that statement to my followers, [I mean] that so many of the styles and vibes that fast-fashion brands are producing these days are inspired by the decades of pieces that already exist on this earth. These garments are simply waiting in thrift stores or sitting in a past fashion queen's drawer at an estate sale right in your backyard and still have many more lives left to live.
I know most people won't create an entirely secondhand closet, but my hope is that they will check out a few secondhand options before clicking purchase on the next [fast-fashion item]. At the end of the day, I just want people to leave one of my videos feeling a bit more comfortable in being themselves and celebrating who they truly are.
PS: How will the thrifting boom impact the future of fashion?
ME: Even though we have seen a rise in thrifting through platforms like TikTok and YouTube, there is still so much clothing out there. It's astronomical, the amount of textile waste covering our earth, and I see it most every time I go thrifting. A lot of the thrift stores in my area are bursting at the seams with an overflow of garments and have been turning away donations. By the way, if that ever happens to you, consider taking them to a local shelter, where they are almost always in need of good quality clothing.
I think it's truly amazing that a far more sustainable way of shopping is breaking its way into the more mainstream fashion conversation. It's something I've dreamed of since I was a teenager. It truly is the most accessible option for people who can't purchase from sustainable brands that are on the more expensive side and most of the times don't offer an inclusive size range.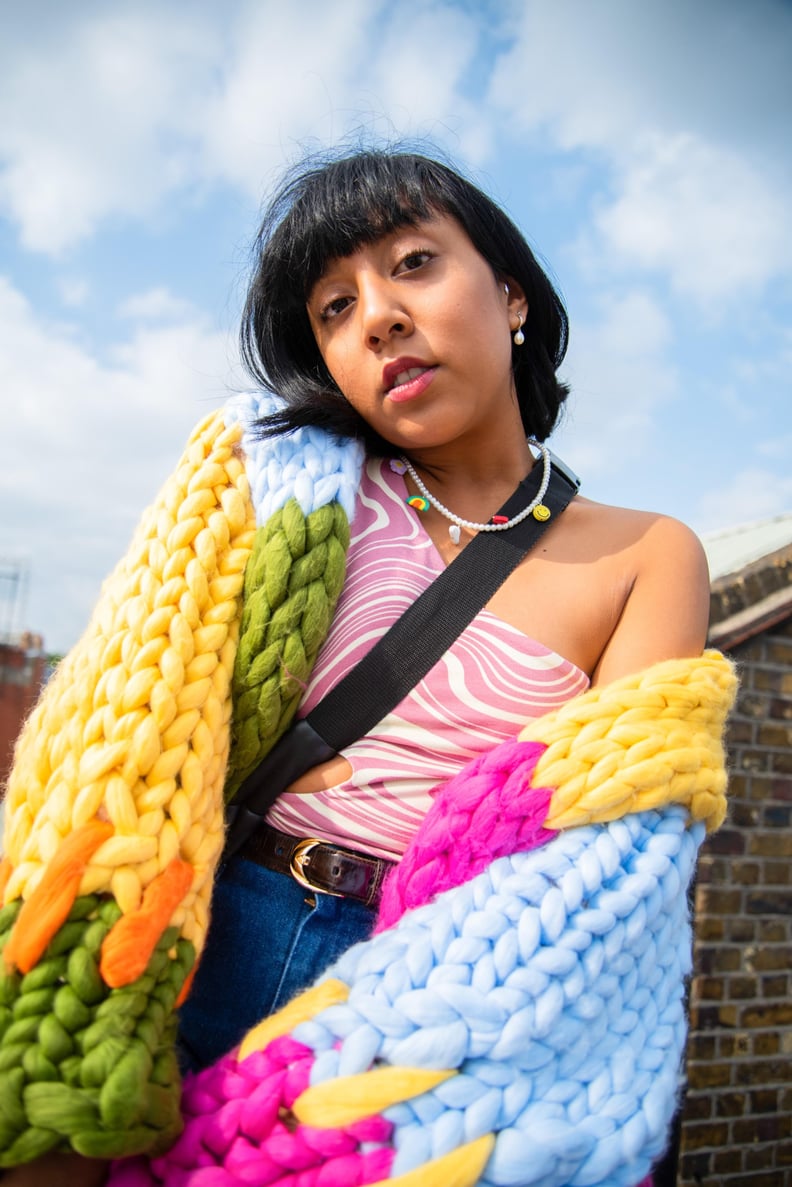 Izzy Manuel @izzy_manuel
POPSUGAR: Tell us about yourself.
Izzy Manuel: I'm a chemistry graduate turned sustainable and ethical fashion advocate. I'm all about educating others about sustainable and ethical fashion in a shame-free way while also just being really real about my life and how I navigate sustainability.
PS: What makes you pick up a piece of clothing when you are thrifting?
IM: This is a hard one. I tend to think about these three things when secondhand shopping: 1. Will I wear it at least 30 times, if not more? 2. Does it go with my current wardrobe, and can it be dressed up and dressed down? 3. Is it well-made and made to last? In terms of style and color, I love anything bright colored, and my personal style is so varied, so sometimes it's more preppy, sometimes it's Y2K, sometimes it's more punk.
PS: What is the best thing you've ever thrifted?
IM: A few months ago, I bought a pair of secondhand Levi Ribcage jeans, and they fit me like an absolute dream. I think a classic pair of comfy, well-made jeans is a must in a wardrobe, and secondhand/vintage denim is always a great alternative to buying new.
PS: What are your predictions for the future of thrifting?
IM: According to the Boston Consulting Group, the secondhand and thrifting market is growing at 15 percent a year, which shows that there is a huge future for sustainable fashion, specifically when it comes to buying secondhand. So I think that is great news, especially with around 235 million pieces of clothing ending up in landfill in the UK each year, buying secondhand can hugely reduce that number.
But the issue with thrifting becoming more popular is that there is a possibility that this will become a trend causing prices to increase, which makes it harder for people who want to be more sustainable but might not have the budget to buy new from sustainable and ethical brands.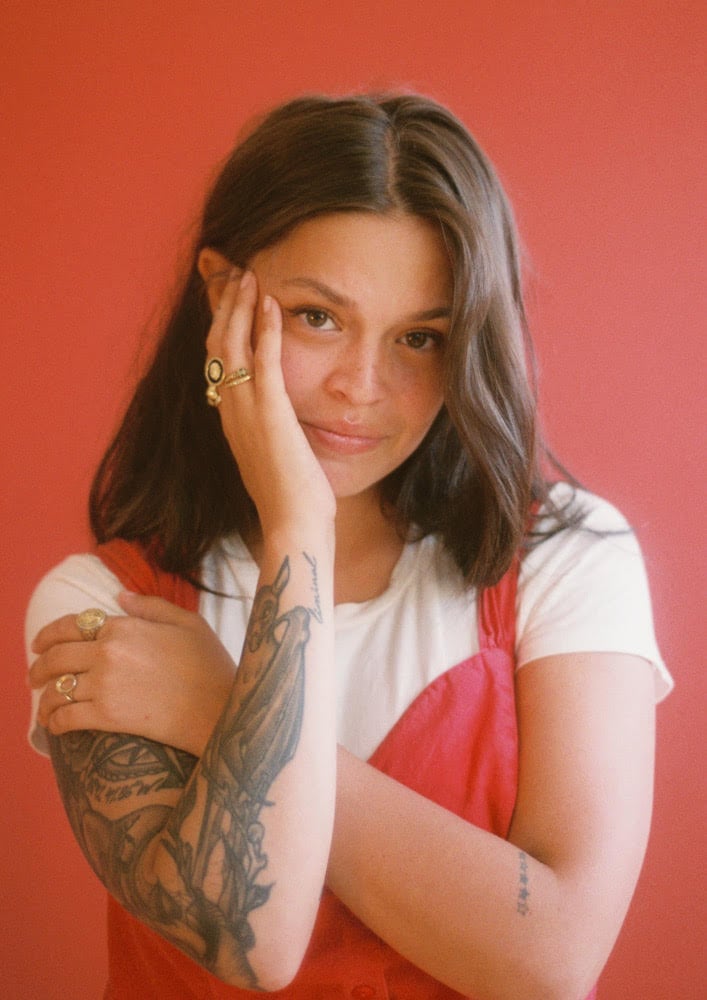 Taelor Schermann @tvelor
POPSUGAR: Tell us about yourself.
Taelor Schermann: I'm currently living in Chicago. I have been thrifting since about 2009 and have grown so much over the years finding new reasons to love it. Thrifting aside, I'm also a photographer and have a huge love for nature, anything horror-related, and exploring new places.
PS: What makes you pick up a piece of clothing when you are thrifting?
TS: I usually gravitate toward the style of a piece: mainly pieces that are '90s or earlier. My favorite things to go for right away are usually floral patterned dresses or pretty lingerie and nightgowns that date as far back as the 1920s.
PS: What is the best thing you've ever thrifted?
TS: I have so many favorite things I've thrifted, but I think my top favorite would be a T-shirt I have for "The Shining" movie. It's a promo shirt for when it was first aired on ABC in 1996.
PS: What are your predictions for the future of thrifting?
TS: I think thrifting in the future will be great, especially with how much it has grown and brought interest to so many new people within just the past year. There's an unbelievable amount of clothes to go around, and it's always so exciting being able to pick something up that's no longer made. I honestly don't think anything bad could come out of it; every small bit is helping the planet and keeping mountains of clothes out of the landfills.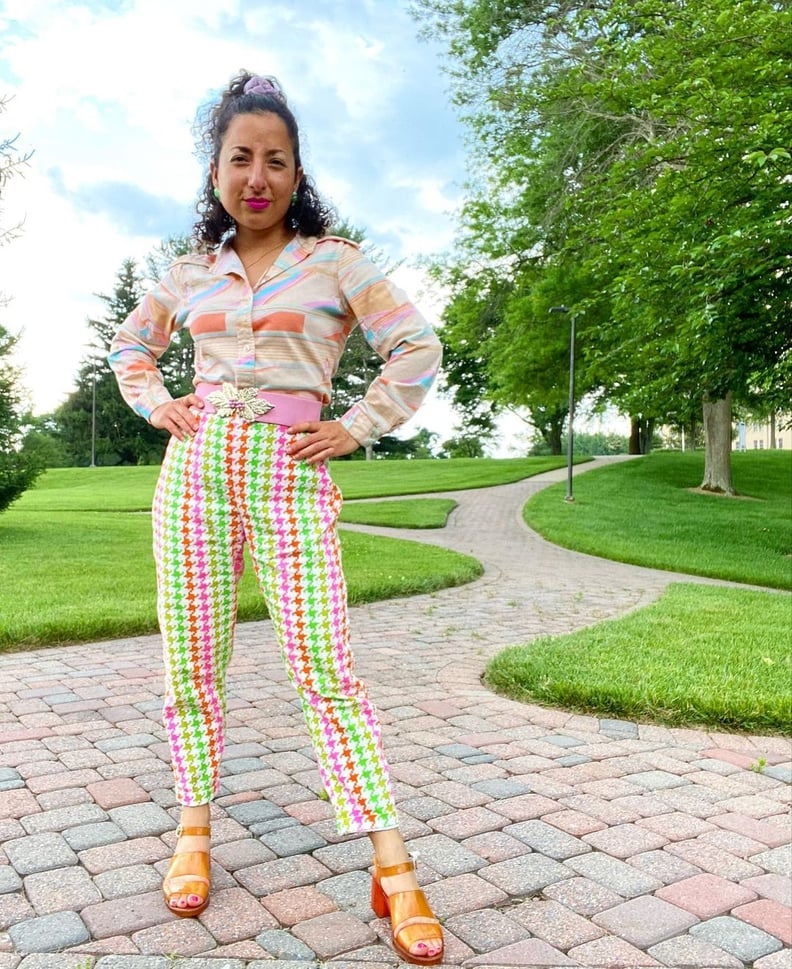 Carolyn @petite_punk
POPSUGAR: Tell us about yourself.
Carolyn: I'm a funky and thrifty petite fashionista with a love of all things '80s and secondhand. I am also proud to be Goodwill of Greater Washington's Senior Manager of Communications and Community Engagement, a role in which I get to make an impactful change in the DMV community through championing thrifting and Goodwill's nonprofit mission.
PS: What makes you pick up a piece of clothing when you are thrifting?
C: When thrifting, I specifically look for vintage items, for they are built to last the test of time and are literally pieces of history. Attributes I pay attention to include pattern, style, seams, and fabric composition.
PS: What is the best thing you've ever thrifted?
C: Great question. Years ago, I found a whole lot — 10 items — of vintage Chanel, YSL, and other luxury brands for under $10 a piece at Goodwill. I still have them and hope to pass them down to future generations.
PS: What are your predictions for the future of thrifting?
C: It's here to stay. I do think the inventory at secondhand stores will soon change. With the explosion of cheaply made fast fashion, we will continue to see lots of that at secondhand retailers, making vintage and unique well-made items increasingly rare.
That's why it's so important to slow down our pace of buying new and focus on what we already have. It's also integral to shop less and with more intentionality. I am a huge advocate of if you need something, seeing what you have, then thrift, then buy new if absolutely needed.