Pineapples, Fishing Nets, and More Sustainable Materials Landing in Your Closet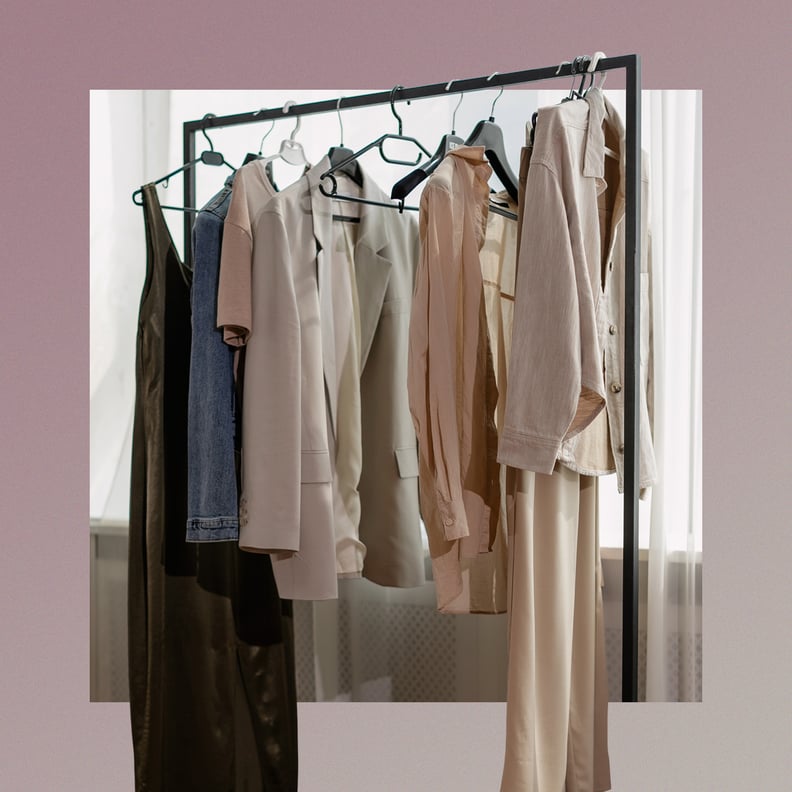 Pexels | Alena Darmel
Photo Illustration: Aly Lim
Pexels | Alena Darmel
Photo Illustration: Aly Lim
A couple of years ago, Mary Bemis was going through her closet, trying to offload some items on a popular resale site. As she was reading the labels, she noticed that everything she was selling was made of polyester, a common material used in apparel that usually comes from petroleum. In other words: it's a form of plastic.
"I was pretty shocked," Bemis, 31, tells POPSUGAR. "As I've been switching to a more plant-based diet and buying more clean beauty and personal-care products, it was shocking that my clothing, which also sits on my skin all day, was made with materials that are pretty toxic."
According to the CFDA Materials Index, polyester is the most widely used fiber in the world, accounting for about half of the overall fiber market and around 80 percent of synthetic fibers. In 2016, polyester fiber production was estimated at 52 million metric tons.
About 15 years ago, the fashion industry started exploring other fabric sources as a solution. Recycled plastic bottles emerged as an early alternative, as more and more brands turned to these materials to meet "sustainable" production quotas. But if the recycled plastic bottles just become more nonrecyclable products, can that really be considered sustainable?
"We all want to feel good about what we buy, and we've all been taught how important recycling is," Bemis continues. "So creating a direct linkage between materials and sustainability benefits was a very successful strategy for this material [from recycled plastic bottles] to become so popular."
Although there may not be anything inherently wrong with purchasing a product made out of recycled plastic bottles, doing so may not be as planet friendly as the average consumer is led to believe. The prevalence of microplastics, for instance, poses a growing problem for the health of oceanic sea life. Curbing this threat means manufacturing and consuming far fewer plastic products as a society, both on the individual and corporate levels.
What's more, diverting plastic bottles to be recycled for apparel and accessories presents a decidedly unsustainable conundrum, Bemis explains.
"The spike in demand for plastic bottles for fashion has actually made it much more expensive for bottling companies to source recycled plastic for their bottles," she says. "So instead of turning old bottles into new bottles over and over again, we're actually diverting the bottles into fashion products, which then can't be recycled, so it's not a great long-term solution until we find better ways to recycle clothing items."
Today, designers are shifting to incorporate new sustainable materials that go beyond the typical, whether it's sourcing wood-based fibers for athleisure or repurposing fishing nets for everyday workwear. Ahead, learn more about the new — and sometimes unexpected — materials making their way into your closet.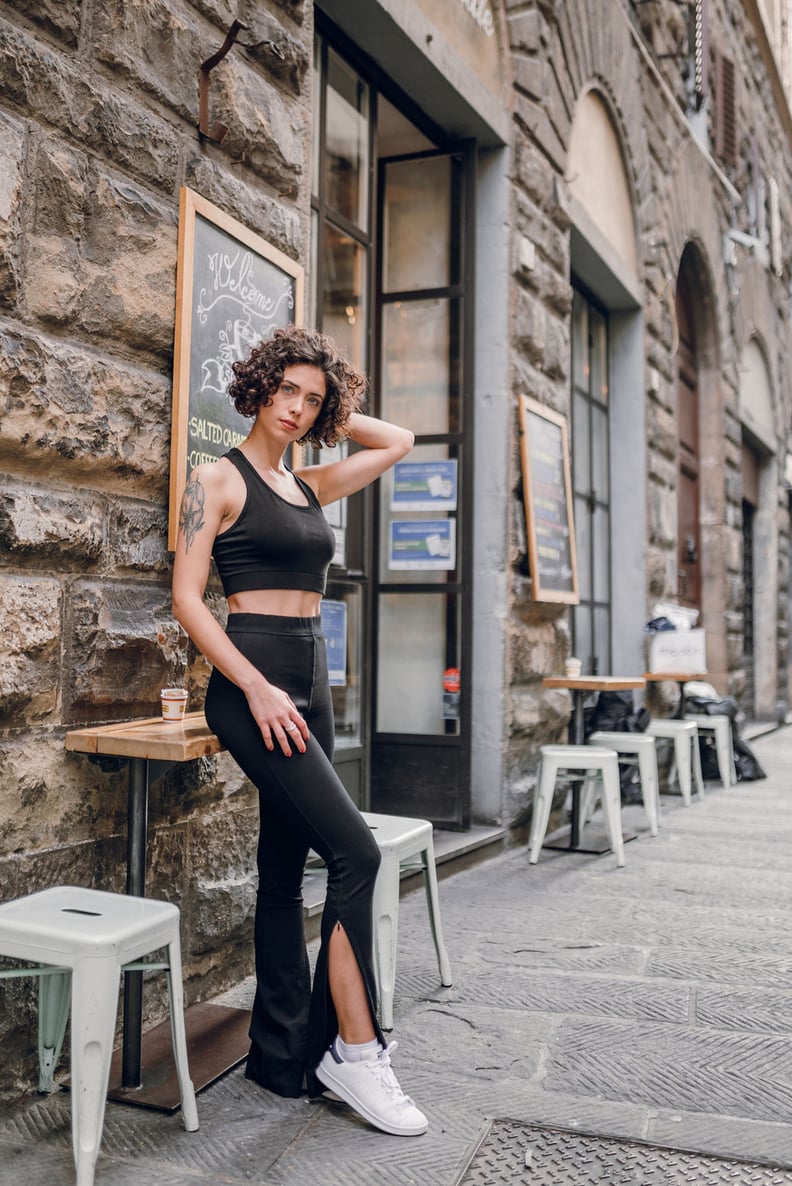 Tencel
Bemis set out to create what she calls "a clean activewear company" that uses as few plastic materials as possible. That led her to launch Reprise, which currently offers a range of items like leggings, shorts, and sweaters.
All Reprise products are made with more than 90 percent plant-based materials like trees and cotton, primarily through the use of the plant-based fiber Tencel. Tencel fibers come from eucalyptus trees grown in sustainably managed forests intended to be used for fiber production. That means trees are planted and harvested to meet fiber demands without depleting the forest.
"It was very difficult to find the right material to work with and stay true to those values, as it really hasn't been done widely in activewear," Bemis says.
Reprise leggings still contain seven percent spandex, but the brand is on a mission to make that percentage plant based as well, especially as consumer demand for more sustainable options in the activewear category continues to rise.
Cactus Leather
Desserto cactus leather uses the leaves from nopal cacti (also known as prickly pear) and can be fashioned into countless colors, thicknesses, and textures. Produced in the Mexican state of Zacatecas, this leather alternative has been used to make just about everything, from handbags to car interiors. To date, some of the brands that have used Desserto cactus leather include H&M, Adidas, and Fossil.
"Getting something out of nothing requires looking for answers where no one has before," the brand shared on Instagram. "We create a cactus bio material as sustainable as possible but at the same time complies with the standards of the different industries."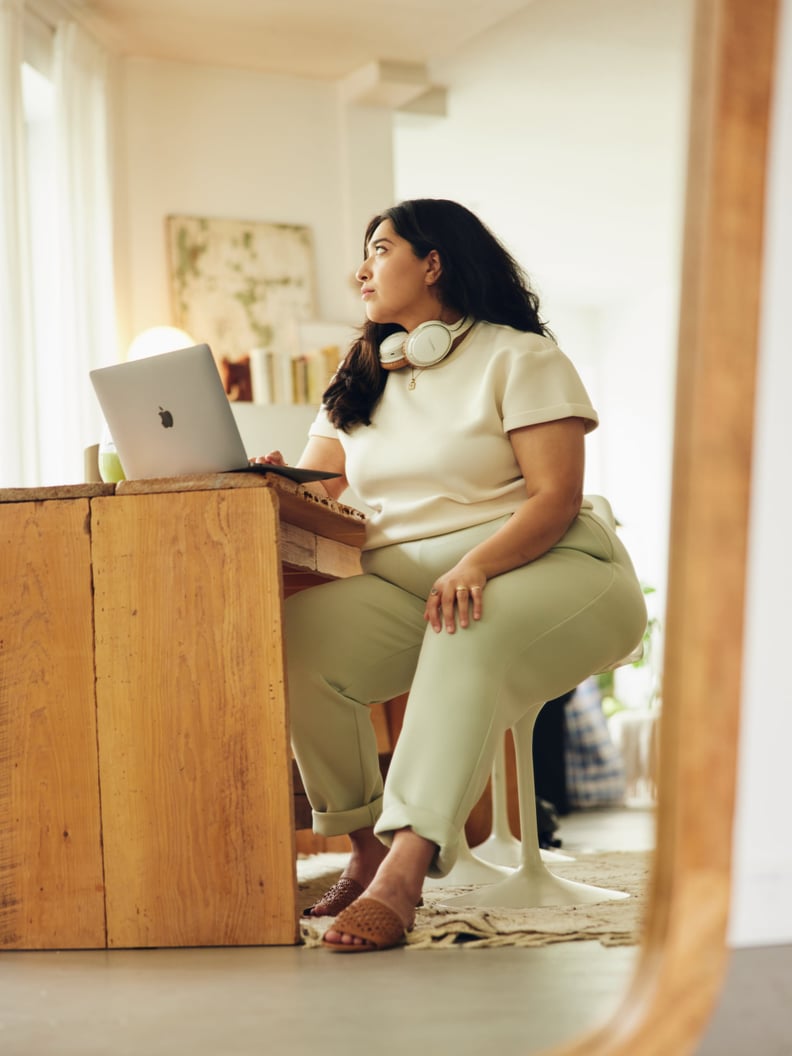 Fishing Nets
"Sustainable fashion means three things: ethical manufacturing, recycled materials, and intentional inventory planning. If one isn't considered, then it isn't sustainable fashion."
Tanya Lee, cofounder of Lezé The Label, turned to a different recycled source to create the line of comfortable workwear: old fishing nets.
"Our signature fishing-net fabric was developed with our goal of creating something that had the hand-feel of a buttery knit but the structure of a woven fabric," Lee, 32, says. "Usually, the softer the material is, the more limp the construction is, but that means the garment ends up casual. It's unique because it's a three-layer sandwich fabric developed with a combo of recycled fishing nets and beech trees."
The production process involves choosing fabric composition, purchasing yarn, and then knitting and dyeing it. Afterward, patterns are cut with computerized machines to ensure minimal fabric waste. Sewers then work in a production-line fashion, where one person is responsible for each part of the garment, before the design is inspected, packaged, and shipped.
"Sustainable fashion means three things: ethical manufacturing, recycled materials, and intentional inventory planning," says Karen Lee, 31, another cofounder of the Vancouver-based brand. "If one isn't considered, then it isn't sustainable fashion for us."
Pineapple Leaves
Made from leftover pineapple leaves, Piñatex is a natural leather alternative that's currently 95 percent plant based. The company that developed Piñatex, Ananas Anam, collaborates with pineapple farming cooperatives in the Philippines to collect the leaves, which are otherwise considered waste and left in the fields. After being washed and dried in the sun, the fibers are made into a mesh material that's ultimately used to produce apparel, footwear, bags, and more.
"As pioneers of the next-gen materials market, we have always been transparent about the contents of our products," the company shared on Instagram. "And it has been important for us to lead the way in setting a new standard of transparency for the industry, starting with making sure our textile compositions are publicly available."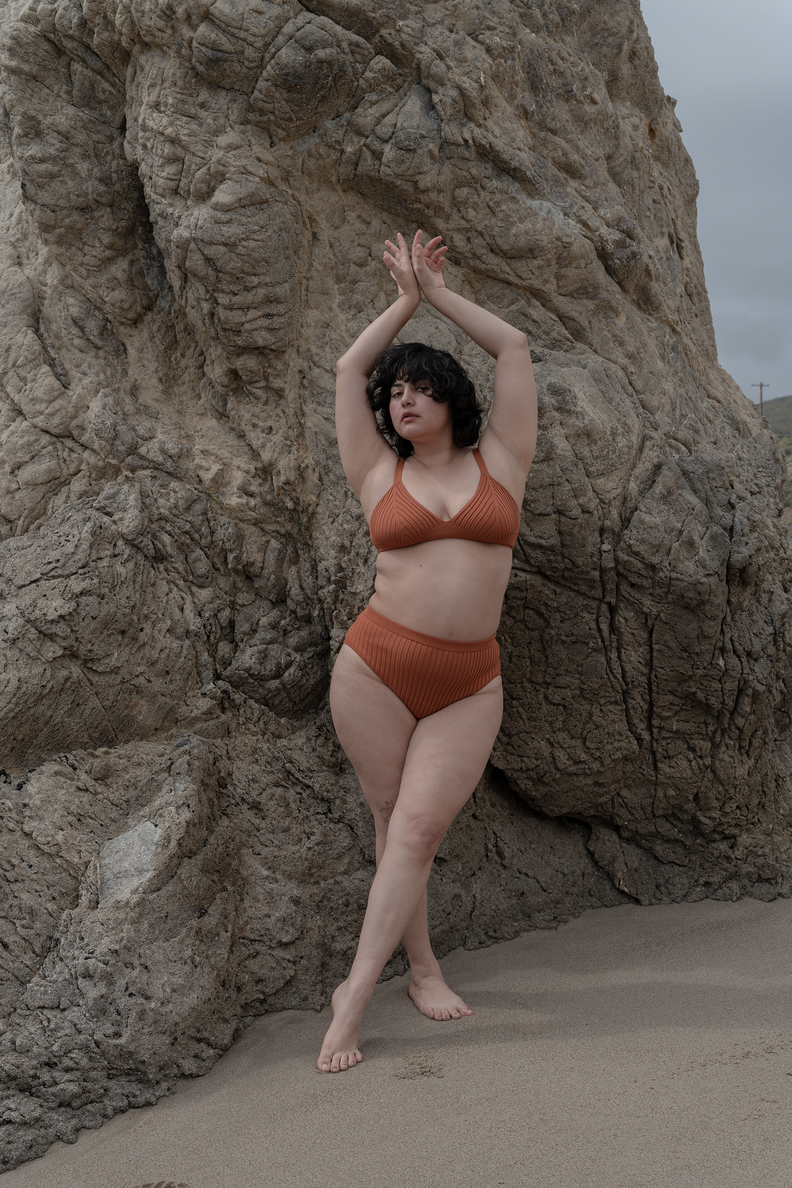 Zero-Waste Yarn
"It is a problem to offer clothes made out of sustainable material and then brag about being sustainable. What are you doing with the material left over from sampling or production? What is with all the single plastic bags you put your products in?"
In New York City, Deta just launched a collection of swimwear made out of a water-resistant yarn that keeps its shape. While the pieces are made out of a recycled material that's 80 percent polyester and 20 percent lycra, they're produced using 3D knitting machines from just three single threads of yarn. Similar to 3D printing, the swimsuits are programmed in CAD software and sent to a knitting machine, which outputs the near-final product in a single pass. Afterward, elastics are added to the underbust and waistband.
"No waste is produced in this process, as only the exact amount of yarn needed for the piece is used," says Anna Berger, Deta founder. "Right now, I am switching to made-to-order production. When a customer orders a suit on the website, it is subsequently 'printed' and sent directly to the customer from the workshop. This means less waste because only what is sold is ordered."
These business practices are not only better for the environment, but they also help to turn the industry away from its wasteful seasonal model that churns out millions of tons of textile waste — something like 17 million tons yearly, according to the EPA. Ultimately, Berger, 42, aims to switch over to a nonpolyester yarn to make her products as eco-friendly as possible.
"I am still using polyester yarn because I haven't found a sustainable yarn, because the minimums are too high," Berger explains. "First, I thought I couldn't continue without a sustainable yarn, but then I realized producing locally — with no waste and no inventory — is also sustainable, and finding the right yarn can be the next step on the journey."
But regardless of the material used, the industry still has a long way to go to truly be sustainable. "You're adding products to an already oversaturated market, [and] that is not sustainable in the first place," Berger says. "I think it is a problem to offer clothes made out of sustainable material and then brag about being sustainable. What are you doing with the material left over from sampling or production? What is with all the single plastic bags you put your products in? When producing clothes, there are a lot of decisions that need to be made that no one sees."