Brides-to-be planning their wedding day are forced to make some critical decisions in the midst of the COVID-19 crisis. If their ceremonies are scheduled for the coming months, will they push back their dates or cancel the party altogether, being that social gatherings are restricted for the foreseeable future? Will they delay their honeymoons, bachelor and bachelorette parties, and showers? And what the heck are they going to do about that wedding dress that's in the works — or maybe not even decided on at all?
Bridal industry leaders and fashion designers are pushing for virtual experiences in order to offer their brides service during the pandemic. Brandon Maxwell donated three wedding dresses to brides in need. Jewelry company Mociun is working with couples to solidify engagement ring and wedding band designs via FaceTime. Meredith Stoecklein, founder of LEIN Studio, is offering virtual consultations for brides going the bespoke route, where she shares sketches and mood boards, even sending fabric swatches and trims to brides at home. Labels like Amsale, Azazie, and Adrianna Papell are also following suit with "try-before-you-buy" options or virtual showrooms, where brides can shop online with their bridal party and dress samples can be sent directly to brides at home for consideration.
I'm in the midst of my own wedding planning process, and while my date is set for 2021, vendor calendars are now filling up quickly as people push back their reception dates. I've spent a lot of my off-duty lockdown time researching florists and band/DJ companies, fully aware that couples are rescheduling their Spring/Summer 2020 weddings for the following year. Figuring I should probably think about trying on some more wedding dresses, I followed up with Amsale to get a better sense of what a virtual try-on experience would be like.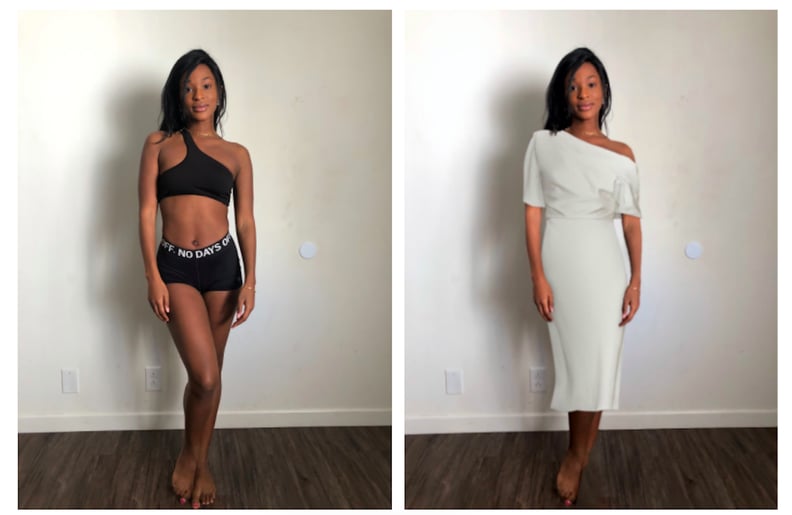 Currently, Amsale offers the virtual option for bridesmaid gowns and the "little white dress" collection. The brand is set on launching the virtual technology across the full site, giving users the option to upload a photo and try on a bridal gown. But, if a bride chooses to be led in the process by a stylist, it's possible to reach out for a Zoom appointment — and that's exactly what I did. I submitted an awkward selfie to the Amsale team and sat back to relax as Margo LaFontaine, design director of Amsale, took me through our Zoom conference call, helping me (virtually) try on one dress at a time. It was easy for me to decide which silhouette looked best on my figure thanks to a tech window just like the one you see above.
Afterward, Amsale connected me with one of the brand's customers, Uche Nwosu, who used the virtual service to find her dream dress. Uche carried out her little white dress journey from start to finish, and let's just say I can only hope to fare half as well as she did. Scroll through to see how her dress looked IRL once she received it and learn more about the approach Amsale takes to help brides virtually. One thing's for sure: tech is now more important than ever in the bridal industry.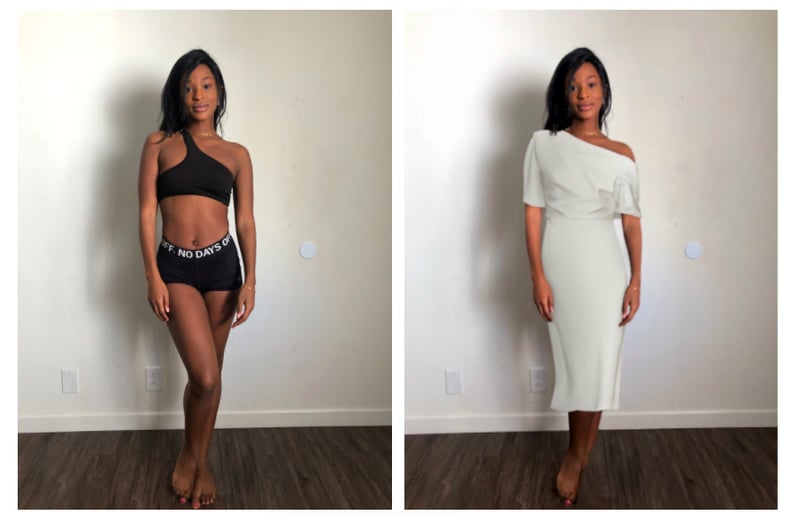 How to Take Measurements For a Virtual Wedding Dress Try-On
Amsale offers an in-depth guide for taking your measurements at home, and the brand promotes size inclusivity with a range from 00 to 28. For sizes not available, there's a made to measure service offered to clients. After taking their measurements, customers utilizing the virtual tool are instructed to take a selfie in leggings or tight-fit sportswear up against a clean white wall. The photo is then uploaded into the system so avatars can try on different dresses.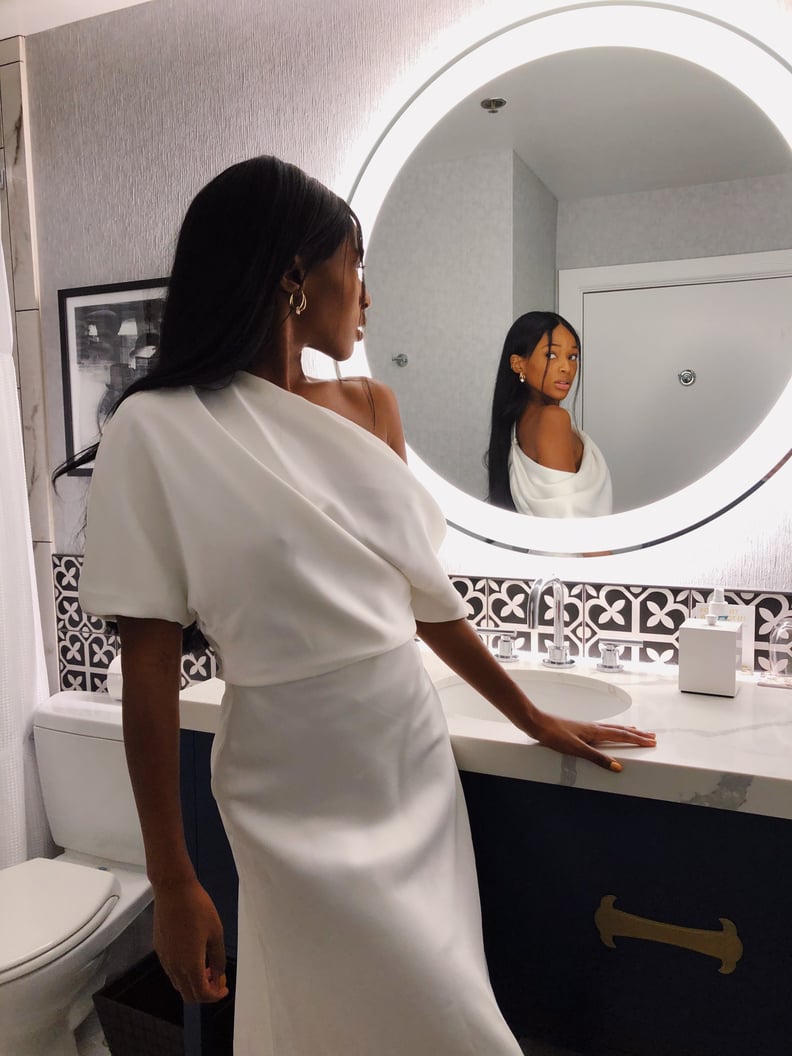 What It's Like to Buy a Wedding Dress Using Virtual Try-On
"I wanted something unique and stylish but also classy to wear to my party and I found exactly what I was looking for in Amsale's Little White Dress collection. It was so easy to use the virtual try-on tool while I was home in LA, and I had my dress shipped to my family home in Chicago for the party. I don't think I've had a piece of clothing that has fit me so seamlessly while also making me feel confident and beautiful at the same time," Amsale customer Uche Nwosu told POPSUGAR.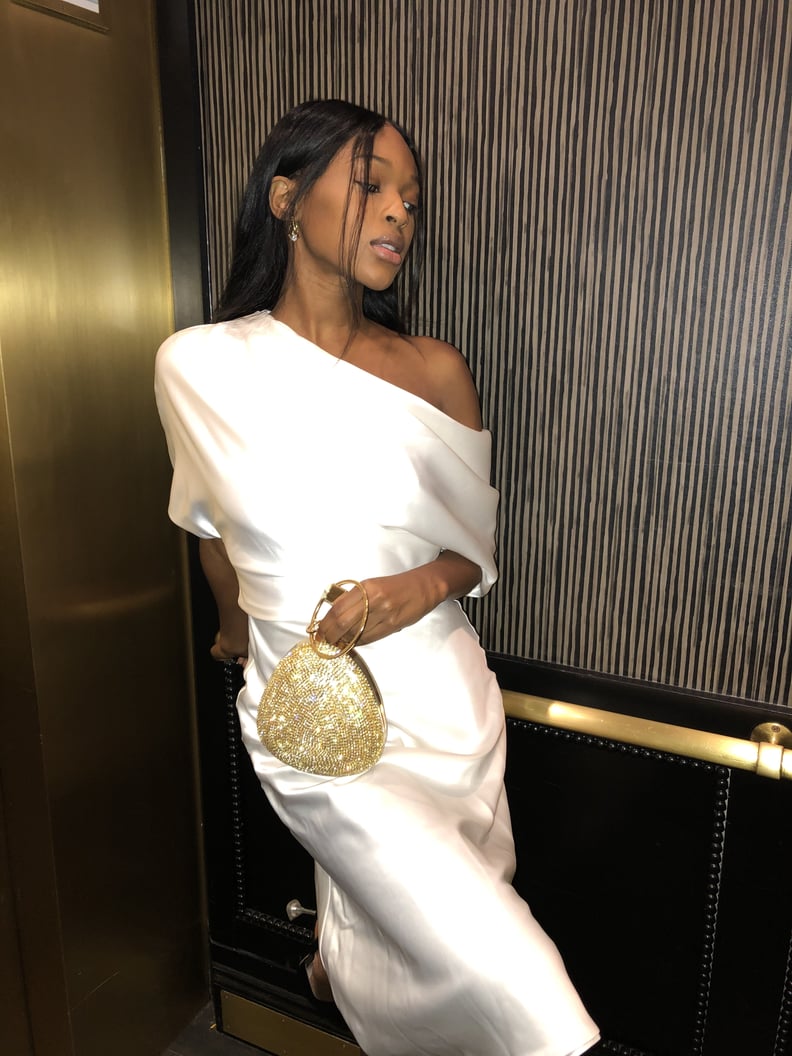 How to Tailor Your Wedding Dress Once You Get It