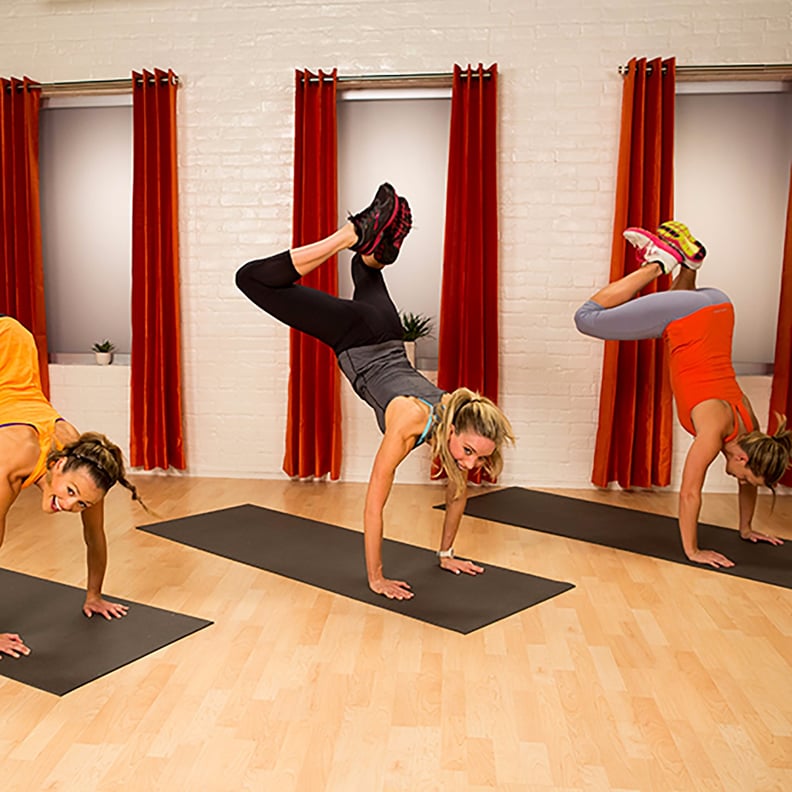 POPSUGAR Photography
POPSUGAR Photography
I work out in the early morning four to five times a week, but other than that, because I work at a desk for eight hours straight, I feel like I don't move a whole lot the rest of the day.
So I committed to starting a new habit, one I felt would be easy to maintain because it only took 10 minutes out of my day. For one week, while keeping up with my normal four to five CrossFit classes and one yoga class, I also did one 10-minute workout video every day. That's it. I wanted to see how moving an extra 10 minutes each day would affect how I felt physically and mentally.
The Benefits
I did these 10-minute workouts after dinner. Whether it was stretching, strength training, or HIIT, during and after every single workout, I felt better than when I started. I think it was because they were so short and not too intense — sometimes long, grueling workouts can make me feel so wiped out. These gave my happiness a boost, but having just a little bit of me time also helped me feel more relaxed and focused to handle the rest of the day and set a positive tone for the next day.
Exercising after dinner helped curb my desire to want to snack before bed. I felt proud that I was exercising instead of plopping down on the couch, and I didn't want to undo it by downing three handfuls of cashews. Good habits encourage more good habits, so on those nights, I actually got to bed earlier, too.
A few times during the week, my kids wanted to do the workouts with me, so I set up yoga mats next to mine and this new habit became their new habit, too. I loved showing them that exercise could be a fun thing we could do together. It also got out some extra energy, so it helped us calm down a bit faster when it was bedtime, so I feel like I slept better.
I didn't lose weight or notice any changes in my physical appearance or fitness ability, but that wasn't my intention anyway. I wanted to see if exercising for 10 extra minutes a day and burning some extra calories would make me feel better, and it did!
What Shocked Me the Most
The thing I was most surprised at is how easy this new habit was to keep up with. I mostly did my 10 minutes after dinner, and I started to look forward to that little bit of time out of my day that was just for me. No answering emails, no doing dishes, no having to go find the missing sock my kids were looking for. It felt so good that those 10 minutes started to seem too short!
Will I Keep Going?
If you know me, you know I love doing personal experiments like these. Drinking a gallon of water a day, eating only fruits and veggies, and not eating dinner were challenges I couldn't wait to see end, but this 10-minute workout video a day is definitely something I enjoyed so much because it was quick and easy and made me feel so good. I'll try to stick with it.
The Workouts
The video workouts I chose are below. I aimed to do a mix of yoga, weights, and cardio so I wouldn't get bored and I could use them as a complement to my morning workouts. I liked that I could choose a workout based on my mood. Knowing that 10 minutes of exercise burned an extra 40 to 60 calories a day was also pretty awesome — that's about an extra 400 calories a week!
Day 1: 10-Minute CrossFit Workout
I missed my CrossFit class in the morning, so this was a great video to start with. I love Jessica Alba's CrossFit trainer, Yumi Lee, because she's so smiley and positive — it made push-ups and squats more fun, even though they still kicked my butt.
Day 2: HIIT Workout
My kids did this one with me! The 10 minutes just flew by because we were doing fun, energetic moves like the burpee spin and the squat jump and shuffle. But the diamond clicks were my fave because I love practicing handstands. I appreciated celeb trainer Astrid Swan McGuire's inspiring energy — this was one of my favorite workouts of the week.
Day 3: Arm and Shoulder Workout
This simple upper-body workout with dumbbells felt great to do after dinner, especially since I had worked on legs for my early morning workout. Ten minutes was just enough time to feel a burn and not take up too much time from my day.
Day 4: Ab-Sculpting Workout
I did this 10-minute workout before dinner, so when I sat down to eat, my core was burning a little, which reminded me not to overeat (I tend to do that at dinner sometimes). There were some new moves I hadn't done before, and I definitely felt sore after this!
Day 5: Yoga + Toning
This 10-minute video led by Jennifer Aniston's trainer, Mandy Ingber, included a mix of yoga poses with classic strength-training moves. It was tough!
Day 6: Butt Workout
Wow, I was not prepared for how much my butt would burn during this 10-minute workout. Lots of squats and pulsing! I loved it.
Day 7: Jumping Workout
I loved that I didn't need any equipment for this 10-minute jumping workout. It was fast-paced, involving lots of hops and — my personal favorite — burpees! I was having so much fun that I wished it was longer!