1-Year CrossFit Transformation
This Is the Workout I Did For 1 Year That Finally Helped Me Lose My Belly Fat
Last July, I only signed up for a month of CrossFit so I could write a post about how stupid I thought it was. Coming from a running and yoga background, and never once setting foot in a gym, I thought those people doing countless burpees, flipping tires, and grunting while lifting weights were nuts. I'm the first to admit that I was absolutely wrong. After just one month, CrossFit jump-started the most life-changing physical and mostly mental transformation I have ever experienced (aside from becoming a mom).
I decided to commit to CrossFit for an entire year, going four to six times per week, to see what would happen. I just hit my one-year CrossFitversary (fist bump to me!) and feel compelled to share my experiences in the hopes that they might inspire someone else who is thinking about trying CrossFit to finally take the (box)jump!
Before: July 2016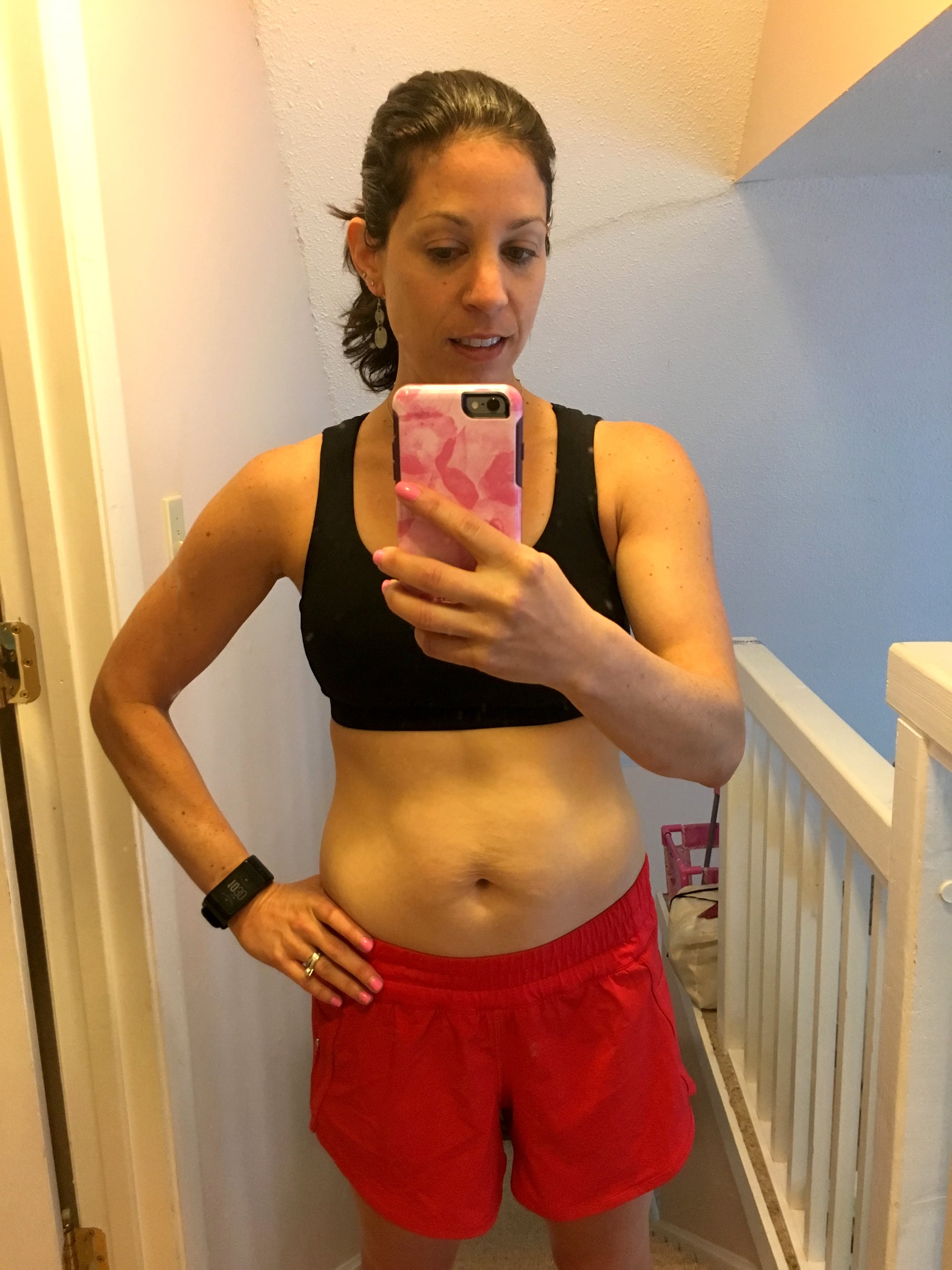 My journey actually didn't really go as planned, so I wanted to map out each month so you can see that progress wasn't all uphill for me. There were a few times when I actually lost faith in CrossFit and wanted to throw in the kettlebell towel — sorry, these puns are just too easy! I think anyone on any sort of fitness or weight-loss journey will be able to relate to this.
Throughout the 12 months, I weighed myself regularly and took monthly photos, just because I'm a science nerd and wanted to have actual data to compare from month to month. The numbers actually kind of shocked me.
Month 1, July: Starting weight: 122 pounds. Feeling awesome, I just wanted to get into the groove of learning all the different exercises and the correct form. I gave up running for CrossFit — bye-bye hour-long runs and hello seven- to 12-minute WODs! Goal number one: do a pull-up.
Month 2, August: Weight: 118 pounds. Still on my CrossFit high, I was actually bummed that I had to miss about two weeks of classes because of traveling, but I tried to do workouts while on the road, like this 200-rep bodyweight workout.
Month 3, September: Weight: 121 pounds. I climbed a frickin' 15-foot rope! Enough said. I also hurt my back in the middle of the month, putting too much weight on the bar when doing front squats (I was trying to keep up with the 60-year-old woman next to me!). So I took a little break, worried that maybe people were right about CrossFit causing injuries. But after a few days, I felt fine. It was a good lesson in not allowing my ego to get the best of me and in paying more attention to my body and my ability level.
After: July 2017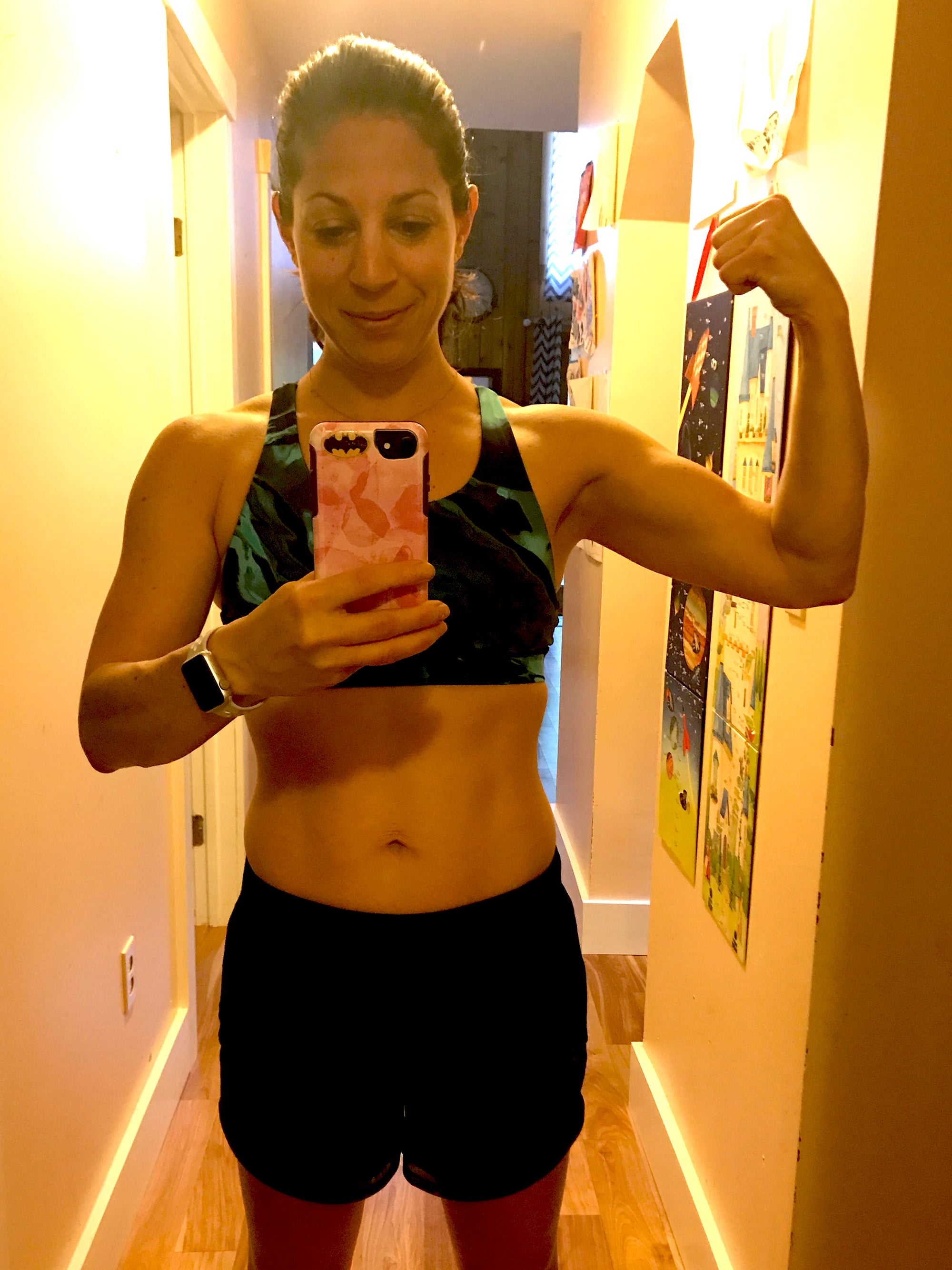 Month 4, October: Weight: 122 pounds. The weather was starting to get chilly and the mornings a little darker, but I still stuck with getting up at 4:40 a.m. for those 5:45 workouts. I was really starting to get to know my CrossFit community, and every night these two women and I would text each other: "Class tomorrow?" It helped motivate me to go, even when I was insanely tired or sore.
Month 5, November: Weight: 123 pounds. After four months, my arms and back started getting thicker, my sports bras and jeans felt tighter, and I actually wanted to quit CrossFit and stopped going for few days. I was pissed that I was getting up so goddamn early every day, working my ass off, and eating clean . . . and still had my baby belly. My husband was actually the one who convinced me to stick with it, knowing how happy it made me, and how strong and confident I was feeling. Other women at my gym also made me feel better about my muscles bulking up a little, reminding me not to focus on how I looked, but on what I could accomplish. They also said that for them, nine months was when they started to lose weight, so I stuck with it.
Month 6, December: Weight: 124 pounds. For some reason, I thought the six-month mark would be monumental and I would finally have the slim and ripped body I was convinced CrossFit would offer me. So when I compared photos from Month 1 to Month 6, I was embarrassed that my body wasn't there yet. I had to remind myself that any progress was still progress, no matter how small, and it motivated me even more to push myself during those workouts and stick to eating healthy.
After: July 2017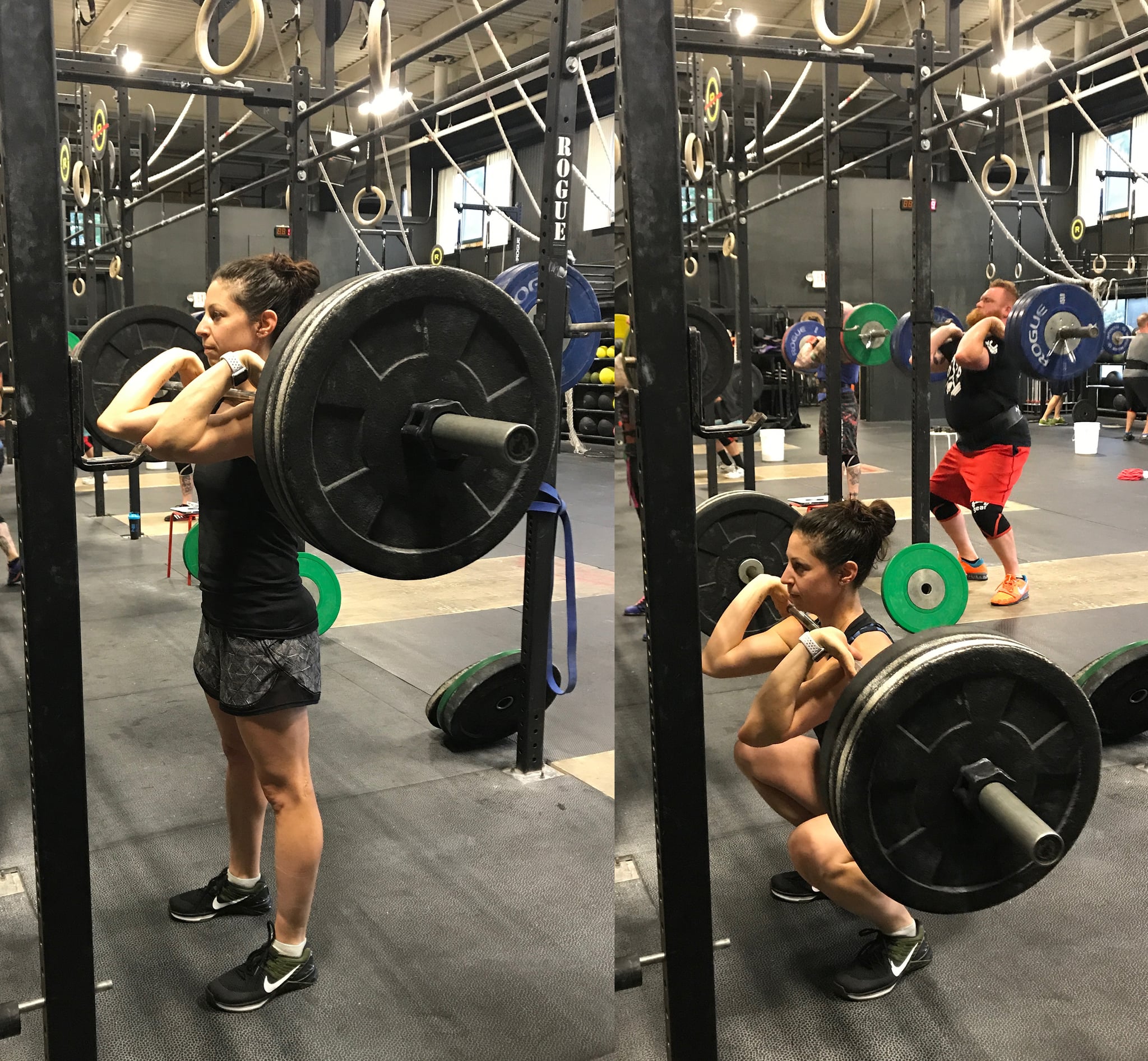 Month 7, January: Weight: 126 pounds. Holidays + my birthday = tons of cookies, overeating, not exercising much, and feeling like crap. Oh well. I did finally get two strict pull-ups: goal crushed! I didn't think it'd take me seven months, but better late than never.
I also had conflicting emotions about adding weight to my bar because I was worried that lifting heavier would make me bulk up even more. So I started to back off on the weight. One day my coach, Kristi, joked a little and said, "Sugar, your bar is looking a little light." So I told her my concerns, and she admitted to having the same thoughts when she started CrossFit six years ago. She basically threw out her scale and slowly started to fall in love with feeling strong, and now she loves her big muscles. "I wish mine were bigger," she said. So that started to change my perspective about how I felt women were supposed to look and how I thought I wanted to look. I said, "F*ck it!" and started adding more weight and really challenging myself. It's an amazing feeling to press a heavy bar over your head!
Month 8, February: Weight: 123 pounds. After seven months of doing CrossFit, I felt like I was gaining muscle, but I still had a layer of fat that wouldn't budge. I knew it had everything to do with me eating too much! Aside from giving up sugar for the month of January, about halfway through the month I started doing intermittent fasting (IF) to see if it would help.
Month 9, March: Weight: 123 pounds. I did three ring pull-ups! I also completed one month of intermittent fasting and noticed my belly getting a little slimmer. Woot!
After: July 2017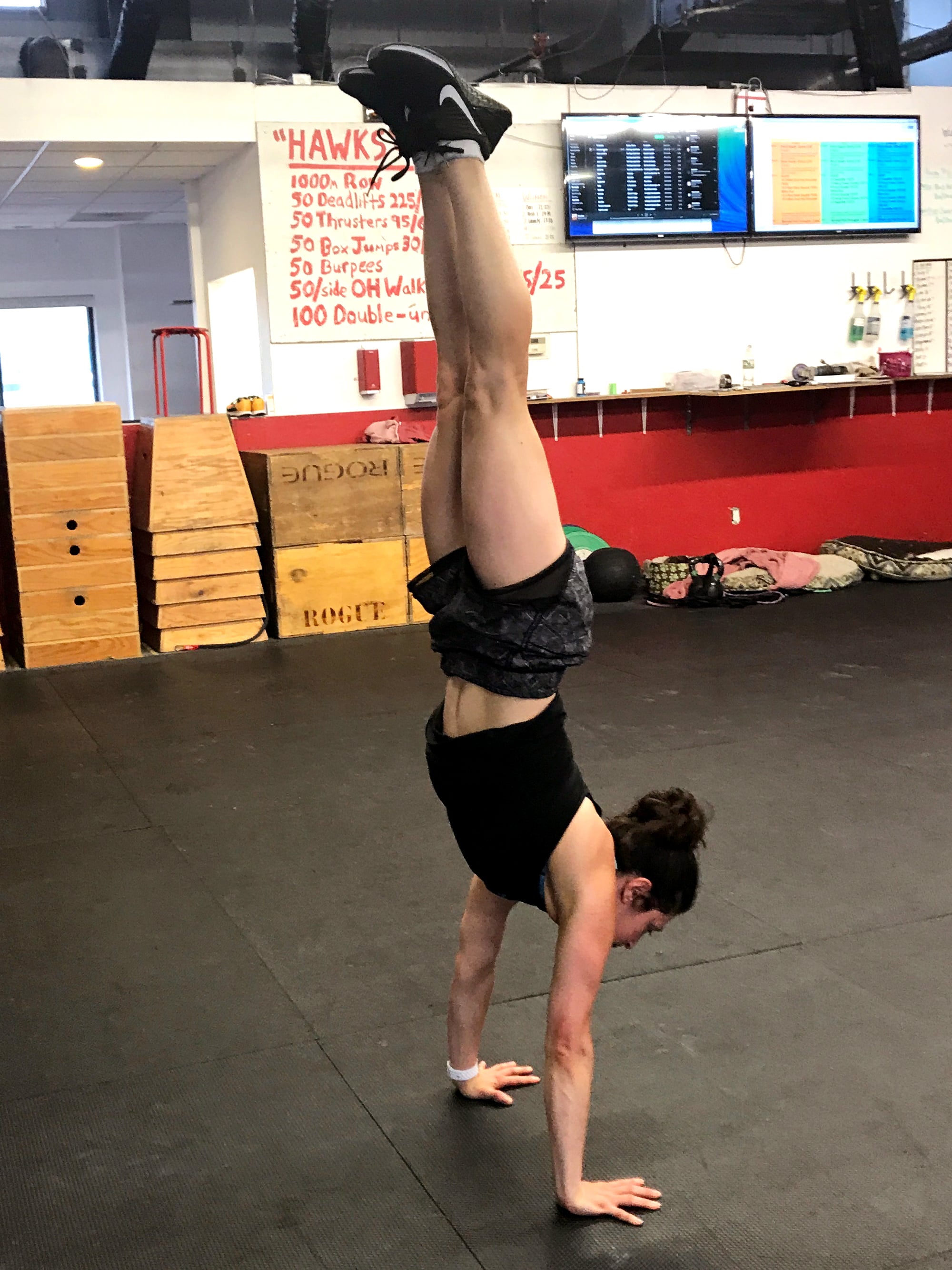 Month 10, April: Weight: 123 pounds. This is the month I noticed my upper-body strength coming in handy during yoga. I could now hold handstands for over 20 seconds. And with two months of IF under my belt, I was starting to see some definition in my abs! Lifting heavier and pushing myself more during workouts coupled with getting a handle on my diet are what really started to make my body transform.
Month 11, May: Weight: 124 pounds. I pressed into a handstand, crushing a goal I've had ever since I started yoga in 1999. And after three months of continuing with IF, I was pretty psyched that my baby belly fat started to shrink more, even though the scale showed weight gain. I was also drinking more water (like a gallon a day), which helped with eating less and belly bloat.
Month 12, June: Weight: 122 pounds. The final month of my year-long CrossFit journey, I experimented a little more with my diet to try to solve some bloating issues, and I committed to a two-week fruit, veggie, and nut diet, which helped reveal my first glimpses of a real six-pack. I actually wore a bikini at a public pool for the first time ever, which for me was a HUGE deal. But even huger was the fact that from kettlebell swings to wall balls to overhead squats, I was lifting way more than I was when I started. I not only looked stronger; I WAS stronger!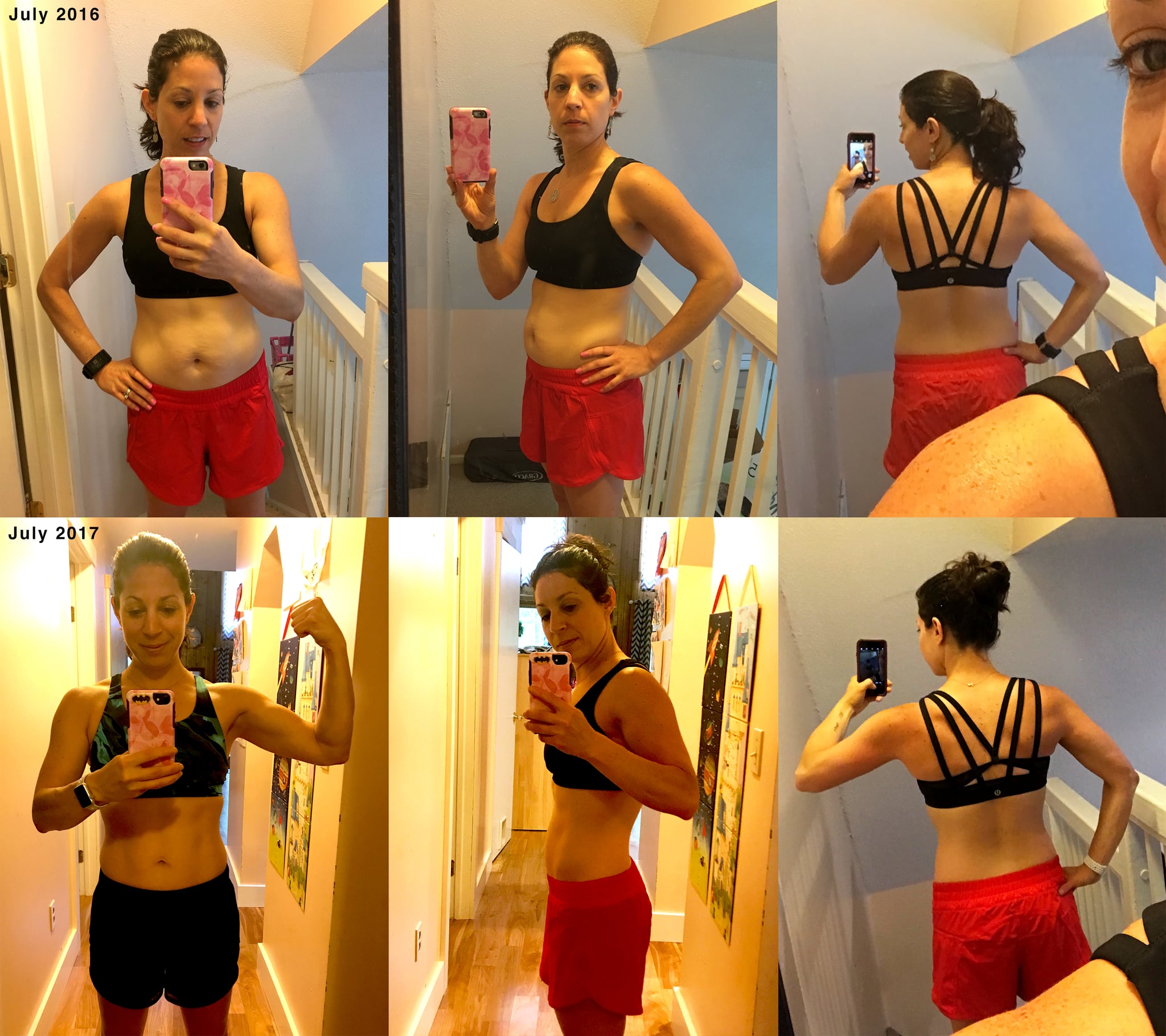 Final Thoughts
I drank the CrossFit Kool-Aid and now I'm hooked. I am so grateful for the inner strength and confidence I feel every day, in the gym and in my life. The absolute greatest benefit is the freedom I feel from the constant negative thoughts I used to have about my body, of always trying to lose weight and get leaner and more toned. Of incessantly thinking about food: what I should eat, what I shouldn't eat, feeling bad when I ate too much, and worrying about when I was going to fit in my next workout. And what I was doing wasn't working at all, so it's an amazing feeling to put in the effort and actually see results. And I'm not done yet. I just signed up for a year-long membership so I can crush some more goals — muscle up; I'm coming for ya!
I know what you're thinking — that CrossFit is cult-like or too extreme or "not your thing" — because I was there, too. I thought it was only for burly men or athletic women or 20-year-olds or people who are already crazy-fit. But anyone can benefit from CrossFit, no matter their ability level or age (there's a 72-year-old woman in my class who can deadlift as much as me!). Everyone has to start somewhere, and I'm so glad I took the plunge a year ago. CrossFit is hands down one of the best things that's ever happened to me, because it's helped me love myself in a way that I never thought possible, and that love spreads out into every aspect of my life. It could be the same for you, but you'll never know unless you try. So what are you waiting for?