This Couple Lost More Than 200 Pounds Together Before Their Wedding Day
Mary Jane O'Toole
Mary Jane O'Toole
It was nearly three years ago when Mary Jane O'Toole was surprised by her now-husband with a trip to Disney's Animal Kingdom for a safari trek. It was one of those experiences that is well-documented for posterity, but it was that trip that threw into sharp relief what Mary Jane and Alex already knew: they needed to lose weight. By tracking all their food and eventually incorporating workouts into their daily lives, the two of them shed more than 200 pounds over the course of two years — just in time for their 2018 wedding. We asked Mary Jane, who has nearly reached her goal weight, how she and Alex did it. Keep reading to hear her story.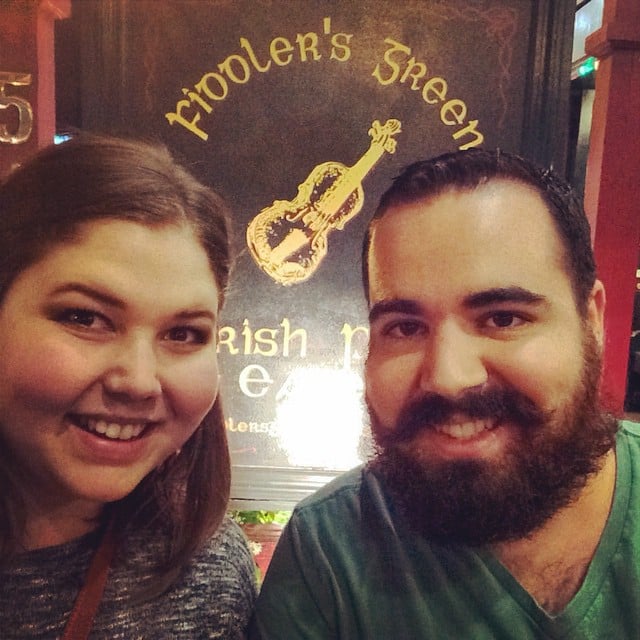 Where Mary Jane's Story Begins
Mary Jane and Alex embarked on their weight-loss journey together and have been a support system to the other throughout. Their turning point was two and a half years ago on a trip to Disney's Animal Kingdom. "It's an amazing adventure," Mary Jane told POPSUGAR. They documented the whole day and posted pictures afterward. "We saw the photos and made a decision to change our eating habits," she said.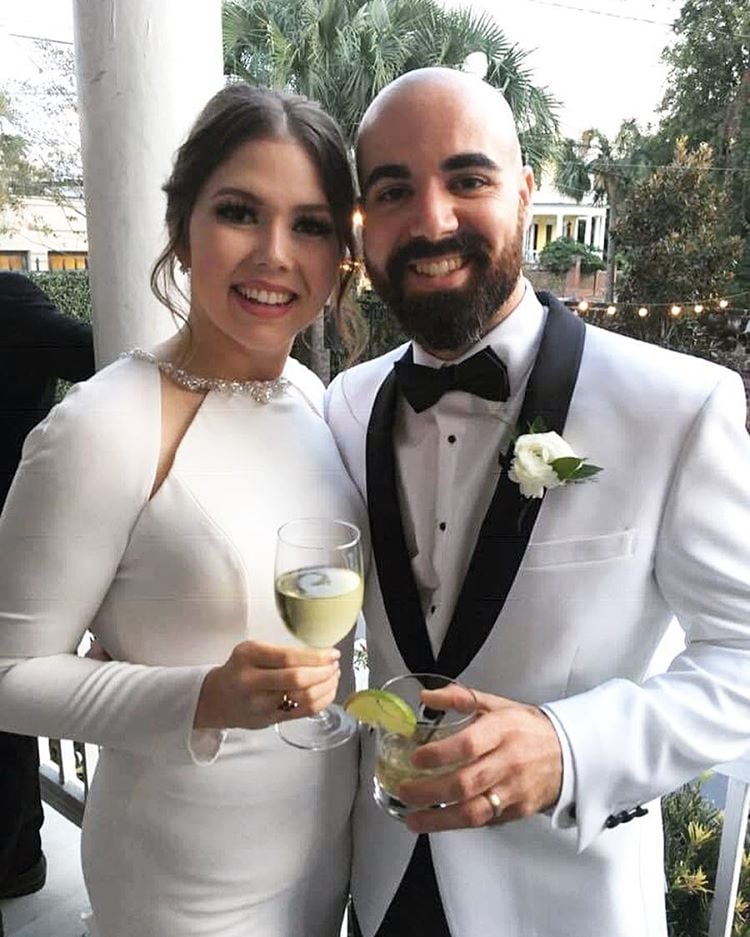 Mary Jane's Motivation
Mary Jane and Alex had an easy motivator when they were going through their weight-loss journey together: their upcoming wedding. Together, they tracked everything they ate in anticipation of their November 2018 wedding. Alex lost 75 pounds in the first year and is keeping it off, and Mary Jane has lost 135 pounds in two years. Her main motivation was her wedding dress. "I decided a long time ago that I was going to buy a 'straight' sized wedding dress. I was determined to not have to pay more for fabric," she said.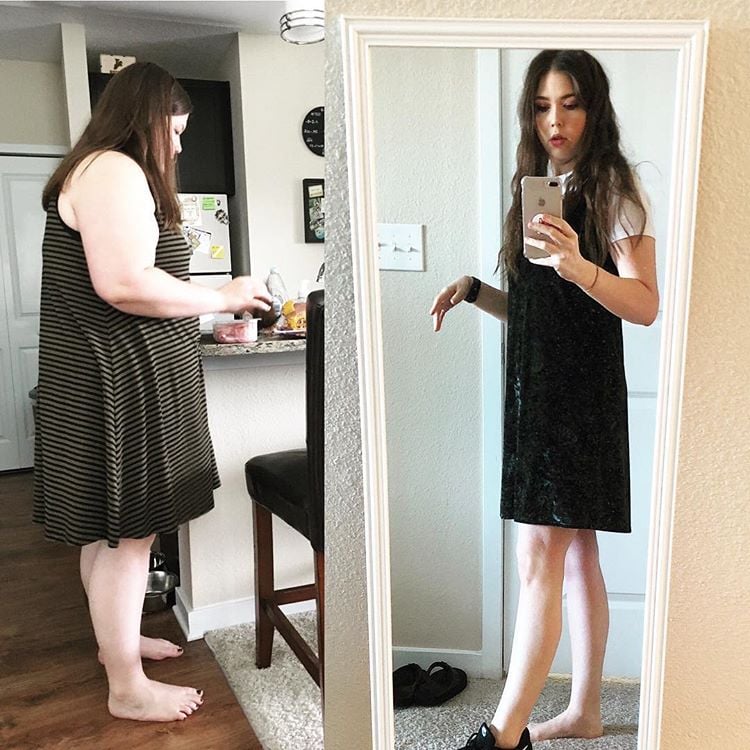 What Mary Jane Eats
We can totally get on board with how Mary Jane manages her diet, because she doesn't deprive herself but instead focuses on portion control. "I just make sure to log what I'm eating, whether it's rice cakes or Rice Krispie treats, into the Lose It! app to help keep my portion sizes under control and help me stay on track to achieve my goals," she told POPSUGAR.
One of Mary Jane's go-to foods are low-calorie English muffins, which she uses as a pizza crust for mini pizzas. It's quick, easy, and healthy!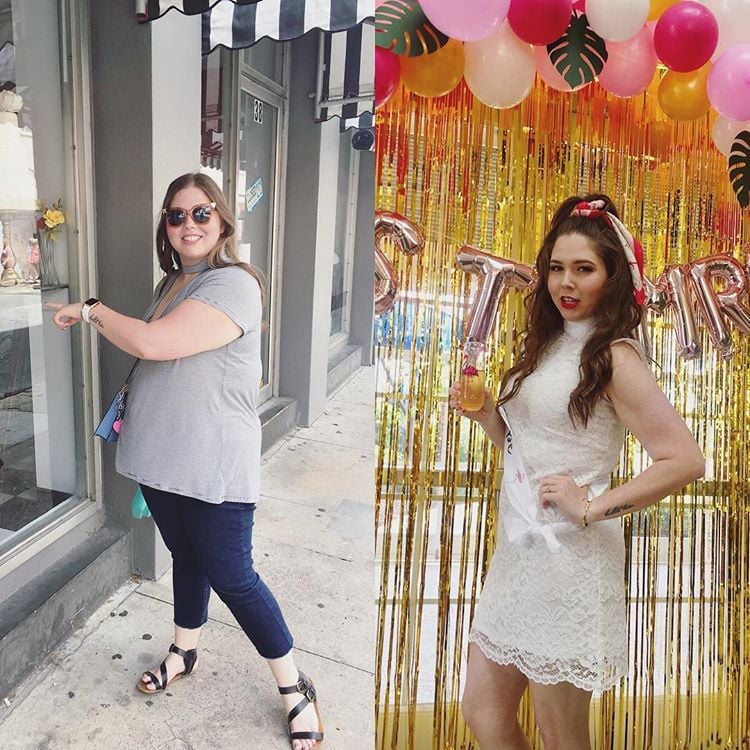 How Mary Jane Works Out
Mary Jane waited until a year into her weight-loss journey before she started working out and admits that she never thought she'd love it as much as she does now. One of her current favorite workouts is one of our favorites, too: yoga. She said right now she's doing circuit training with resistance bands and yoga to really work her whole body.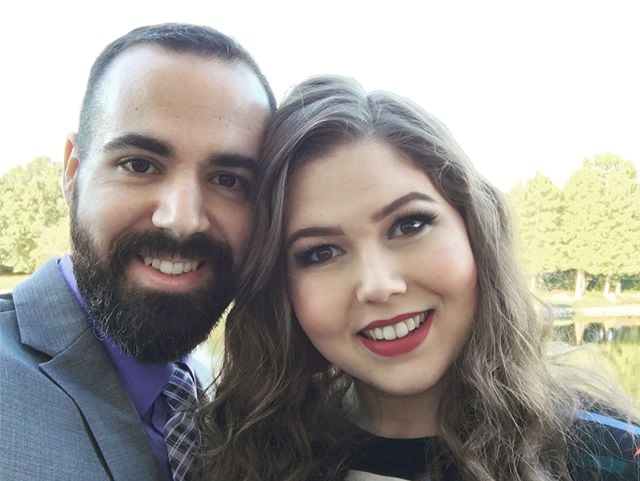 Mary Jane's Advice
Mary Jane and Alex both struggle with overeating, she said. While cheat days work for some people while dieting, Mary Jane said it's not something she and Alex can ever give in to because they know it'll snowball for them and lead to too many cheat days. "You need consistency and dedication. It is only going to work if you want it," she told POPSUGAR.