If You Want to See Ab Definition, Try This Trainer's Quick 4-Move Workout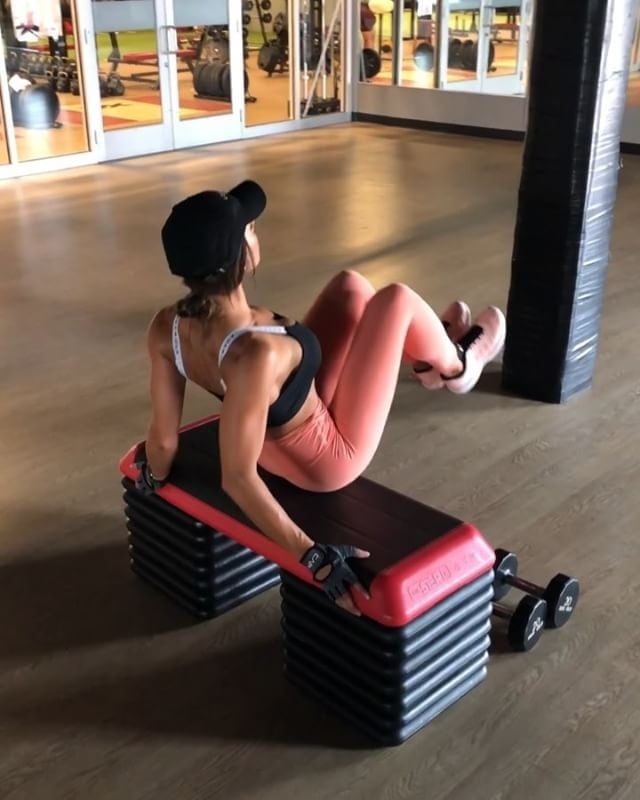 If you're in need of some major fitness inspo, you've got to follow personal trainer and creator of the PWR program Kelsey Wells. The PWR program is one of the four programs from Kayla Itsines's SWEAT app, and it's all about weightlifting and building lean muscle mass.

If you're not ready to commit to the $20 SWEAT app subscription, Kelsey has been sharing snippets of the program on her Instagram. One of our favorite workouts she's shared thus far is this four-move ab workout. According to Kelsey, the workout is "a quick abs sesh you can do anywhere you've got a bench."
If you don't have access to a bench, or find that doing these exercises on a bench is too advanced, try doing the moves on the ground. Continue reading for instructions on how to do each exercise and the ground modifications.
01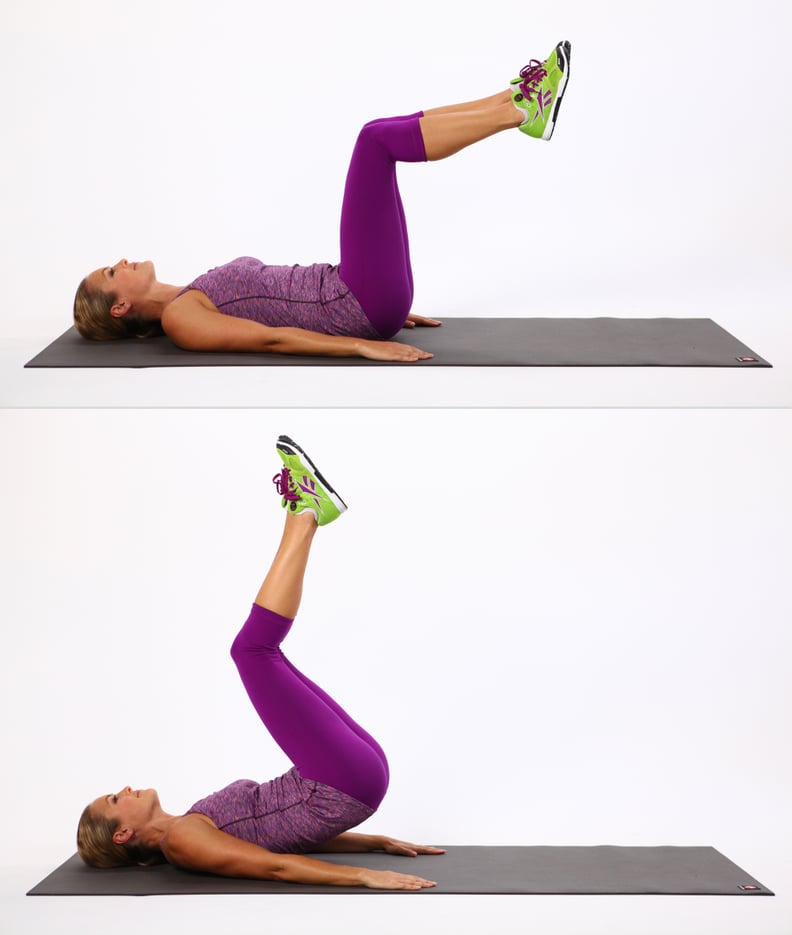 Reverse Crunch
Lying on your back, lift your legs in the air with your knees bent. Place your hands on the floor beside you.
Without momentum, use your lower abs to slowly curl the hips off the floor and into your chest. Slowly lower them back to the starting position.
This counts as one rep.
Complete three reps of 12 exercises.
02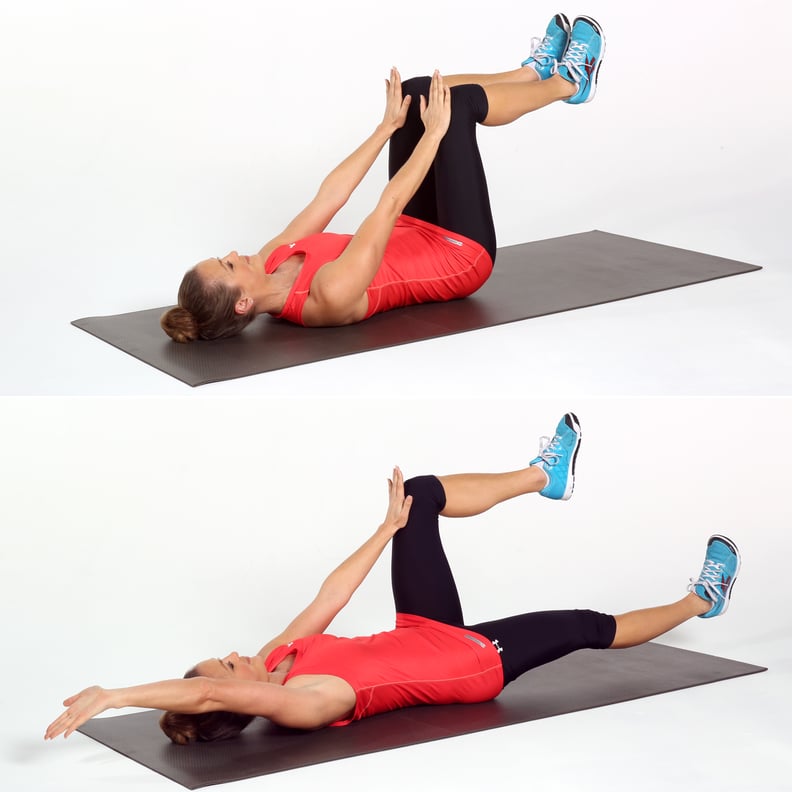 Dead Bug
Lie on your back with a neutral spine and your hips and knees at right angles, with your palms pressed into your thighs just above your knees.
Pull your abs to your spine keeping your ribs and pelvis still as you lengthen your right arm and leg out until they are almost parallel to the floor. Keep your torso and spine completely stable as the arm and leg move.
Return to the starting position, and repeat on the left side to complete one rep.
Complete three sets of 12 reps.
03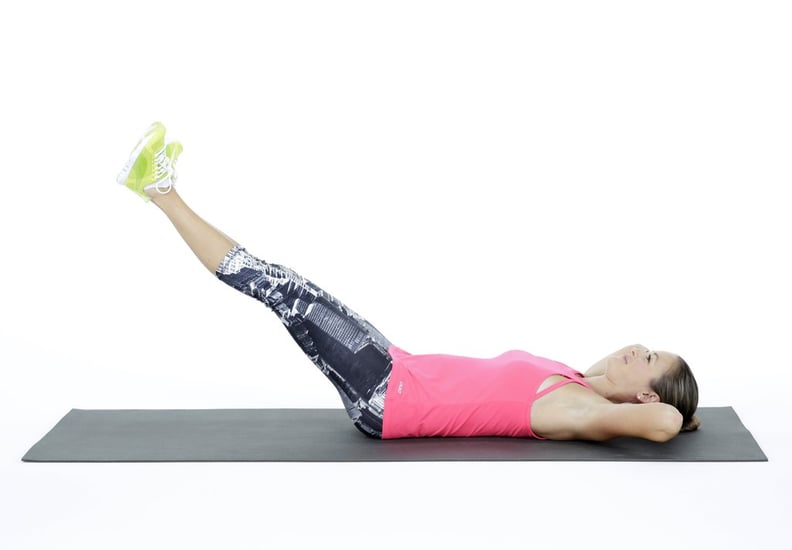 Double Leg Lifts
Lay flat on the ground with your legs extended straight up towards the ceiling. Place your hands underneath the back of your head. For added stability, lay your arms out to your side, allowing your palms to grip the floor much like you would in a push-up position.
Pressing your lower back into the ground, slowly lower both legs down toward the floor, then slowly raise them back up. If this is too difficult, lower them as much as you can, or lower one leg at a time.
Complete three sets of 12 reps.
04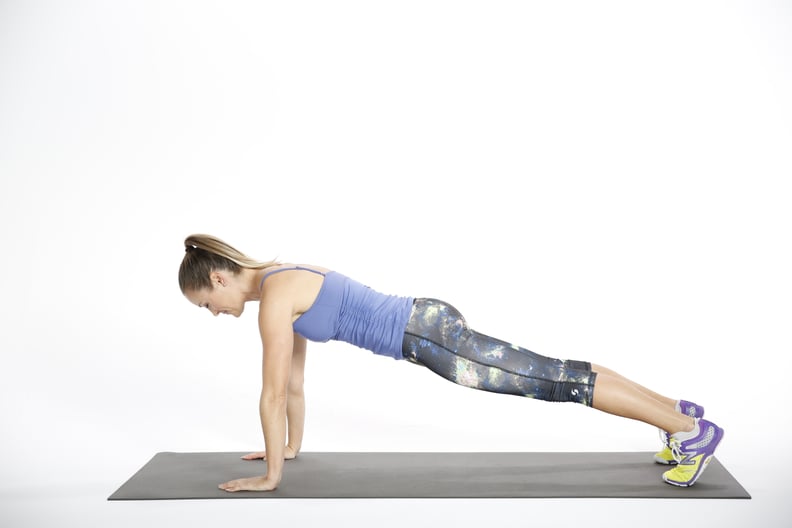 High Plank
Start resting on all fours.
With your palms flat, raise up off your knees onto your toes. Keep your hands directly below your shoulders.
Contract your abs to keep yourself up and prevent your bottom from sticking up. Remember to keep your belly button pulled in.
With your head and spine in line, keep your back flat — don't let it curve. Picture your body as a long, straight board.
Hold for 60 seconds. Complete three sets.
Watch the Video Below to See How Kelsey Performs Each Move