Is the Sweat App Worth It?
Is the SWEAT App With Kayla Itsines Worth $20 a Month? Here's How to Decide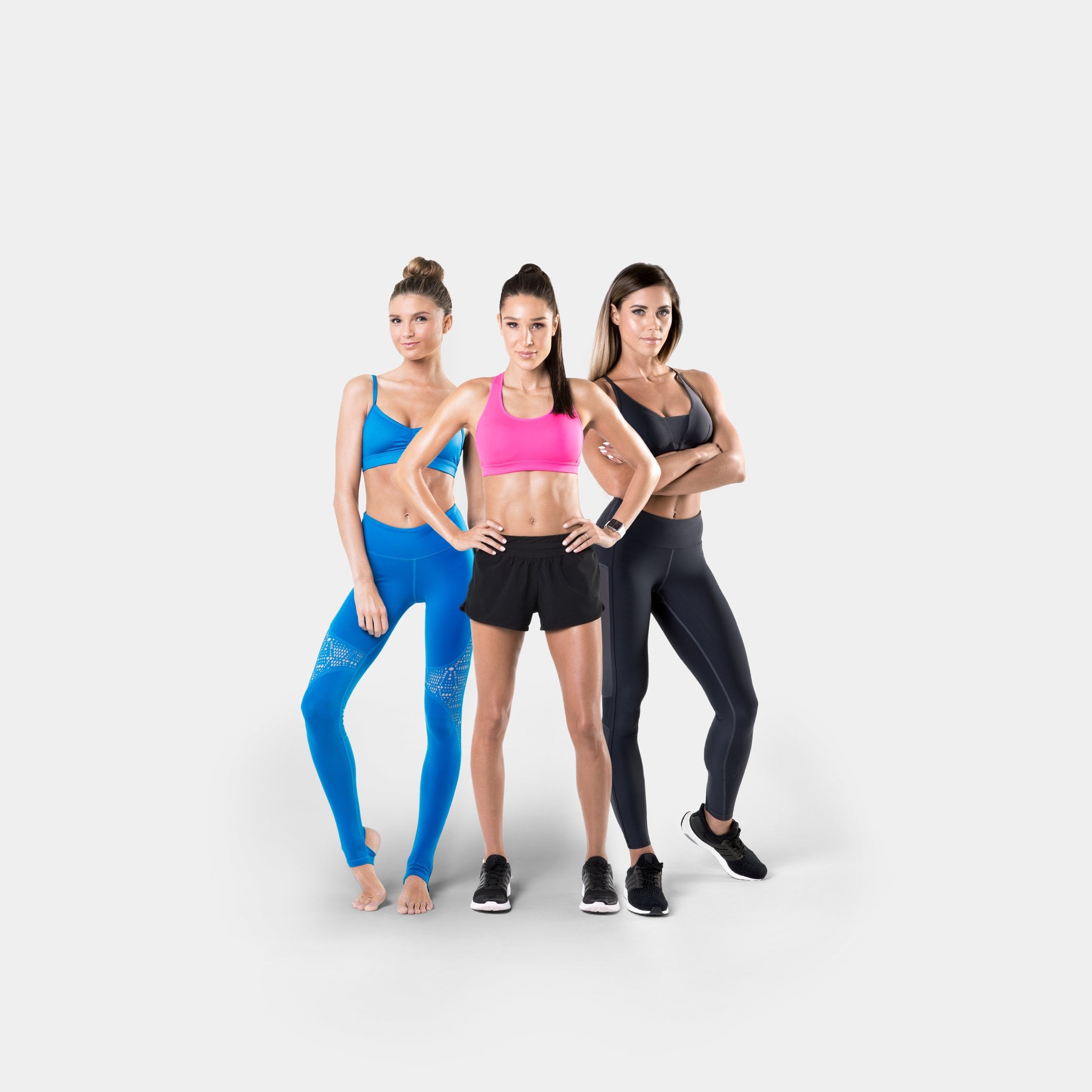 It's no secret that Kayla Itsines has the ability to transform women's bodies. The BBG (Bikini Body Guide) program exploded in the fitness world and catapulted Itsines into international stardom (and Instagram fame). The PDF guides have been out for years, so when the SWEAT app launched (it encompasses BBG in addition to other workout programs), many fans were wondering if it was worth the extra monthly fee.
So is it worth it? You decide! Though we're fans of the app and have our own opinions, we wanted to break down some things to consider if you're thinking of making the investment yourself. Let's get into it!
The Price
It's $20 a month, $55 for three months (a little over $18 per month that way), or $120 for a year (a 50 percent savings). While it may seem steep at first, Kayla once broke it down this way: it's like one Starbucks drink a week (or only twice a month if you get the year package).
If you have fitness expenses already and no extra budget to tack on another $10-$20 each month, this is something to consider. However, if your out-of-pocket costs right now are relatively low (and you can sacrifice a latte a week to make this work), then the app might be well worth it, especially for all the benefits. Let's get into those.
The Workouts
There are four workout programs on the SWEAT app, including two from Kayla: BBG, BBG stronger, Body and Mind yoga with Sjana Elise, and SELF postpregnancy with Kelsey Wells.
This means you can choose from bodyweight (no equipment) workouts, strength workouts with machines and heavy weights, yoga, or a specific postpartum program. Each program incorporates LISS cardio to complement the strengthening workouts.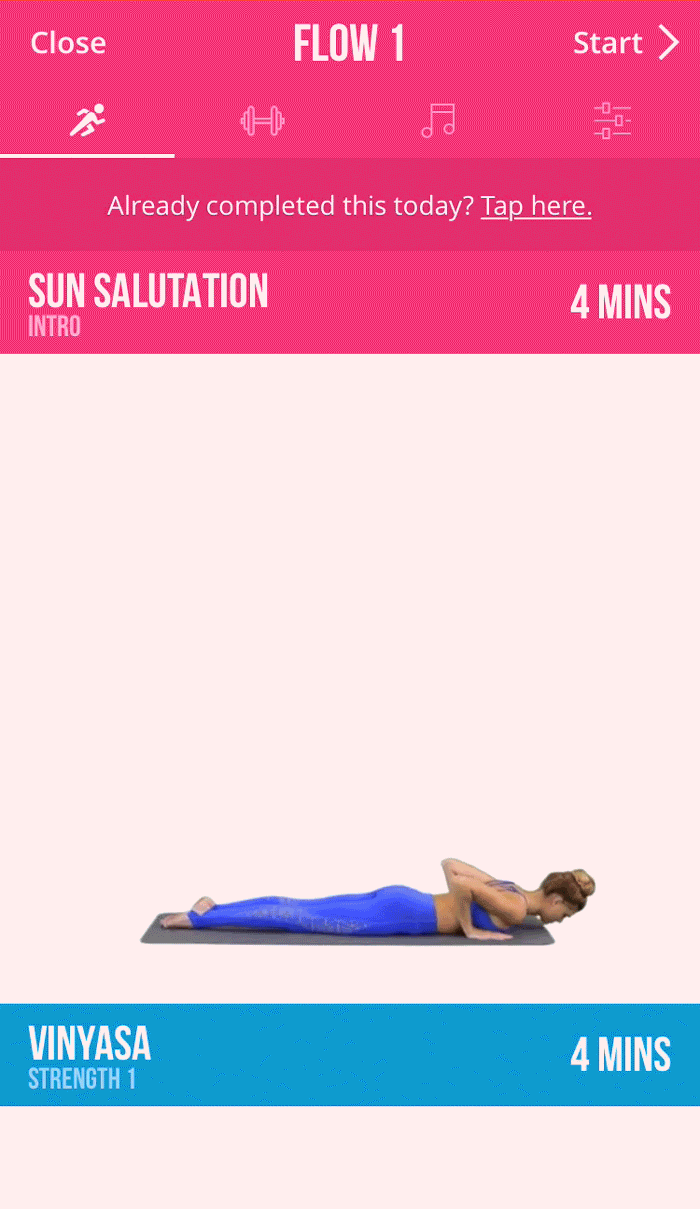 You can start over whenever or jump ahead to a certain week, but the programs are 12 weeks long, meaning you'll have a comprehensive fitness and nutrition plan that you can customize to your own schedule for three months.
The Nutrition
Speaking of that nutrition plan . . . from blueberry and lemon breakfast quinoa to a passionfruit and mango mousse afternoon snack, every meal is programmed out for you in the plan and complete with ingredients, instructions, grocery lists, and estimated prep times. Most recipes are marked as "easy" with a rare few venturing into "moderate" difficulty. Each recipe has photos, so you can get a feel for what your meal might look like.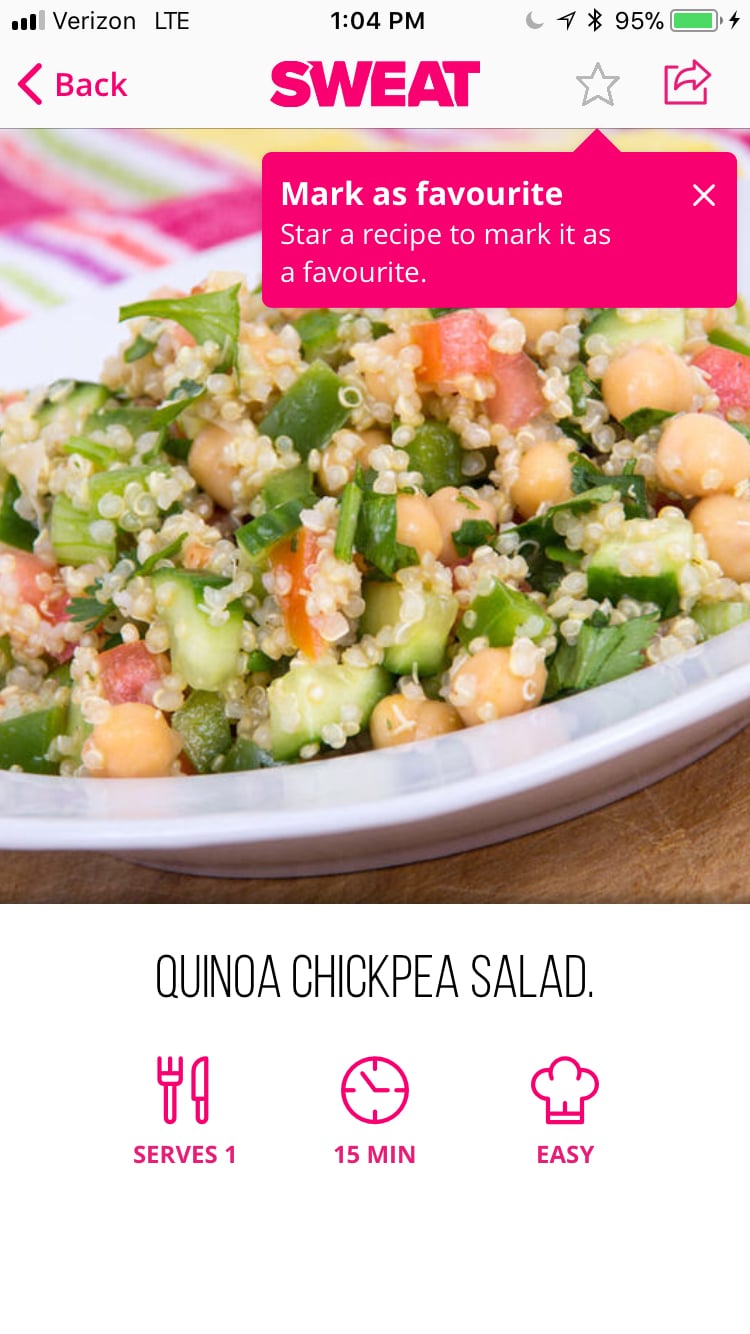 You can choose regular, pescetarian, vegetarian, or "other" (ovo-vegetarian, lacto-vegetarian, and vegan are some other options). The program consists of five meals a day: breakfast, lunch, and dinner, plus a morning and afternoon snack.
The Interface and Experience
On the app itself, you can log your resistance training, cardio minutes, and recovery (hooray for foam rolling!) all while using guided videos and instructions. You can even log how many ounces of water you're drinking to keep on top of your hydration!
The app sets daily goals, which you can access on one page, in addition to giving you a calendar view to monitor your steps, workouts, cardio (which can be walking!), recovery, and nutrition from a weekly or monthly perspective. There's also a place to take and share progress photos, as well as an education section to learn more about resistance training, macronutrients, food intolerances, and more.
Arguably one of the coolest features of SWEAT (if you have an Apple Watch) is that it links with your Apple Watch, allowing you to seamlessly track your steps, do a workout or foam roll session (it shows you what to do — with video! — right on your wrist), log LISS or HIIT, and track progress without your phone.
Final Thoughts
The SWEAT app has pretty much anything you could ask for in a fitness and nutrition app — and then some! Yes, there's a cost involved, so it's up to you to decide if the $5 per week is worth it, but hopefully this gives you some insight as to what those dollars will get you in terms of health benefits and convenience. Our suggestion? Try the seven-day free trial and see for yourself!