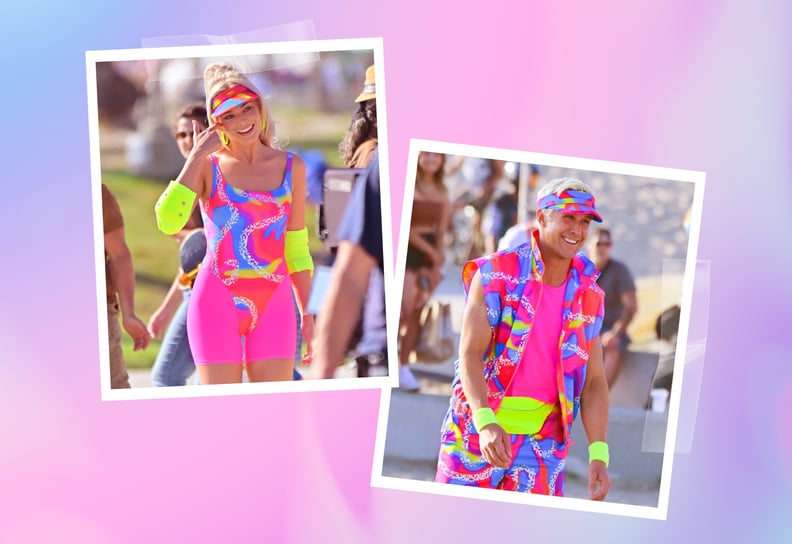 Getty | MEGA / GC Images
Photo Illustration: Aly Lim
Getty | MEGA / GC Images
Photo Illustration: Aly Lim
Take our advice and turn to your classic (but by no means boring) '80s workout clothes this year for your Halloween costume. It's easy enough. And while the season may be the best time of year for haunted houses, scaring your friends, and eating bat-shaped Reese's peanut butter cups, it doesn't have to be stressful — especially in the costume department.
Whether you are on the hunt for an easy last-minute Halloween costume or just want to wear something comfy and stretchy to ring in All Hallows' Eve this year, this dated athleisure wear is sure to meet your standards. Get ready to channel your inner Jane Fonda (or maybe '80s suburban mom Karen Wheeler from "Stranger Things"), because this colorful lineup of inspiration from those neon-clad, leg-warmer-wearing, Jazzercise glory days will leave you feeling super confident.
The '80s workout getup, after all, is a classic yet standout Halloween costume. The colorful eyesore of spandex and dance fever dreams represents what is basically the best, most nostalgic, and easiest low-effort costume to pull off. Plus, it's just so damn fun to wear. With stretchy material as its core component, how can it not be? So raid your closet, dig up those old mismatched workout clothes, and get ready to start layering on the spandex — it's dance time.
— Additional reporting by Christina Stiehl and Melissa Santoyo
Coordinate Your Colors
For this '80s workout costume, try matching your ankle warmers with your leotard, or, for a more elevated ensemble, try colorblocking instead. Colorblocking is a trend where you'd wear two contrasting blocks of color — almost like it's so bad, it's right.
Stand Out With Colorful Eye Makeup
The perfect addition to any '80s workout costume? A bright, neon eyeshadow palette to match. Pack on those vibrant shades, and get ready to dance the night away.
Grab Your Besties or Partner to Match Costumes
The only thing better than one '80s jazzercise instructor is two. With costumes as vibrant as these, you and your partner are sure to turn heads on Halloween. Alternatively, '80s workout clothes make for a fast and easy group costume, too.
Try a Neon Onesie and Ankle Warmers
Combining comfort with color, a sleeveless onesie like this one makes for the perfect '80s workout costume.
Don't Forget Your Roller Skates and Boombox
Ramp up the "wow" factor on your Halloween outfit with fun props or funky footwear. Roller skates and/or a boom box is a must.
Add Some Outerwear
Including a colorful track jacket or even a cropped sweatshirt to your '80s workout Halloween costume will keep you warm and looking good.
Accessorize With a Colorful Dumbbell
Fun props — like this colorful dumbbell — add a little extra detail to an already-stellar '80s workout costume.
Don't Forget the Hair
A classic '80s perm is essential for this costume. And if you can't handle that much hairspray, try a wig instead. If you're looking for inspiration for either, check out Karen's hair on "Stranger Things."
Or Try a Statement Headband Instead
If you're really not in the mood for any complicated updos or hairspray escapades, a bright headband will do the trick.
Wear a Belt For an Added Accessory
Styling a typical '80s workout costume with a colorful belt makes for a fun deviation on an otherwise pretty standard getup. Alternatively, you could always add a fanny pack.
Jogging Suits FTW
Looking for a more modest (but no-less-fabulous) option in the realm of '80s fashion? Try wearing a tracksuit. Many of these can be found online through secondhand retailers like Poshmark.
Opt For Colorful Animal Print
The '80s was not the time for subtlety, so when in doubt, neon and animal print should be your go-to.
It's Not '80s Fitness Without Richard Simmons!
If you want to take your Halloween costume a step further, try dressing up like a specific '80s workout instructor.
Loving the Bike Shorts Under the Leotard
This slight variation of the standard '80s aerobics outfit is both comfortable and stylish.