Every editorial product is independently selected by our editors. If you buy something through our links, we may earn commission.
Season four of Netflix's hit series "Stranger Things" premiered on May 27 to much fanfare. Fans of the show can't get enough of the supernatural hijinks that the characters continue to get into each season, with many already binge-watching part one and are waiting rather impatiently for part two in July.
While the show is sure to deliver even more heart-pounding moments in the latter half of season four, if you're a beauty fanatic, you're probably still reeling over all of the beauty moments we've been seeing. You wouldn't be the only one, either. For days after the premiere fans, asked questions like: "Did Millie Bobby Brown cut her hair?" and "How does Steve's hair look so. . . big?" In addition to the incredible special effects transformations seen in each episode (see: Chief Hopper's prosthetic face enhancements and Billy's graphic death scene) there are some incredible beauty moments throughout the show.
Lucky for you, the show's makeup lead, Amy L. Forsythe, and hair lead, Sarah Hindsgaul, shared a few behind-the-scenes looks at what it took to bring the show to life. Read ahead for all the beauty breakdowns.
The Lip Product They Used on Cornelius Bingham
Cornelius Bingham made a brief appearance during this season but his makeup left a lasting impression. Aside from his haphazardly-painted body makeup, which Forsythe said was inspired by "Lost Boys" and the look of a feral child, his lips were intentionally coated in a shiny gloss. "A candy-colored lip gloss was added around his mouth to look like sticky candy," Forsythe wrote on Instagram.
How They Achieved Joe Keery's Realistic Road Rash Scars
After the Demobat fight, Steve has some pretty noticeable scars on his body. The secret behind his look? Road rash prosthetics by Autonomousfx.com.
How They Created the "Full Hopper Face" With Prosthetics
Chief Hopper was brought back in season four and adjustments were needed for continuity purposes. David Harbour, the actor who plays Hopper, lost quite a bit of weight since season three so one of the show's makeup designers, Barrie Gower, used prosthetics to give his face a fuller look. "I hate prosthetics, but Barry/team made it as painless as possible," Harbour wrote on Instagram. "The results speak for themselves. Shoutout to @amylforsythe as well who has been our makeup dept head since s1, for augmenting, overseeing and being all around generous with the process."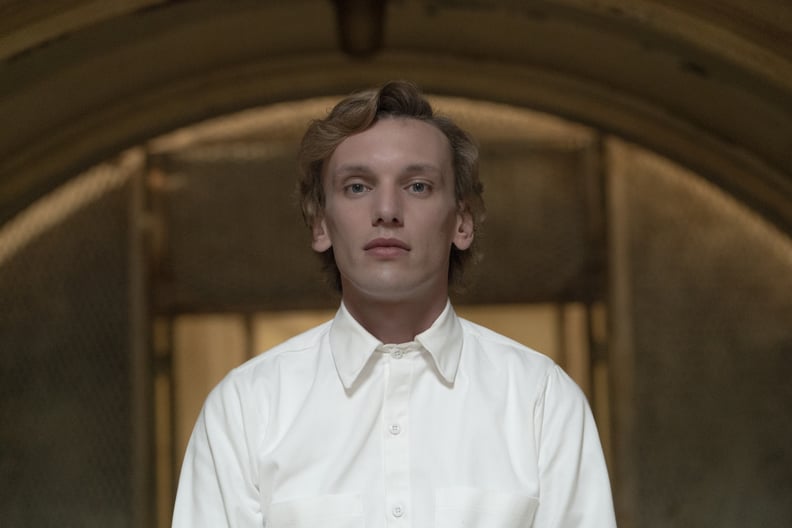 The Products They Used For Muted Skin Tones Across Various Characters
Peter Ballard, played by Jamie Bower, is notorious for his villainous, muted skin tone and it turns out that was very intentional.
"All the people that work in the lab, and its patients, have the healthy tones muted with Dr. Jart Cicapair ($52)," Forsythe said. "Similarly, we've done the same with everyone at the asylum but upped the ante with a very thin layer of Bluebird FX Old Age ($80) to really suck the life out of their skin."
How They Created Agent Harmon's Gunshot Wound
The Key to Nailing the Color of Karen Wheeler's 80's Hairstyle Wig
Karen Wheeler is the lovable and very fashion-forward mother of Nancy, Mike, and Holly. For season four, she got a hairstyle that couldn't have felt more '80s. "Fantastic wig @gretchenmakeswigs that I cut it short layers on top to show off the cool #perm done by @katsuhre," Hindsgaul wrote on Instagram. "I also colored it light natural beige with Redken Eq Toner (available in salons only)."
Yes, Grace Van Dien Did Cut Her Hair to Play Chrissy Cunningham
Grace Van Dien, who played Chrissy Cunningham on the show, cut her hair to get that bouncy ponytail that she was sporting. "It was important to us That Chrissy comes across as pure, innocent, and vulnerable," Hindsgaul said on Instagram. "We cut Grace's own hair a bit shorter for it to come up into a more bouncy preppy ponytail. After that I softly highlighted her hair to make it look Sunkist and for it to color match the beautiful topper wig."