Carrie Underwood Fitness Tips
5 Healthy Travel Tips We Learned From Carrie Underwood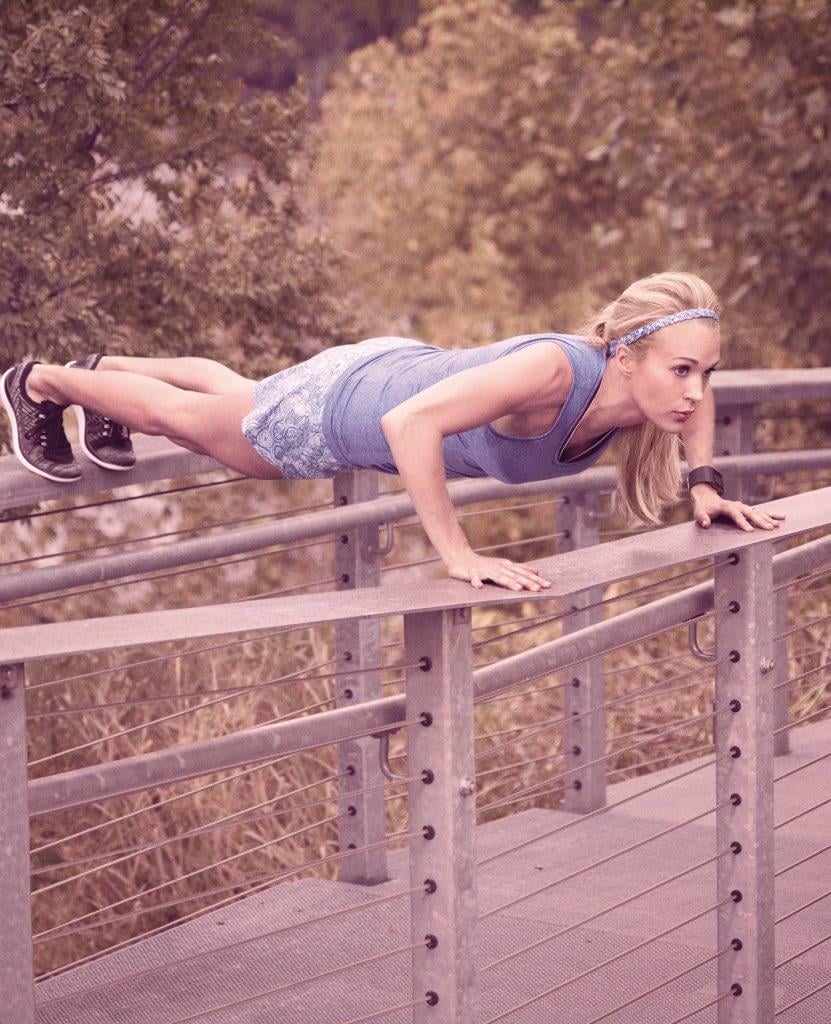 We've got a total fit crush on Carrie Underwood. She's a working mom, an entrepreneur, and still SO healthy. And while it can seem virtually impossible to maintain a diet or an exercise routine on the go, Carrie seems to have mastered it. She travels all the time for her career, whether she's launching an activewear collection or on a concert tour. If you're wondering, "how does she do it all?" we wondered the same thing — so we asked! Here are five things we learned from her crazy schedule and healthy habits.
Related: Carrie Underwood's Favorite Activewear Styles
Related: Workouts You Can Do on the Go That Take 10 Minutes or Less
Always plan ahead. The healthy life on the road doesn't come easy, and Carrie said, "it definitely takes a little bit of effort." If she can plan an extra day into her trip to avoid jet lag, she does so to avoid fatigue and exhaustion. "You have to plan things out, think ahead," Carrie said. She uses her "little moments" to plan her workouts. "If you're on a plane going someplace, use that time on the plane; devote 10 minutes to write down a workout." Then when your plane lands, get to your hotel and do your workout!
Squeeze in a workout whenever you can. When we talked to her on the phone, she was walking on the treadmill at her hotel (what a multitasker!). Even in the smallest of ways, she said, "You just have to think, 'what can I do? What are little things
that I can do to make myself better?'"
Do bodyweight workouts, anywhere. Carrie said that because hotel gyms vary with the equipment they have to offer, "you can make bodyweight workouts wherever you are, with whatever you have." One of her favorites? Tabata! "You can do planks, lunges, crunches, and things you don't need any equipment for," she said.
Don't rely on room service. When she's tempted to order french toast or pancakes, she remembers to pack her favorite protein chips (she ordered Simply Protein on Amazon!) and oatmeal breakfasts, which are so easy to prepare on the go. "I just need hot water, and that's my breakfast!" Another fun finding: Carrie loves avocados as much as we do. "I carry on avocados [when I travel]. They are the perfect food to me. They're so filling." So . . . make like the country-singing star and add avocados to your packing list.
Work out while you explore. Carrie said to simply "go for a walk or a jog!" If you're traveling for business, you'll relate to Carrie — "I feel like so often I can leave a country and feel like I didn't see anything." She counters this (when time allows) by getting outside. "If it's decent weather, get your running gear on and go for a walk, go for a jog, and see something!"