Easy Recipe For Grilled Shrimp
Fire Up the Grill For This Protein-Packed, Low-Calorie Main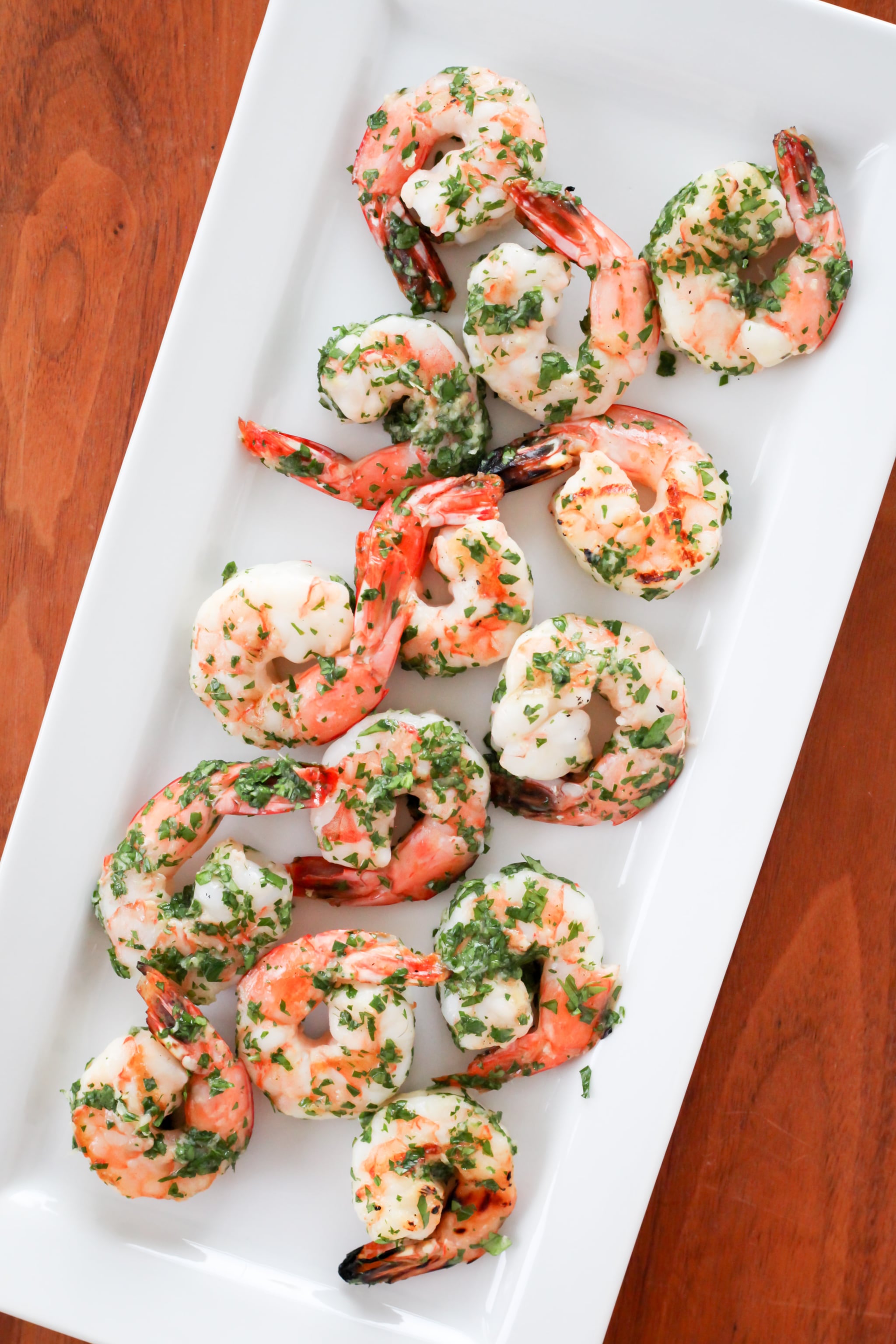 A variety of oceanic delights take well to to the grill — cedar-planked salmon, anyone? — but my favorite type of seafood to cook this way is shrimp, hands down. Not only is it a crowd-pleaser, but it also cooks fast, is super flavorful, is protein-packed, and is low calorie.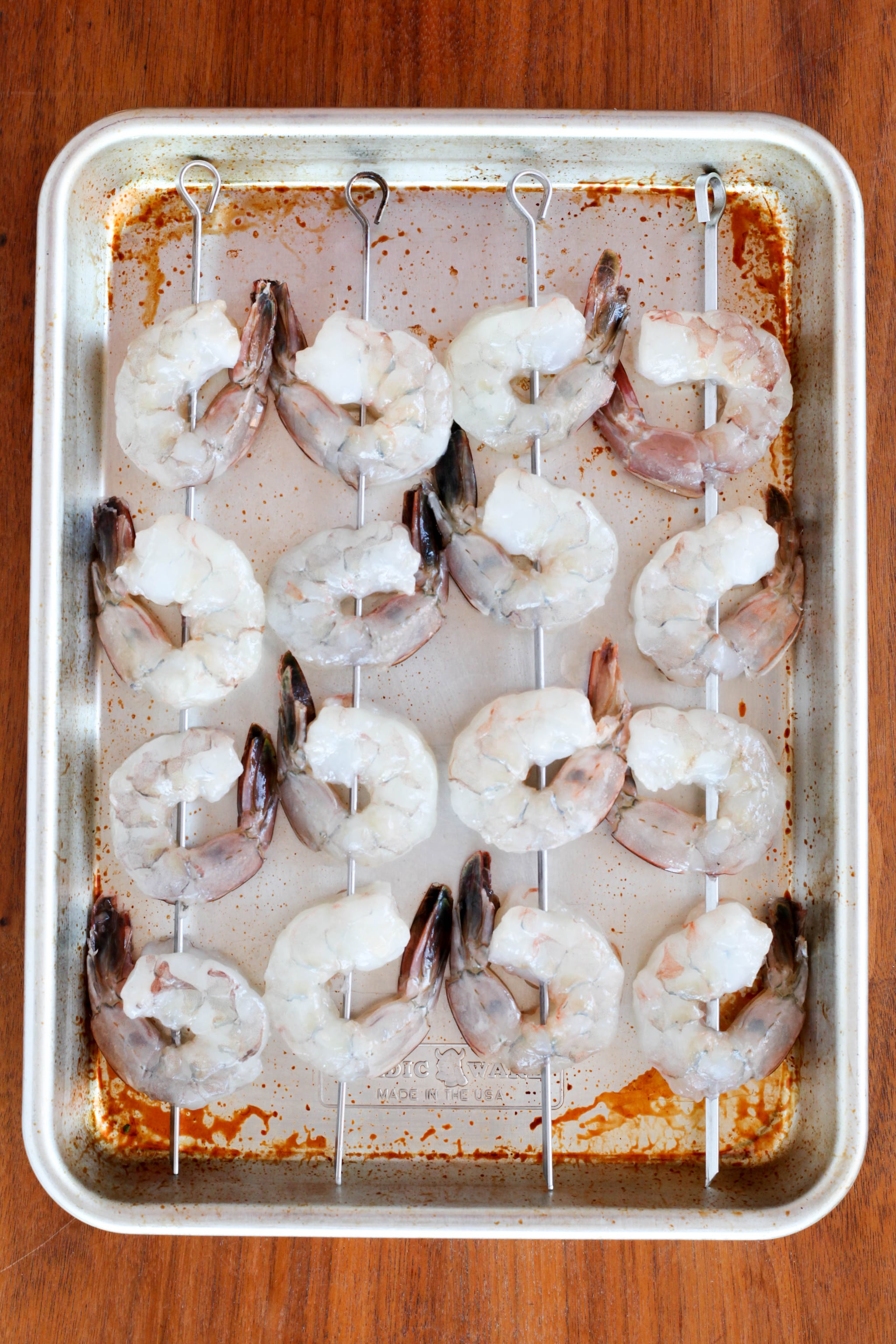 The secrets to shrimp cookery success mainly have to do with avoiding potential frustration. Firstly, do yourself a big favor and buy shrimp that has already been peeled and deveined. If your grocer's fish counter does not sell shrimp this way, kindly ask the fishmonger to do this for you (even better, call ahead of your trip to the store). As someone who has gone the DIY route here many times and many times vowed to never cook shrimp again, I can tell you with confidence that it is a messy, unappetizing, and tedious task, especially if you don't possess the right tool. Secondly, buy yourself a set of skewers — I prefer metal as they don't need to be soaked first and are reusable, but wooden and bamboo work well in a pinch. It is not fun flipping each and every shrimp individually, and in the time it takes to do so, some will likely become overcooked, as shrimp cooks so rapidly. If you heed these two pieces of advice, it is smooth sailing and one of the easiest seafood dinners you can make.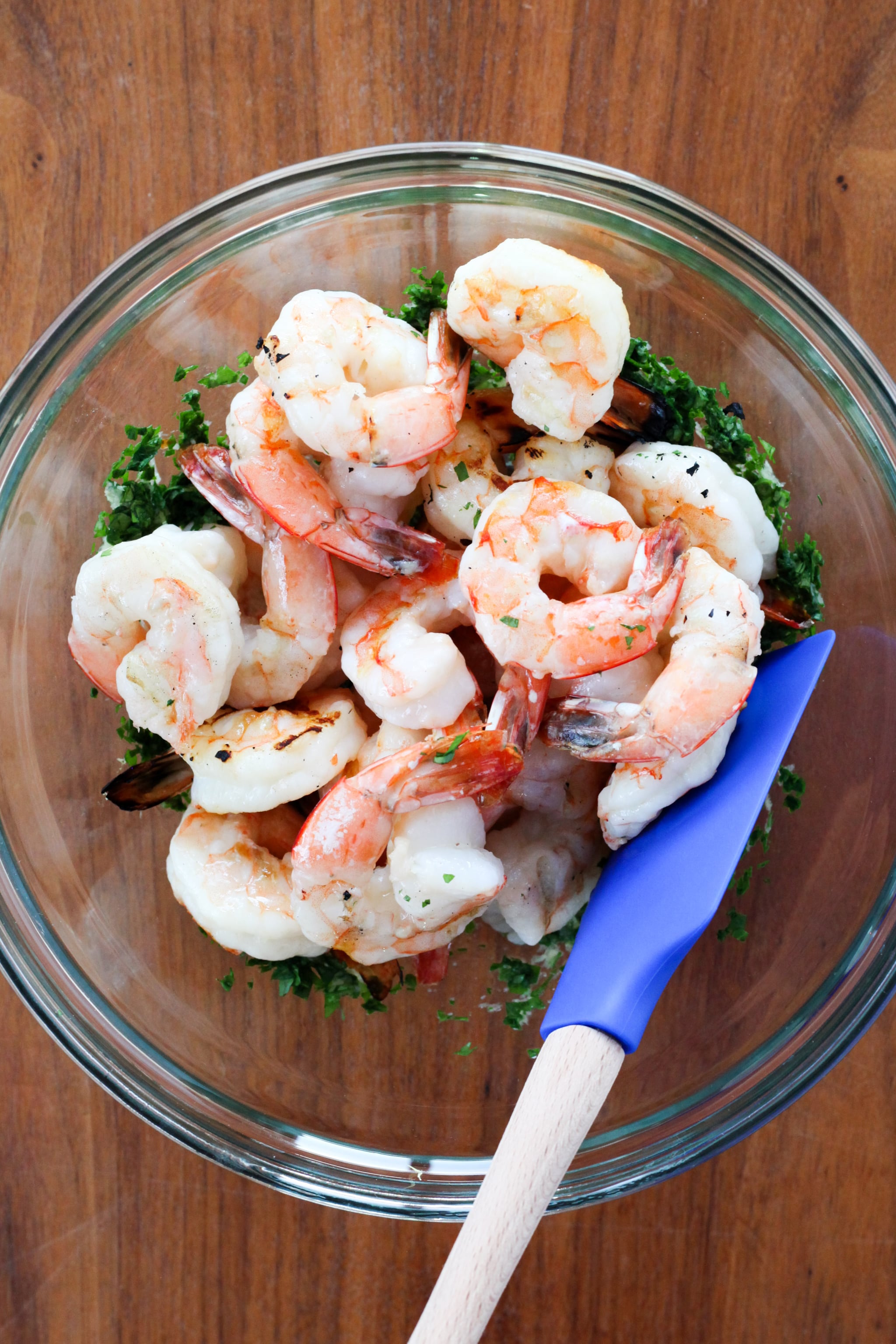 If you're a purist or if you intend to pair the grilled shrimp with other bold flavors, all they really need to taste great is a bit of oil (to prevent the delicate meat from sticking to the grill and to boost flavor) and salt. For times when you want to go the extra mile, toss the cooked shrimp in the gremolata-like sauce I've outlined in this recipe. Bold and garlicky, this Italian trio of parsley, garlic, and lemon is a great way to dress up everything from chicken breasts to salmon to — you guessed it — shrimp.
Grilled Shrimp With Gremolata
Original Recipe
Notes
For smaller or larger shrimp than 16/20, adjust the cook time accordingly — visual cues like the shrimp turning opaque and pink will help determine doneness. If using wooden or bamboo skewers, soak them in water for 30 minutes prior to grilling to avoid burning the wood. New to grilling? Read this guide to lighting your grill first. If you're working with shell-on shrimp, peel and devein them before seasoning and roasting. (To save time, buy shrimp that's already peeled and deveined, or ask the fishmonger to do this for you.)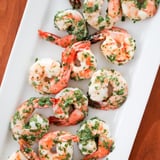 Ingredients
1/2 cup Italian parsley, finely chopped
1 small (or 1/2 large) garlic clove, minced
Zest of 1 lemon, plus juice of half
1 teaspoon extra-virgin olive oil
Kosher salt
1 pound large (16/20) shrimp, shelled and deveined
2 tablespoons neutral oil, such as rice bran or canola
Directions
Mix together the parsley, garlic, lemon zest, juice, olive oil, and a pinch of salt in a large mixing bowl.
If using a gas grill, turn both burners on to high heat and close the lid to heat the grill. If using a charcoal grill, get the coals going nice and hot.
Add shrimp, neutral oil, and 1 teaspoon salt to a medium mixing bowl; toss gently to coat evenly.
Thread the shrimp onto stainless steel or wooden skewers.
Grill the skewers over a hot fire, turning once or twice (use tongs or a large grilling spatula) until the shrimp are opaque, lightly pink, and cooked through, about 5 minutes.
Pull the shrimp off the skewers, add them to the large mixing bowl with the parsley-lemon-garlic mixture, and toss to coat. Serve hot.
Information
Category

Main Dishes, Shellfish

Cuisine

North American

Yield

2-3 servings
Image Source: POPSUGAR Photography / Nicole Perry