How to Cook Moist Boneless Skinless Chicken Breast
Here's How to Make the Most Flavorful Chicken Breasts You'll Ever Eat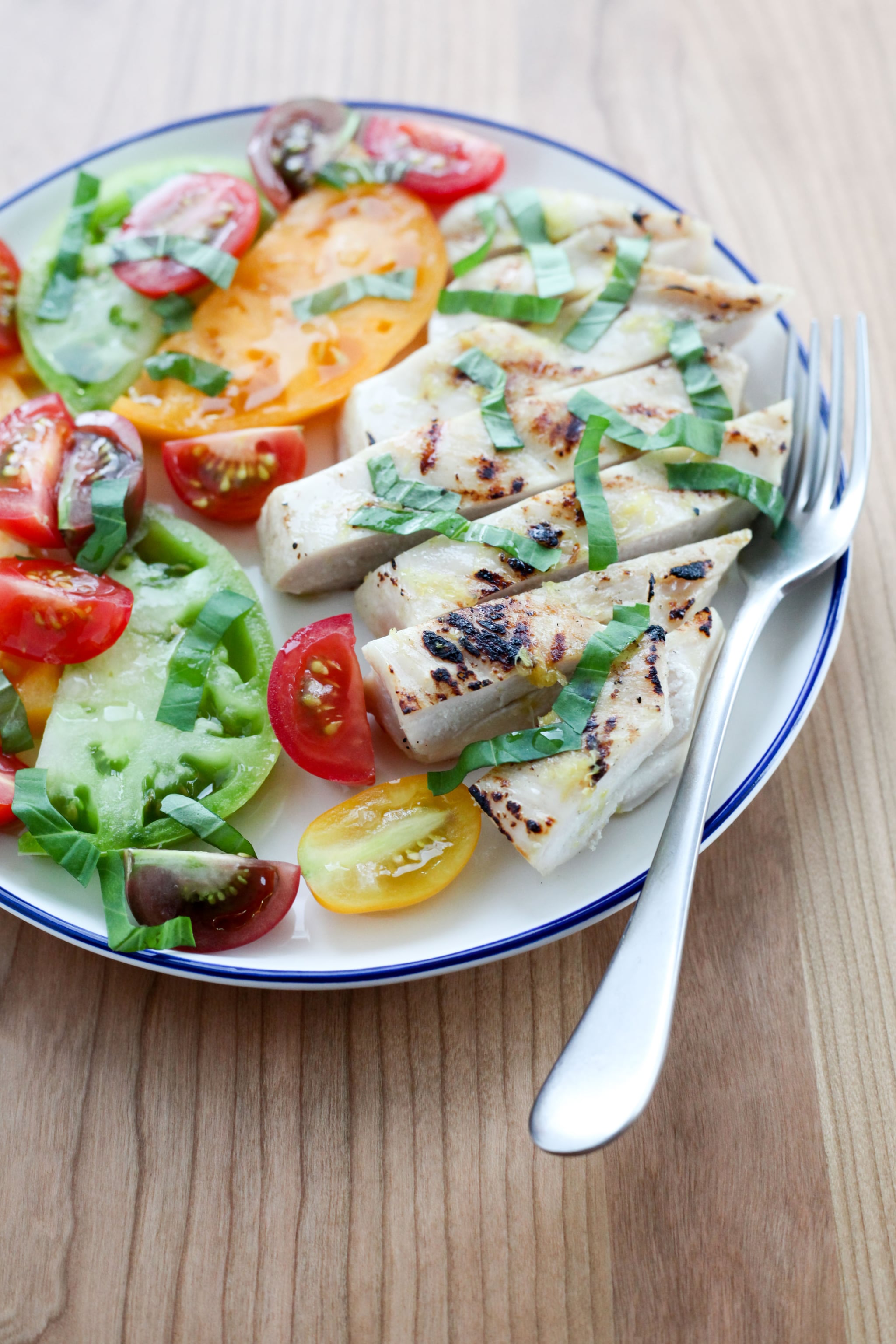 As anyone who's been disappointed by dry, stringy boneless skinless chicken breasts knows, grilling this lean cut can be surprisingly challenging to nail. The reason lies in what makes boneless skinless chicken breasts a healthy eating staple: they're very low in fat, and thus more prone to overcooking than chicken thighs or even skin-on breasts (the fat in the skin helps keep the meat moist). Thankfully, if you treat them right, they can be juicy, tender, and completely delicious while still remaining a fast-cooking, weeknight-friendly option.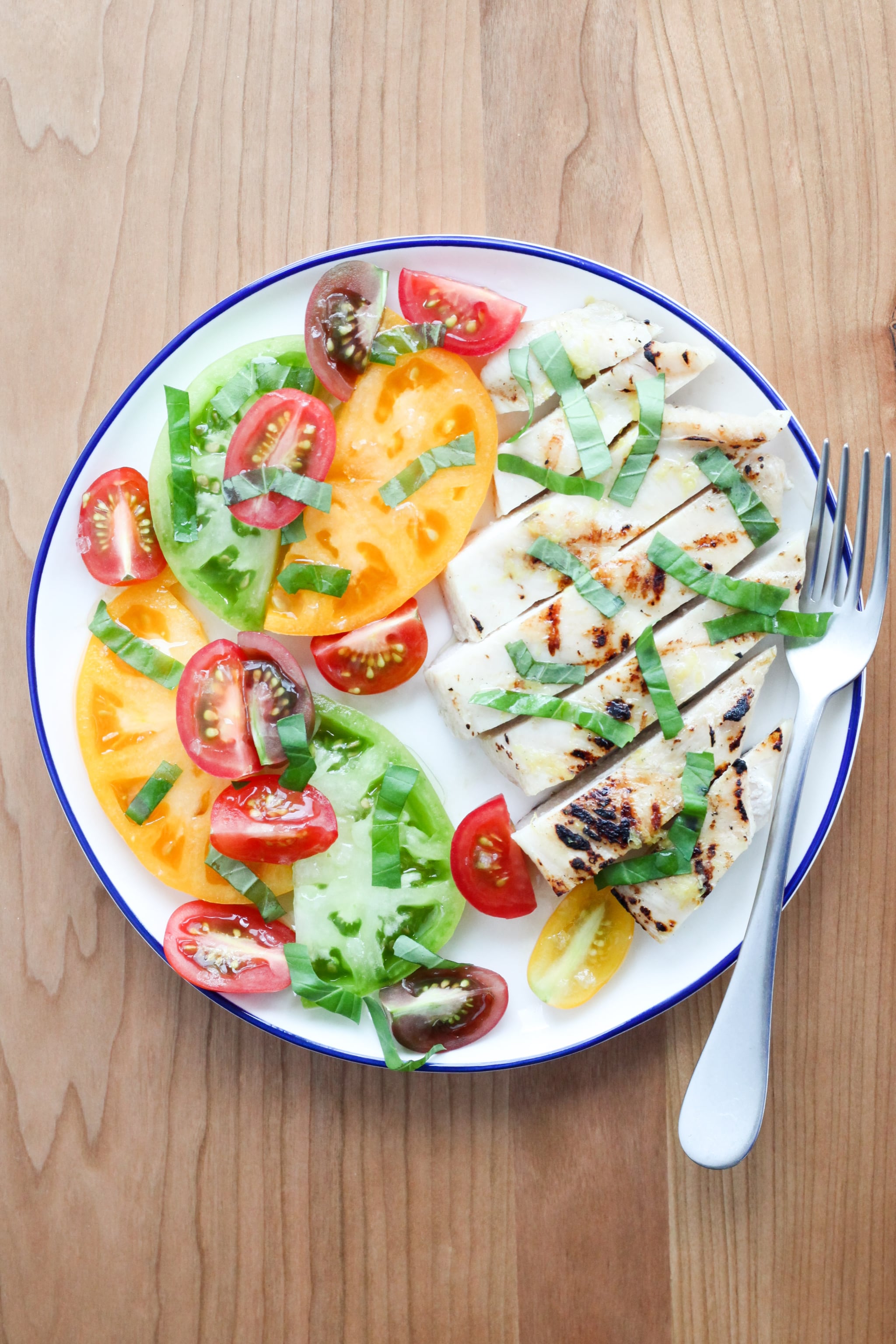 In essence, it comes down to three things: pounding the breasts to an even thickness (to encourage even cooking), briefly brining them (to add in moisture and season the meat), and using an instant-read thermometer to pull them off the grill at just the right time. These precautions might seem like a pain, but don't require much extra time or effort. Pounding the meat is easy with the right tool; brining is as simple as whisking together some salt, sugar, and water, plopping the chicken breasts in, and waiting 30 minutes (do this while the grill heats up); and a good instant-read thermometer can be yours for about $10.
Armed with these tricks, it's hard not to yield a delicious summery dinner. Here I've dressed up this basic chicken with some lemon and basil for a light, zesty spin and paired it the simplest tomato salad (sliced tomatoes plus olive oil and flaky salt), but consider this more a template for your own grilling adventures.
Lemon-Basil Grilled Chicken Breasts
From Nicole Perry, POPSUGAR Fitness
Notes
Grilled chicken breasts are tastiest hot from the grill; that said, if you're grilling them ahead of time, don't add the basil until shortly before eating as it won't hold up well.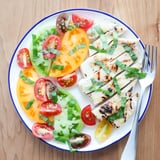 Ingredients
1/4 cup kosher salt
2 tbsp. granulated sugar
1 quart water
2 large boneless skinless chicken breasts, pounded 3/4-inch thick
Juice and zest of 1/2 lemon
1 tbsp. extra-virgin olive oil
Basil cut into a chiffonade, for garnish
Directions
In a large mixing bowl, whisk together the salt, sugar, and water to create a brine. Add the chicken breasts and brine for 30 minutes at room temperature.
Meanwhile, preheat the grill. If using a gas grill, turn both burners on to medium-high heat and close the lid to heat the grill. If using a charcoal grill, get the coals going nice and hot. Clean and oil the grill grates.
Transfer chicken to a paper-towel-lined quarter sheet pan, letting brine drip off into the mixing bowl before transferring. Thoroughly pat dry with paper towels.
Put chicken on the grill smooth-side down and cook for 2-3 minutes with the grill's lid closed. Flip, cook for 2-3 more minutes with the lid closed. Flip and cook uncovered for a couple more minutes on each side, or until an instant-read thermometer reads 150-155°F when inserted into the thickest part of the breast. Let rest for about 5 minutes.
While the chicken rests, whisk together the lemon juice, zest, and olive oil in a small bowl.
Slice the chicken breasts and then drizzle with the lemon and olive oil. Garnish with basil.
Information
Category

Main Dishes, Game

Cuisine

North American

Yield

Serves 2
Image Source: POPSUGAR Photography / Nicole Perry