Halo Top Peaches and Cream
We Tried the New Halo Top Peaches and Cream, and OMG — It Tastes Just Like Summer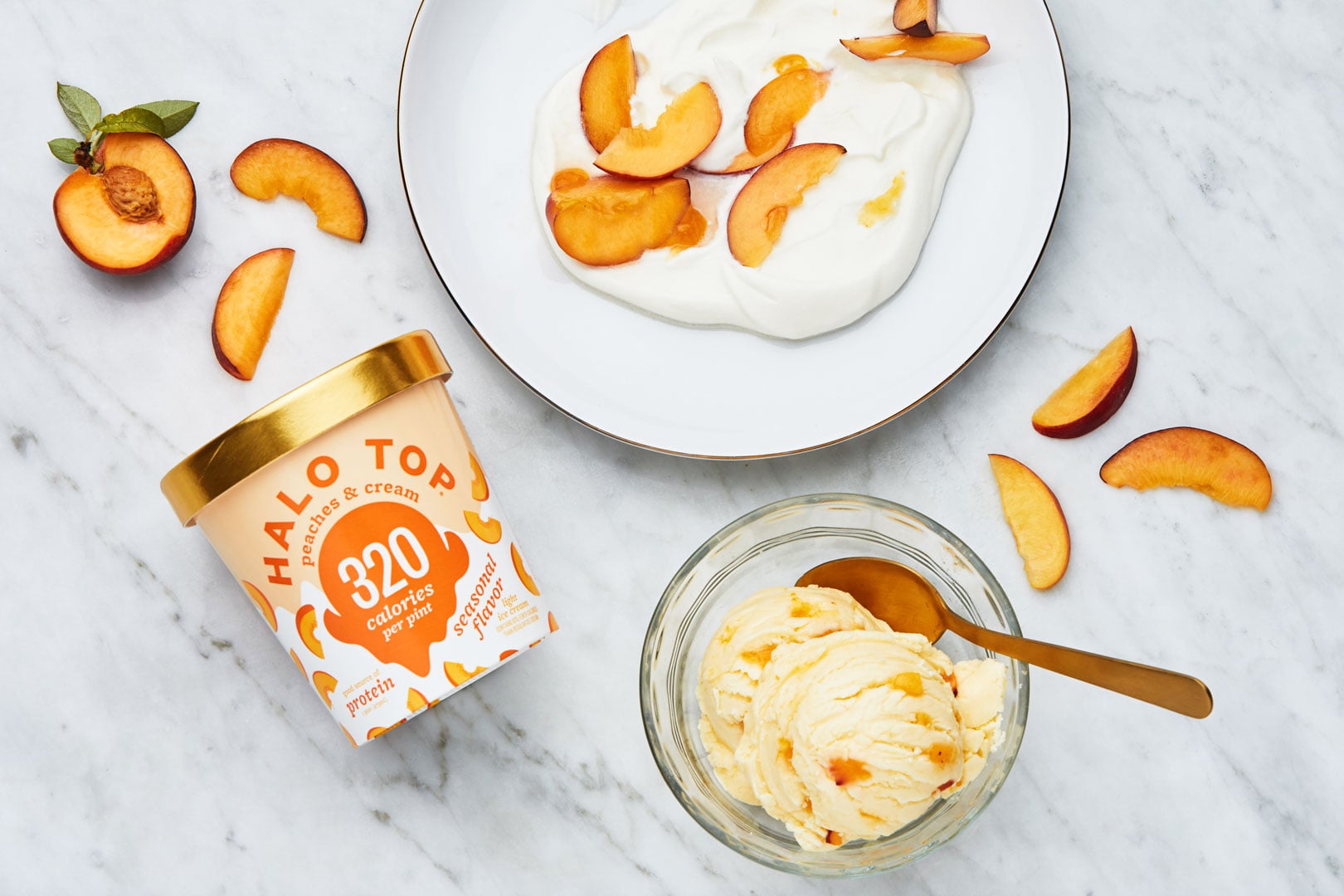 We thought Halo Top outdid itself when it released a delicious flavor for Spring: Blueberry Crumble. Now, the healthy ice cream company is upping the ante with a new flavor for Summer that tastes just like the beloved warm-weather dessert: Peaches and Cream.
The seasonal pint is a blend of peaches in a vanilla ice cream with a cream base, and it's only available for a limited time from June until the end of August. Each serving clocks in at 80 calories, two grams of fat, one gram of saturated fat, 16 grams of carbs, three grams of fiber, eight grams of sugar, five grams of sugar alcohol, and five grams of protein. Since there are four servings to a pint, one pint is just 320 calories.
We got our hands on the new pints (it's a tough job, but somebody has to do it), and it tastes just like a bowl of ripe Summer peaches doused in rich cream. The peach flavor is especially potent and definitely dominates the pint. Here is what some POPSUGAR editors had to say:
"Never tried Halo Top. As a first-timer, this flavor is really good! Needs more cream though."
"I love Halo Top! This flavor is close to perfection. Tastes like frozen peach yogurt."
"It's definitely more peaches than cream, but I love this peach flavor! This might be in my top three Halo Top flavors of all time."
"Very sweet."
"Tasty, but strong peach flavor and not as much cream."
This summertime pint isn't the only exciting news coming out of Halo Top HQ. The LA-only soft serve is coming to New York City for a pop-up at the Supermoon Bakehouse from May 31 to June 3. Fan-favorite flavors such as Peanut Butter Cup and Vanilla Bean will be available on soft serve.
If you're not in the New York area, be sure to pick up a pint of Peaches and Cream when it hits stores this June!