Healthy Sushi Bowl Recipe
You Don't Have to Get Takeout to Enjoy Sushi at Home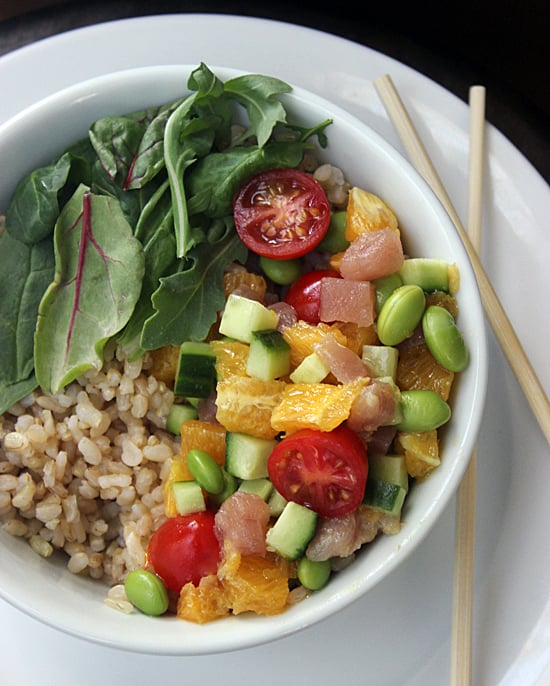 Going out for a healthy sushi dinner can be a treat, but it's easy to re-create the fresh Japanese flavors you love in your own kitchen. On the hunt for the ideal homemade option, Takao Iinuma, chef and sustainability consultant for Genji Sushi, created a healthy chirashi bowl recipe, sushi rice served with fresh fish, just for us.
This brown rice bowl is topped off with an inventive mix of bright and colorful produce plus tender, sustainable albacore tuna, full of B vitamins, protein, and healthy omega-3 fatty acids. If you're salivating at the sight of this chirashi, learn how to make this refreshing and elegant recipe, perfect for a healthy supper.
Brown Rice Albacore Chirashi Bowl
From Chef Takao Iinuma, Genji Sushi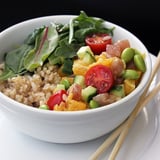 Ingredients
For dressing:
1/4 cup fresh orange juice
3 tablespoons light-colored (usukuchi) soy sauce
1 teaspoon freshly grated ginger
1 teaspoon honey
1 1/2 teaspoons extra-virgin olive oil
For chirashi bowl:
4 cups freshly cooked brown rice, preferably short grain
1/4 cup prepared sushi vinegar or rice wine vinegar
1 small navel orange
6 oz. sushi-grade albacore tuna, diced
10 grape tomatoes, cut in half
1/3 English cucumber, diced
1/2 cup shelled edamame
2 cups mixed salad greens
Sesame seeds, for garnish (optional)
Directions
For the dressing, whisk all ingredients together in a bowl, making sure the honey is dissolved. Set aside.
Using a flat wooden paddle or a spatula with a cutting motion, mix the sushi vinegar into the warm brown rice. Do not use a stirring motion to avoid mashing the rice grains. Cover the rice and set aside.
Cut the tops and bottoms off of the orange. Standing the orange on a cut end, use a knife to cut the peel and pith off of the orange working from top to bottom. Once the orange is peeled, cut crosswise into slices, and then cut the slices into cubes.
Combine diced oranges, albacore tuna, grape tomatoes, diced cucumber, and shelled edamame in a bowl. Add the reserved dressing and toss to combine.
Divide the reserved brown sushi rice between four bowls. In each bowl, place the salad greens in one quarter on top of the rice, and on the other side put one quarter of the albacore mixture. Sprinkle on sesame seeds if you wish, and enjoy.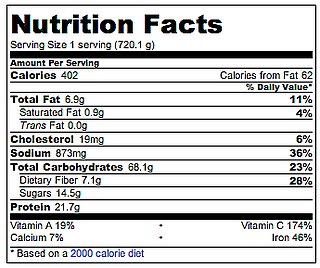 Information
Category

Main Dishes, Fish

Cuisine

Japanese

Yield

Makes 4 servings.
Nutrition
Calories per serving

403 calories