How to Prevent Injury in Indoor Cycling Class
Prevent a SoulCycle Injury With These Imperative Tips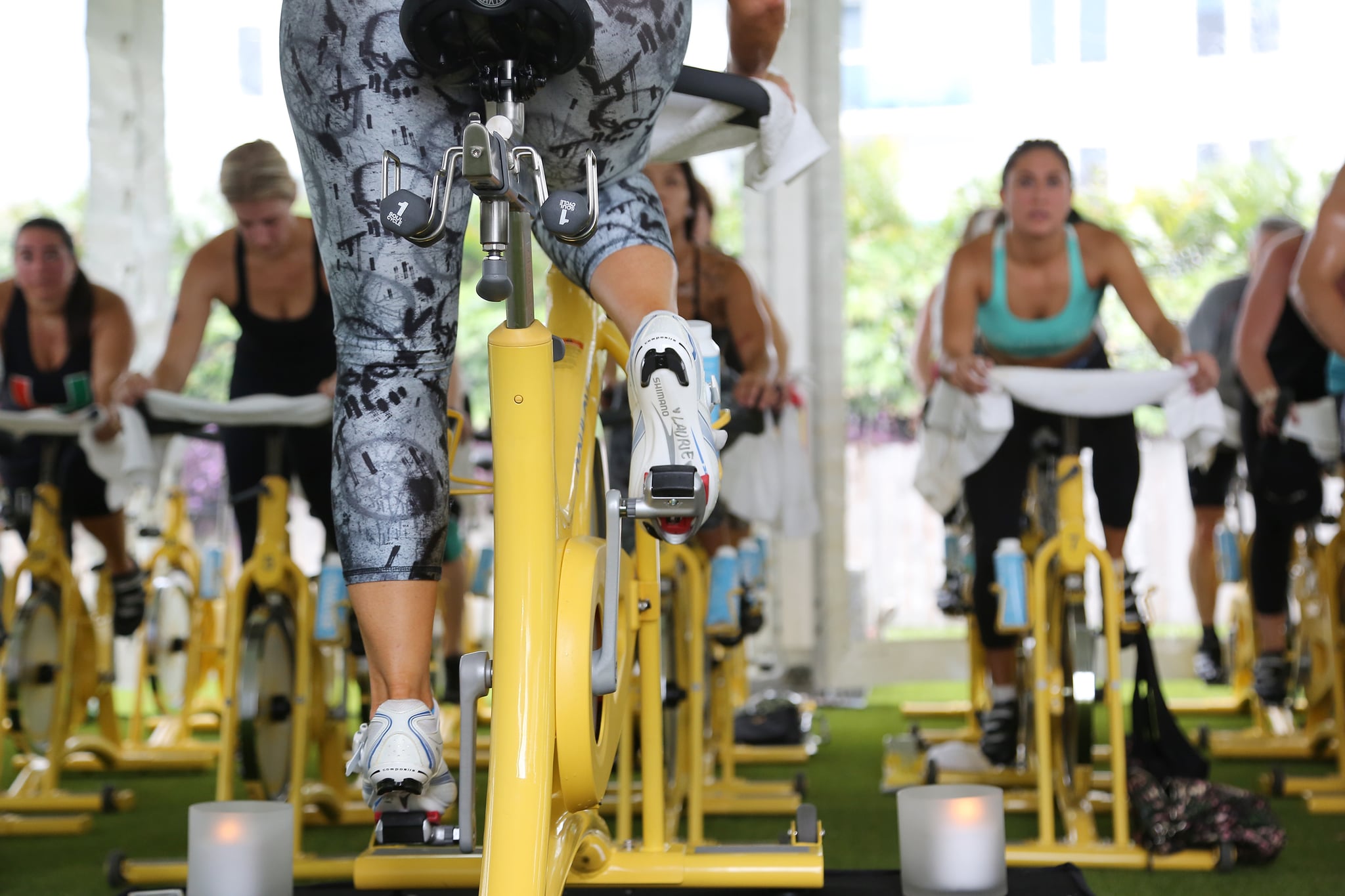 Exercise is tough! And though we all know that, it can still be easy to jump into a new workout unprepared, without knowing the ropes. Proper form is absolutely essential to preventing injury in any sort of class, and if you're not prepared, you're putting yourself at risk to get hurt.
The same goes for indoor cycling class, especially if you're clipping in! One woman took a SoulCycle class that resulted in a dislocated ankle (and she alleges that SoulCycle is at fault). While aspects of this particular case are yet to be determined, you can still protect yourself from injury with preparation. These easy, simple, minimal-effort tips will ensure that you have a great, safe, empowering ride, wherever you're cycling! And always remember: never be too embarrassed in a fitness class to listen to your body and do what's best for you.
Get there early. Give yourself at least 15 minutes before class to make sure your bike is set up properly. Ask for help! Grab an instructor or a staff member, and ask them to check your bike settings and make adjustments. Most studios recommend 20 minutes for prep time before class, and we echo that sentiment!
Make sure you have the right shoes. Are you wearing clip-in shoes? Are they Delta or SPD? Can you easily get your feet out of your shoes, and are they velcro, clip, or lace-up? Ensure you're clipped into the pedal properly on the correct side of the pedal. Some classes allow you to wear sneakers with little harnesses. Know your options before class starts, so you're good to go when the lights dim and the music starts. And if you're not sure, ALWAYS ask for help. Don't be embarrassed — we've all been there.
Add some resistance. Not only are you not getting much of a workout without resistance, but you're also putting yourself at risk for injury with what some cycling instructors call "crazy legs" at zero resistance. A little extra weight on the wheel will ensure that you're exerting yourself, building strength, burning calories, and preventing potential injury.
Go at your own pace. Some cycling classes — like SoulCycle, for instance — incorporate different kinds of moves and choreography. If it seems a little tough, it might be too much for you, especially as a beginner. Listen to your body, and go at your own pace. You're not in competition with everyone in the class, and you don't have to listen to everything the instructor says: your health is your priority. Grab a spot a few rows back (early!), get yourself set up, and stay steady. Not ready to jump out of the saddle? Don't! It's your ride, and the last thing you want to do is spoil your workout with an injury.
Leave if you need to. If all else fails, you can absolutely leave class. If you can't get an instructor's or a staff member's attention for help (simply raise a hand if you're trying to do this), you can get yourself unclipped and out. Talk to the staff at the front desk of your studio; they're always willing to help and make sure you're OK.