Kim Kardashian Met Gala Diet
Kim Kardashian Started an Intense 10-Day Cleanse — See the Healthy Meal Plan
Since giving birth to Saint West over two years ago, Kim Kardashian has made fitness a priority. She's been working with the insanely ripped Melissa Alcantara, training intensely for five or six days a week. But with one of the biggest fashion events of the year almost two weeks away, the 37-year-old mom of three is taking things up a notch, revealing on her website that she's embarked on an intense 10-day cleanse before the Met Gala on May 7.
"Right now, I'm on the third day of my 10-day Sunfare Optimal Cleanse! I'm SO excited to do this, you guys, but I definitely need to mentally prepare, lol," Kim wrote. "I've worked so hard working out, but I started eating a lot of sweets and I wanted to just change my food patterns to eat healthier and cut sugar out of my life as much as I can. We always have sweets around and it's really hard when there are temptations everywhere."
Speaking of temptations. . . It was Kourtney Kardashian's birthday earlier this week, which means sweets on sweets on sweets, but Kim refrained, sharing a photo of her "WILL POWER" alongside a delicious spread of donuts on her Instagram Story. "I already completed day one and two of the cleanse, and I've been surrounded by doughnuts, but I stayed away," she wrote. "I'm so proud of myself!"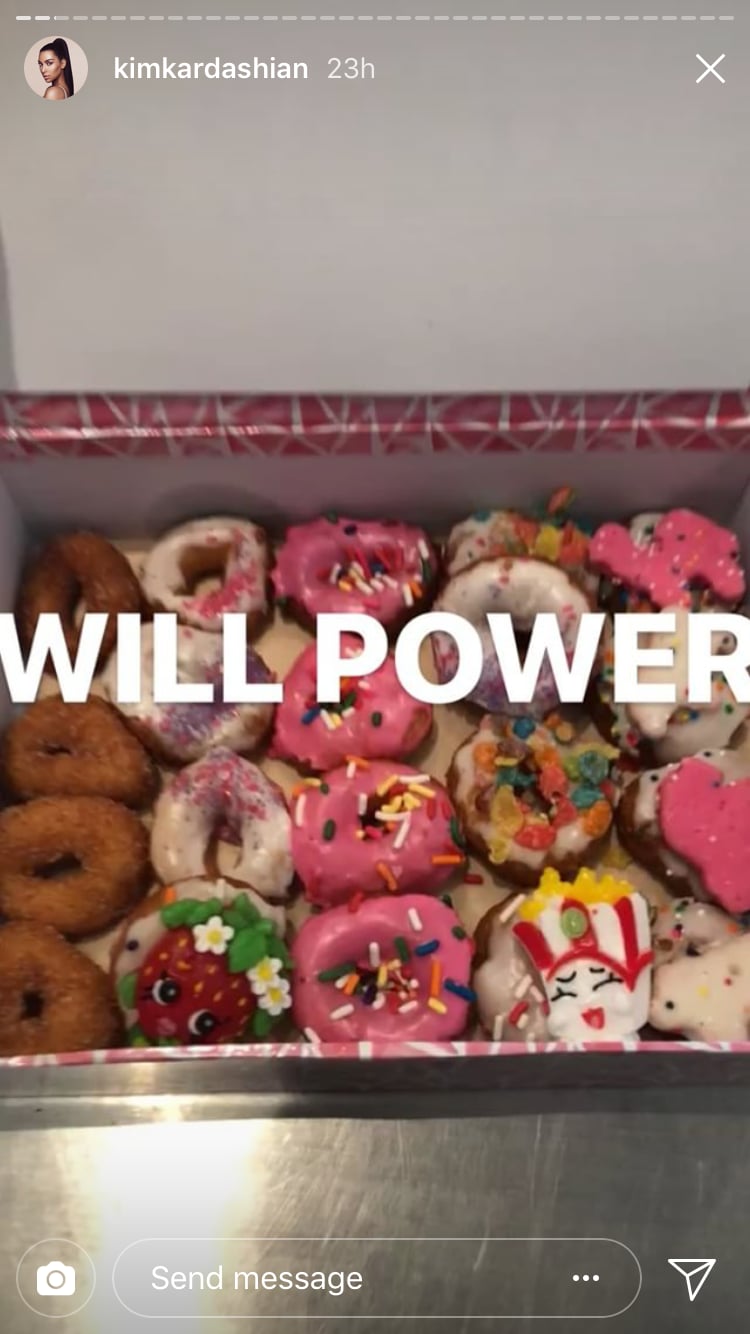 Source: Instagram user kimkardashian
The 10-day Sunfare Optimal Cleanse ($650) is a "limited-cycle, full body detox" and includes strict snacks and meals six times a day (breakfast, snack, lunch, snack, dinner, and another snack). "I wanted to do this cleanse because the food looked so filling and there are only three days that you just drink liquids," Kim wrote. "This is seriously not a sponsored thing, I just really wanted to try it."
While the diet includes mostly organic shakes (some even chocolate-flavored), there are meals allowed on some days of the plan. For example, day eight is made up of a Optimal Cleanse Shake for breakfast, smoked salmon hand roll for a snack, chicken and vegetable rice medley for lunch, a Chocolate Optimal Cleanse Shake for a snack, cod with asparagus risotto for dinner, and an Optimal Cleanse Shake for a snack a few hours later. On some of the more strict days, the plan focuses solely on liquids. On day five, for example, you're allowed five shakes and one herbal tea.
There is no such thing as a "quick fix" for weight loss, but if this structured plan will help Kim stay off of sugar-filled treats before the big event, more power to her!